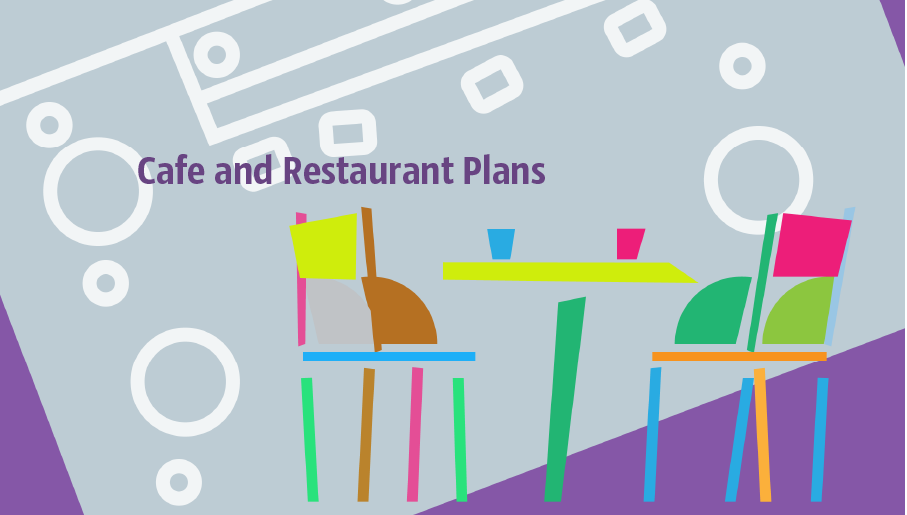 Restaurants and cafes are popular places for recreation, relaxation, and are the scene for many impressions and memories, so their construction and design requires special attention. Restaurants must to be projected and constructed to be comfortable and e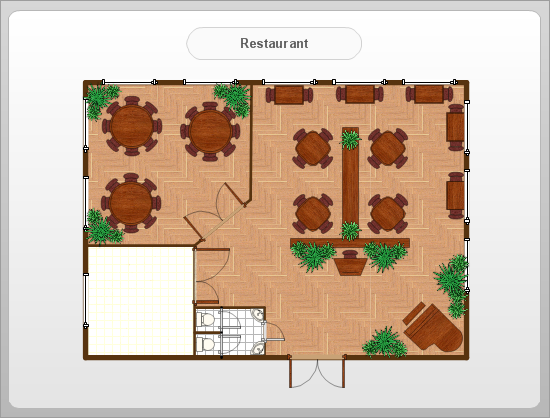 Restaurant Floor Plans solution for ConceptDraw DIAGRAM has 49 extensive restaurant symbol libraries that contains 1495 objects of building plan elements; many examples and templates for drawing floor plans and restaurant layouts.
It helps make a layout for a restaurant — restaurant floor plans, cafe floor plans, bar area, floor plan of a fast food restaurant, restaurant furniture layout, etc.
ConceptDraw DIAGRAM — great restaurant floor planner. You do not need to be an artist to create great-looking restaurant floor plans in minutes.
What is ConceptDraw DIAGRAM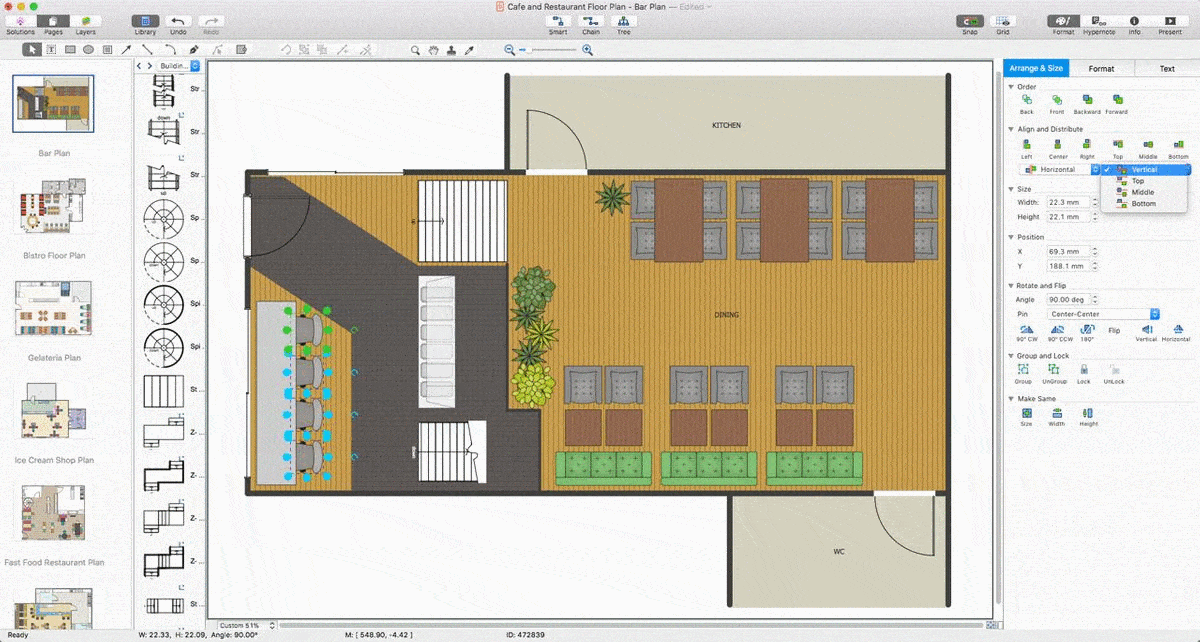 The restaurant is a special place for relax and recreation. Its design and atmosphere must be unique. Planning, design, music, kitchen, service create an unforgettable atmosphere of comfort, harmony, convenience.
You can create quick custom designs of: Restaurant layouts, Restaurant Floor plans,
Restaurant Design with our Restaurant Floor Plans Software.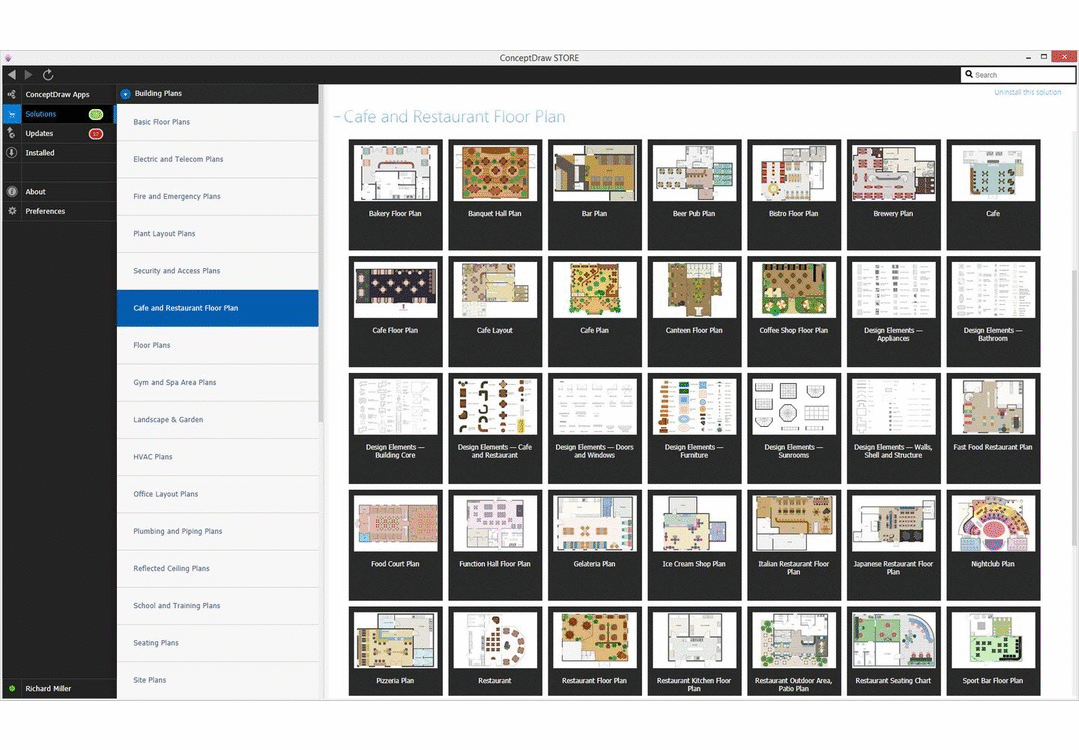 Making floor plan can be so hard, especially if you do it for the first time having no experience in creating similar schemes or plans before. Don't worry, we can help you to draw your own unique great looking plan to design the way your cafe should look like as we have all you need for making it quick as well as simple, you'll see.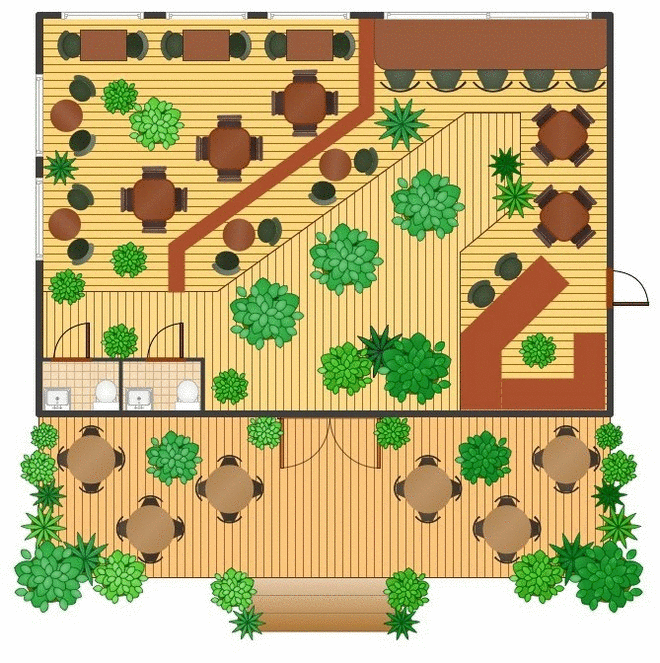 Whether you already started or just planning to open a restaurant, first you have to design the place itself. Sounds complex? No worries, we are here to help.
ConceptDraw for successfully planning your restaurant floor plans. That tool can help you to plan what you will require.
The software includes sample: restaurant floor and cafe plans, restaurant floor plan layout, restaurant design, restaurant electrical plan, restaurant emergency plans, restaurant landscape design.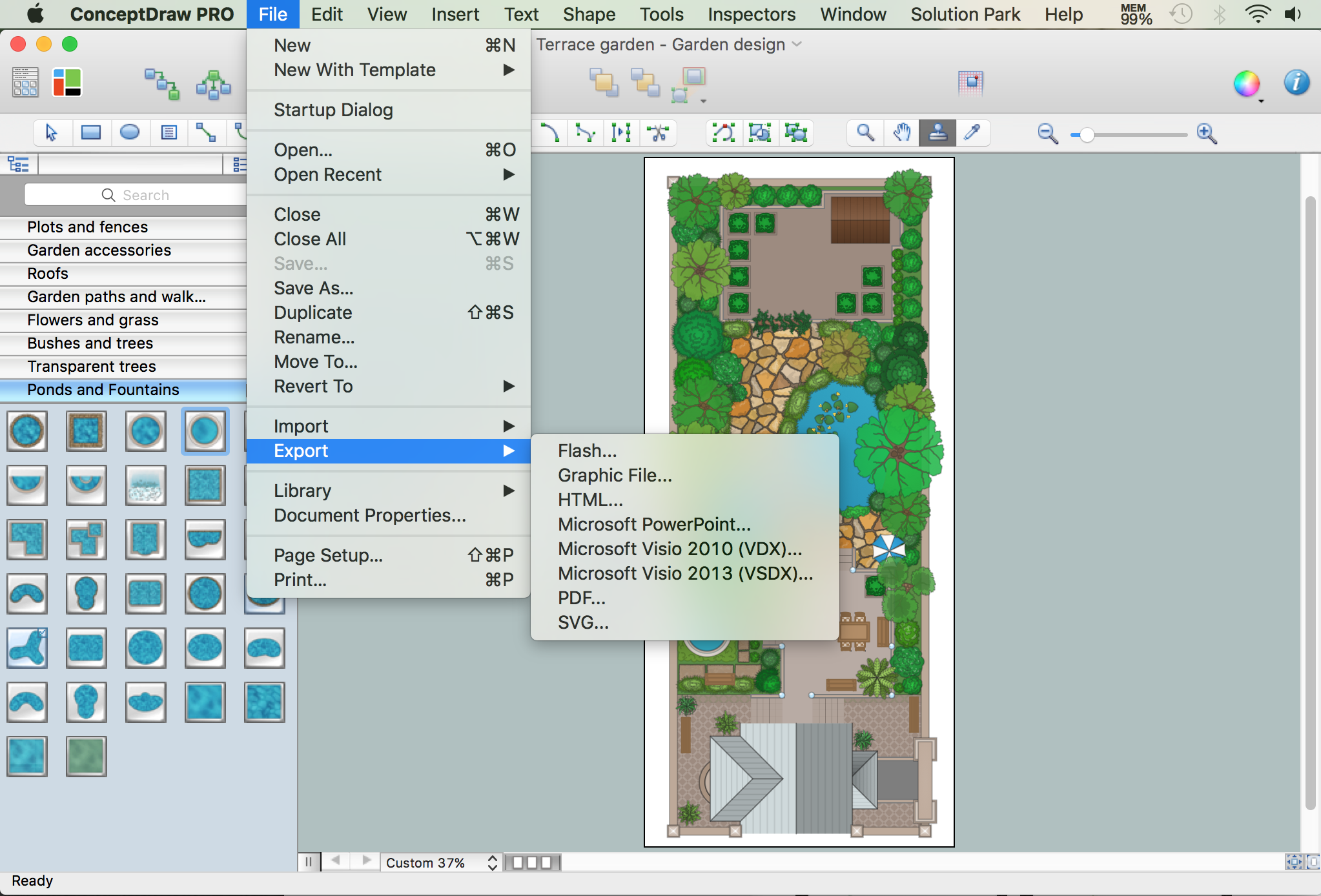 What is landscape design? It's a floor plan but for an outdoor area.
Same as a floor plan, a landscape design represents visually any site using scaled dimensions.
The main purpose of landscape design is to plan the layout for an outdoor area no matter is it a personal site plan for your home or a commercial plan for business. It may also be handful when a new installation, repair or even an outdoor event is planning.
It helps to calculate time and decide which materials should be used in your project. Landscape designs perfectly gives the property owner and landscape contractor better vision for cost estimation, helping to ensure the project time and budget.
The vector stencils library Cafe and restaurant contains symbols of furniture, equipment and interior design elenebts.
Use the shapes library Cafe and restaurant to draw the interior design floor plans and furniture and equipment layouts of coffeehouses, restaurants and bars using the ConceptDraw PRO diagramming and vector drawing software.
"Various types of restaurant fall into several industry classifications based upon menu style, preparation methods and pricing. Additionally, how the food is served to the customer helps to determine the classification.
Historically, restaurant referred only to places that provided tables where one sat down to eat the meal, typically served by a waiter. Following the rise of fast food and take-out restaurants, a retronym for the older "standard" restaurant was created, sit-down restaurant. Most commonly, "sit-down restaurant" refers to a casual dining restaurant with table service, rather than a fast food restaurant or a "diner", where one orders food at a counter." [Types of restaurant. Wikipedia]
The design elements library Cafe and restaurant is included in the Cafe and Restaurant Floor Plans solution from the Building Plans area of ConceptDraw Solution Park.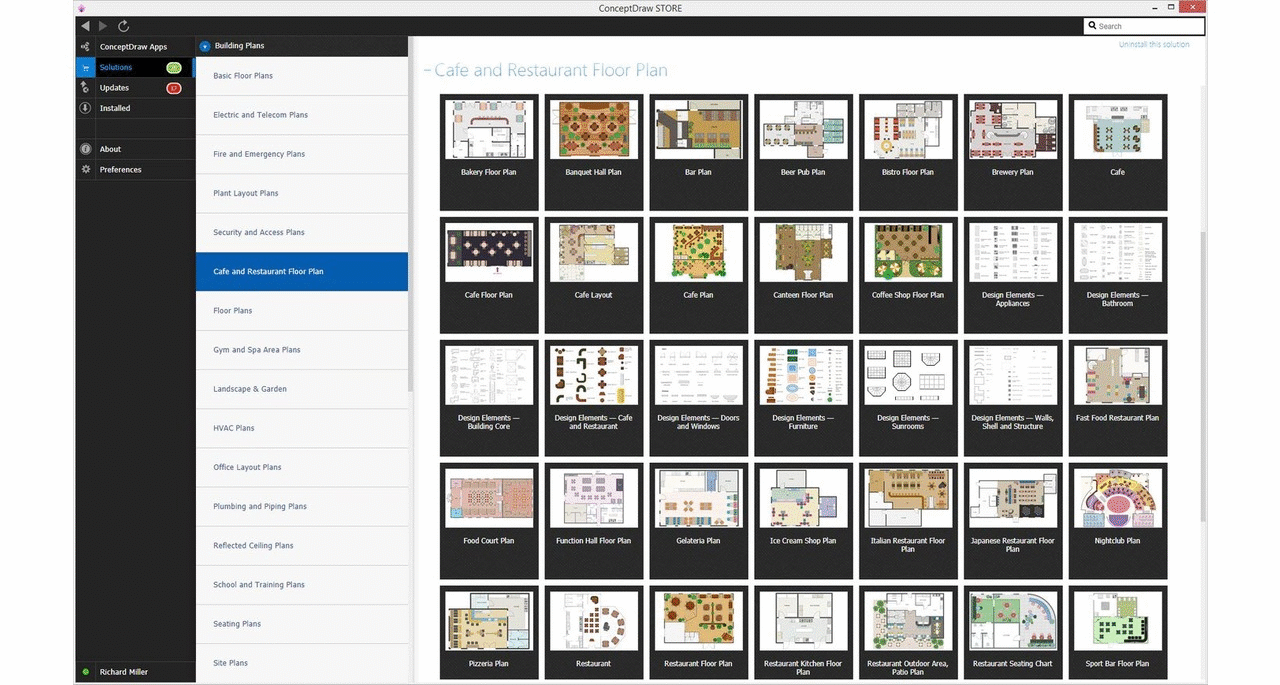 In order to plan the way your future restaurant will look like, including all the furniture, walls, windows, doors, and other elements of interior, you need a ConceptDraw software which can be useful and helpful in creating such kind of plan.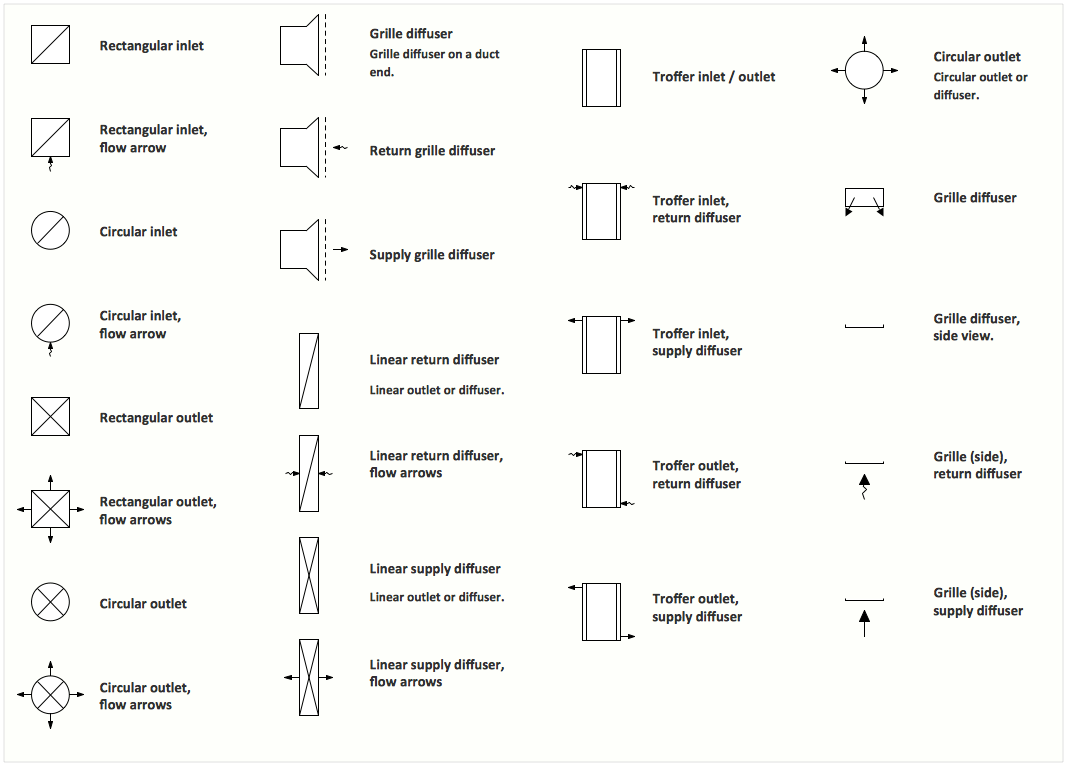 If you ever need to draw to create design interior using design elements, all necessary symbols can be taken from all of our numerous libraries, including Registers, Drills and Diffusers one, which contains 47 symbols.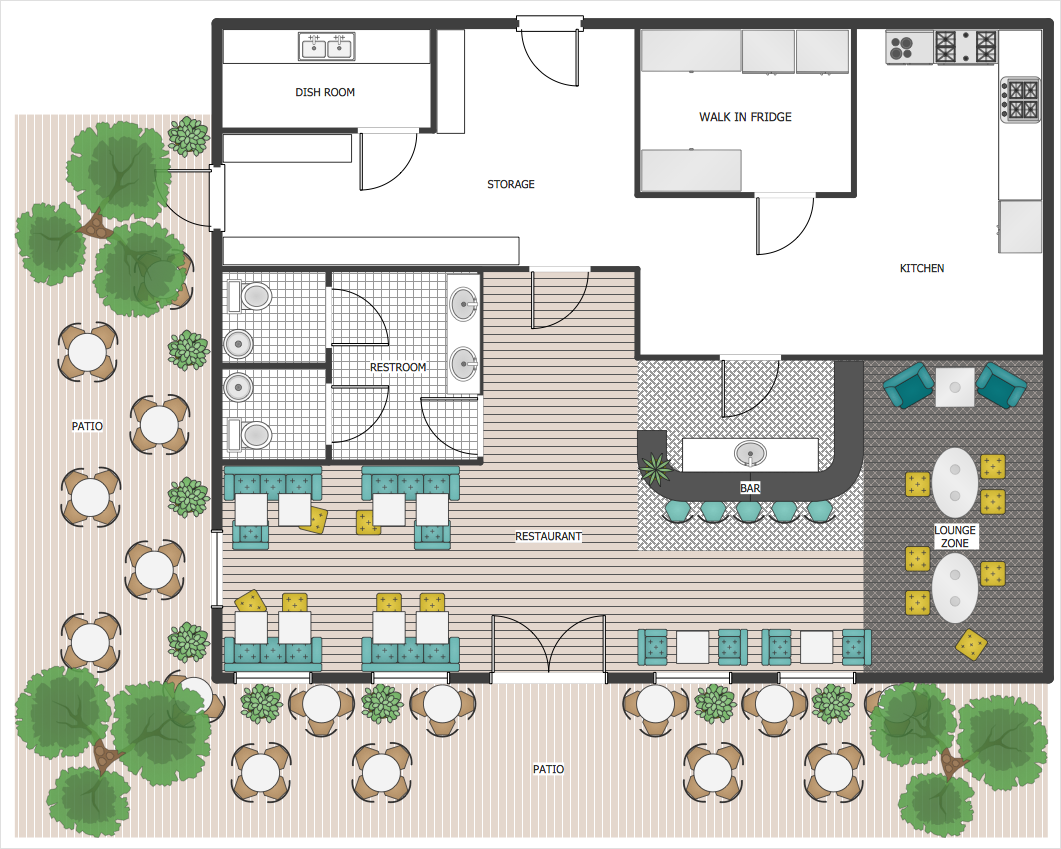 The ConceptDraw Cafe and Restaurant Floor Plans solution includes libraries that are tailored for Cafe and Restaurants floor plans and interiors. Someone might think that creating a plan of cafe or restaurant is quite simple. But in fact, it is a real art. You need to make it not only beautiful but also convenient for visitors. Today, restaurants and cafes are not only the places, where people eat, but a place for business meetings, and recreation. Therefore, a well-designed project of the restaurant (cafe, bar) leads to successful sales and good incomes.