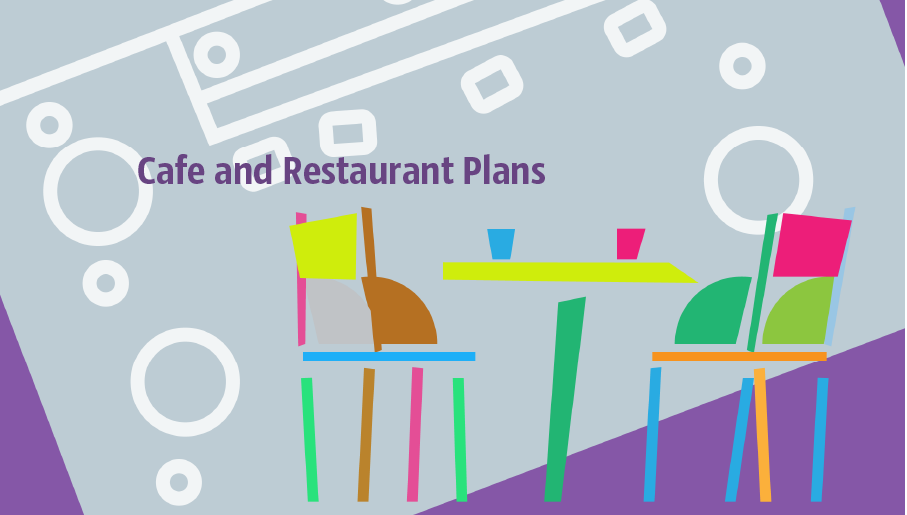 Restaurants and cafes are popular places for recreation, relaxation, and are the scene for many impressions and memories, so their construction and design requires special attention. Restaurants must to be projected and constructed to be comfortable and e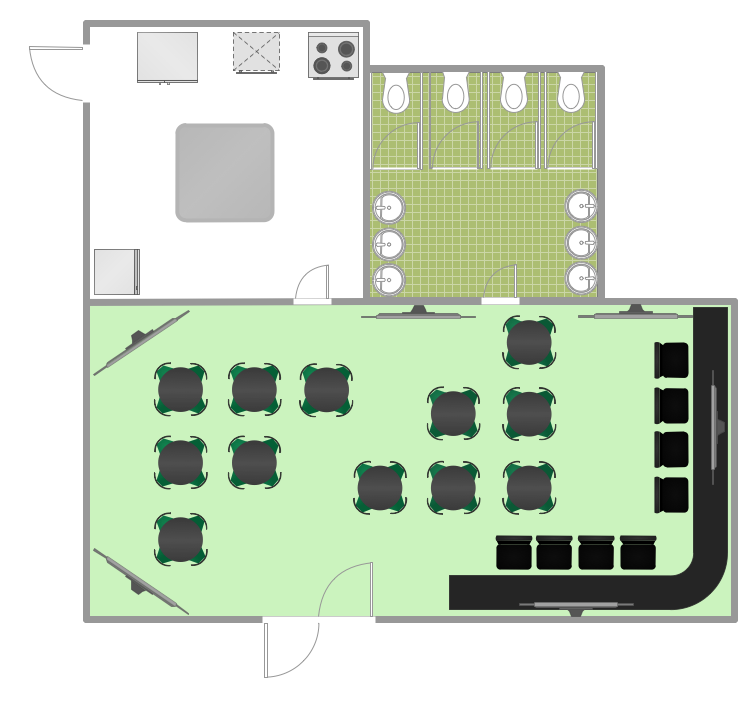 Someone might think that creating a plan of cafe or restaurant is quite simple. But in fact it is a real art. You need to make it not only beautiful, but also convenient for visitors. Today, restaurants and cafes are not only the places, where people eat, but a places for business meetings, and recreation. Therefore, a well-designed project of the restaurant (cafe, bar) leads to successful sales and good incomes. The ConceptDraw Cafe and Restaurant Floor Plan solution includes libraries that are tailored for Cafe and Restaurants floor plans and interiors.
This plumbing and piping plan sample shows the restaurant hot and cold water supply system.
"A restaurant is a business which prepares and serves food and drinks to customers in exchange for money. Meals are generally served and eaten on the premises, but many restaurants also offer take-out and food delivery services, and some only offer take-out and delivery. Restaurants vary greatly in appearance and offerings, including a wide variety of cuisines and service models ranging from inexpensive fast food restaurants and cafeterias to mid-priced family restaurants, to high-priced luxury establishments. In Western countries, most mid- to high-range restaurants serve alcoholic beverages such as beer and wine. Some restaurants serve all the major meals, such as breakfast, lunch, and dinner (e.g., major fast food chains, diners, hotel restaurants, and airport restaurants). Other restaurants may only serve a single meal (e.g., a pancake house may only serve breakfast) or they may serve two meals (e.g., lunch and dinner)." [Restaurant. Wikipedia ]
The plumbing and piping plan example "Restaurant water supply" was created using the ConceptDraw PRO diagramming and vector drawing software extended with the Plumbing and Piping Plans solution from the Building Plans area of ConceptDraw Solution Park.
The vector stencils library Cafe and restaurant contains symbols of furniture, equipment and interior design elenebts.
Use the shapes library Cafe and restaurant to draw the interior design floor plans and furniture and equipment layouts of coffeehouses, restaurants and bars using the ConceptDraw PRO diagramming and vector drawing software.
"Various types of restaurant fall into several industry classifications based upon menu style, preparation methods and pricing. Additionally, how the food is served to the customer helps to determine the classification.
Historically, restaurant referred only to places that provided tables where one sat down to eat the meal, typically served by a waiter. Following the rise of fast food and take-out restaurants, a retronym for the older "standard" restaurant was created, sit-down restaurant. Most commonly, "sit-down restaurant" refers to a casual dining restaurant with table service, rather than a fast food restaurant or a "diner", where one orders food at a counter." [Types of restaurant. Wikipedia]
The design elements library Cafe and restaurant is included in the Cafe and Restaurant Floor Plans solution from the Building Plans area of ConceptDraw Solution Park.
This SysML diagram example was redesigned from Wikimedia Commons file: Use case restaurant model.svg.
"Use case model of a restaurant business." [commons.wikimedia.org/ wiki/ File:Use_ case_ restaurant_ model.svg]
"The use case diagram describes the usage of a system (subject) by its actors (environment) to achieve a goal, that is
realized by the subject providing a set of services to selected actors. The use case can also be viewed as functionality and/
or capabilities that are accomplished through the interaction between the subject and its actors. Use case diagrams include the use case and actors and the associated communications between them. Actors represent classifier roles that are external to the system that may correspond to users, systems, and or other environmental entities. They may interact either directly or indirectly with the system. The actors are often specialized to represent a taxonomy of user types or external systems." [omg.org/ spec/ SysML/ 1.3/ ]
The SysML diagram example "Use case restaurant model" was drawn using the ConceptDraw PRO diagramming and vector drawing software extended with the SysML solution from the Software Development area of ConceptDraw Solution Park.