Defensive Play Diagram – Under Front
With the strong side guard essentially uncovered, the defensive line has shifted away, or undershifted, from the strength of the offensive line. The strong side defensive tackle plays over the shoulder of the center and the weak side end plays a loose 5-technique outside the tackle, leaving the weak side defensive tackle (our 3-technique/undertackle) isolated against a guard. [Guide to N.F.L. Defenses]
Extending ConceptDraw DIAGRAM software with the Football solution from the ConceptDraw Solution Park you receive a complete set of libraries, templates and samples allowing to draw defensive plays diagrams in seconds. You can start from a template, change positions and get ready diagram in some clicks.
A combination of the "Football Fields" and "Football Positions" libraries gives you an ability to create a football-related drawing in seconds. Follow next steps to create you own football schema:
From the "Football Fields" library drop a field object to your document
From the "Football Positions" library drop all positions object you need to your document
Place positions on the field according to your drawing idea
Add arrows or text labels if needed.
All drawings, schemas and diagrams created in ConceptDraw DIAGRAM are scalable vector graphics that allows use it for any kind of presentation needs. The popular tool for perfoming presentations in MS PowerPoint. You can easily export your ConceptDraw DIAGRAM document to MS Power point and then present as is, or continue working on presentation using MS PowerPoint tools.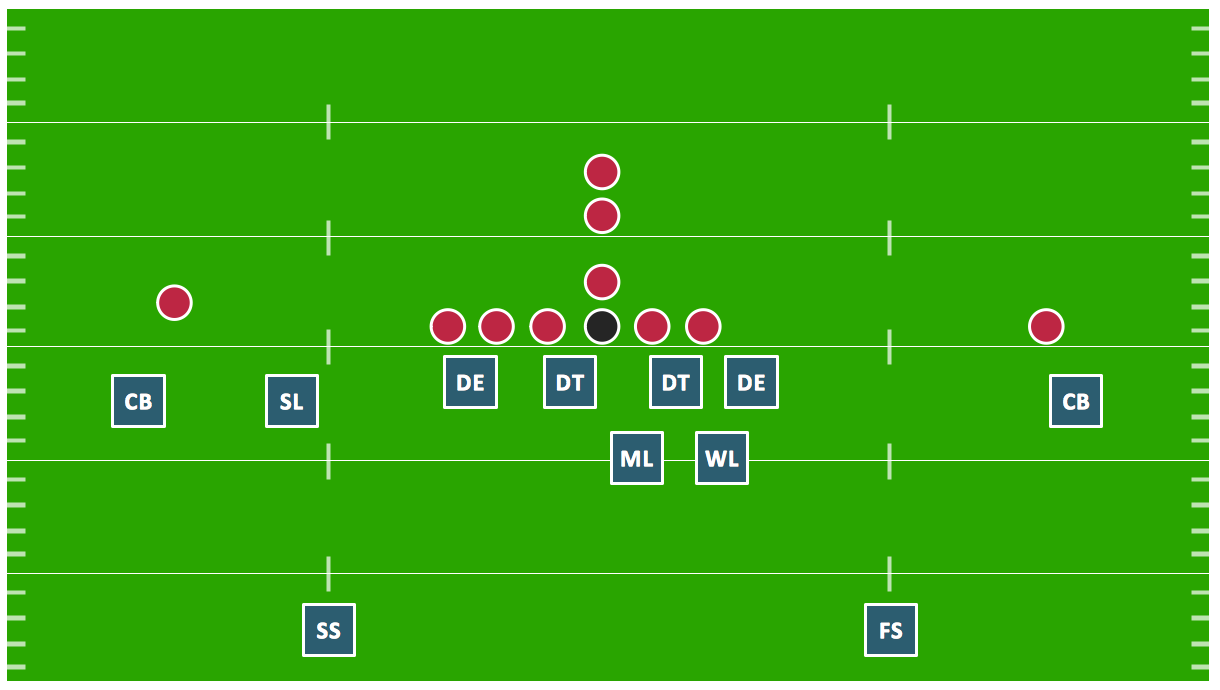 Sample 1. Football – Defensive Play – Under Front.
This diagram was created in ConceptDraw DIAGRAM using the "Football Fields" and "Football Positions" libraries from the Football solution. An experienced user spent 10 minutes creating this sample.
The samples you see on this page were created in ConceptDraw DIAGRAM using the Football Solution; they demonstrate a portion of the solution's capabilities and the professional results you can achieve.
All source documents are vector graphic documents. They are available for reviewing, modifying, or converting to a variety of formats (PDF file, MS PowerPoint, MS Visio, and many other graphic formats) from the ConceptDraw STORE. The Football Solution is available for all ConceptDraw DIAGRAM or later users.
SEVEN RELATED HOW TO's: