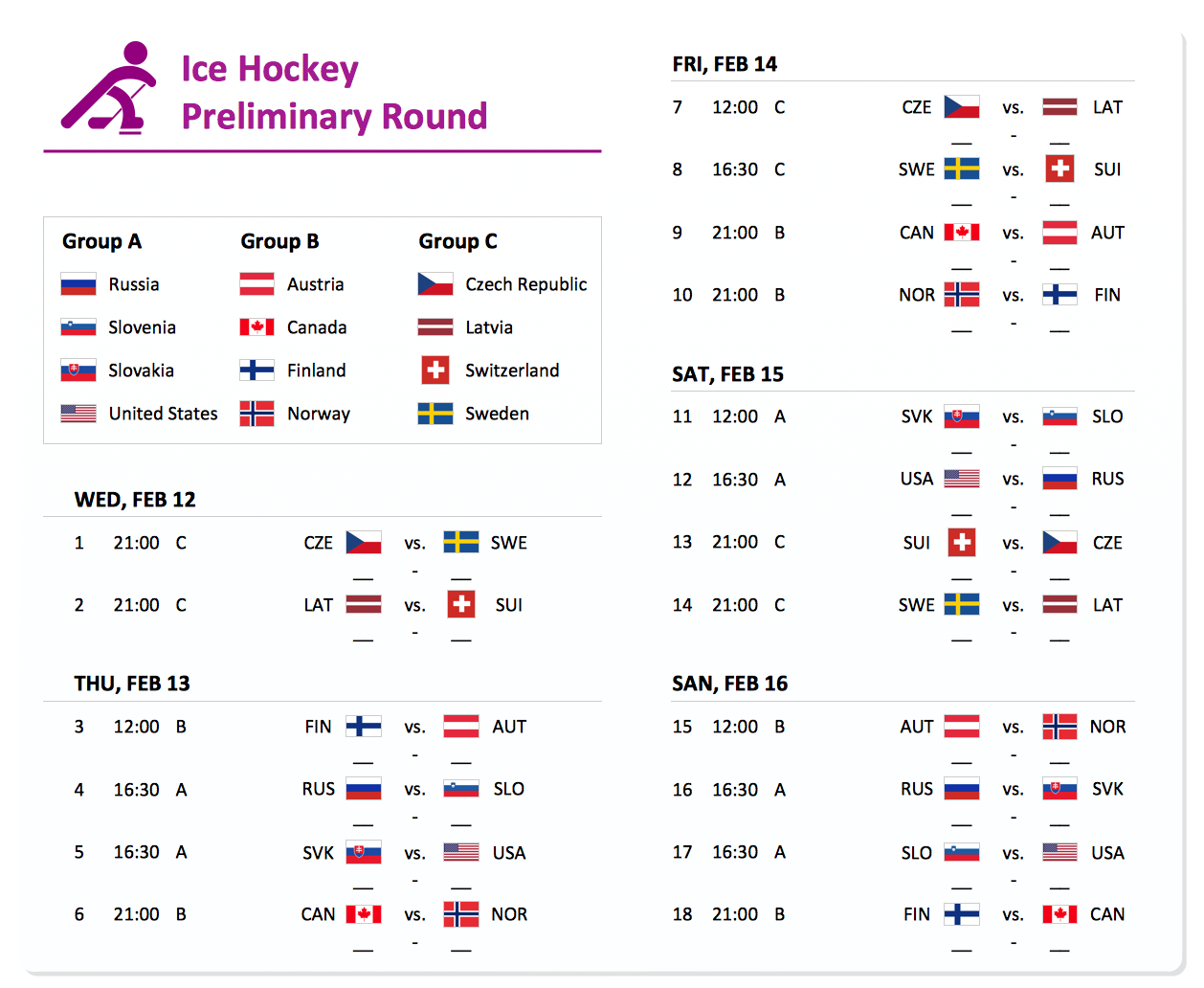 The Winter Sports solution for ConceptDraw PRO provides you with a rich set of olympic games and winter sports pictogram you may need to illustrate tournament schedules or any other kind of information materials.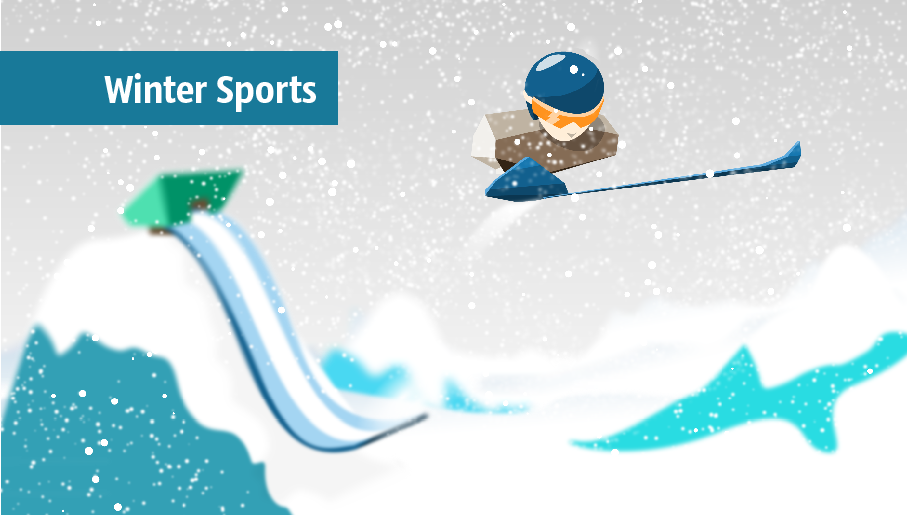 The Winter Sports solution from Sport area of ConceptDraw Solution Park contains winter sports illustration examples, templates and vector clipart libraries.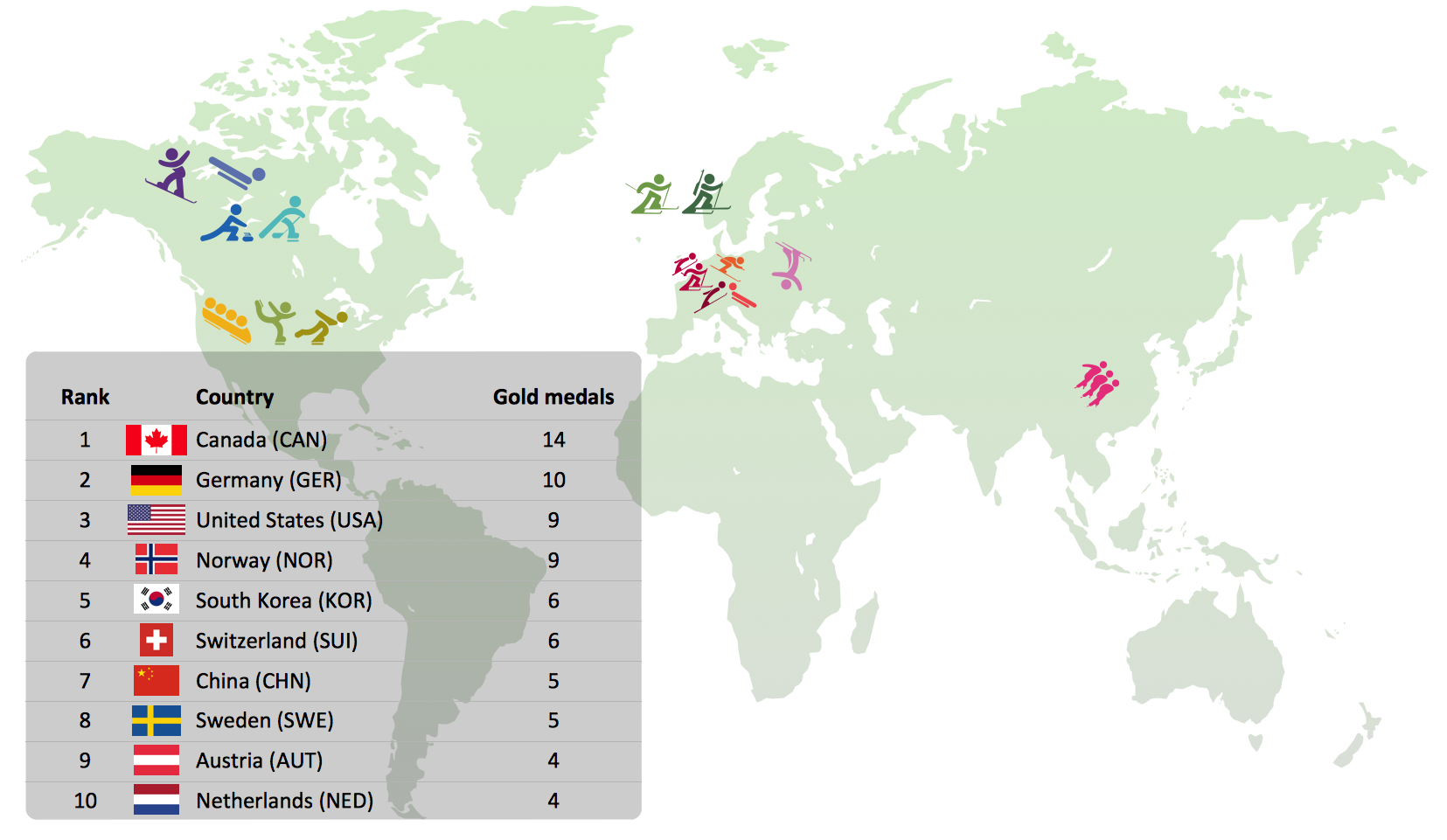 Tracking Olympic results in visual format is the most modern way to deliver statistics to a broad audience. This is a good example of an illustrated table you may easily modify, print, or publish on web from ConceptDraw Winter Sports solution .
"Ski jumping at the 2014 Winter Olympics will be held at the RusSki Gorki Jumping Center, Krasnaya Polyana, Russia. The events will be held between 8 and 17 February 2014. Women will compete in ski jumping for the first time in the history of Winter Olympic Games. A total of four ski jumping events will be held. ...
Men's individual normal hill.
Women's individual normal hill.
Men's individual large hill.
Men's team large hill.
A maximum of 100 athletes (70 male and 30 female) are allowed to qualify for the ski jumping events." [Ski jumping at the 2014 Winter Olympics. Wikipedia]
The vector illustration "Winter Olympics - Ski jumping" was created using the ConceptDraw PRO diagramming and vector drawing software extended with the Winter Sports solution. The Winter Sports solution from the Sport area of ConceptDraw Solution Park contains the Sochi 2014 Winter Olimpics sports vector pictograms and clipart libraries and examples of diagrams, illustrations and infographics.
www.conceptdraw.com/ solution-park/ sport-winter
"Alpine skiing at the 2014 Winter Olympics will be held at the Rosa Khutor Alpine Resort near Krasnaya Polyana, Russia. The ten events are scheduled for February 9–22, 2014 ...
Men's Downhill, Women's Super Combined, Women's Downhill, Men's Super Combined, Women's Super G, Men's Super G, Women's Giant Slalom, Men's Giant Slalom, Women's Slalom, Men's Slalom.
A total of 350 quota spots are available to athletes to compete at the games. A maximum of 22 athletes can be entered by a National Olympic Committee, with a maximum of 14 men or 14 women. There are two qualification standards for the games: an A standard and a B standard.
78 nations are scheduled to participate, with number of athletes in parenthesis." [Alpine skiing at the 2014 Winter Olympics. Wikipedia]
The vector illustration "Winter Olympics - Alpine skiing" was created using the ConceptDraw PRO diagramming and vector drawing software extended with the Winter Sports solution.
The Winter Sports solution from the Sport area of ConceptDraw Solution Park contains the Sochi 2014 Winter Olimpics sports vector pictograms and clipart libraries and examples of diagrams, illustrations and infographics.
www.conceptdraw.com/ solution-park/ sport-winter
"Snowboarding at the 2014 Winter Olympics in Sochi will be held at the Rosa Khutor Extreme Park. The events will be held between 6 and 22 February 2014. A total of ten snowboarding events will be held at Sochi 2014 which will include parallel giant slalom, snowboard cross, half-pipe, and the new events of parallel slalom and slopestyle. ...
Men's slopestyle.
Women's slopestyle.
Men's halfpipe.
Women's halfpipe.
Women's snowboard cross.
Men's snowboard cross.
Men's and Women's parallel giant slalom.
Men's and Women's parallel slalom.
A total of 252 quota spots are available to athletes to compete at the games. A maximum of 24 athletes can be entered by a National Olympic Committee, with a maximum of 14 men or 14 women. The five different events have different quota amounts allocated to them. Countries are allowed to enter the same athlete into more then one event, further reducing the amount of athletes competing. ...
31 nations are scheduled to participate, with number of athletes in parenthesis." [Snowboarding at the 2014 Winter Olympics. Wikipedia]
The vector illustration "Winter Olympics - Snowboard" was created using the ConceptDraw PRO diagramming and vector drawing software extended with the Winter Sports solution. The Winter Sports solution from the Sport area of ConceptDraw Solution Park contains the Sochi 2014 Winter Olimpics sports vector pictograms and clipart libraries and examples of diagrams, illustrations and infographics.
www.conceptdraw.com/ solution-park/ sport-winter
"Luge at the 2014 Winter Olympics will be held at the Sliding Center Sanki near Krasnaya Polyana, Russia. The four events are scheduled for February 8–13, 2014.
In April 2011 the International Olympic Committee approved the addition of the mixed team relay event (one sled from each of the other three events compete per country), meaning luge will have four events on the program for the first time.
Men's singles runs;
Women's singles runs;
Doubles runs;
Team relay.
A total quota of 110 athletes is allowed to compete at the Games. Countries are assigned quotas using the world rankings of results from November 1, 2012 to December 31, 2013." [Luge at the 2014 Winter Olympics. Wikipedia]
The vector illustration "Winter Olympics - Luge" was created using the ConceptDraw PRO diagramming and vector drawing software extended with the Winter Sports solution. The Winter Sports solution from the Sport area of ConceptDraw Solution Park contains the Sochi 2014 Winter Olimpics sports vector pictograms and clipart libraries and examples of diagrams, illustrations and infographics.
www.conceptdraw.com/ solution-park/ sport-winter
"Figure skating at the 2014 Winter Olympics will be held at the Iceberg Skating Palace in Sochi, Russia. The five events are scheduled for February 6–22, 2014.
Team event pair free;
Team event mens free;
Team event ice dance free;
Team event ladies free;
Pair skating free;
Mens singles free;
Ice dance free;
Ladies singles free.
A total of 148 quota spots are available to athletes to compete at the games. A maximum of 18 athletes can be entered by a National Olympic Committee, with a maximum of 9 men or 9 women. An additional six quota spots were made available for the team event." [Figure skating at the 2014 Winter Olympics. Wikipedia]
The vector illustration "Winter Olympics - Figure skating" was created using the ConceptDraw PRO diagramming and vector drawing software extended with the Winter Sports solution. The Winter Sports solution from the Sport area of ConceptDraw Solution Park contains the Sochi 2014 Winter Olimpics sports vector pictograms and clipart libraries and examples of diagrams, illustrations and infographics.
www.conceptdraw.com/ solution-park/ sport-winter
"Short track speed skating at the 2014 Winter Olympics will be held at the Iceberg Skating Palace in Sochi, Russia. The eight events are scheduled for 10–21 February 2014. ...
Men's 1500 m;
Women's 500 m;
Women's 1500 m;
Men's 1000 m;
Women's 3000 m relay;
Women's 1000 m;
Men's 500 m;
Men's 5000 m relay. ...
A total quota of 120 athletes is allowed to compete at the Games (60 men and 60 women). Countries are assigned quotas using a combination of the four special Olympic Qualification classification that will be held at two world cups in November 2013. A nation may enter a maximum of five athletes per gender if it qualifies a relay team and three if it does not." [Short track speed skating at the 2014 Winter Olympics. Wikipedia]
The vector illustration "Winter Olympics - Short track" was created using the ConceptDraw PRO diagramming and vector drawing software extended with the Winter Sports solution. The Winter Sports solution from the Sport area of ConceptDraw Solution Park contains the Sochi 2014 Winter Olimpics sports vector pictograms and clipart libraries and examples of diagrams, illustrations and infographics.
www.conceptdraw.com/ solution-park/ sport-winter
"Skeleton at the 2014 Winter Olympics will be held at the Sliding Center Sanki near Krasnaya Polyana, Russia. The events will be held between 13 and 15 February 2014. A total of two skeleton events will be held. ...
Women's singles runs.
Men's singles runs.
A total of 50 quota spots are available to athletes to compete at the games. A maximum 30 men and 20 women may qualify. The qualification is based on the world rankings of January 18, 2014." [Skeleton at the 2014 Winter Olympics. Wikipedia]
The vector illustration "Winter Olympics - Skeleton" was created using the ConceptDraw PRO diagramming and vector drawing software extended with the Winter Sports solution. The Winter Sports solution from the Sport area of ConceptDraw Solution Park contains the Sochi 2014 Winter Olimpics sports vector pictograms and clipart libraries and examples of diagrams, illustrations and infographics.
www.conceptdraw.com/ solution-park/ sport-winter
"Bobsleigh at the 2014 Winter Olympics will be held at the Sliding Center Sanki near Krasnaya Polyana, Russia. The three events are scheduled for February 16–23, 2014.
Competition Schedule.
The following is the competition schedule for all three events.
Men's Two Man runs;
Women's Two Man runs;
Men's Four Man runs. ...
A total of 170 quota spots are available to athletes to compete at the games. A maximum 130 men and 40 women may qualify. The qualification is based on the world rankings of January 20, 2014." [Bobsleigh at the 2014 Winter Olympics. Wikipedia]
The vector illustration "Winter Olympics - Bobsleigh" was created using the ConceptDraw PRO diagramming and vector drawing software extended with the Winter Sports solution. The Winter Sports solution from the Sport area of ConceptDraw Solution Park contains the Sochi 2014 Winter Olimpics sports vector pictograms and clipart libraries and examples of diagrams, illustrations and infographics.
www.conceptdraw.com/ solution-park/ sport-winter