UML Use Case Diagram. Design Elements
UML Use Case Diagram is a type of Behavior Diagrams that displays the dependencies between the actors and use cases.
UML Use Case Diagram displays the system on the conceptual level.
The purpose of a UML Use Case Diagram is to demonstrate the various types of users of a system and the different ways of their interacting with this system. Use Case Diagrams are often used together with the textual use cases and other types of diagrams.
The notation for a Use Case Diagram involves the following types of symbols:
Use cases are represented as the horizontally shaped ovals and display the different uses.
Actors are the people that employ the use cases and are represented on the diagram as figures of persons. Actors cannot be related each to other (except relations of generalization/inheritance).
Associations are shown as lines between actors and use cases.
System boundary – the box with the name and ovals (use cases) inside that sets a system scope to use cases.
Packages that allow you to add the elements in groups.
The Rapid UML Solution for ConceptDraw DIAGRAM contains 13 vector stencils libraries with 393 interactive shapes that you can use to design your UML diagrams.
To design a Use Case Diagram use the UML Use Case Diagram library.
UML Use Case Diagram library contains 26 shapes:

Include relationship
Use case
Communicates relationship
Actor 1
Uses relationship
Extend relationship
Generalization relationship
Multiplicity: mandatory
Package
Multiplicity: many (zero or more)
Communication line
Use case set 2.0
Divider
Actor 2
System boundary
Frame, fragment
Note
Symbol << >>
Association Many-to-Many
Association One-to-Many
Smart connector (with options)
Interface
Smart connector
Line connector
Note connector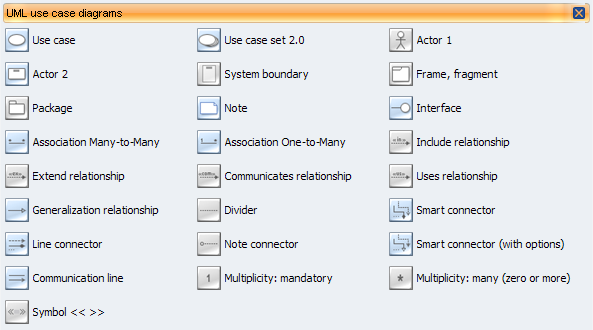 Pic.1. UML Use Case Diagram Library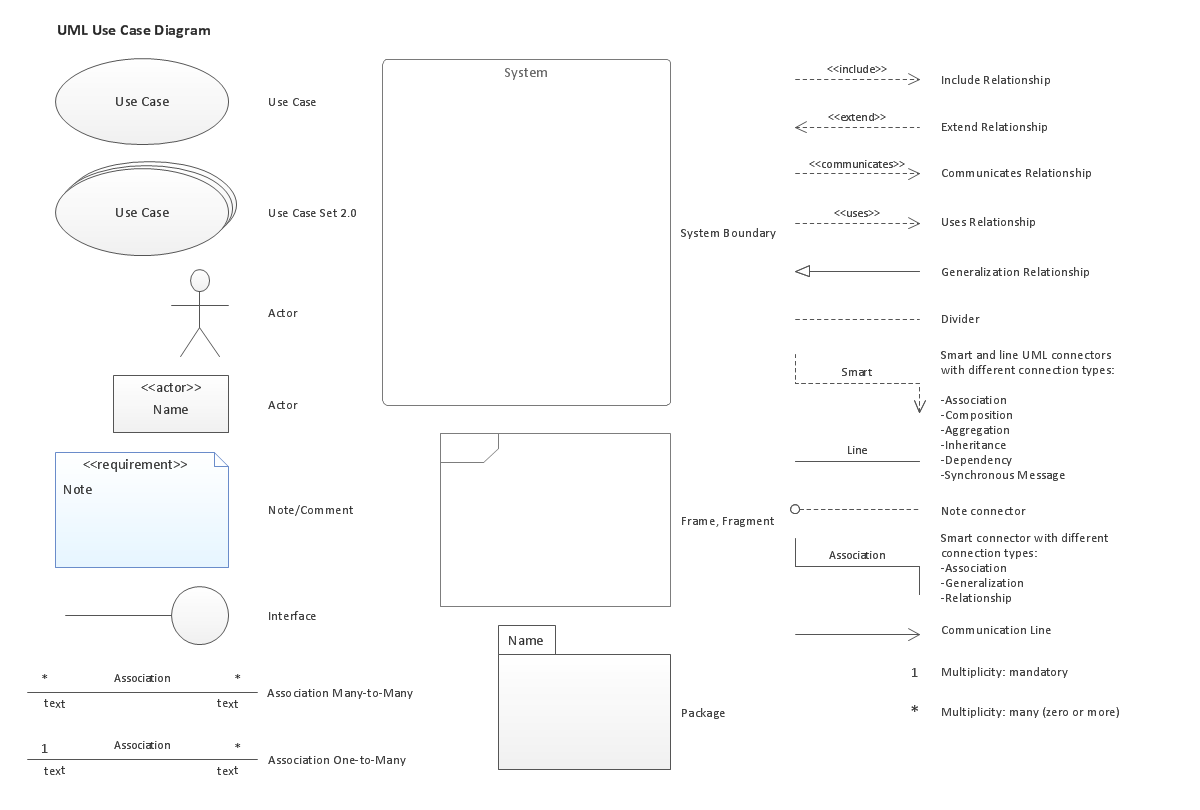 Pic.2. UML Use Case Diagram Library Elements
ConceptDraw Rapid UML solution provide UML Use Case Diagram library of vector stencils for use case diagram elements like actors, use cases, connectors, etc.
Use the library UML Use Case Diagram to draw your own UML use case diagrams that show interactions between a roles (actors) and a system, to achieve a goal.
---
TEN RELATED HOW TO's: