Network Mapper
ConceptDraw DIAGRAM diagramming and vector drawing software is a powerful network mapper thanks to the extensive drawing tools of Network Layout Floor Plans Solution from the Computer and Networks Area.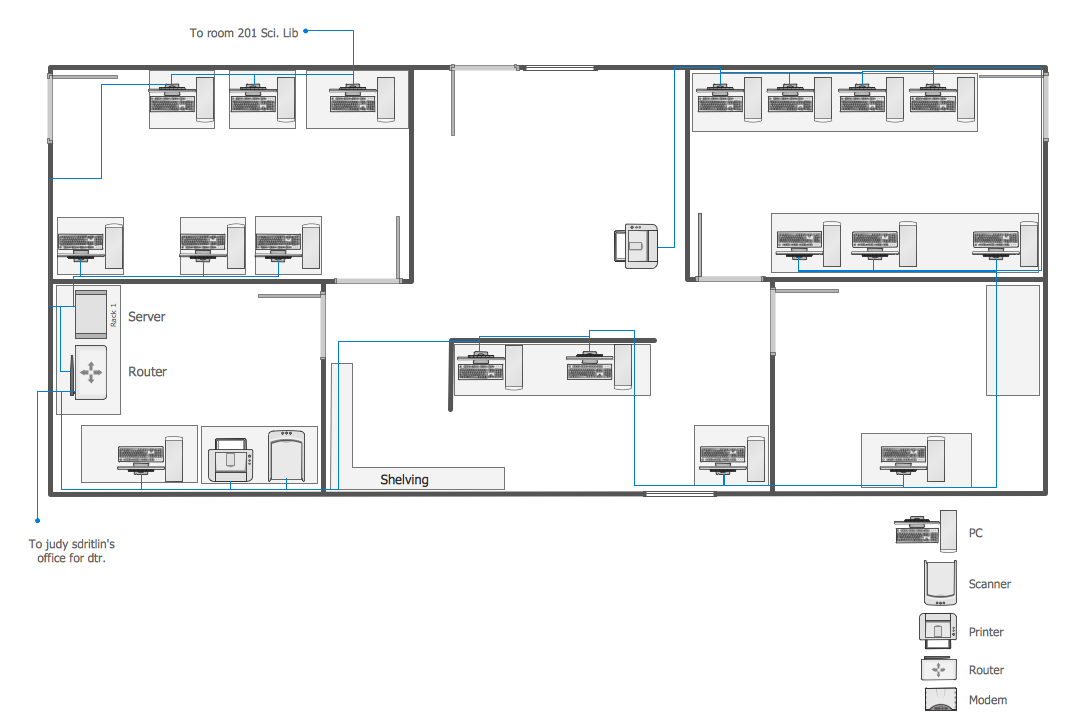 Example 1. Network Mapper - Ethernet Cable Layout
Network Communication Plan Library from the Network Layout Floor Plans Solution offers variety of home networking vector shapes which help to make ConcepDraw PRO software the best network mapper.
Example 2. Network Communication Plan Library Design Elements
The process of creating the network diagrams is now very simple. You need only drag the desired objects from the library to the document and arrange them. Add the title, callouts and colors if needed and professionally looking diagram will be ready!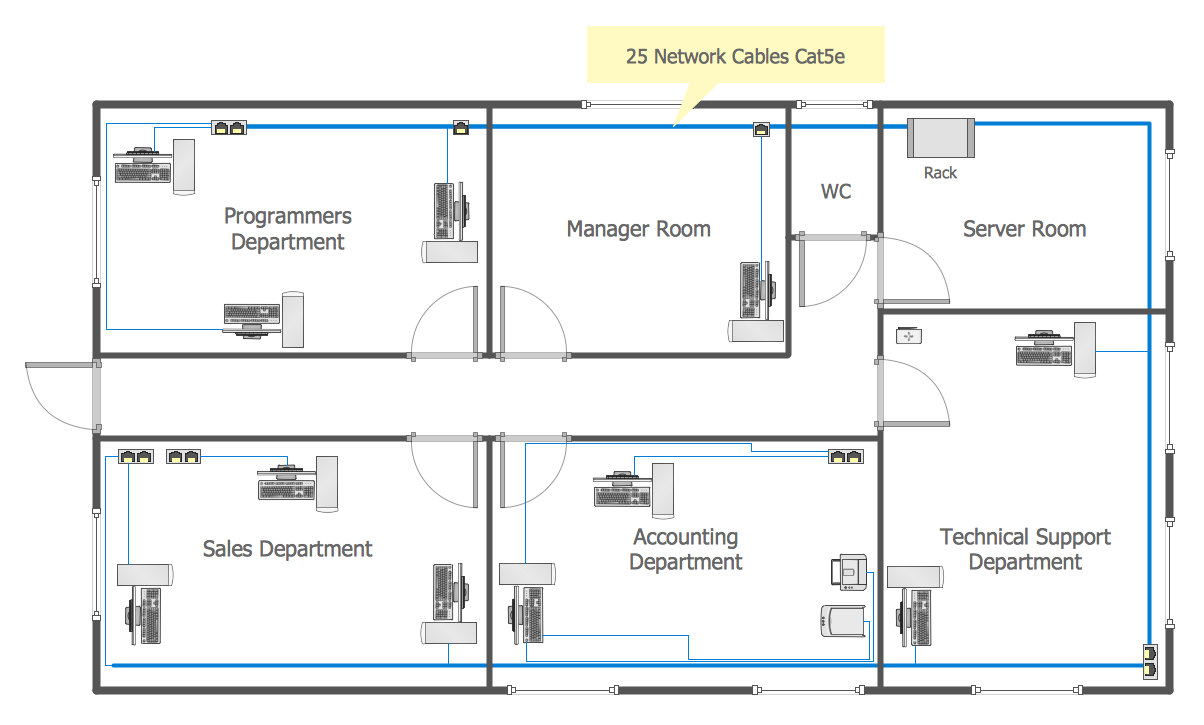 Example 3. Network Mapper - Network Floor Plan Layout
The samples you see on this page were created in ConceptDraw DIAGRAM using the Network Layout Floor Plans Solution for ConceptDraw DIAGRAM These network floor plans successfully demonstrate solution's capabilities and professional results you can achieve with network mapper ConceptDraw DIAGRAM An experienced user spent 10 minutes creating every of these samples.
Use the Network Layout Floor Plans Solution for ConceptDraw DIAGRAM software to create your own diagrams, schemes and plans of any complexity quick, easy and effective, and then successfully use them.
All source documents are vector graphic documents. They are available for reviewing, modifying, or converting to a variety of formats (PDF file, MS PowerPoint, MS Visio, and many other graphic formats) from the ConceptDraw STORE. The Network Layout Floor Plans Solution is available for all ConceptDraw DIAGRAM or later users.
FOUR RELATED HOW TO's:
ConceptDraw DIAGRAM diagramming and network drawing software extended with Network Layout Floor Plans Solution from the Computer and Networks Area is the best for visually representing and explaining the basic network concepts.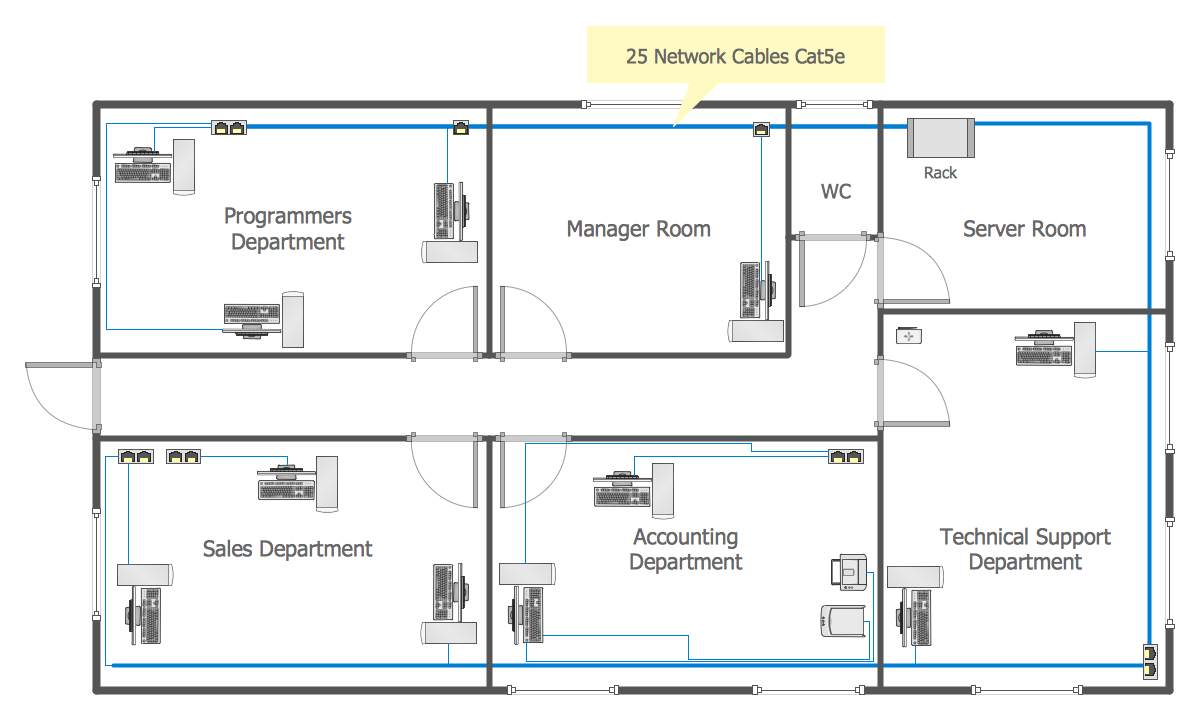 Picture: Network Concepts
Related Solution:
Closed-circuit television (CCTV) uses cameras and monitors to carry out video surveillance. Unlike broadcast television this system has only local signal. It is a feature of almost every video camera, yet CCTV is mainly a system for visual control of certain areas such as banks, airports, supermarkets, and other places for security reasons. Developing and installing CCTV system is a time-consuming process. It also requires certain knowledge and skills. ConceptDraw is a solution of setting video cameras rationally. You can achieve two aims at once: CCTV Design Tool saves your time and your money and helps you make professional video surveillance system.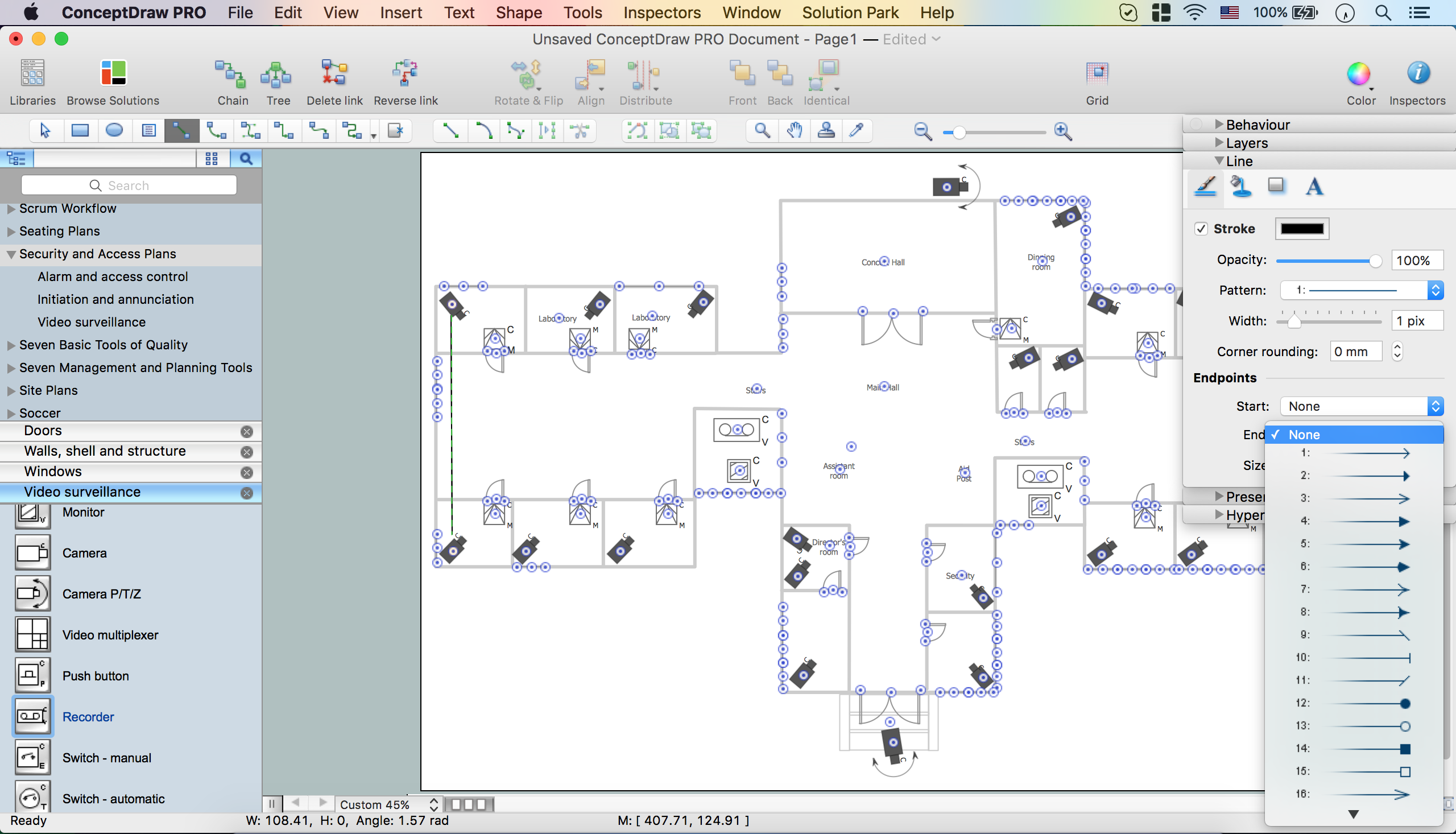 Picture: How To Create CCTV Network Diagram
Related Solutions:
Electrical plan is a document that is developed during the first stage of the building design. This scheme is composed of conventional images or symbols of components that operate by means of electric energy. To simplify the creation of these schemes you can use house electrical plan software, which will not require a long additional training to understand how to use it. You only need to install the necessary software ant it's libraries and you'll have one less problem during the building projection. Any building contains a number of electrical systems, including switches, fixtures, outlets and other lightening equipment. All these should be depicted in a building electrical plans and included to general building documentation. This home electrical plan displays electrical and telecommunication devices placed to a home floor plan. On the plan, each electrical device is referenced with the proper symbol. Electrical symbols are used for universal recognition of the building plan by different persons who will be working on the construction. Not all possible electric symbols used on a certain plan, so the symbols used in the current home plan are included to a legend. The electrical home plan may be added as a separate document to a complete set of building plans.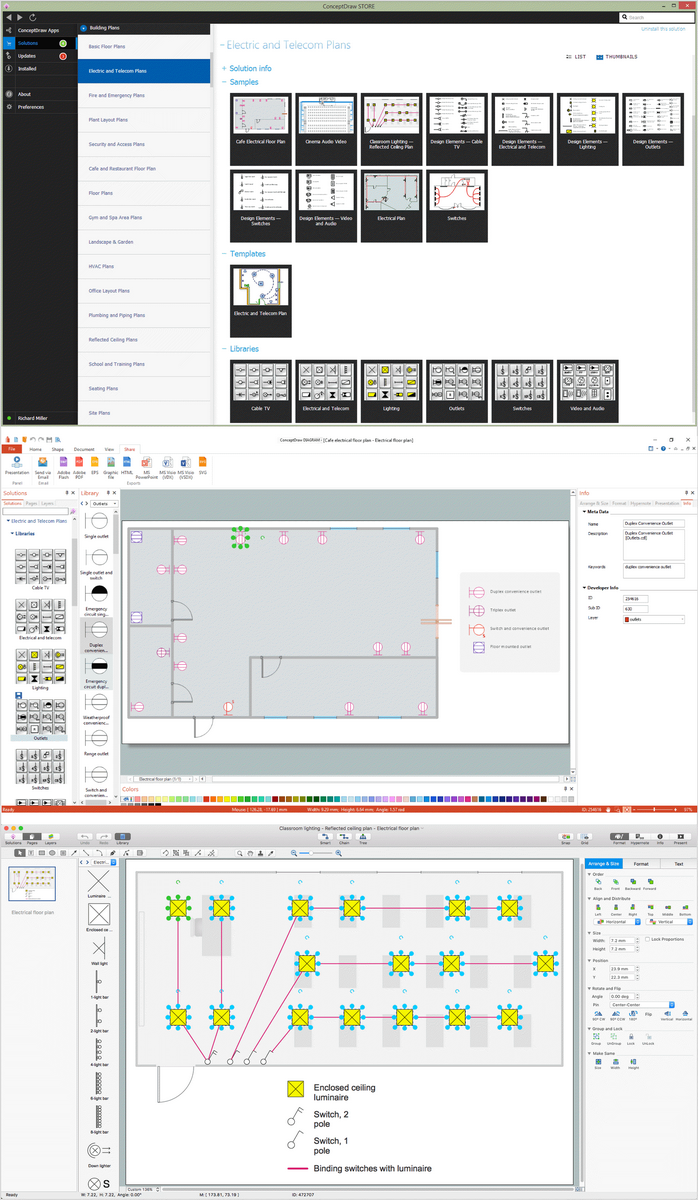 Picture: How To use House Electrical Plan Software
Related Solution: