How To Organize Your Own Art Show
Collaboration
Being successful in business is about meeting your defined objectives and adapting to changes occurring in the global market. The ability for an organization to successful adapt to a rapidly changing environment leads to continued growth and success. Failure to adapt, leads to stakeholder disappointment and eventually to extinction if an organization cannot adjust to the situation.
Many organizations, who at one time in their history flourished, have been known to flounder because of loss of direction and vision. Keeping an organization moving forward requires strong collaborative team work to transition an organization from one stage to the next in its life cycle. Mistakes in strategy or implementation today are punishing when your team fails to correctly identify an early opportunity. Early opportunities not acted on cease to be success possibilities.
Note Exchange
Note: solution requires ConceptDraw MINDMAP or later.
The Note Exchange solution for ConceptDraw MINDMAP allows you to upload your mind maps to Evernote, and access them anywhere, on any computer or mobile device.
When sending your mind map to Evernote, you can decide to upload a single, or multiple topic(s), an entire branch or branches (topics with subtopics), a whole single page mind map, or the entire file for multi-page documents. The map is sent as an image via email, which you can then access from any computer or mobile device.
You can use the Evernote solution as a daily planner, sending day-to-day tasks from your mind map to Evernote. Thanks to the Note Exchange solution, your to-do mind maps are always with you - you can upload a whole map, or specific parts relating to a certain person, task or meeting - and you can access this information instantly, wherever you are.
To plan any event, including your first art exhibit, just organize the details of the plan in ConceptDraw MINDMAP and then send it to Evernote to guide the preparation.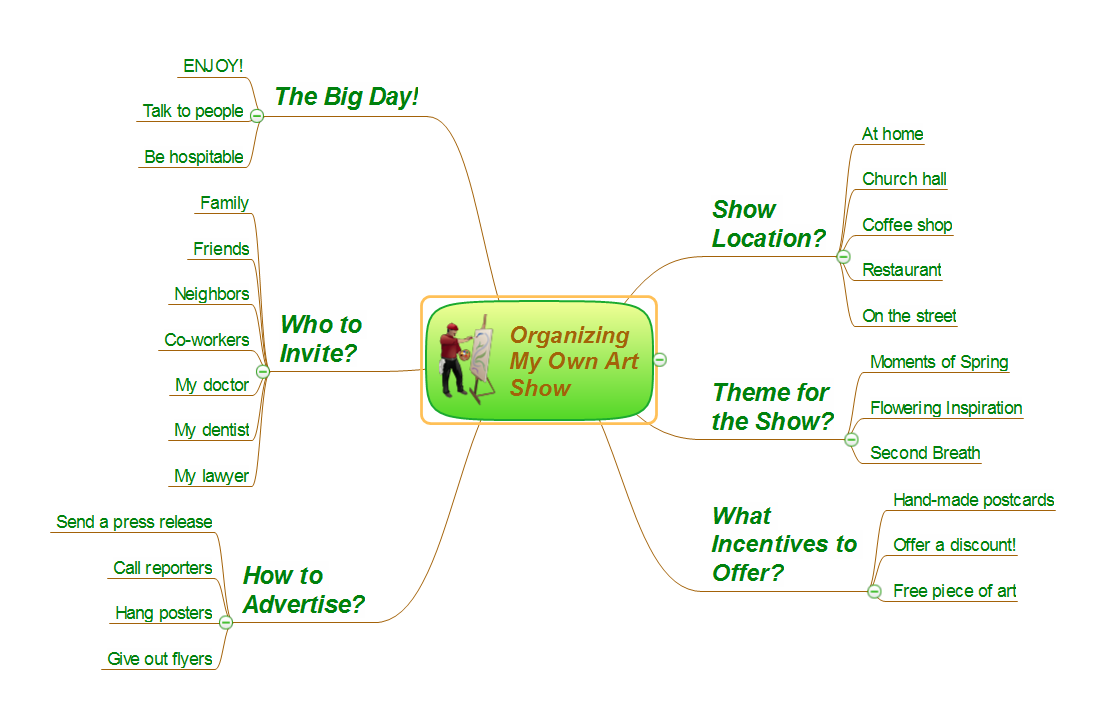 Example 1. How To Organize Your Own Art Show
Export to Outline
Organizing My Own Art Show
Show Location?

At home
Church hall
Coffee shop
Restaurant
On the street

Theme for the Show?

Moments of Spring
Flowering Inspiration
Second Breath

What Incentives to Offer?

Hand-made postcards
Offer a discount!
Free piece of art

How to Advertise?

Send a press release
Call reporters
Hang posters
Give out flyers

Who to Invite?

Family
Friends
Neighbors
Co-workers
My doctor
My dentist
My lawyer

The Big Day!

ENJOY!
Talk to people
Be hospitable
The Benefits for ConceptDraw MINDMAP Brainstorming Software
ConceptDraw MINDMAP is effective for brainstorming, designing mind maps, idea generating, creative and lateral thinking, creativity and problem solving.
ConceptDraw MINDMAP is ideal for team and personal work in Business, Marketing and Project Management.
The libraries with large quantity of vector objects help to illustrate your mind maps and to make them bright, visual and comprehensible.
Use of View Navigator tool lets create presentations from a mind map: you can simply select the map parts you want to present, sequence your slides, and preview the presentation.
ConceptDraw MINDMAP provides wide capabilities of importing and exporting in various formats: Microsoft PowerPoint, Microsoft Word, MS Excel, Mindjet MindManager, image, HTML, PDF file.
THREE RELATED HOW TO's:
Fishbone, Ishikawa or Cause and Effect diagram helps understand the reasons of completed or potential actions by structuring their causes in smaller categories. Also, one can use it to see how the contributing factors are related to each other. In everyday company routine, a Cause and Effect diagram is helpful with a number of regular activities like brainstorming, project management, and problem solving. How to Construct a Fishbone Diagram? Construction a Fishbone diagram in professional diagramming software ConceptDraw DIAGRAM is more easy than you think. Just use the predesigned vector elements from the Fishbone Diagrams library for Fishbone Diagrams solution or one of plenty Fishbone templates and examples, and you will get a Cause and Effect diagram in minutes.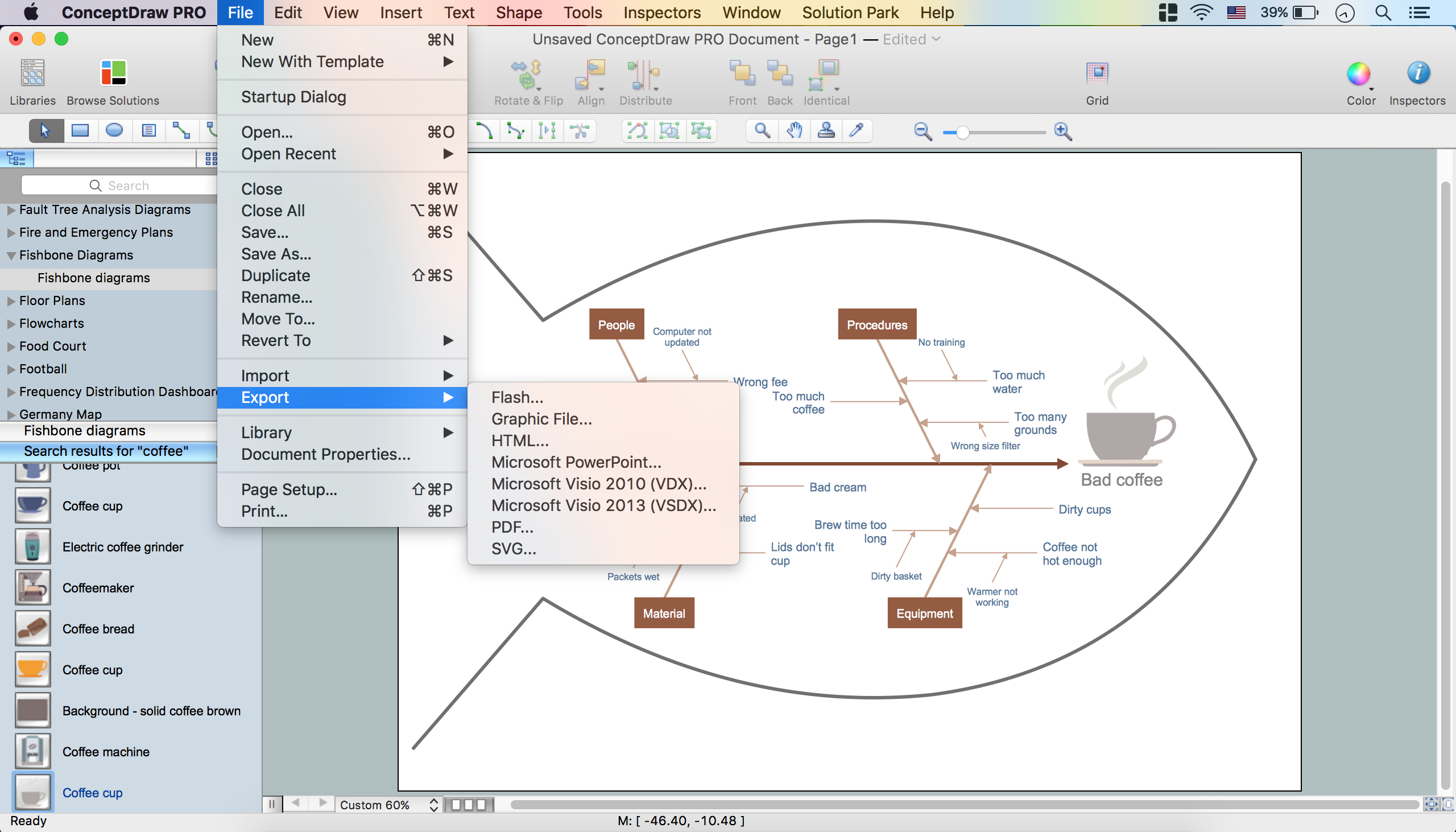 Picture: How to Construct a Fishbone Diagram
Related Solution:
Unfortunately, a man can't predict the future and no one is safe from natural disasters, such as floods, earthquakes, hurricanes or fires. Nonetheless, what you can do to ensure safety for you and your relatives is to create an emergency plan, so everyone will know what to do if emergency happens. Keep that plan simple and train it several times a year so that no one could forget any details of it. Fire and emergency plans are important to supply people with a visual safety solution. This diagram presents a set of standard symbols used to depict fire safety, emergency, and associated information. Using clear and standard symbols on fire emergency plans provides the coherence of collective actions , helps to avoid embarrassment, and improves communications in an emergent situation. The fire emergency symbols are intended for the general emergency and fire service, as well as for building plans ,engineering drawings and insurance diagrams. They can be used during fire extinguishing and evacuation operations, as well as trainings. It includes vector symbols for emergency management mapping, emergency evacuation diagrams and plans.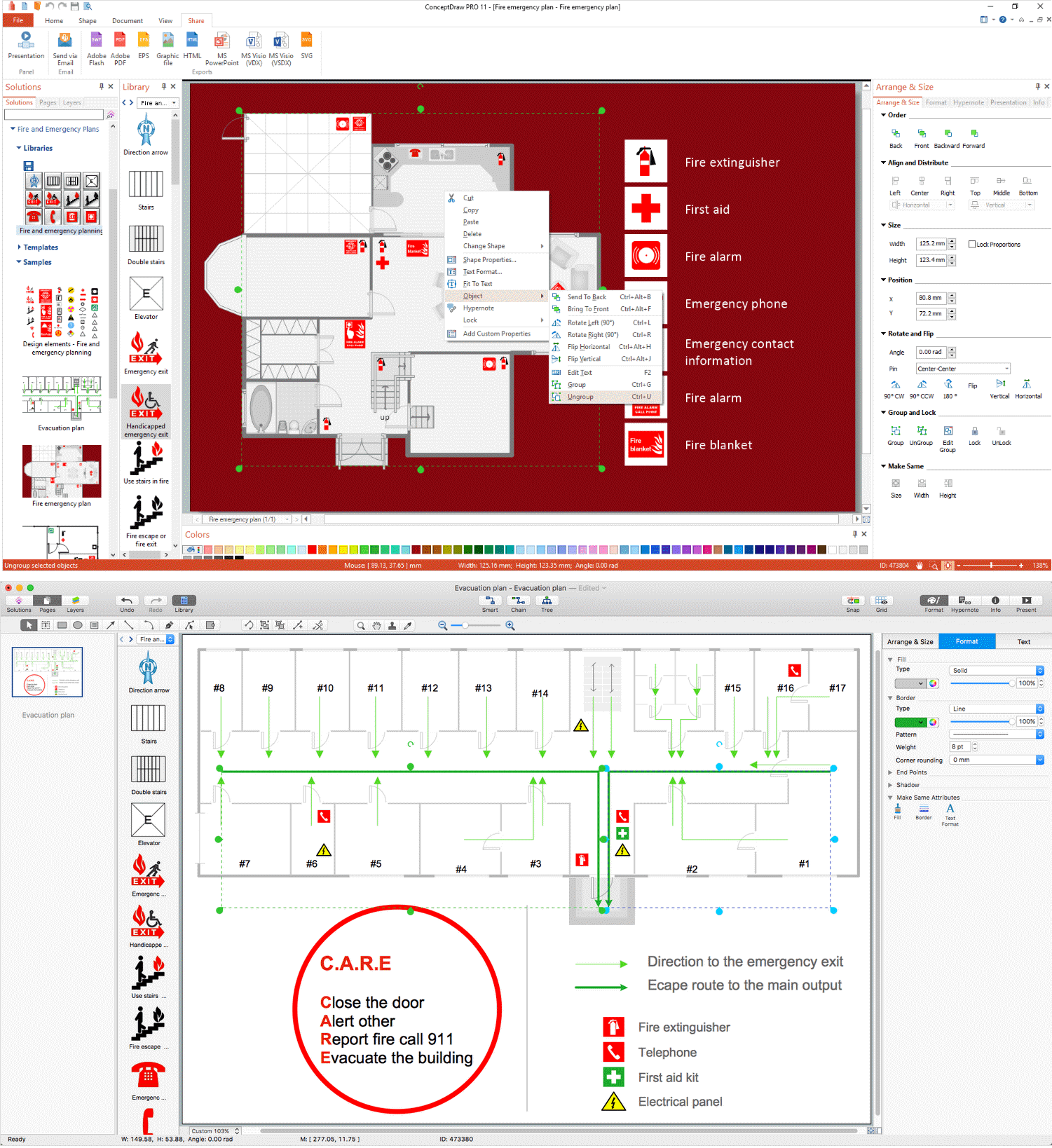 Picture: Emergency Plan
Related Solution:
This action mindmap helps respond to feature suggestions made by customers or enhancement requirements related to must-have features. The example contains ready to use response phrases organized into mindmap for quick composing and tweeting/posting of the response messages.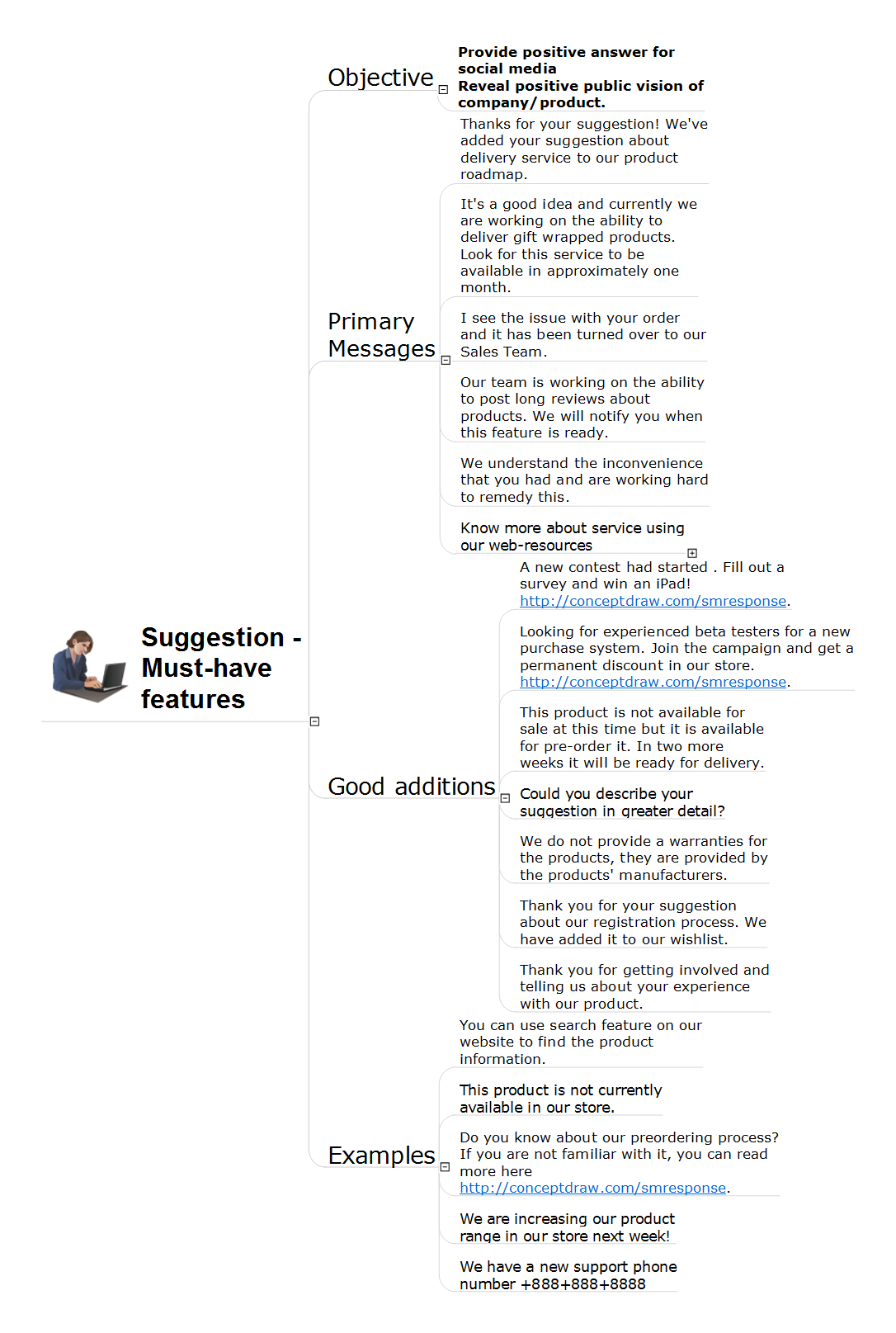 Picture: Must Have Suggestion
Related Solution: