Made with
Related Solutions
Quality management presentation
Quality
In Solutions from Quality Management Area we support quality and manufacturing managers with visualization tools for production quality control and improvement. The solutions from Quality Management Area extend ConceptDraw DIAGRAM software with Quality Diagrams.
Quality mind maps
This solution extends ConceptDraw MINDMAP software with Quality Management Mind Maps (Presentations, Meeting Agendas, Problem to be solved).
By filling in this template, it is easy to quickly prepare a presentation about any quality process in your company.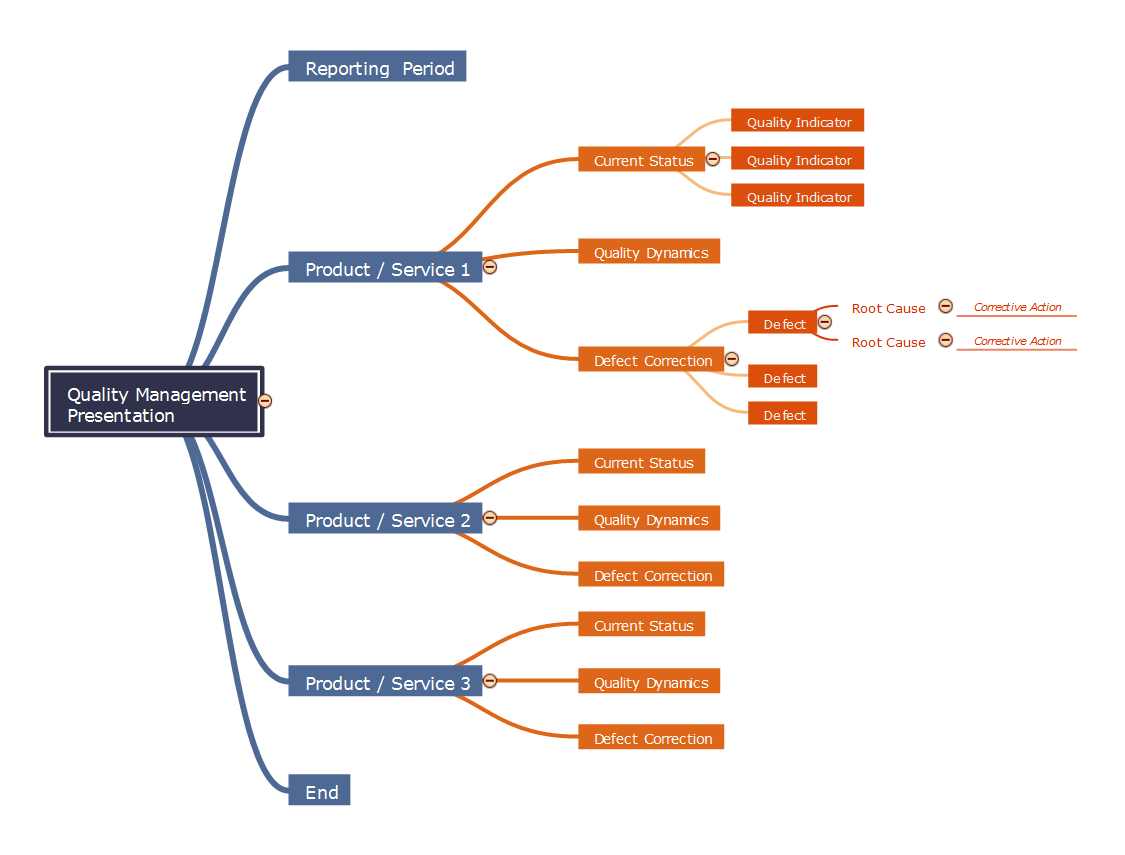 Example 1. Quality management presentation
Export to Outline
Quality Management Presentation
Reporting Period
Product / Service 1

Current Status

Quality Indicator
Quality Indicator
Quality Indicator

Quality Dynamics
Defect Correction

Product / Service 2

Current Status
Quality Dynamics
Defect Correction

Product / Service 3

Current Status
Quality Dynamics
Defect Correction

End
The Benefits for ConceptDraw MINDMAP Brainstorming Software
ConceptDraw MINDMAP is effective for brainstorming, designing mind maps, idea generating, creative and lateral thinking, creativity and problem solving.
ConceptDraw MINDMAP is ideal for team and personal work in Business, Marketing and Project Management.
The libraries with large quantity of vector objects help to illustrate your mind maps and to make them bright, visual and comprehensible.
Use of View Navigator tool lets create presentations from a mind map: you can simply select the map parts you want to present, sequence your slides, and preview the presentation.
ConceptDraw MINDMAP provides wide capabilities of importing and exporting in various formats: Microsoft PowerPoint, Microsoft Word, MS Excel, Mindjet MindManager, image, HTML, PDF file.
Related Solution:
TWO RELATED HOW TO's:
Fundamental Tool in Quality Management
ConceptDraw MINDMAP v10 is a fundamental tool in quality management to describe visual instructions on any process.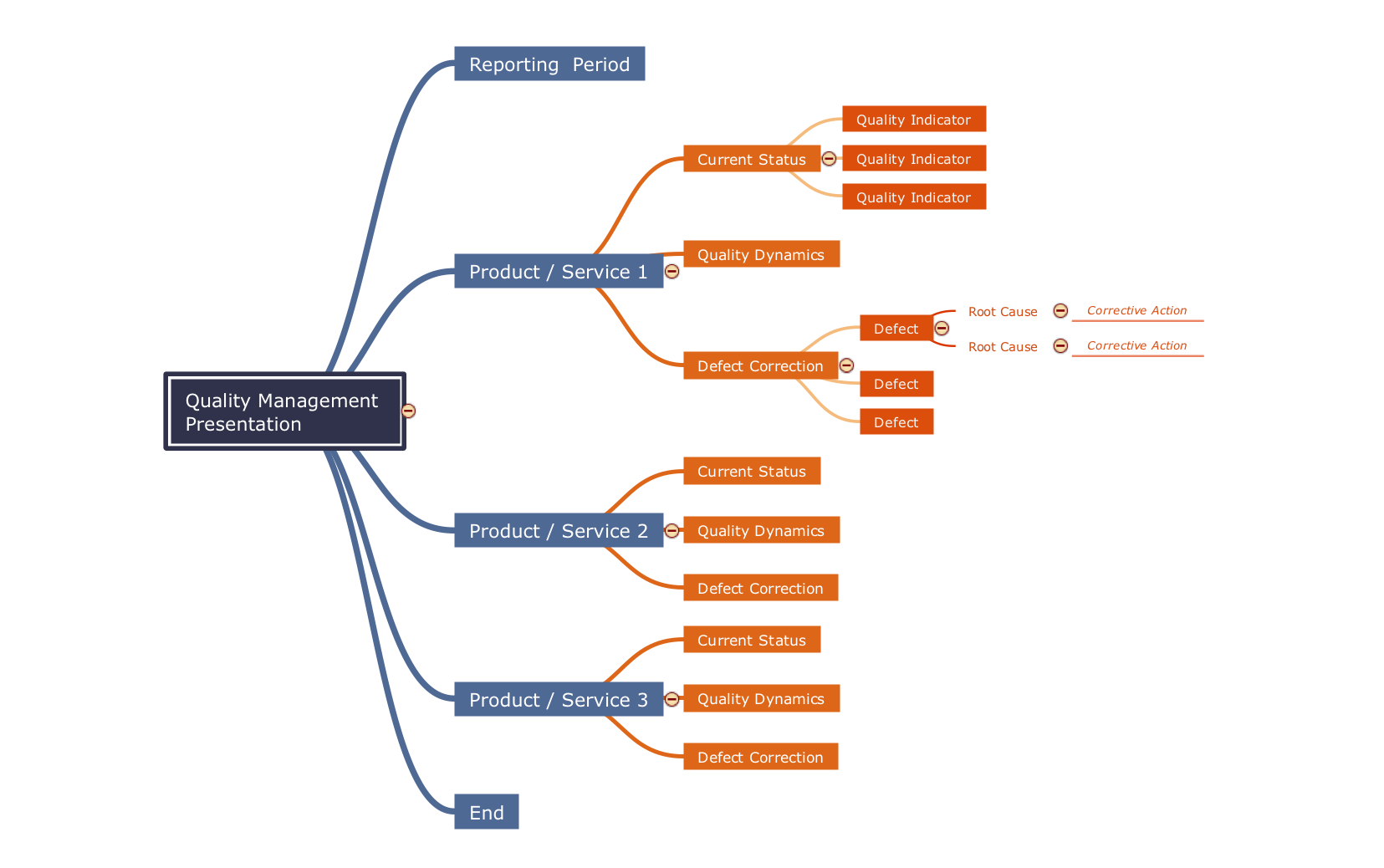 Picture: Fundamental Tool in Quality Management
Related Solution:
Probability Quality Control Tools
The Total Quality Management Diagram solution helps your organization visualize business and industrial processes. Create Total Quality Management diagrams for business process with ConceptDraw software.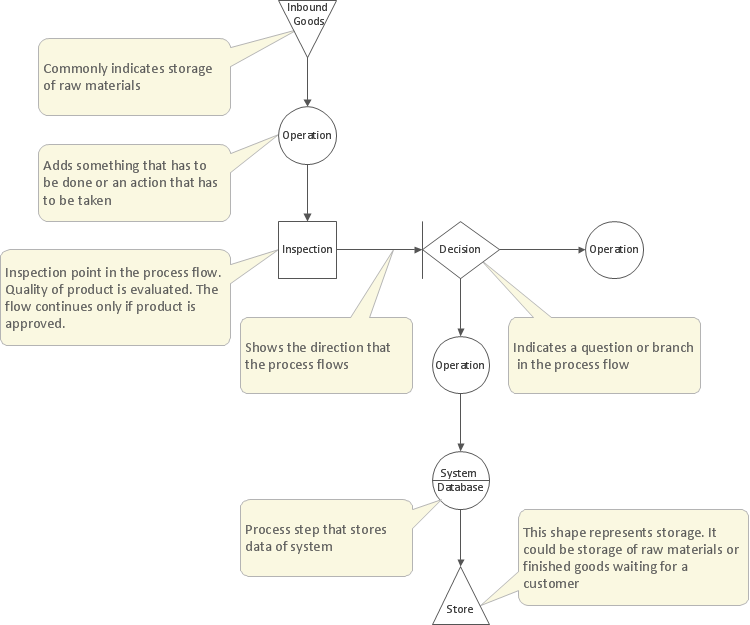 Picture: Probability Quality Control Tools
Related Solution: