The vector clipart library Geography contains 14 images of geographical features: ocean, forest, river, lake, waterfall, mountains, ravine, volcano, desert, hills, iceberg, trees.
Use the design elements library Geography to draw illustrations with landform images using the ConceptDraw PRO diagramming and vector drawing software.
"A landform in the earth sciences comprises a geomorphological unit, and is largely defined by its surface form and location in the landscape. As part of the terrain a landform is an element of topography. Landform elements also include land such as hills, mountains, plateaus,canyons,valleys, seascape and oceanic waterbody interface features such as bays, peninsulas, seas and so forth, including sub-aqueous terrain features such as mid-ocean ridges, volcanoes,and the great ocean basins." [Landform. Wikipedia]
This landscape illustration example is included in the Nature solution from the Illustration area of ConceptDraw Solution Park.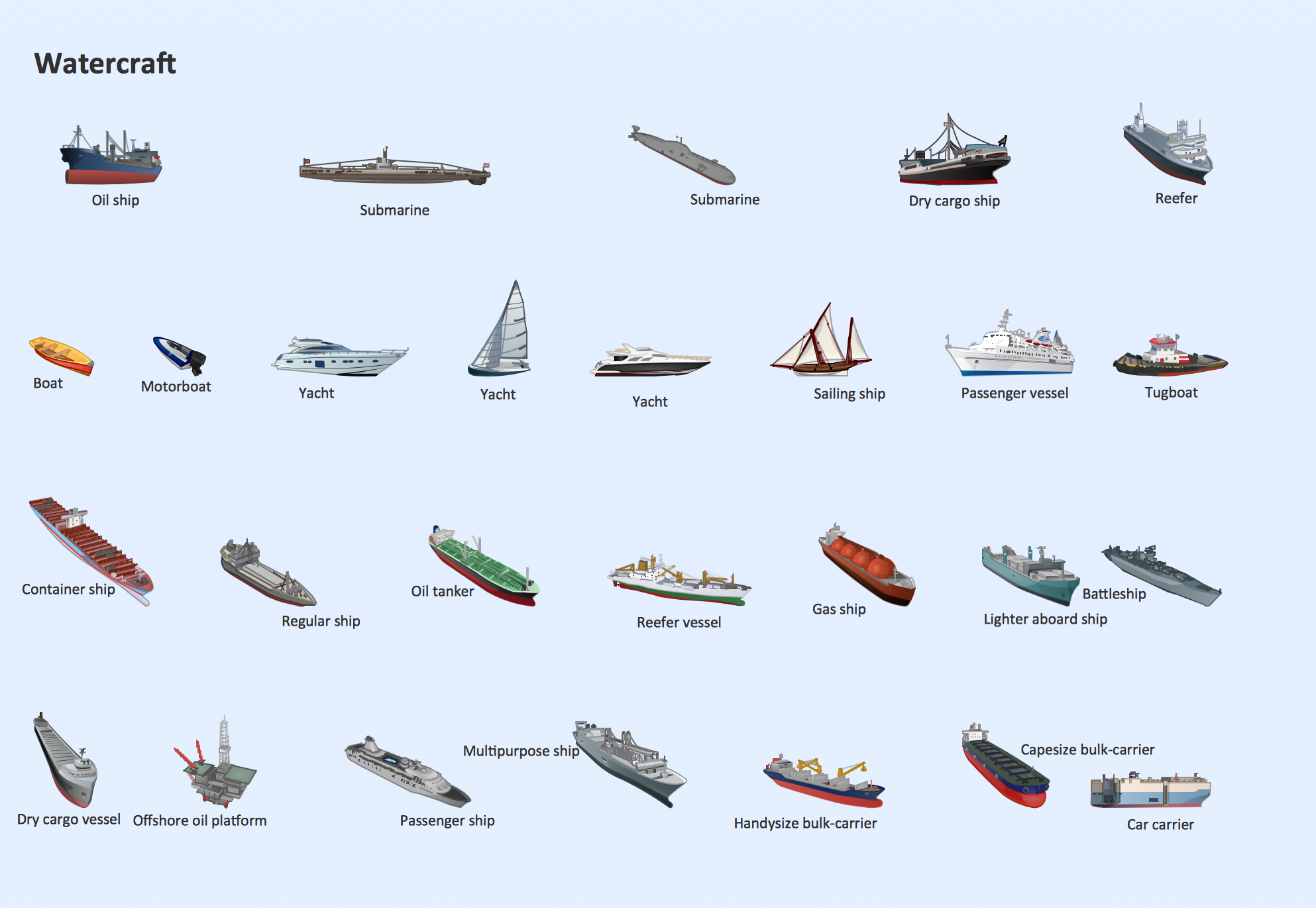 The vector stencils library Watercraft contains clipart of ships, boats, yachts, submarines for ConceptDraw PRO diagramming and vector drawing software.
Use it to draw illustrations of vessels and water transport over a sea, ocean, lake, canal, river.
The vector stencils library "Geography" contains 14 clipart images of natural landscapes and water features for drawing illustrations.
"A natural landscape is a landscape that is unaffected by human activity. A natural landscape is intact when all living and nonliving elements are free to move and change. The nonliving elements distinguish a natural landscape from a wilderness. A wilderness includes areas within which natural processes operate without human interference, but a wilderness must contain life. As implied, a natural landscape may contain either the living or nonliving or both." [Natural landscape. Wikipedia]
The clip art example "Geography - Vector stencils library" was created using the ConceptDraw PRO diagramming and vector drawing software extended with the Nature solution from the Illustration area of ConceptDraw Solution Park.
www.conceptdraw.com/ solution-park/ illustrations-nature