Building Drawing Design Element: Office Layout Plan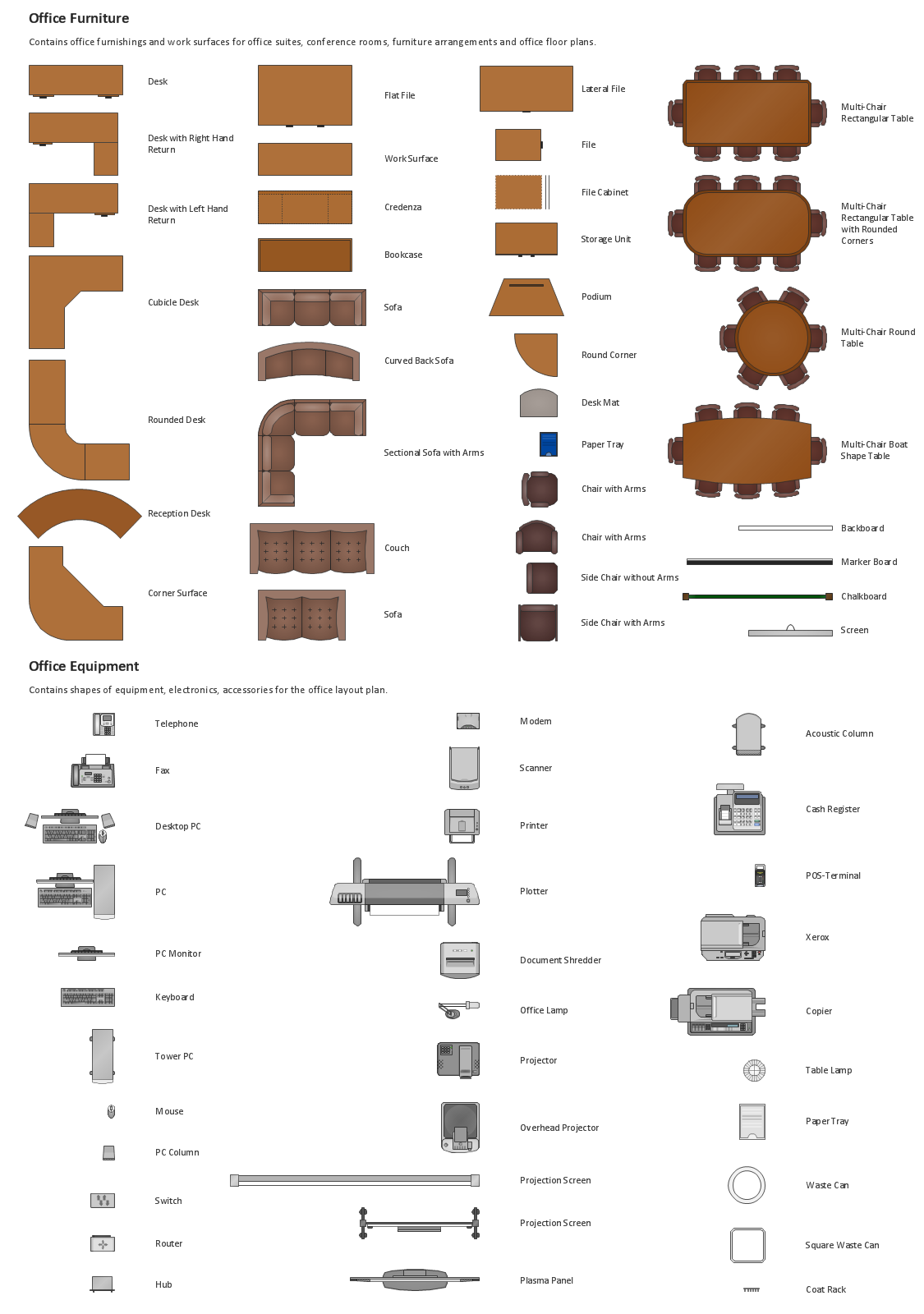 ConceptDraw Office Layout Software for creating great-looking design.
Read more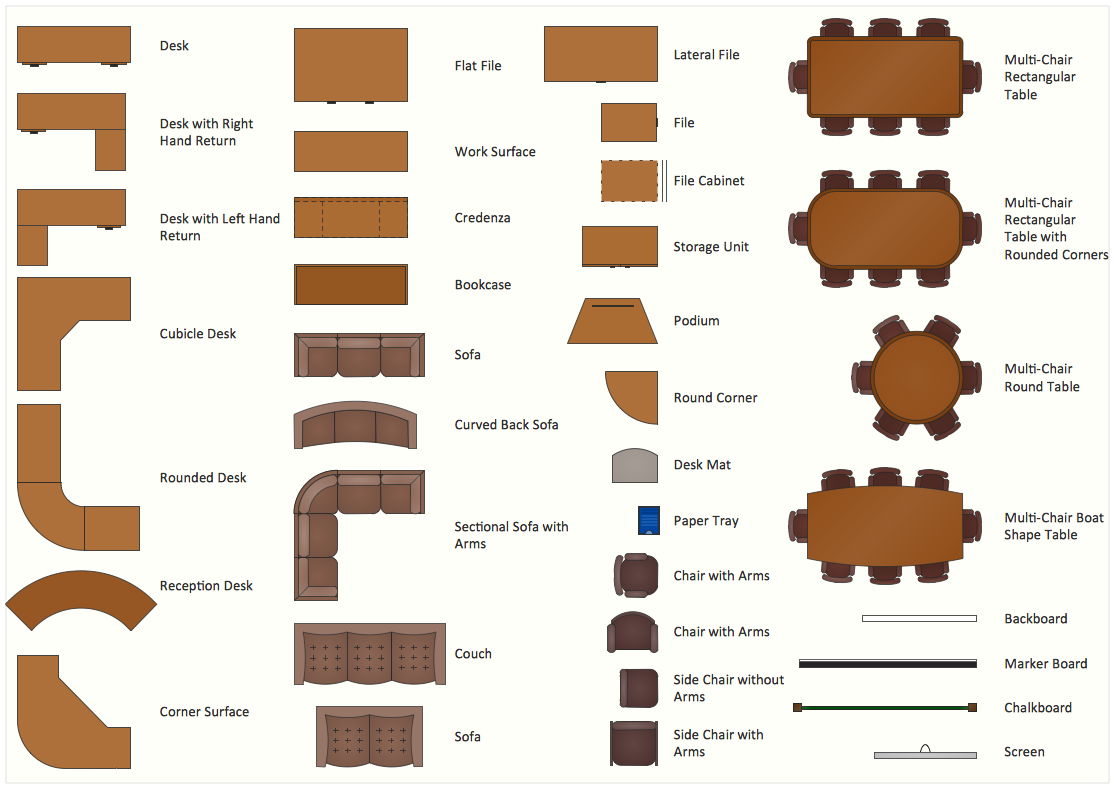 Lucky interior design is an integral part of succesful work at office. The important challenge in office design planning is to find a balance between two main office activities: concentration and communication. Primarily you need to determine with a type of office space, this can be an open space or separate rooms. The first type is more suitable for communication and rapid interaction. That's why open offices and combined spaces are modern types of work space and often used, especially for private offices. Traditional office basically represents separate rooms arranged along the corridor. It is applied for the companies with small number of people or for enterprises divided on separate departments, and is practically inapplicable for teamwork. ConceptDraw PRO diagramming and vector drawing software extended with Office Layout Plans solution offers a lot of vector stencils libraries with design elements of office furniture and equipment for effective office interior design and office space planning, for easy creation Office Floor Plans and Office Layout Plans. Use ConceptDraw PRO to visualize process flowcharts, network architecture and program workflows like Visio for Mac and even more. The software can be used with different fields like business, engineering and construction, etc.
Read more
How to Draw a Floor Plan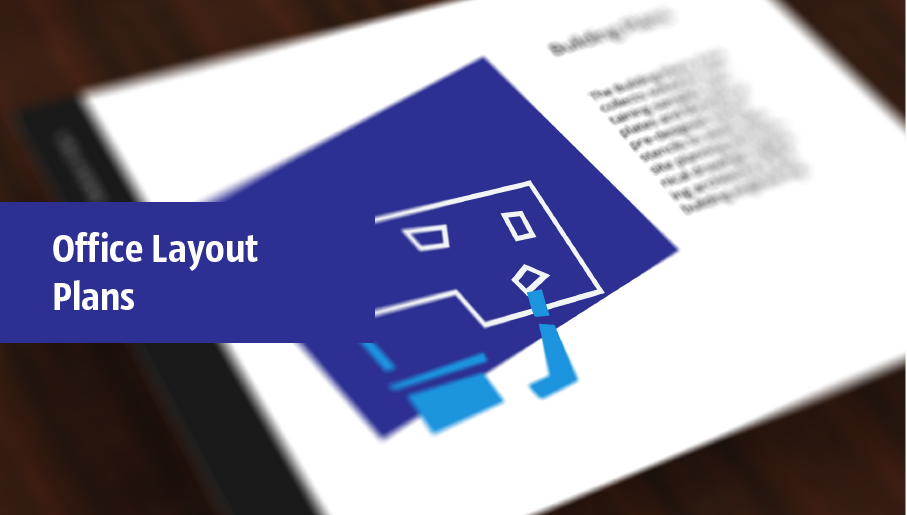 Office layouts and office plans are a special category of building plans and are often an obligatory requirement for precise and correct construction, design and exploitation office premises and business buildings. Designers and architects strive to make office plans and office floor plans simple and accurate, but at the same time unique, elegant, creative, and even extraordinary to easily increase the effectiveness of the work while attracting a large number of clients.
Read more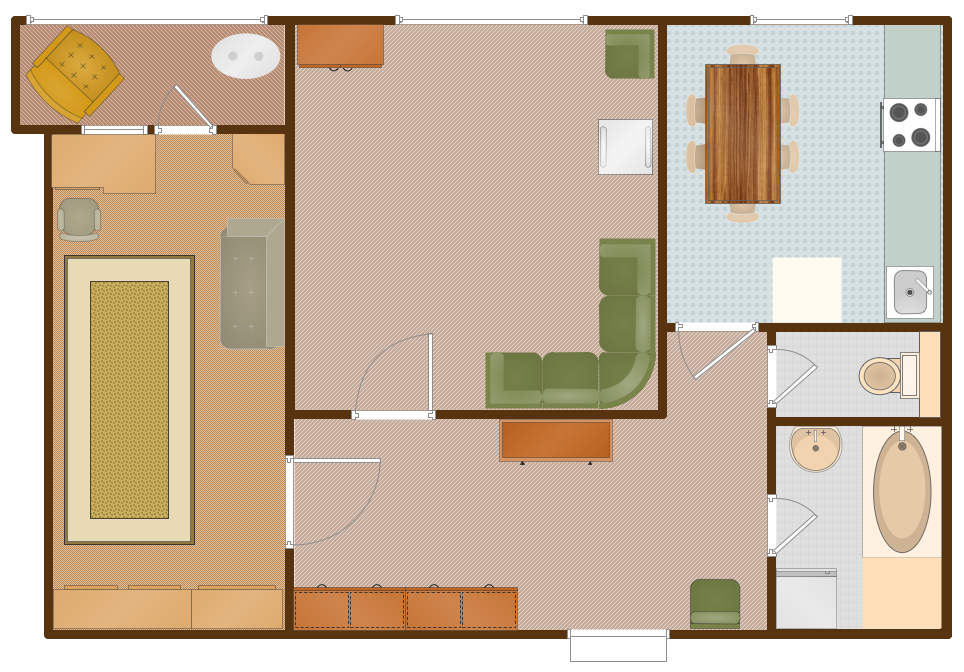 A Floor Plan is a scaled diagram that visualizes from above the room or relationships between several rooms or spaces at one level of a building, as well as some other physical features. ConceptDraw PRO diagramming and vector drawing software lets you save the time, because now you can fast design your floor plans for home, flat, office, classroom, or easy remodel without having to learn difficult architectural software. ConceptDraw PRO software with available Floor Plans solution from Building Plans area of ConceptDraw Solution Park is a rapid floor plan software for professional creating great-looking and detailed floor charts, floor plans, and also blueprints for home construction, facilities management, office space planning, office supply inventories, move management, assets inventories, and cubicles. We recommend to start with built-in templates and examples of ConceptDraw PRO software, which are offered at ConceptDraw STORE. All that you need is to make required changes and additions, to find an expected result in a few minutes.
Read more
The design elements library Cabinets and bookcases contains 41 vector symbols of cabinetries and bookcases.
"A cabinet is a box-shaped piece of furniture with doors or drawers for storing miscellaneous items. Some cabinets stand alone while others are built into a wall or are attached to it like a medicine cabinet. Cabinets are typically made of wood or, now increasingly, of synthetic materials. Commercial grade cabinets, which differ in the materials used, are called casework.
Cabinets usually have one or more doors on the front, which are mounted with door hardware, and occasionally a lock. Many cabinets have doors and drawers or only drawers. Short cabinets often have a finished surface on top that can be used for display, or as a working surface such as the countertops found in kitchens.
A cabinet intended for clothing storage is usually called a wardrobe or an armoire (or a closet if built in)." [Cabinetry. Wikipedia]
Use the shapes library Cabinets and bookcases to draw the wall bookcase layouts, office wall cabinets and bookcase design plans using the ConceptDraw PRO diagramming and vector drawing software.
The vector stencils library Cabinets and bookcases is provided by the Office Layout Plans solution from the Building Plans area of ConceptDraw Solution Park.
Read more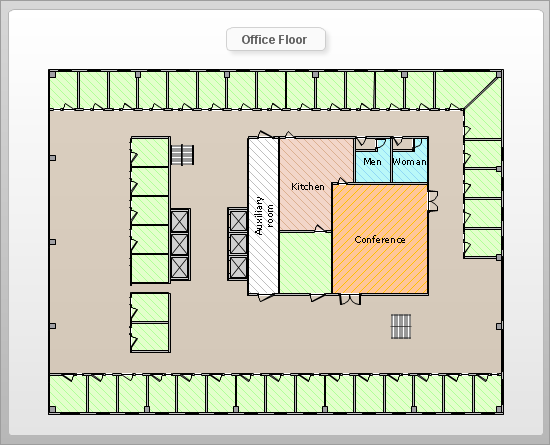 The use of professional drawing floor plan software is always convenient for all building-related people, primarily for architects and designers. It lets design precise building plans, easy perceived and understandable for all colleagues, clients, and also builders. ConceptDraw PRO floor plan software is especially useful for quick and easy drawing great-looking designs, floor plans, building plans, layout plans, etc. Thanks to the Floor Plans solution from the Building Plans area of ConceptDraw Solution Park you don't need to be professional artist for drawing. This solution offers a lot of helpful examples and samples of House floor plans, Office floor plans, Salon floor plans, helpful for your independent drawing similar diagrams. Numerous libraries with large quantity of predesigned vector objects included to the Floor Plans solution perfectly suit for creation Architectural house plans, Storage building plans, Commercial building plans, Pole building plans, Blueprints for facilities management, Office space planning and many more without any efforts.
Read more