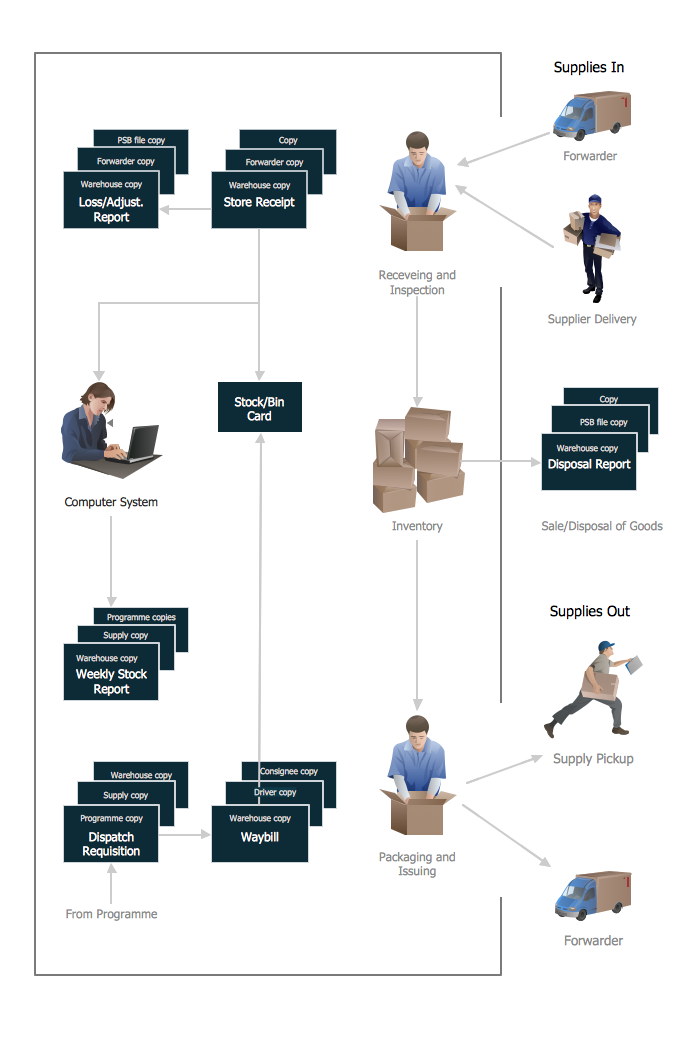 Warehouse Flowcharts are different diagrams describing wharehousing and inventory menagement processes. Typical purposes of warehouse flowcharts are evaluating warehouse performance and organizational performance, measuring efficiency of customer service. This type of workflow diagrams can be used for identifying any disconnection between business activities and business objectives.
Standard warehousing process flow diagram and standard workflow diagram used for process identification for further evaluating effectiveness and profitability of overall business process. Use the ConceptDraw PRO diagramming and vector drawing software extended with the Flowcharts solution from the Diagrams area of ConceptDraw Solution Park to design your own workflow diagrams, process flow diagram and flow charts. Need to use Process Flow Diagram for designing Warehouse packages flow.
ConceptDraw Arrows10 Technology
"Trade, also called goods exchange economy, is to transfer the ownership of goods from one person or entity to another by getting something in exchange from the buyer. Trade is sometimes loosely called commerce or financial transaction or barter. A network that allows trade is called a market. ...
Modern traders ... generally negotiate through a medium of exchange, such as money. As a result, buying can be separated from selling, or earning. ...
Retail trade consists of the sale of goods or merchandise from a very fixed location, such as a department store, boutique or kiosk, or by mail, in small or individual lots for direct consumption by the purchaser. Wholesale trade is defined as the sale of goods that are sold merchandise to retailers, to industrial, commercial, institutional, or other professional business users, or to other wholesalers and related subordinated services." [Trade. Wikipedia]
The deployment flow chart example "Trading process diagram" was created using the ConceptDraw PRO diagramming and vector drawing software extended with the Cross-Functional Flowcharts solution from the Business Processes area of ConceptDraw Solution Park.
The vector clipart library Buildings and green spaces contains images of buildings, trees and lawns. Use it to design your own illustrations, diagrams and infographics using the ConceptDraw PRO diagramming and vector drawing software.
"Residential buildings are called houses or homes, though buildings containing large numbers of separate dwelling units are often called apartment buildings or apartment blocks to differentiate them from 'individual' houses. Houses may also be built in pairs (semi-detached), in terraces where all but two of the houses have others either side; apartments may be built round courtyards or as rectangular blocks surrounded by a piece of ground of varying sizes. Houses which were built as a single dwelling may later be divided into apartments or bedsitters; they may also be converted to another use e.g. an office or a shop. Building types may range from one-room wood-framed, masonry, or adobe dwellings to multi-million dollar high-rise buildings able to house thousands of people. A Multi-Storey is a building that has multiple floors above ground in the building." [Building. Wikipedia]
The exampe "Design elements - Buildings and green spaces" is included in the Artwork solution from the Illustration area of ConceptDraw Solution Park.