Value Stream Maps Visualize
The new Value Stream Mapping solution found in the ConceptDraw Solution Park continues to extend the range of ConceptDraw DIAGRAM into a business graphics tool that can be used to document processes in any organization. For the start simply put timeline objects from library and continue to create diagram. After that put it to specific place object that illustrates processes of the production. Many lean practitioners use Value Stream Mapping as a fundamental tool to identify waste, cut process cycle times, and implement process improvement.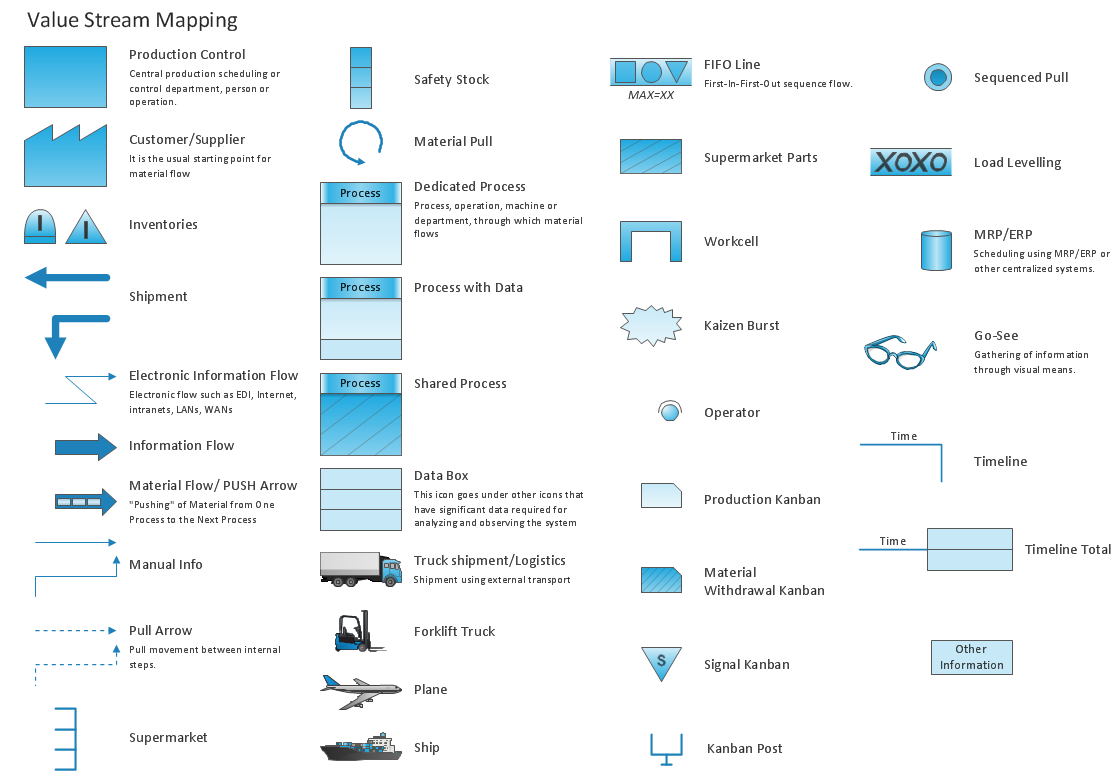 Pic.1 Value stream map (VSM) vector stencils.
Value Stream Maps visualize for a manufacturing plant the material and information flow required to deliver a product/service to customers.
---
See also Samples:
THREE RELATED HOW TO's:
Use ConceptDraw DIAGRAM software extended with Value Stream Mapping solution to create your own VSM diagrams.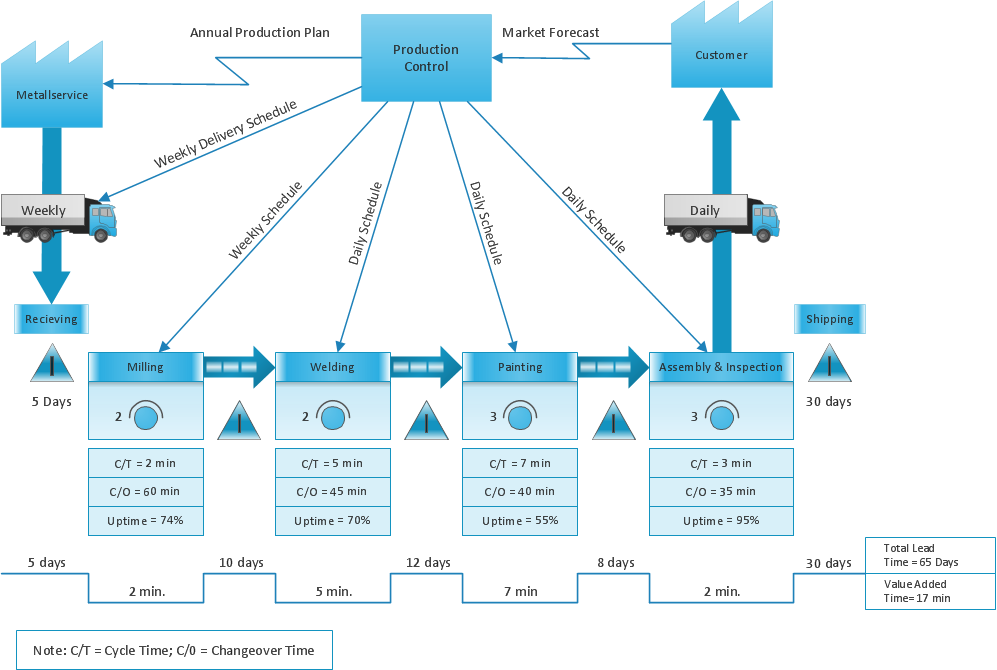 Picture: Create a Value Stream Map
Related Solution:
If you have no time, you can create a SWOT diagram even on asphalt using a chalk. Although, in case you want a proper scheme, you should use a special software for creating SWOT analysis diagrams that would be comprehensible. SWOT analysis is useful not only for business purposes, but even for cities or for a particular person. The ConceptDraw SWOT and TOWS Matrix Diagrams solution is a tool for performing both SWOT and TOWS analysis. It provides templates of different sorts of Matrix Diagrams. Besides different embedded templates, the solution enabling create custom SWOT and TOWS matrices. Using the compatibility between the MINDMAP and DIAGRAM is the best way of making SWOT or TOWS diagrams quickly. The mind map templates help identify the core statements of SWOT and TOWS analysis: Strengths, Weaknesses, Opportunities, and Threats. The next step is matrix creation - both SWOT and TOWS analysis use the same basic steps and the only difference is the order in which these criteria are studied.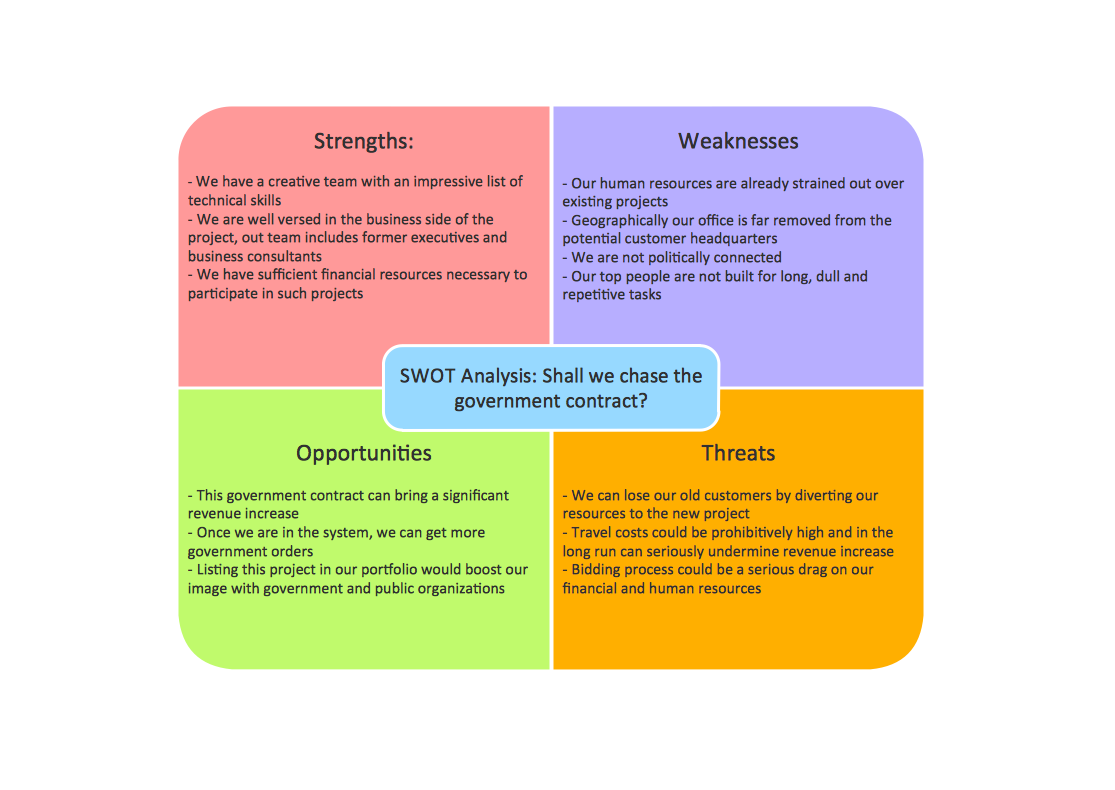 Picture: Software for Creating SWOT Analysis Diagrams
Related Solution:
Any business process consists from a number of tasks carrying out the certain business goal. It is useful to diagram business processes to ensure that they are as foolproof, logical and sequential as possible. This business process diagram describes a typical booking process flow by the example of a cab booking process. It can be used as a roadmap for any booking system implementation. Diagramming a business process allows you to look at the entire project and take into account all types of possible scenarios. Business process diagram helps you investigate and clarify the process thoroughly so that you can find out how it can be improved. Business process diagram supports team communications by ensuring that each process element is clear and everyone in the team is on the same page. Sometimes your company brings you less profit than you expect it to be, and it's difficult to reveal the causes. Maybe it's time to learn new technologies, because business diagram are easily developed by means of special software, so you won't make any extra effort. In return, you will increase your productivity and get more done in a less time.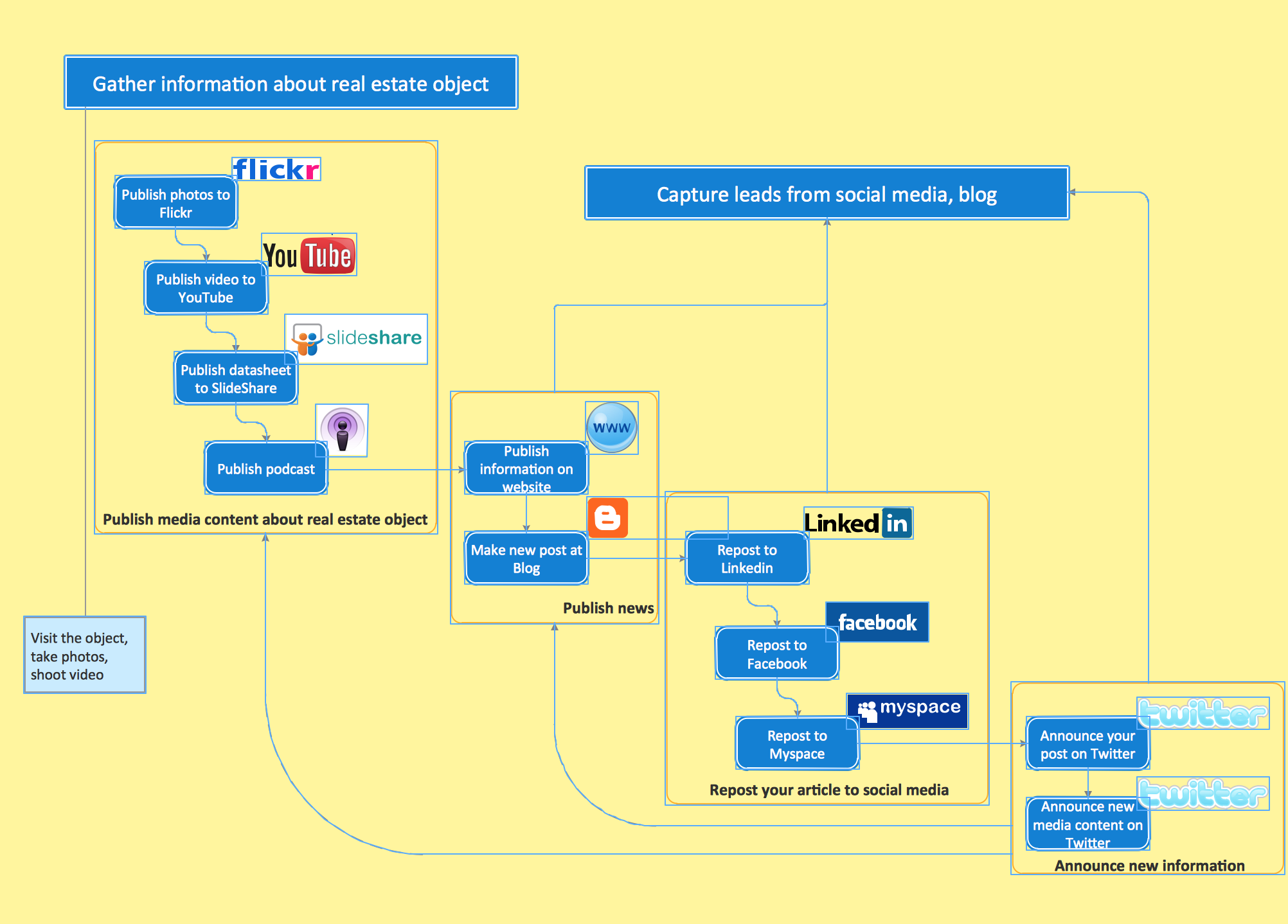 Picture: Business Diagram Software
Related Solutions: