Sprint Backlog
Project Management
In PM solutions we support many project methodologies such as Agile and Simple Projects. Methodology solutions help in implementing best practices in project management. CS Odessa provides Toolbox solutions to support solving issues related to planning, tracking, milestones, events, resource usage, and other typical project management functions. Toolbox Solutions help you deal with common project situations in an extraordinary way.
PM Agile
Benefits
All Agile meetings and documents are powered by mission adapted mind map templates, specially tuned for collaborative work. Tracking project Velocity is easy when using ConceptDraw Velocity diagram templates.
Objective
Support Agile methods such as user stories, iteration planning, burndown charts, backlogs, and velocity.
Solution Purpose
These visual tools assist in the holding of Scrum-meetings, collaborative planning for Sprint, maintaining backlog, and calculating and reporting the Velocity of the team.
Intended For
Companies using Agile methodology; specifically, Scrum; Product Owners, Scrum Masters.
Products and methods
In the background of this solution we use mind mapping for visualization of key events and artifacts of Agile methodology. Key diagrams for visualization are made by ConceptDraw DIAGRAM
Use Sprint Backlog to visualize the Sprint Backlog.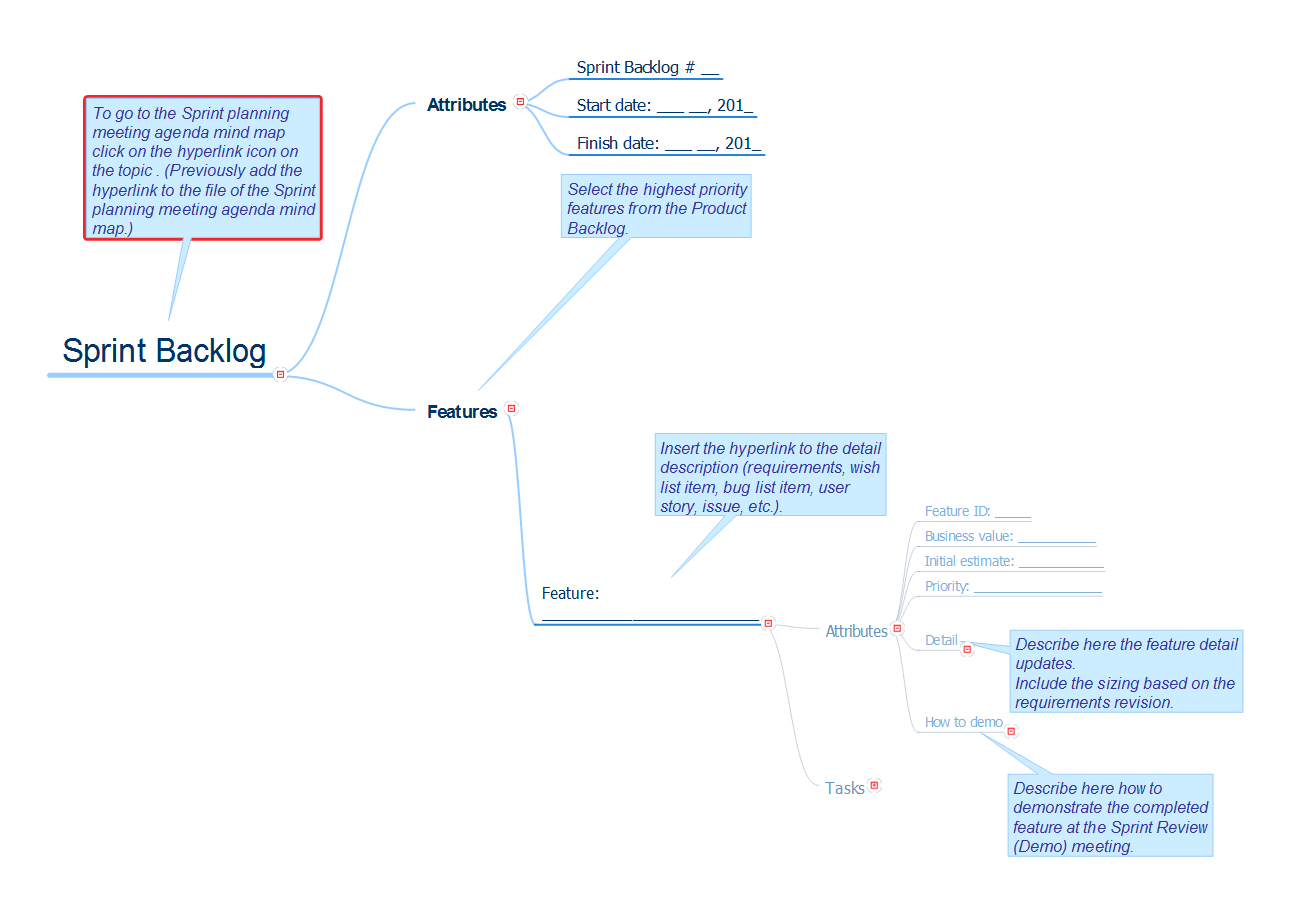 Example 1. Sprint Backlog
Export to Outline
Sprint Backlog
Attributes

Sprint Backlog # __
Start date: ___ __, 201_
Finish date: ___ __, 201_

Features

Feature: ________________________

Attributes

Feature ID: _____
Business value: ___________
Initial estimate: ____________
Priority: __________________
Detail

Describe here the feature detail updates. Include the sizing based on the requirements revision.

How to demo

Describe here how to demonstrate the completed feature at the Sprint Review (Demo) meeting.

Tasks

Task: _____________________

Attributes

Task ID: _____
Effort estimate: _____

Team play Planning Poker to estimate effort for the task completion. Type the average estimate in this topic. As a best practice break down the features to tasks for 4-16 hours of work.

Priority: ________________
Brief description: ________________________________

Include completion criteria.
The Benefits for ConceptDraw MINDMAP Brainstorming Software
ConceptDraw MINDMAP is effective for brainstorming, designing mind maps, idea generating, creative and lateral thinking, creativity and problem solving.
ConceptDraw MINDMAP is ideal for team and personal work in Business, Marketing and Project Management.
The libraries with large quantity of vector objects help to illustrate your mind maps and to make them bright, visual and comprehensible.
Use of View Navigator tool lets create presentations from a mind map: you can simply select the map parts you want to present, sequence your slides, and preview the presentation.
ConceptDraw MINDMAP provides wide capabilities of importing and exporting in various formats: Microsoft PowerPoint, Microsoft Word, MS Excel, Mindjet MindManager, image, HTML, PDF file.
THREE RELATED HOW TO's:
What is Scrum? Scrum is the famous agile software development methodology which depicts an iterative and incremental approach for the work on the complex projects. Use ConceptDraw DIAGRAM diagramming and vector drawing software extended with SCRUM Workflow solution to draw various types of professional-looking Scrum Charts, Scrum Workflow Diagrams, Scrum Mind Maps, Scrum boards and attractive Scrum Infographics.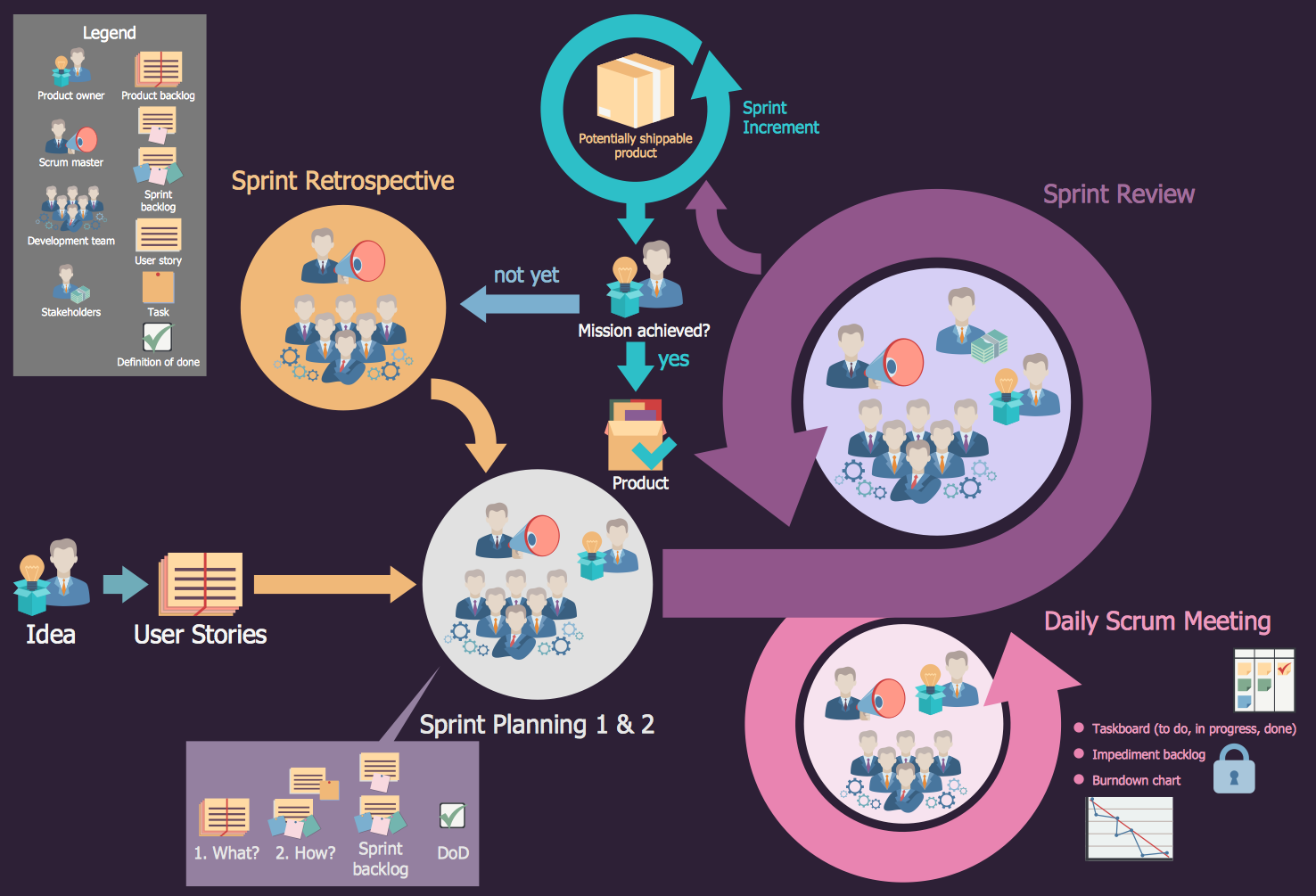 Picture: Scrum
Related Solution:
Agile methodology is an excellent alternative to waterfall and traditional sequential development. ConceptDraw DIAGRAM software extended with SCRUM Workflow solution is ideal for quick and easy designing various diagrams, charts, mind maps and schematics illustrating software development using Agile methodologies, and in particular Scrum methodology.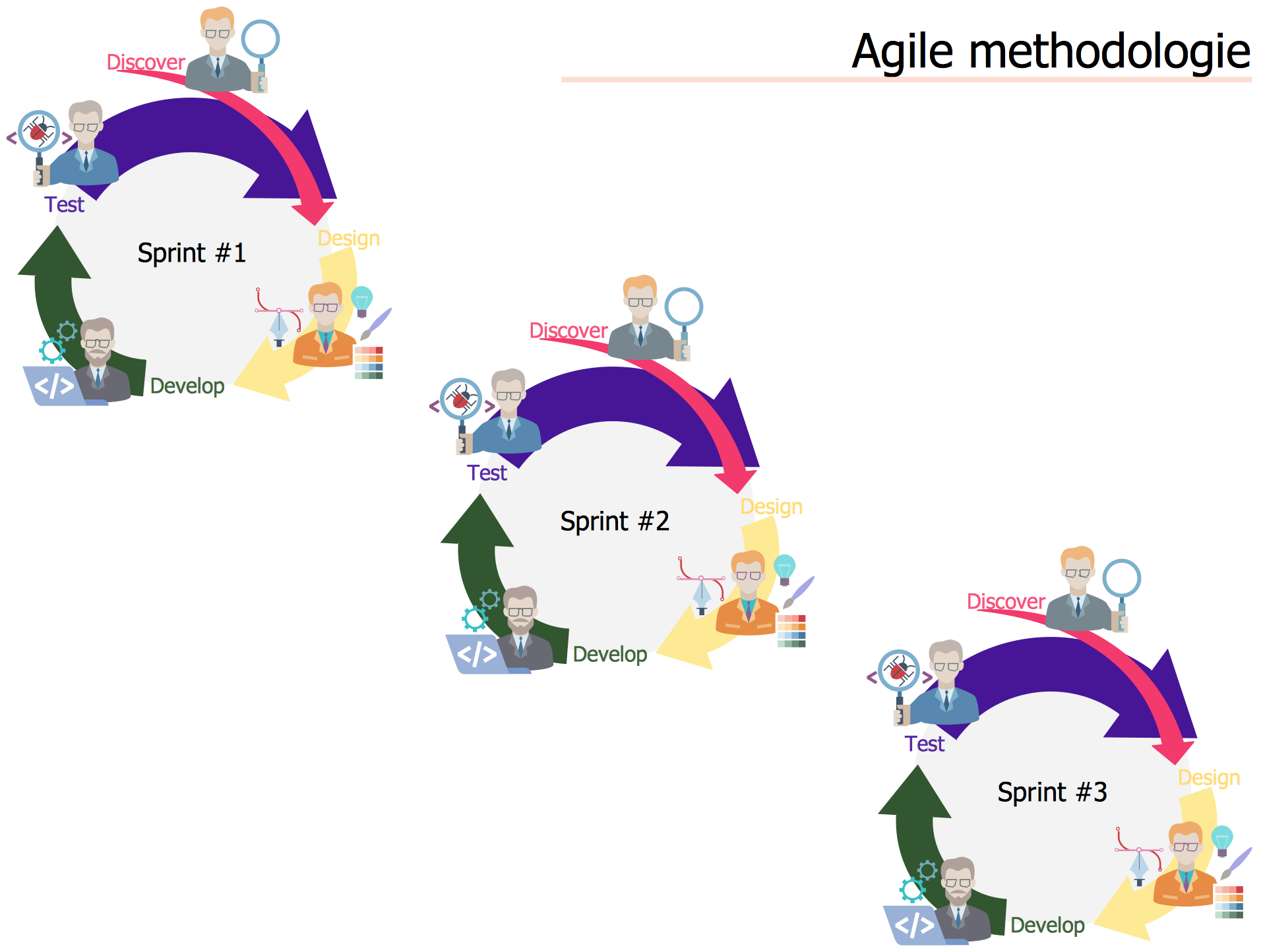 Picture: Agile Methodology
Related Solution:
Create MS Word document from your map. Double click the icon to open the MS Word document The document is created automatically from the content of the active page of your map. The Main Idea became a document's header. The document reflects the structure of the map (the hierarchy of topics) by different font style. Hyperlinks, Notes and project information from your map are also converted within your MS Word document.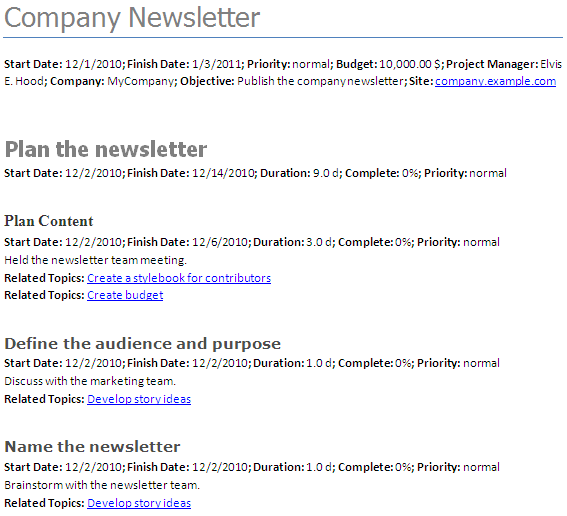 Picture: Project Outline
Related Solution: