Map of Germany — Rhineland-Palatinate State
"Rhineland-Palatinate is a southwest German state bordered by France, Belgium and Luxembourg. The state capital, Mainz, features Jewish synagogues and cemeteries, the Romanesque Mainz Cathedral with ornate tombstones, and the Gutenberg Museum devoted to the inventor of the printing press. The lush Moselle Valley, with its riverside towns of Piesport and Bernkastel-Kues, is one of Germany's largest wine regions."
[from Wikipedia]
Landkreise
 Ahrweiler
 Altenkirchen
 Alzey-Worms
 Bad Dürkheim
 Bad Kreuznach
 Bernkastel-Wittlich
 Birkenfeld
 Bitburg-Prüm
 Cochem-Zell
 Vulkaneifel
 Donnersbergkreis
 Germersheim
 Kaiserslautern
 Kusel
 Rhein-Pfalz-Kreis
 Mainz-Bingen
 Mayen-Koblenz
 Neuwied
 Rhein-Hunsrück
 Rhein-Lahn
 Südliche Weinstraße
 Südwestpfalz
 Trier-Saarburg
 Westerwaldkreis
Cities
Mainz
Ludwigshafen am Rhein
Koblenz
Trier
Kaiserslautern
Worms
Neuwied
Neustadt an der Weinstraße
Speyer
Bad Kreuznach
Frankenthal (Pfalz)
Landau in der Pfalz
Pirmasens
Zweibrücken
Andernach
Idar-Oberstein
Bad Neuenahr-Ahrweiler
Ingelheim am Rhein
Ingelheim am Rhein
Germersheim
Despite the fact that the maps surround us everywhere in our life, usually the process of their drawing is sufficienly complex and labor-intensive. But now, thanks to the ConceptDraw DIAGRAM diagramming and vector drawing software extended with Germany Map Solution from the Maps Area of ConceptDraw Solution Park, we have the possibility to make easier this process. Design fast and easy your own pictorial maps of Germany, map of Germany with cities, and thematic Germany maps in ConceptDraw DIAGRAM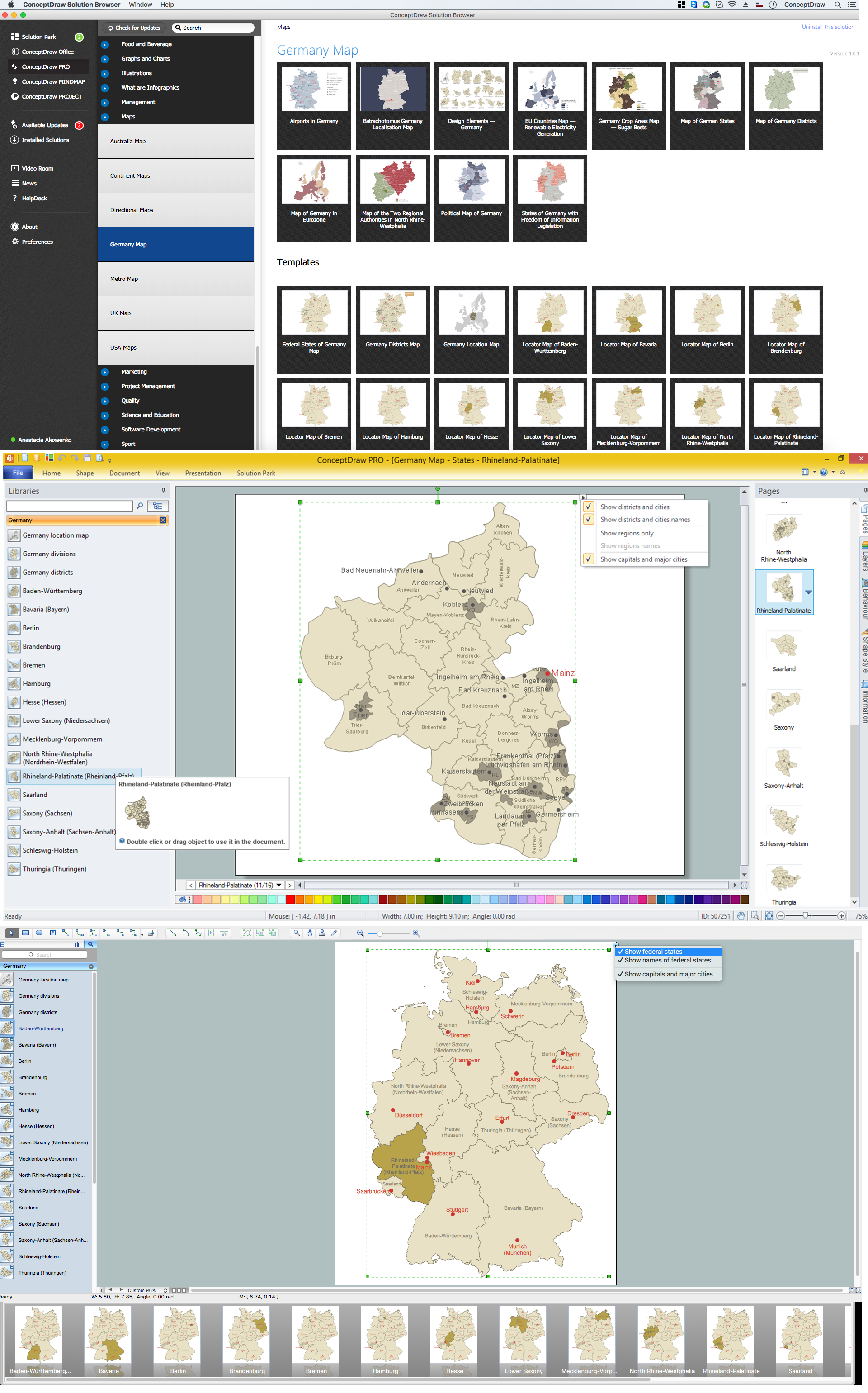 Example 1. Germany Map Solution — Rhineland-Palatinate State (Mac OS X, Windows)
Use of ready objects is a fastest way of drawing vivid and attractive maps and cartograms, and Germany maps are not exception. The Germany Map Solution offers for ConceptDraw DIAGRAM users wide variety of ready-to-use vector map objects, which compose the Germany library.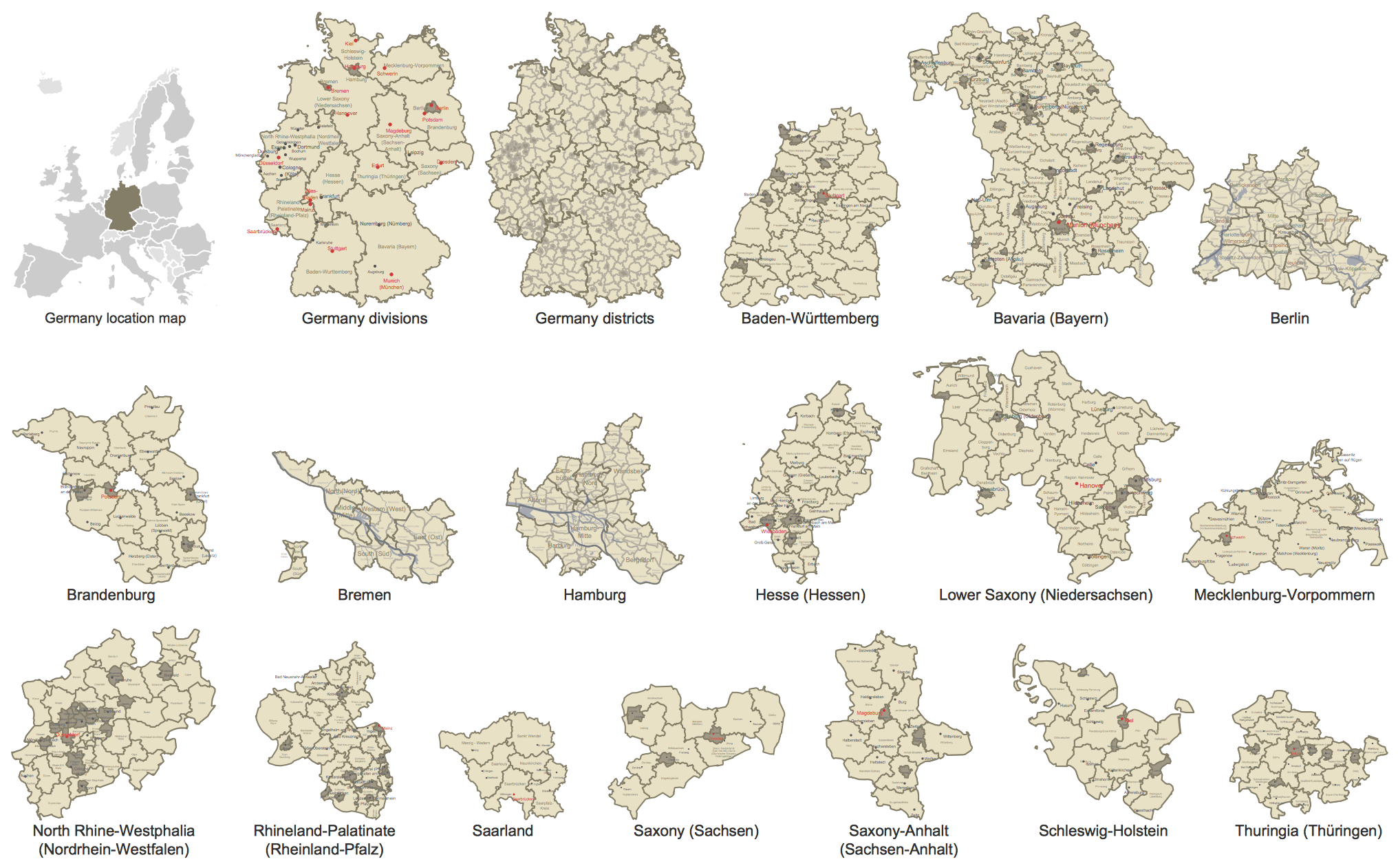 Example 2. Germany Library Design Elements
These objects allow easy design many kinds of Germany maps, among them geographic, topography, political map of Germany, detailed map of Germany with cities, various thematic Germany maps that are used for visually illustration important information and statistical data, and many other useful maps.
All source documents are vector graphic documents. They are available for reviewing, modifying, or converting to a variety of formats (PDF file, MS PowerPoint, MS Visio, and many other graphic formats) from the ConceptDraw STORE. The Germany Map Solution is available for all ConceptDraw DIAGRAM users.
THREE RELATED HOW TO's:
Lower Saxony is a German state (Bundesland) situated in northwestern Germany and is second in area, with 47,624 square kilometres (18,388 sq mi), and fourth in population (8 million) among the sixteen Länder of Germany. Despite the fact that the maps surround us everywhere in our life, usually the process of their drawing is sufficienly complex and labor-intensive. But now, thanks to the ConceptDraw DIAGRAM diagramming and vector drawing software extended with Germany Map Solution from the Maps Area of ConceptDraw Solution Park, we have the possibility to make easier this process. Design fast and easy your own pictorial maps of Germany, map of Germany with cities, and thematic Germany maps in ConceptDraw DIAGRAM!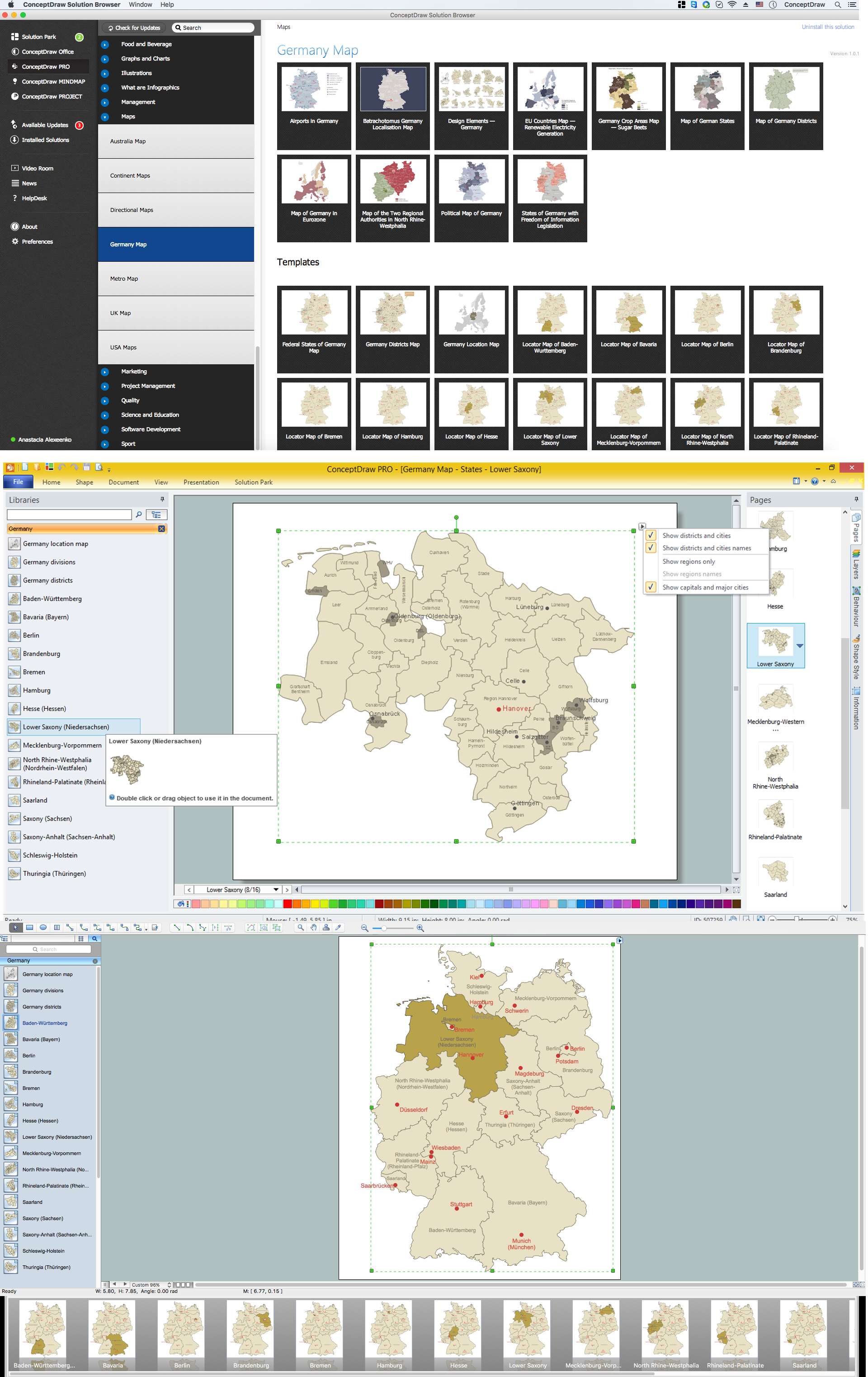 Picture: Map of Germany — Lower Saxony State
Related Solution:
Computer networks nowadays are spread all across the world. The large number of parameters, such as geographic scale or communication protocols, can divide networks. One of the most common types of networks is called local area network (LAN). It convenient to represent network examples by means of diagrams. This local area network (LAN) diagram provides an easy way to see the way the devices in a local network are interacted. The diagram uses a library containing specific symbols to represent network equipment , media and the end-user devices such as computers (PC, mac, laptop) , network printer, hubs, server and finally a modem. There are two types of network topologies: physical and logical. The current diagram represents precisely a physical type of LAN topology because it refers to the physical layout of a local network equipment.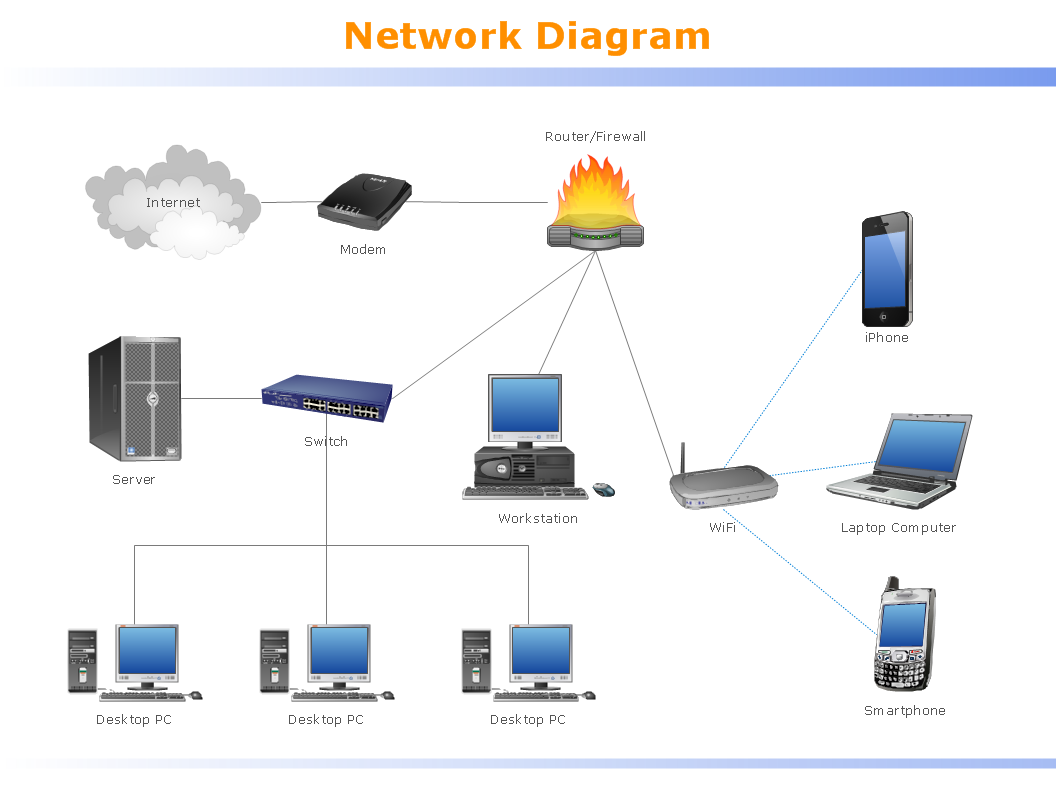 Picture: Local area network (LAN). Computer and Network Examples
Related Solution:
An integrated circuit (also referred to as an IC, a chip, or a microchip) is a set of electronic circuits on one small plate ("chip") of semiconductor material, normally silicon. This can be made much smaller than a discrete circuit made from independent electronic components. ICs can be made very compact, having up to several billion transistors and other electronic components in an area the size of a human fingernail. 26 libraries of the Electrical Engineering Solution of ConceptDraw DIAGRAM make your electrical diagramming simple, efficient, and effective. You can simply and quickly drop the ready-to-use objects from libraries into your document to create the electrical diagram.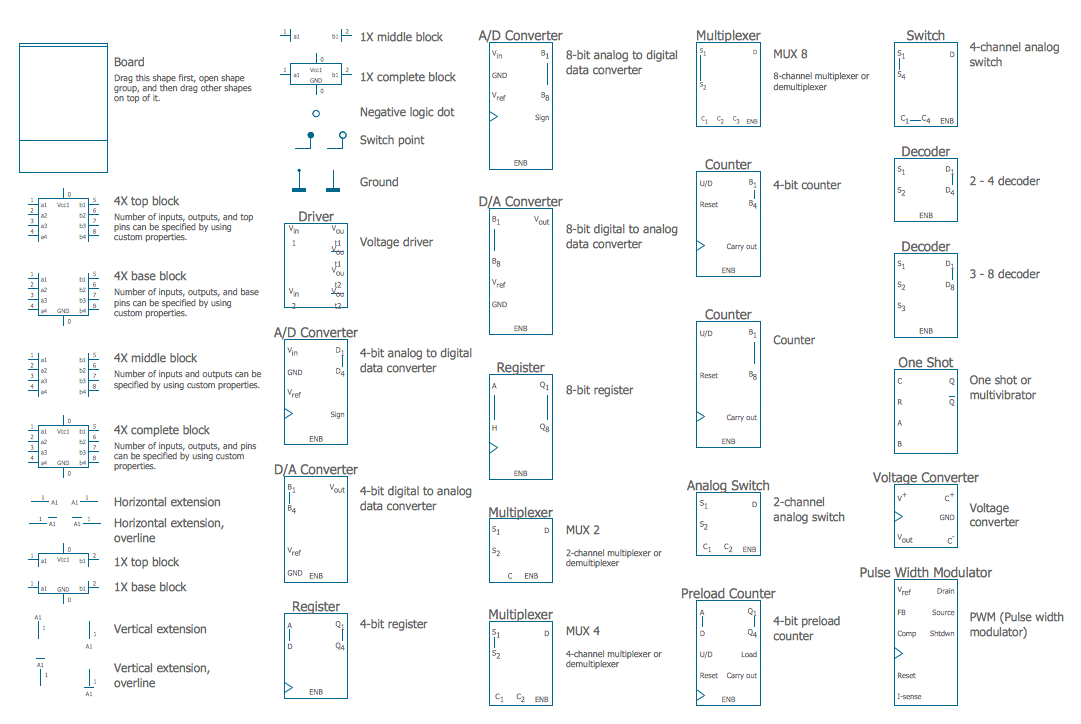 Picture: Electrical Symbols — Integrated Circuit
Related Solution: