Made with
Project Management Collaboration Software
In search of a smart and convenient project management collaboration software, you can go through lots of options, but we can recommend only one — ConceptDraw PROJECT Server. The mentioned online service allows its users to upload up to 100 ConceptDraw PROJECT files which all can be placed within one Workspace in order to share them so all the needed tasks can be completed by different users at the same time with their status getting updated in real time.
Project management is one of the most popular disciplines within any modern business involving the processes of planning, initiating, executing and controlling the work of the specialists working in one team in order to achieve some definite goals as well as to meet the success criteria. Any project itself is a temporary endeavor which is designed to produce some unique service or product. It can also be focused on a result with some defined beginning as well as an end, created to meet the multiple goals and objectives of one person or one organization as well as a unit of organizations.
Any project is known to be usually bringing the added value or beneficial change. All the temporary nature of projects stands in contrast with business or its operations, being repetitive, semi-permanent or permanent functional activities producing the products or/and services. Managing such distinct production approaches is known to be requiring the constant development of different distinct technical skills as well as management strategies and that is what any project manager is expected to do.
The main aim of any project management is to achieve all the goals within some project or projects having it done within a limited period of time. The needed information about any project can be described in the project documentation, which is usually created at the very beginning of the development process and you can always do it in ConceptDraw PROJECT application in order to enable yourself to use the ConceptDraw PROJECT Server online cloud service after uploading the ConceptDraw PROJECT files.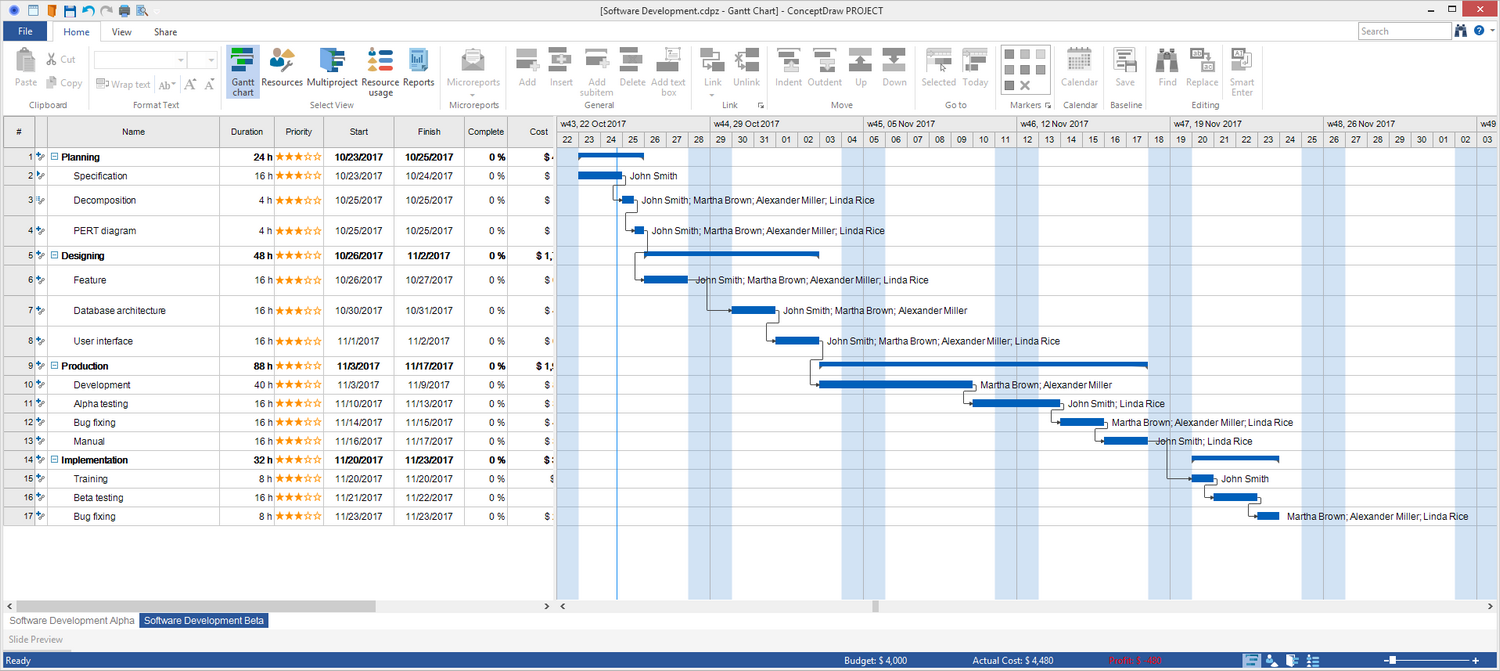 Pic 1. Project Management Collaboration Software
There are always different constraints within any project, such as a scope of work that has to be done, the deadline, the needed quality which is usually required by the customers within the market and the budget which is known to be limited. There are also other, even more ambitious, challenges within each project which can be the tasks to optimize the allocation of the needed inputs, applying them to meet all the pre-defined objectives after. There is a number of different approaches used for organizing as well as completing different project activities, such as: lean, iterative, incremental and phased; as well as the extensions to project planning based, such as activities which are known to be "process-based" or outcomes that are known to be "product-based". It is always important to be careful about considering the needed features within the overall project objectives, cost, timeline and the given roles and so responsibilities of all the participants as well as the stakeholders involved in the project activity.
The so-called "phased" (sometimes also called as "staged") approach is used for breaking down and managing all the work through the steps which all are expected to be completed, being often referred to as so-called "waterfall". It is known to be usually consisting of five process areas, which are initiation, design and planning, construction, controlling and monitoring, and closing and completion.
Lots of different industries use different variations of the mentioned project stages, which can be renamed due to better understanding within the organization. For instance, while working on a design of some constructions, the projects can progress through such stages as pre-planning, planning the conceptual design, making the schematic design, working on design development, making the construction drawings, signing contract documents and managing the construction by the administrators.
The described phased approach is good for well-defined and not as large projects, resulting in either challenges or failures on the larger projects, or something more complex with more ambiguities and more risk. Working on most of the projects is usually taking some kind of risk, most commonly — a financial one. Investing money in the projects it is important to make sure that they can be maintained in a proper way by professionals with the usage of a professional software. The ConceptDraw PROJECT Server project management collaboration software was designed especially for such needs: in order to make it simpler to arrange all the existing data which the ConceptDraw PROJECT files consist.
Once the ConceptDraw PROJECT files are properly filled with the correct information, it means you already half way to your goal as what is left to do is simply to upload all the pre-made ConceptDraw PROJECT files into the ConceptDraw PROJECT Server project management collaboration software adding other users and sharing the responsibility within the uploaded projects. Assigning the roles among the specialists who work in one office or remotely is easy as long as you have ConceptDraw PROJECT Server.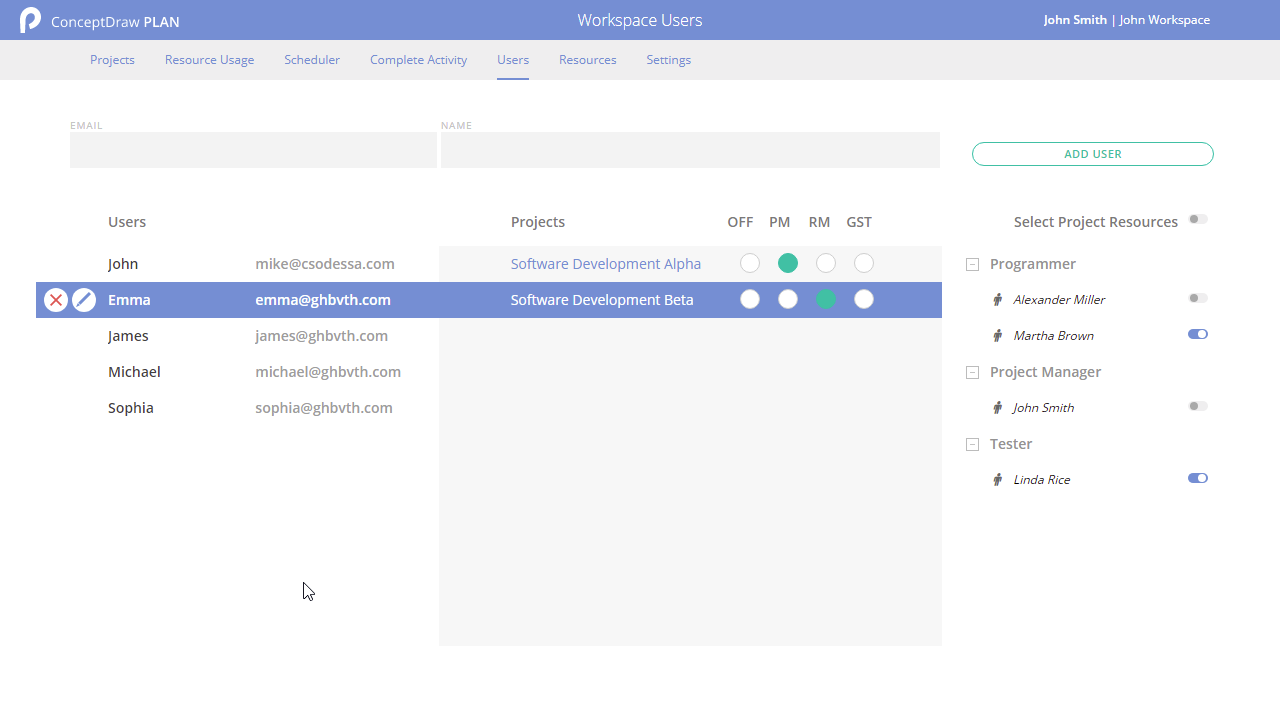 Pic 1. ConceptDraw PROJECT Server online service - Roles
Having the mentioned tool, you can always delegate the authority with other executors naming them as well as adding all the needed information both about the users and the projects. There are such roles as Resource Manager, Project Manager, User, Guest and Administrator within the Workspace. Being an Administrator, you can always choose other people to take any other role. Thus, becoming a Project Manager means having a chance to arrange all the ongoing projects for making it possible to achieve the goals within an organization getting help from many different specialists as well as different teams.
Whether you are a Guest, a Project Manager, a Resource Manager, a User or an Administrator, you will definitely find ConceptDraw PROJECT Server online service a useful tool to have and to use.
Related How To's