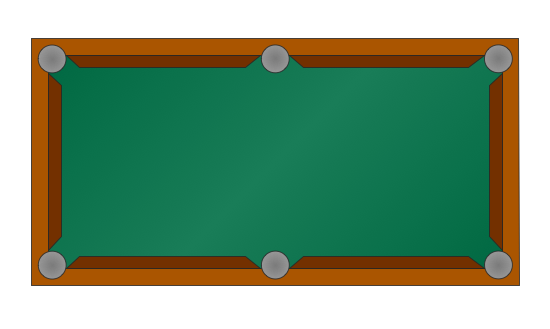 Below you can see the symbol for pool table. You can find this symbol in the library of the Floor Plans Solution and use it in your floor plan of the sport complex, home, etc.
ConceptDraw PRO is a powerful diagramming and vector drawing software for creating the different Floor Plans. It's very convenient, simple and quick to design the professional looking Floor Plans of any difficulty in ConceptDraw PRO.
The vector stencils library "Network layout floorplan" contain 34 symbol icons for drawing computer network floor plans, communication equipment layouts, and structured cabling diagrams.
"Structured cabling is building or campus telecommunications cabling infrastructure that consists of a number of standardized smaller elements (hence structured) called subsystems. ...
Structured cabling design and installation is governed by a set of standards that specify wiring data centers, offices, and apartment buildings for data or voice communications using various kinds of cable, most commonly category 5e (CAT-5e), category 6 (CAT-6), and fibre optic cabling and modular connectors. These standards define how to lay the cabling in various topologies in order to meet the needs of the customer, typically using a central patch panel (which is normally 19 inch rack-mounted), from where each modular connection can be used as needed. Each outlet is then patched into a network switch (normally also rack-mounted) for network use or into an IP or PBX (private branch exchange) telephone system patch panel." [Structured cabling. Wikipedia]
The design elements example "Network layout floorplan - Vector stencils library" was created using the ConceptDraw PRO diagramming and vector drawing software extended with the Network Layout Floor Plans solution from the Computer and Networks area of ConceptDraw Solution Park.
This lecture hall seating plan sample was created on the base of the Lecture Theatre floorplan from the website of the Kent Science Park, UK.
[kentsciencepark.co.uk/ MeetingRooms/ MeetingRooms.aspx]
"A lecture hall (or lecture theatre) is a large room used for instruction, typically at a college or university. Unlike a traditional classroom with a capacity from one to four dozen, the capacity of lecture halls is typically measured in the hundreds. Lecture halls almost always have a pitched floor, so that those in the rear are sat higher than those at the front, allowing them to see the lecturer. The importance of lecture halls is so significant that some schools of architecture have offered courses exclusively centered on their design. The noted Boston architect Earl Flansburgh wrote numerous articles focusing on achieving efficacious lecture hall design.
Lecture halls differ from seminar rooms in that they allow for little versatility in use, although they are no less flexible than, for example, chemistry laboratories. Experimentation, group work, and other contemporary educational methods are not practicable in a lecture hall. On the other hand, lecture halls are excellent for focusing the attention of a large group on a single point, either an instructor or an audio-visual presentation, and modern lecture halls often feature audio-visual equipment. A microphone and loudspeakers are common to help the lecturer be heard, and projection screens may be used for large displays. The acoustic properties of lecture halls have been the subject of numerous international studies, some even antedating the use of electronic amplification." [Lecture hall. Wikipedia]
The example "Lecture theatre floor plan" was created using the ConceptDraw PRO diagramming and vector drawing software extended with the School and Training Plans solution from the Building Plans area of ConceptDraw Solution Park.