This seating plan sample shows the seat layout in the theater.
"A theater, theatre or playhouse, is a structure where theatrical works or plays are performed or other performances such as musical concerts may be produced. While a theater is not required for performance (as in environmental theater or street theater), a theater serves to define the performance and audience spaces. The facility is traditionally organized to provide support areas for performers, the technical crew and the audience members.
There are as many types of theaters as there are types of performance. Theaters may be built specifically for a certain types of productions, they may serve for more general performance needs or they may be adapted or converted for use as a theater. They may range from open-air amphitheaters to ornate, cathedral-like structures to simple, undecorated rooms or black box theaters. Some theaters may have a fixed acting area (in most theaters this is known as the stage), while some theaters such as black box theaters, may not, allowing the director and designers to construct an acting area suitable for the production.
In Australia and New Zealand a small and simple theater, particularly one contained within a larger venue, is called a theatrette. The word originated in 1920s London, for a small-scale music venue." [Theater (structure). Wikipedia]
"... theatres or cinemas may allow spectators to choose their seats beforehand. A seating plan is of crucial importance for musical ensembles or orchestras, where every type of instrument is allocated a specific section." [Seating plan. Wikipedia]
The seat layout example "Theater seating plan" was created using ConceptDraw PRO diagramming and vector drawing software extended with the Seating Plans solution from the Building Plans area of ConceptDraw Solution Park.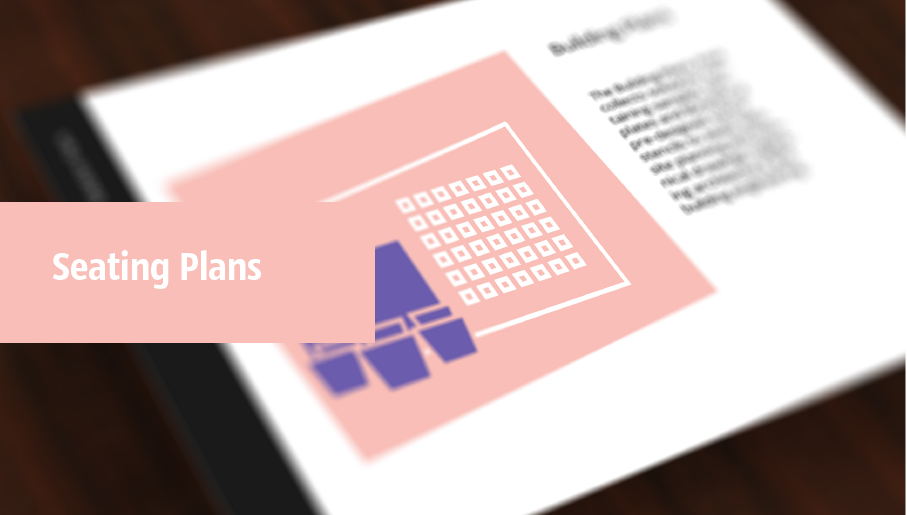 The correct and convenient arrangement of tables, chairs and other furniture in auditoriums, theaters, cinemas, banquet halls, restaurants, and many other premises and buildings which accommodate large quantity of people, has great value and in many cases requires drawing detailed plans. The Seating Plans Solution is specially developed for their easy construction.
This is lecture hall seating plan sample.
It was created on the base of the Lecture Theatre floorplan from the website of the Kent Science Park, UK.
[kentsciencepark.co.uk/ MeetingRooms/ MeetingRooms.aspx]
"A lecture hall (or lecture theatre) is a large room used for instruction, typically at a college or university. Unlike a traditional classroom with a capacity from one to four dozen, the capacity of lecture halls is typically measured in the hundreds. Lecture halls almost always have a pitched floor, so that those in the rear are sat higher than those at the front, allowing them to see the lecturer. The importance of lecture halls is so significant that some schools of architecture have offered courses exclusively centered on their design." [Lecture hall. Wikipedia]
The floor plan example "Lecture theatre" was created using the ConceptDraw PRO diagramming and vector drawing software extended with the School and Training Plans solution from the Building Plans area of ConceptDraw Solution Park.