Interior Design Office Layout Plan Design Element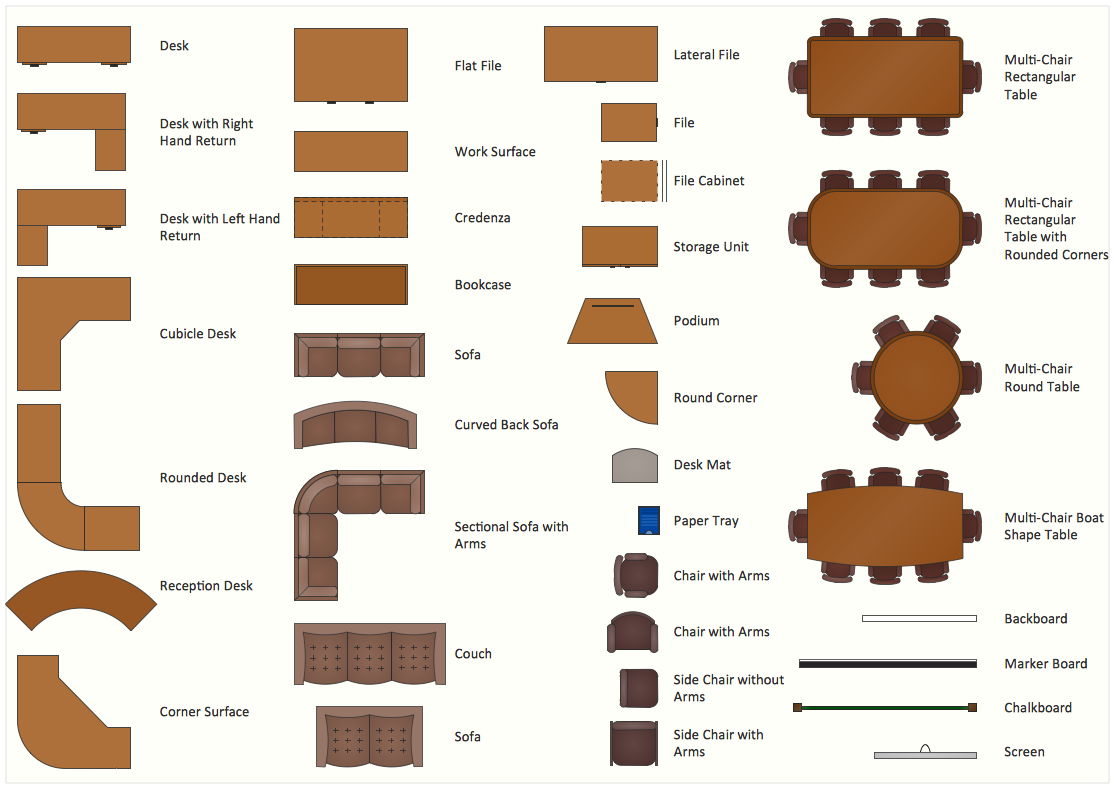 Lucky interior design is an integral part of succesful work at office. The important challenge in office design planning is to find a balance between two main office activities: concentration and communication. Primarily you need to determine with a type of office space, this can be an open space or separate rooms. The first type is more suitable for communication and rapid interaction. That's why open offices and combined spaces are modern types of work space and often used, especially for private offices. Traditional office basically represents separate rooms arranged along the corridor. It is applied for the companies with small number of people or for enterprises divided on separate departments, and is practically inapplicable for teamwork. ConceptDraw PRO diagramming and vector drawing software extended with Office Layout Plans solution offers a lot of vector stencils libraries with design elements of office furniture and equipment for effective office interior design and office space planning, for easy creation Office Floor Plans and Office Layout Plans. Use ConceptDraw PRO to visualize process flowcharts, network architecture and program workflows like Visio for Mac and even more. The software can be used with different fields like business, engineering and construction, etc.
Read more
How to Draw a Floor Plan
The vector stencils library "School layout" contains 19 symbols of classroom furniture and educational equipment.
Use it to develop the school interioir design floor plan, furniture and educational equipment layout of classroom or training office using the ConceptDraw PRO diagramming and vector drawing software.
"Schools are organized spaces purposed for teaching and learning. The classrooms, where teachers teach and students learn, are of central importance..." [School. Wikipedia]
"Traditionally, classrooms have had one setup: straight rows of desks facing the front of the classroom.
Another classroom seating alternative would be the use of tables instead of desks." [Classroom. Wikipedia]
This design elements library is included in the School and Training Plans solution from the Building Plans area of ConceptDraw Solution Park.
Read more
The vector stencils library "Cabinets and bookcases" contains 41 vector shapes for drawing floor plans.
"A cabinet is a box-shaped piece of furniture with doors or drawers for storing miscellaneous items. Some cabinets stand alone while others are built into a wall or are attached to it... Cabinets are typically made of wood or, now increasingly, of synthetic materials. Commercial grade cabinets, which differ in the materials used, are called casework.
Cabinets usually have one or more doors on the front, which are mounted with door hardware, and occasionally a lock. Many cabinets have doors and drawers or only drawers. Short cabinets often have a finished surface on top that can be used for display, or as a working surface" [Cabinetry. Wikipedia]
Use the design elements library "Cabinets and bookcases" to draw the office furniture and equipment layout plans using the ConceptDraw PRO diagramming and vector drawing software. The shapes library "Cabinets and bookcases" is included in the Office Layout Plans solution from Building Plans area of ConceptDraw Solution Park.
Read more