Fast food bar
This example shows fast food bar: customers paying and taking their orders at the counter, cashiers at the cash registers, menu boards over the counter, man and woman carrying their trays with food and beverages, man sitting at the table and eating his meal.
"A fast food restaurant, also known as a quick service restaurant (QSR) within the industry, is a specific type of restaurant characterized both by its fast food cuisine and by minimal table service. Food served in fast food restaurants typically caters to a "meat-sweet diet" and is offered from a limited menu; is cooked in bulk in advance and kept hot; is finished and packaged to order; and is usually available ready to take away, though seating may be provided. Fast food restaurants are typically part of a restaurant chain or franchise operation, which provisions standardized ingredients and/or partially prepared foods and supplies to each restaurant through controlled supply channels." [en.wikipedia.org/wiki/Fast_food_restaurant]
The food court illustration example "Fast food bar" was drawn using the ConceptDraw PRO diagramming and vector drawing software extended with the Food Court solution from the Food and Beverages area of ConceptDraw Solution Park.
Read more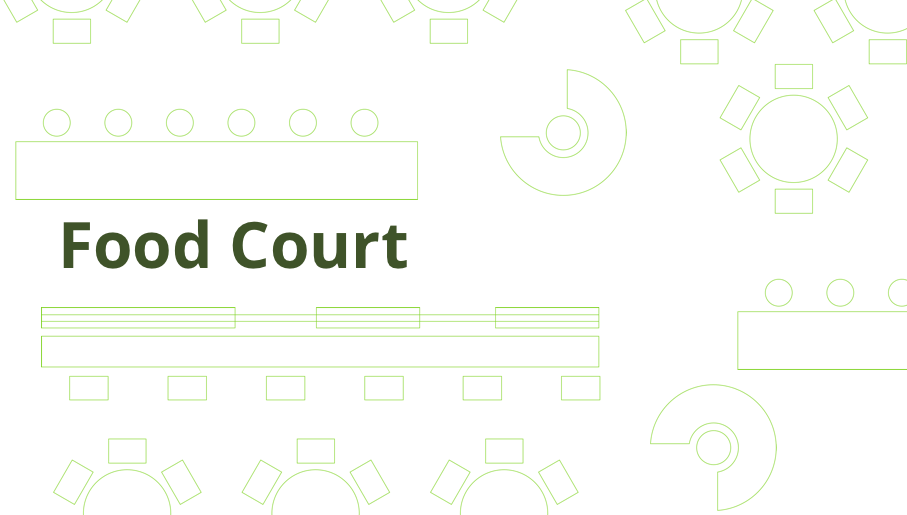 Use the Food Court solution to create food art. Pictures of food can be designed using libraries of food images, fruit art and pictures of vegetables.
Read more
The vector stencils library Cafe and restaurant contains symbols of furniture, equipment and interior design elenebts.
Use the shapes library Cafe and restaurant to draw the interior design floor plans and furniture and equipment layouts of coffeehouses, restaurants and bars using the ConceptDraw PRO diagramming and vector drawing software.
"Various types of restaurant fall into several industry classifications based upon menu style, preparation methods and pricing. Additionally, how the food is served to the customer helps to determine the classification.
Historically, restaurant referred only to places that provided tables where one sat down to eat the meal, typically served by a waiter. Following the rise of fast food and take-out restaurants, a retronym for the older "standard" restaurant was created, sit-down restaurant. Most commonly, "sit-down restaurant" refers to a casual dining restaurant with table service, rather than a fast food restaurant or a "diner", where one orders food at a counter." [Types of restaurant. Wikipedia]
The design elements library Cafe and restaurant is included in the Cafe and Restaurant Floor Plans solution from the Building Plans area of ConceptDraw Solution Park.
Read more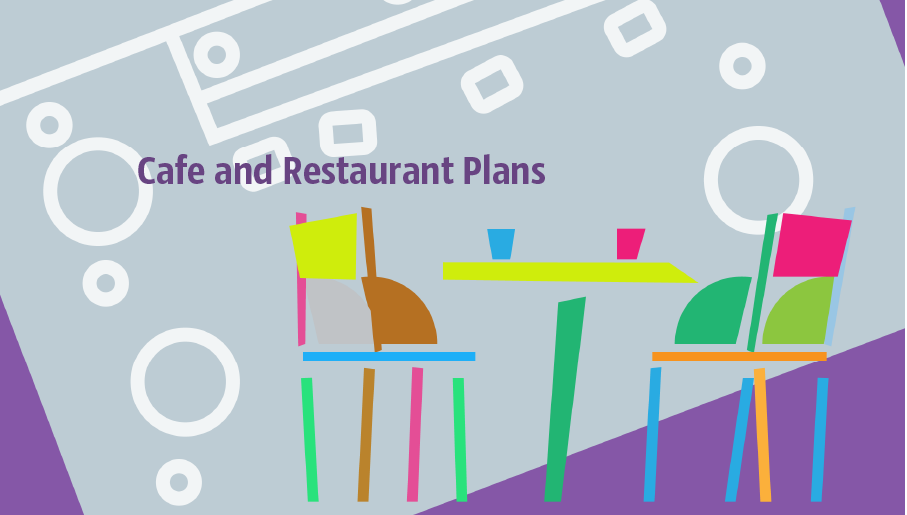 Restaurants and cafes are popular places for recreation, relaxation, and are the scene for many impressions and memories, so their construction and design requires special attention. Restaurants must to be projected and constructed to be comfortable and e
Read more
The Restaurant plan example shows furniture layout in the restaurant.
"Restaurants may be classified or distinguished in many different ways. The primary factors are usually the food itself (e.g. vegetarian, seafood, steak); the cuisine (e.g. Italian, Chinese, Indian, French, Thai) and/or the style of offering (e.g. tapas bar, a sushi train, a tastet restaurant, a buffet restaurant or a yum cha restaurant). Beyond this, restaurants may differentiate themselves on factors including speed (see fast food), formality, location, cost, service, or novelty themes (such as automated restaurants).
Restaurants range from inexpensive and informal lunching or dining places catering to people working nearby, with simple food served in simple settings at low prices, to expensive establishments serving refined food and fine wines in a formal setting. In the former case, customers usually wear casual clothing. In the latter case, depending on culture and local traditions, customers might wear semi-casual, semi-formal or formal wear. Typically, customers sit at tables, their orders are taken by a waiter, who brings the food when it is ready. After eating, the customers then pay the bill." [Restaurant. Wikipedia]
The Restaurant plan example was created using ConceptDraw PRO diagramming and vector drawing software extended with the Cafe and Restaurant solution from Building Plans area of ConceptDraw Solution Park.
Read more