Must Have Suggestion
Collaboration
Being successful in business is about meeting your defined objectives and adapting to changes occurring in the global market. The ability for an organization to successful adapt to a rapidly changing environment leads to continued growth and success. Failure to adapt, leads to stakeholder disappointment and eventually to extinction if an organization cannot adjust to the situation.
Many organizations, who at one time in their history flourished, have been known to flounder because of loss of direction and vision. Keeping an organization moving forward requires strong collaborative team work to transition an organization from one stage to the next in its life cycle. Mistakes in strategy or implementation today are punishing when your team fails to correctly identify an early opportunity. Early opportunities not acted on cease to be success possibilities.
Social Media Response
The Social Media Response solution provides an interactive flow chart with action mind map templates to help to create an effective response to applicable social media mentions.
Benefits
The Social Media Response solution helps to organize the process of response for interactions occuring in social media. The Social Media Response solution provides the means to respond to social media mentions quickly and professionally. This tool keeps the entire team on the same page allowing you to realize your social media strategy, improve the quality of your answers, and minimize the time it takes to respond.
Objective
Interactive tool helps you find the appropriate response to social media mentions quickly.
Solution Purpose
Give quick and professional responses to social media mentions. Present workflow to team. Train employees. Accumulate knowledge and experience.
Intended For
Social media strategists, online marketing agencies, internet entrepreneurs, bloggers, social media consultants, startup groups using online promotion, sales people, technical support, PR professionals, trainers/coaches.
Products and methods
The Social Media Response solution delivers an innovative combination of interactive flow charts and action mind maps to help you boost your social media succes
This action mindmap helps respond to feature suggestions made by customers or enhancement requirements related to must-have features. The example contains ready to use response phrases organized into mindmap for quick composing and tweeting/posting of the response messages.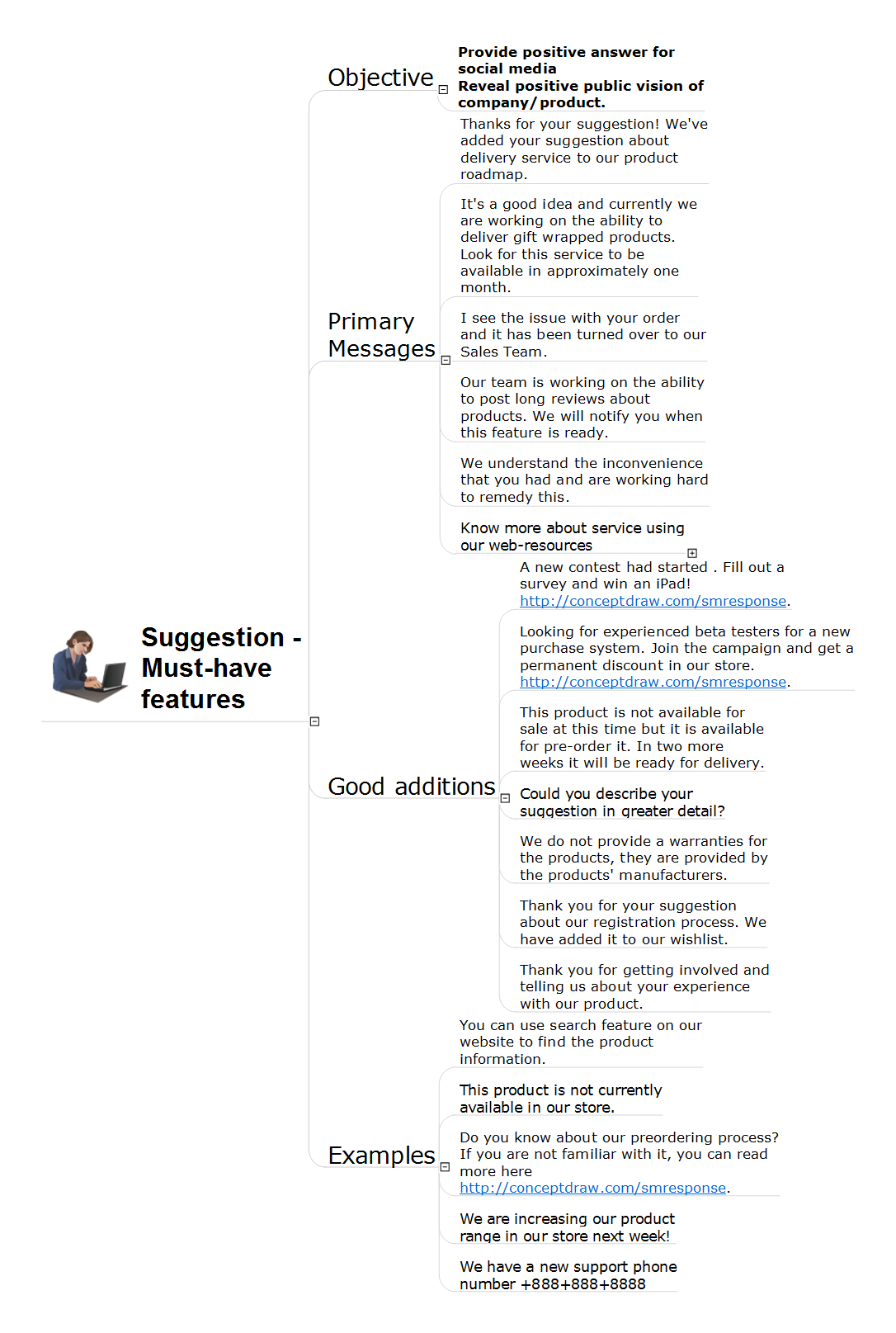 Example 1. Must Have Suggestion
Export to Outline
Suggestion - Must-have features
Objective

Provide positive answer for social media Reveal positive public vision of company/product.

Primary Messages

Thanks for your suggestion! We've added your suggestion about delivery service to our product roadmap.
It's a good idea and currently we are working on the ability to deliver gift wrapped products. Look for this service to be available in approximately one month.
I see the issue with your order and it has been turned over to our Sales Team.
Our team is working on the ability to post long reviews about products. We will notify you when this feature is ready.
We understand the inconvenience that you had and are working hard to remedy this.
Know more about service using our web-resources

See the service video https://www.conceptdraw.com/smresponse.
Read the service FAQ https://www.conceptdraw.com/smresponse.
Contact our support team https://www.conceptdraw.com/smresponse.
I will redirect your suggestion to our R&D department.
Read the service datasheet on the feature list as well as technical requirements and background details https://www.conceptdraw.com/smresponse.

Good additions

A new contest had started . Fill out a survey and win an iPad! https://www.conceptdraw.com/smresponse.
Looking for experienced beta testers for a new purchase system. Join the campaign and get a permanent discount in our store. https://www.conceptdraw.com/smresponse.
This product is not available for sale at this time but it is available for pre-order it. In two more weeks it will be ready for delivery.
Could you describe your suggestion in greater detail?
We do not provide a warranties for the products, they are provided by the products' manufacturers.
Thank you for your suggestion about our registration process. We have added it to our wishlist.
Thank you for getting involved and telling us about your experience with our product.

Examples

You can use search feature on our website to find the product information.
This product is not currently available in our store.
Do you know about our preordering process? If you are not familiar with it, you can read more here https://www.conceptdraw.com/smresponse.
We are increasing our product range in our store next week!
We have a new support phone number +888+888+8888
The Benefits for ConceptDraw MINDMAP Brainstorming Software
ConceptDraw MINDMAP is effective for brainstorming, designing mind maps, idea generating, creative and lateral thinking, creativity and problem solving.
ConceptDraw MINDMAP is ideal for team and personal work in Business, Marketing and Project Management.
The libraries with large quantity of vector objects help to illustrate your mind maps and to make them bright, visual and comprehensible.
Use of View Navigator tool lets create presentations from a mind map: you can simply select the map parts you want to present, sequence your slides, and preview the presentation.
ConceptDraw MINDMAP provides wide capabilities of importing and exporting in various formats: Microsoft PowerPoint, Microsoft Word, MS Excel, Mindjet MindManager, image, HTML, PDF file.
THREE RELATED HOW TO's:
As restaurant industry is growing rapidly nowadays, researches show that almost half of the adults have worked in a restaurant or a cafe. Moreover, many of them dream to start their own someday. Unfortunately, it takes a lot of time to write a business plan and to find a great location, although some know how to create a restaurant floor plan in minutes or how to plan budget effortlessly. Hiring employees can also cause a lot of headache, but this is crucial for further success, because every guest comes to restaurant for a good service and delicious food. It is also worth noting that restaurant concept is also important, because it defines target audience and influences the menu. This diagram represents the floor plan of an ongoing sports-theme establishment - restaurant, cafe, or other food service. A number of widescreen monitors installed along the perimeter provide visitors the opportunity to follow the course of a match from anywhere in the dining room of restaurant or cafe. The most of sports fans believe that food and alcohol is a big part of any sports show. That is why the dining room takes the most space - almost 60% of the total establishment space. Nearly all sports fans consume beverages while watching sports - beer, soda or water at least. Thus, the restaurant floor plan designers added a large lavatory there. Moreover, project developers considered unnecessary the gender division of such delicate place - perhaps they guess that only men are watching football, or believe that alcohol will eliminate the most of gender differences.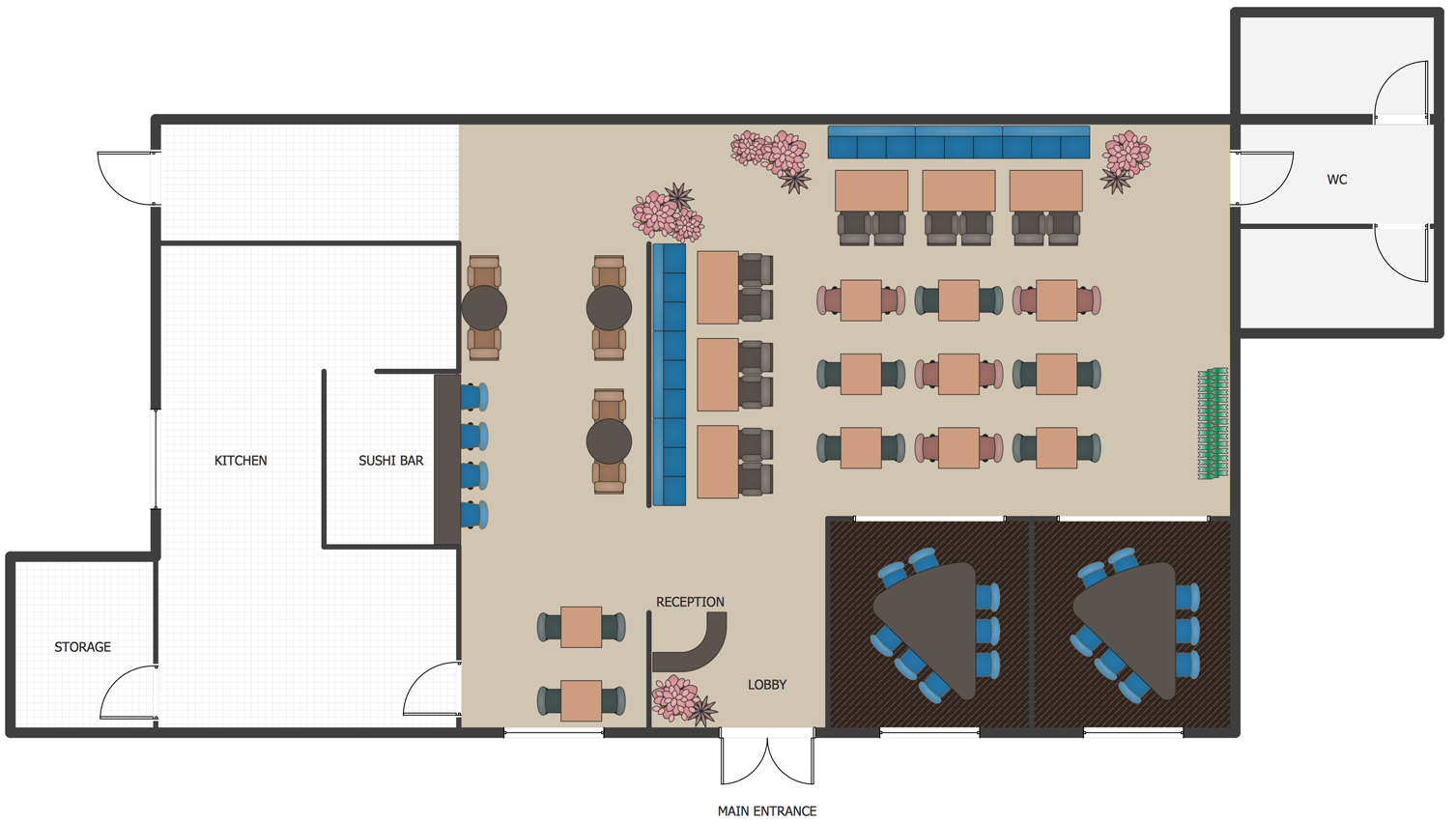 Picture: How To Create Restaurant Floor Plan in Minutes
Related Solution:
To pull a social media team together, to set your objectives, to develope an integrated communications strategy.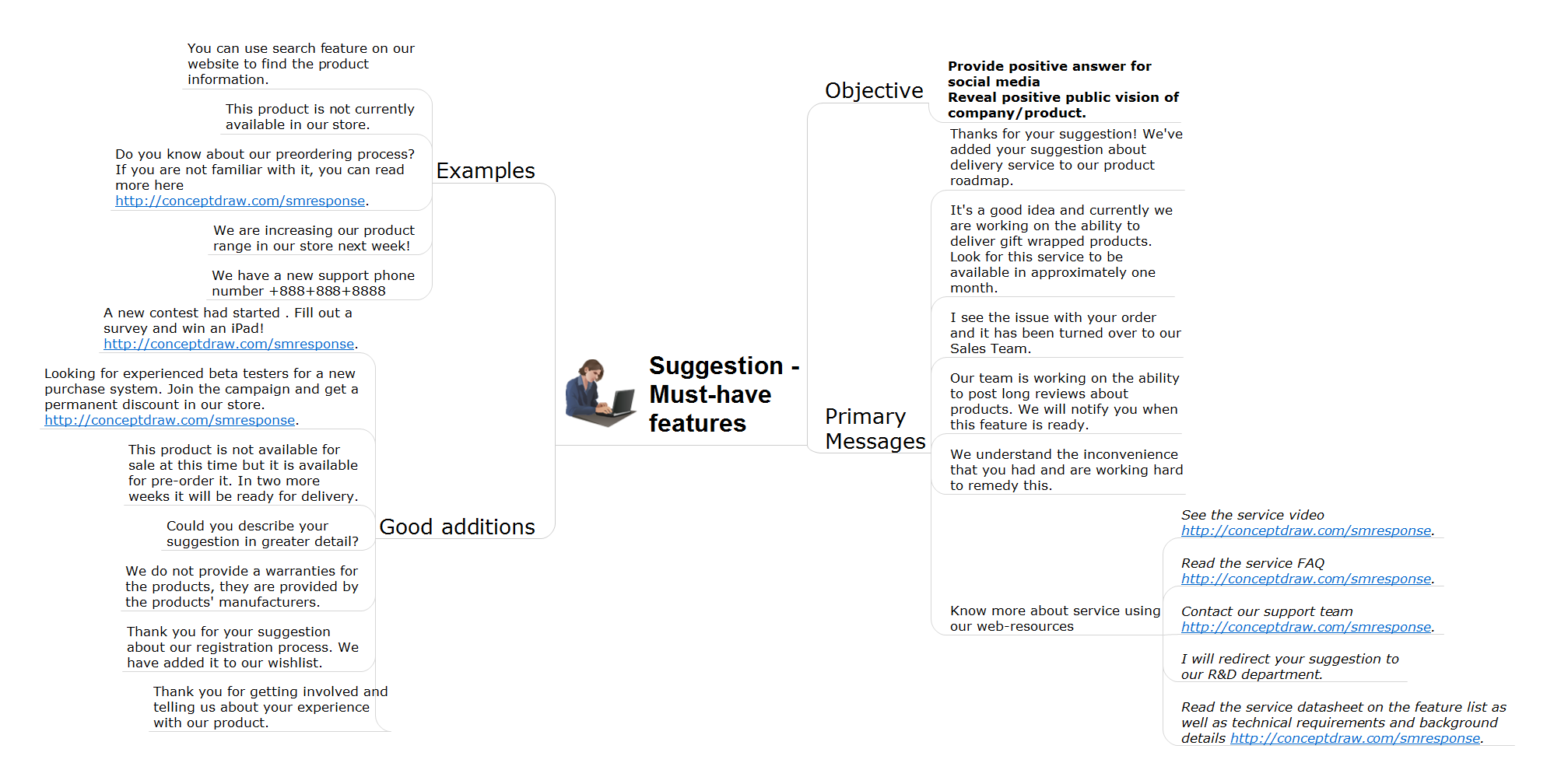 Picture: How to Present Workflow to Team
Related Solution:
When trying to figure out the nature of the problems occurring within a project, there are many ways to develop such understanding. One of the most common ways to document processes for further improvement is to draw a process flowchart, which depicts the activities of the process arranged in sequential order — this is business process management. ConceptDraw DIAGRAM is business process mapping software with impressive range of productivity features for business process management and classic project management. This business process management software is helpful for many purposes from different payment processes, or manufacturing processes to chemical processes. Business process mapping flowcharts helps clarify the actual workflow of different people engaged in the same process. This samples were made with ConceptDraw DIAGRAM — business process mapping software for flowcharting and used as classic visio alternative because its briefly named "visio for mac" and for windows, this sort of software named the business process management tools. This flowchart diagram shows a process flow of project management. The diagram that is presented here depicts the project life cycle that is basic for the most of project management methods. Breaking a project into phases allows to track it in the proper manner. Through separation on phases, the total workflow of a project is divided into some foreseeable components, thus making it easier to follow the project status. A project life cycle commonly includes: initiation, definition, design, development and implementation phases. Distinguished method to show parallel and interdependent processes, as well as project life cycle relationships. A flowchart diagram is often used as visual guide to project. For instance, it used by marketing project management software for visualizing stages of marketing activities or as project management workflow tools. Created with ConceptDraw DIAGRAM — business process mapping software which is flowcharting visio alternative or shortly its visio for mac, this sort of software platform often named the business process management tools.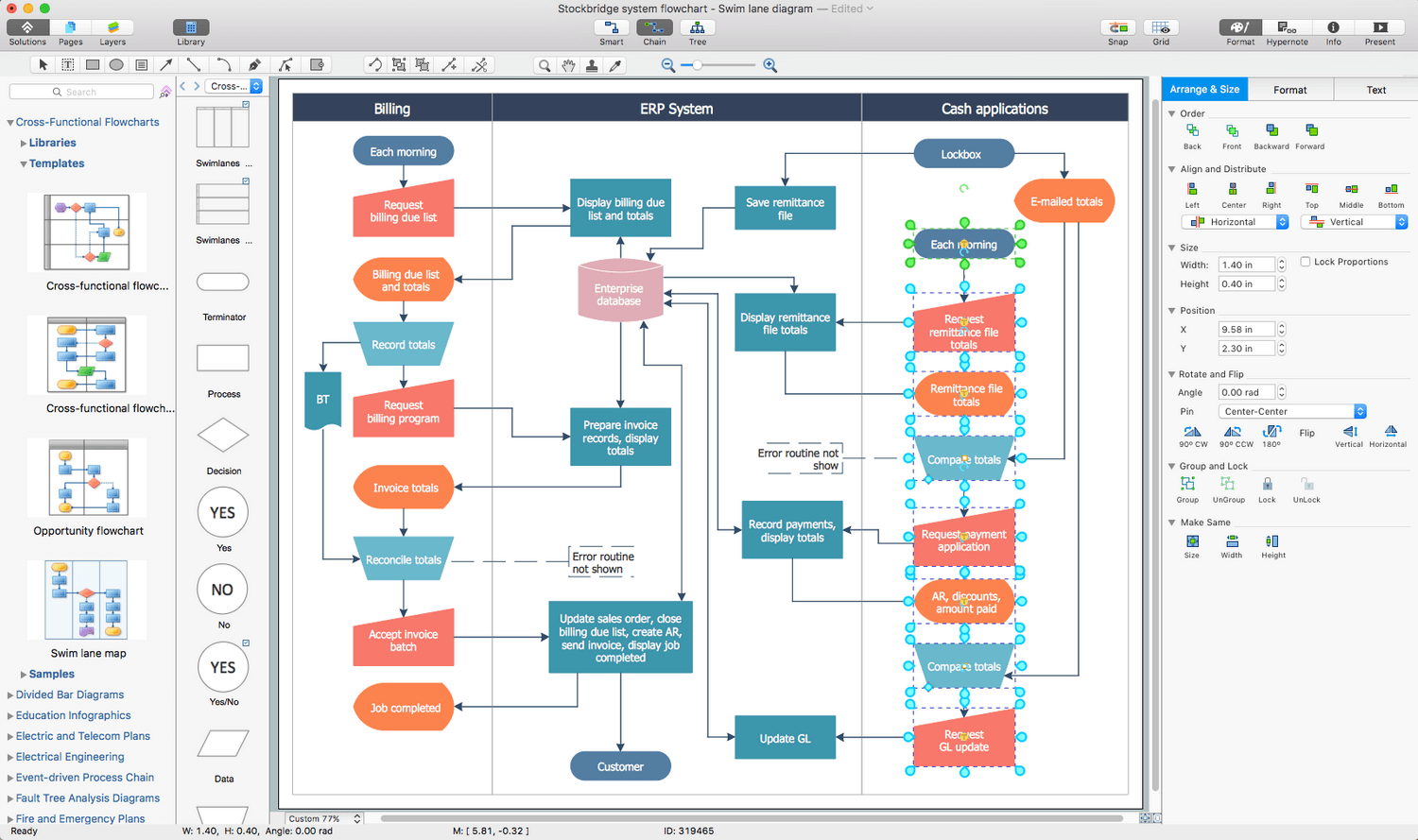 Picture: Process Flowchart
Related Solution: