Promoting Restaurant
Collaboration
Being successful in business is about meeting your defined objectives and adapting to changes occurring in the global market. The ability for an organization to successful adapt to a rapidly changing environment leads to continued growth and success. Failure to adapt, leads to stakeholder disappointment and eventually to extinction if an organization cannot adjust to the situation.
Many organizations, who at one time in their history flourished, have been known to flounder because of loss of direction and vision. Keeping an organization moving forward requires strong collaborative team work to transition an organization from one stage to the next in its life cycle. Mistakes in strategy or implementation today are punishing when your team fails to correctly identify an early opportunity. Early opportunities not acted on cease to be success possibilities.
MindTweet
Objective
Provide Twitter users with excellent tool that boosts value of tweets and helps to invent well formulated thrilling tweets folded to consistent tweet story that compel people to read, revise, follow and retweet.
Solution Purpose
Brainstorming and organizing tweet ideas. Presenting and discussing tweet plans. Building the chain of well-thought-out tweets.
Intended For
All Twitter users.
Benefits
MindTweet solution gives the ability to brainstorm, review and send tweets. You can estimate tweets, visually structure tweets by categories, mark tweets with icons or priorities, add notes for future. There are tools allow to consider tweet map with colleagues using impressive dynamic presentation of sent tweets and tweets you are going to send, discuss ideas for future tweets, key words and get team conclusion about the whole tweet plan. As a result you get a consistent story which you can tweet step by step on your schedule.
Products and methods
MindTweet solution discovers for Twitter users variety of mind mapping tools, which are exceptionally suitable for creating consistent tweet story.
A mindmap illustrating a new restaurant's Twitter campaign.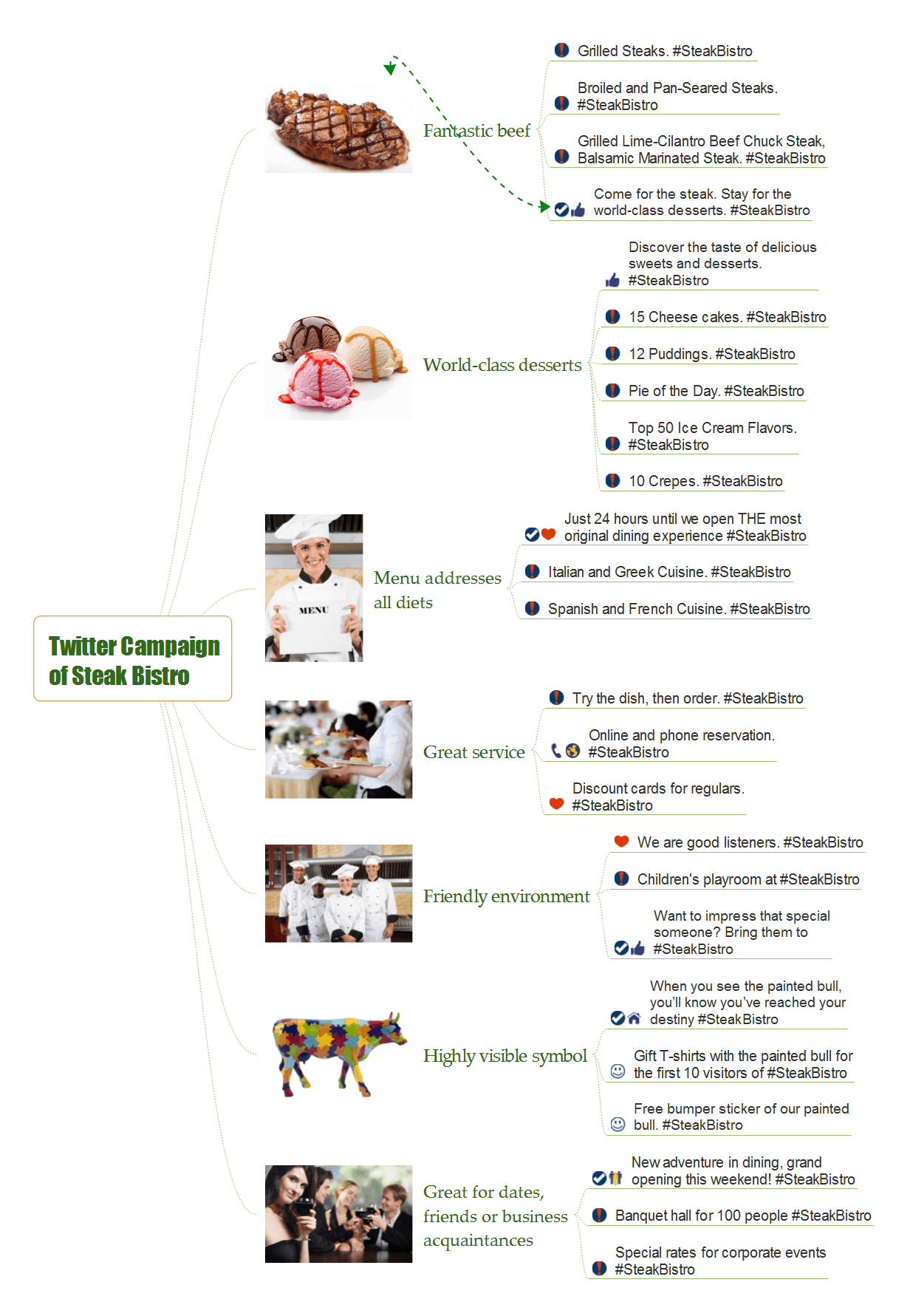 Example 1. Promoting Restaurant
Export to Outline
Twitter Campaign of Steak Bistro
Fantastic beef

Grilled Steaks. #SteakBistro
Broiled and Pan-Seared Steaks. #SteakBistro
Grilled Lime-Cilantro Beef Chuck Steak, Balsamic Marinated Steak. #SteakBistro
Come for the steak. Stay for the world-class desserts. #SteakBistro

World-class desserts

Discover the taste of delicious sweets and desserts. #SteakBistro
15 Cheese cakes. #SteakBistro
12 Puddings. #SteakBistro
Pie of the Day. #SteakBistro
Top 50 Ice Cream Flavors. #SteakBistro
10 Crepes. #SteakBistro

Menu addresses all diets

Just 24 hours until we open THE most original dining experience #SteakBistro
Italian and Greek Cuisine. #SteakBistro
Spanish and French Cuisine. #SteakBistro

Great service

Try the dish, then order. #SteakBistro
Online and phone reservation. #SteakBistro
Discount cards for regulars. #SteakBistro

Friendly environment

We are good listeners. #SteakBistro
Children's playroom at #SteakBistro
Want to impress that special someone? Bring them to #SteakBistro

Highly visible symbol

When you see the painted bull, you'll know you've reached your destiny #SteakBistro
Gift T-shirts with the painted bull for the first 10 visitors of #SteakBistro
Free bumper sticker of our painted bull. #SteakBistro

Great for dates, friends or business acquaintances

New adventure in dining, grand opening this weekend! #SteakBistro
Banquet hall for 100 people #SteakBistro
Special rates for corporate events #SteakBistro
The Benefits for ConceptDraw MINDMAP Brainstorming Software
ConceptDraw MINDMAP is effective for brainstorming, designing mind maps, idea generating, creative and lateral thinking, creativity and problem solving.
ConceptDraw MINDMAP is ideal for team and personal work in Business, Marketing and Project Management.
The libraries with large quantity of vector objects help to illustrate your mind maps and to make them bright, visual and comprehensible.
Use of View Navigator tool lets create presentations from a mind map: you can simply select the map parts you want to present, sequence your slides, and preview the presentation.
ConceptDraw MINDMAP provides wide capabilities of importing and exporting in various formats: Microsoft PowerPoint, Microsoft Word, MS Excel, Mindjet MindManager, image, HTML, PDF file.
THREE RELATED HOW TO's:
Explaining soccer positions becomes much more easier and time saving with visual drawings. ConceptDraw DIAGRAM software extended with the Soccer solution from the Sport area of ConceptDraw Solution Park is very useful tool that will help you design the soccer-related drawings of any complexity in minutes.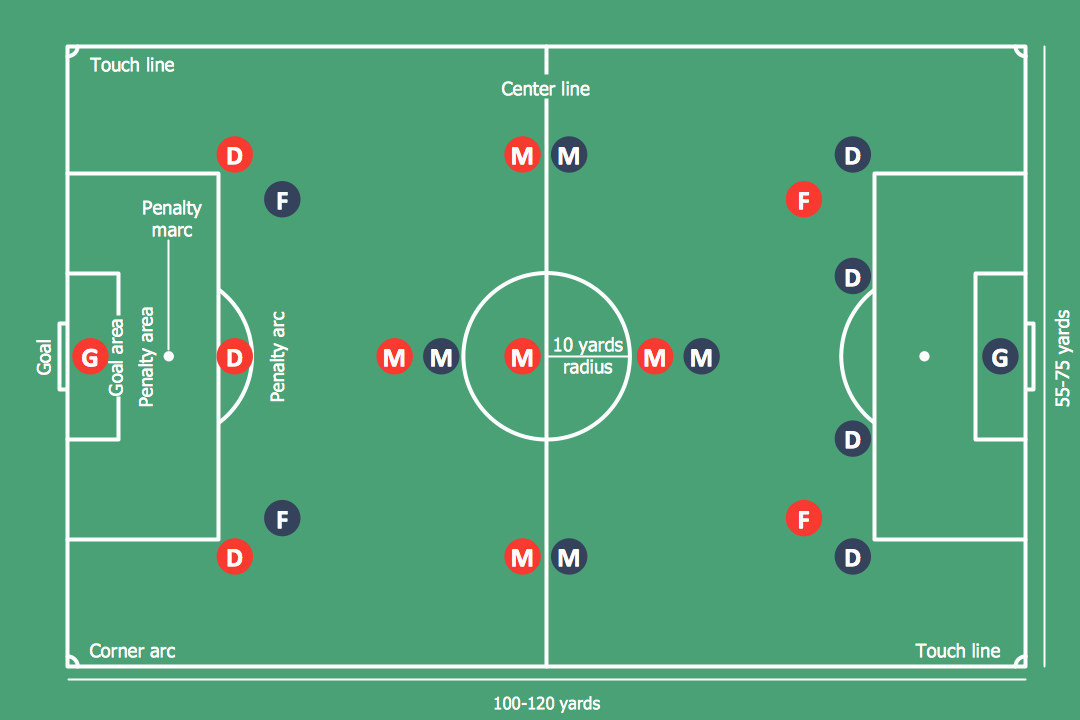 Picture: Soccer (Football) Positions
Related Solution:
A mindmap organizing blog posts that cover a variety of topics for a technology blog.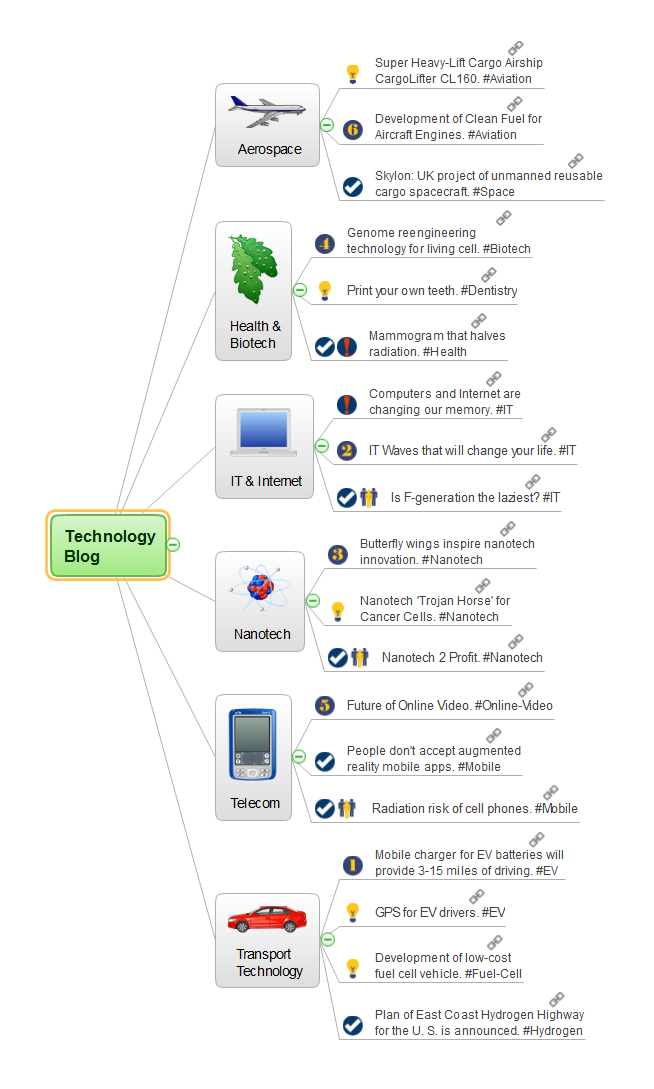 Picture: Technology Blog
Related Solution:
Food courts are very popular places. You want to increase attendance, advertise and invite attention to your food court? Make interesting design and create pictorial and bright food art posters and signboards, and don't forget to decorate your menu with images of tasty treats! ConceptDraw DIAGRAM diagramming and vector software supplied with Food Court solution from the Food and Beverage area of ConceptDraw Solution Park offers powerful drawing tools for effective food art.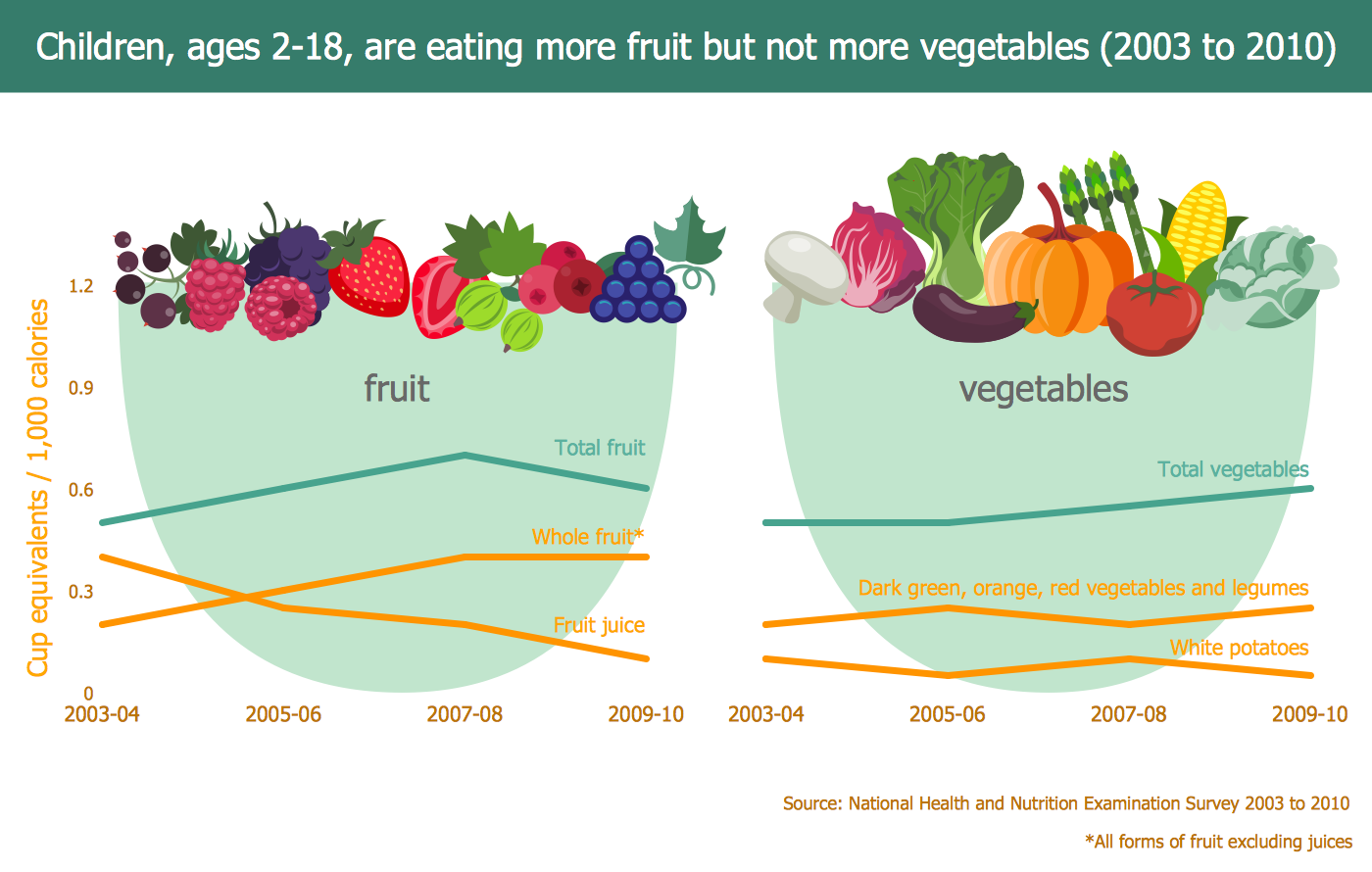 Picture: Food Art
Related Solution: