How to use Each and Every
Collaboration
Being successful in business is about meeting your defined objectives and adapting to changes occurring in the global market. The ability for an organization to successful adapt to a rapidly changing environment leads to continued growth and success. Failure to adapt, leads to stakeholder disappointment and eventually to extinction if an organization cannot adjust to the situation.
Many organizations, who at one time in their history flourished, have been known to flounder because of loss of direction and vision. Keeping an organization moving forward requires strong collaborative team work to transition an organization from one stage to the next in its life cycle. Mistakes in strategy or implementation today are punishing when your team fails to correctly identify an early opportunity. Early opportunities not acted on cease to be success possibilities.
eLearning for Skype
Note: solution requires ConceptDraw MINDMAP or later.
This solution extends ConceptDraw MINDMAP with the ability to prepare and run remote learning via Skype.
It lets you create educational materials and present remotely to students using Skype conference call.
It works great with other ConceptDraw Solution Park solutions such as Word Exchange, Presentation Exchange, and Mind Map Exchange.
This mind map explains language rules in simple visual way. You can use such type of mind maps to teach or learn foreign languages when using the eLearning for Skype solution for ConceptDraw MINDMAP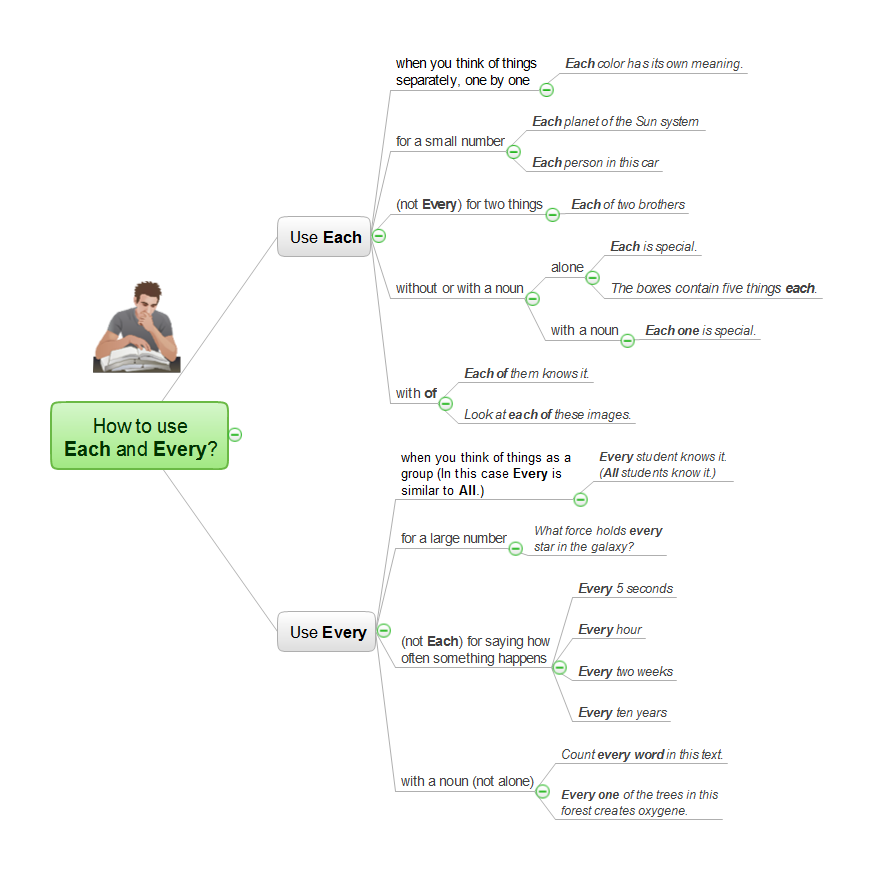 Example 1. How to use Each and Every
Export to Outline
How to use Each and Every?
Use Each

when you think of things separately, one by one

Each color has its own meaning.

for a small number

Each planet of the Sun system
Each person in this car

(not Every) for two things
without or with a noun

alone

Each is special.
The boxes contain five things each.

with a noun

with of

Each of them knows it.
Look at each of these images.

Use Every

when you think of things as a group (In this case Every is similar to All.)

Every student knows it. (All students know it.)

for a large number

What force holds every star in the galaxy?

(not Each) for saying how often something happens

Every 5 seconds
Every hour
Every two weeks
Every ten years

with a noun (not alone)

Count every word in this text.
Every one of the trees in this forest creates oxygene.
The Benefits for ConceptDraw MINDMAP Brainstorming Software
ConceptDraw MINDMAP is effective for brainstorming, designing mind maps, idea generating, creative and lateral thinking, creativity and problem solving.
ConceptDraw MINDMAP is ideal for team and personal work in Business, Marketing and Project Management.
The libraries with large quantity of vector objects help to illustrate your mind maps and to make them bright, visual and comprehensible.
Use of View Navigator tool lets create presentations from a mind map: you can simply select the map parts you want to present, sequence your slides, and preview the presentation.
ConceptDraw MINDMAP provides wide capabilities of importing and exporting in various formats: Microsoft PowerPoint, Microsoft Word, MS Excel, Mindjet MindManager, image, HTML, PDF file.
THREE RELATED HOW TO's:
ConceptDraw DIAGRAM software extended with Matrices Solution from the Marketing Area of ConceptDraw Solution Park offers you the possibility to develop the Ansoff Matrix of any complexity.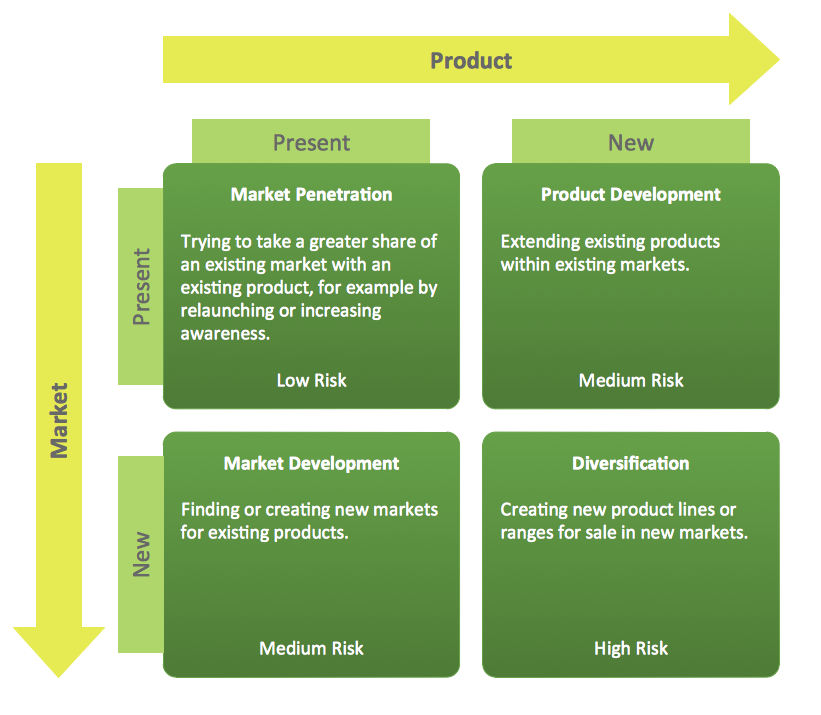 Picture: Ansoff Matrix
Related Solution:
eLearning Solutions for Teachers: Connecting Students Worldwide. Free Platform for Remote Learning. Skype as a remote education tool. Remote collaboration and presentation.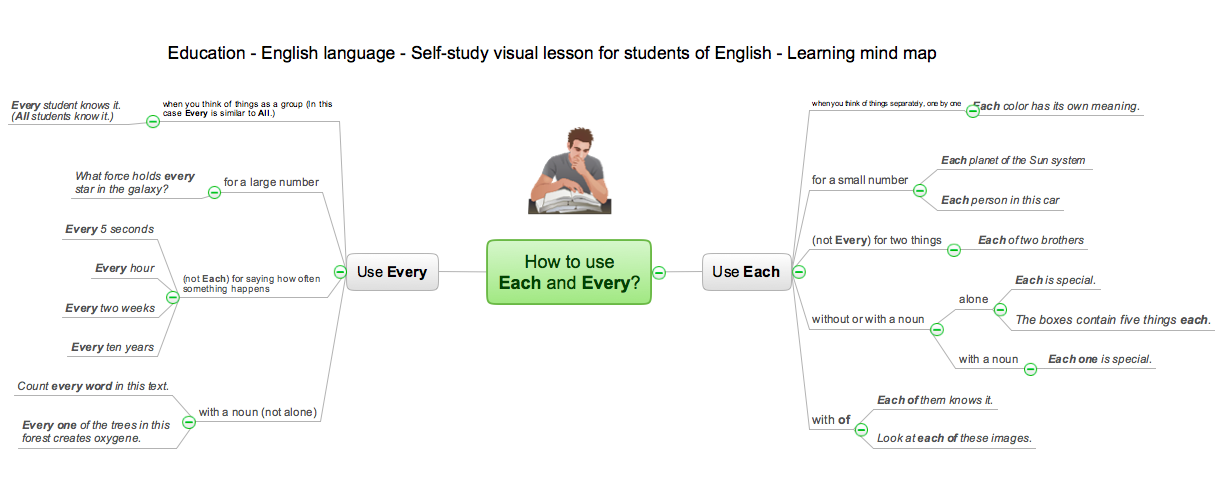 Picture: eLearning - International Teaching Community
Related Solution:
A basic vacation preparation mind map.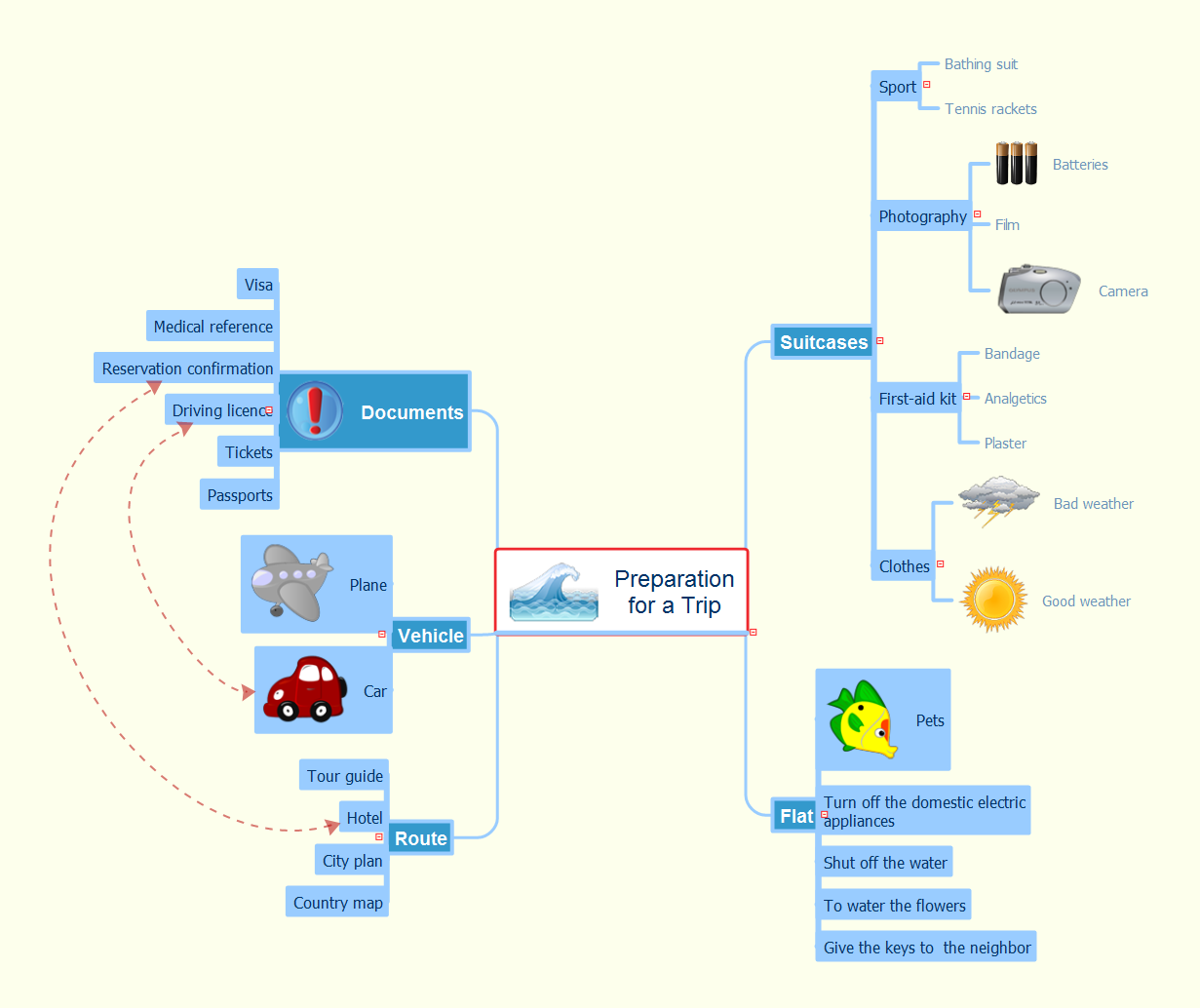 Picture: Preparation for a Trip
Related Solution: