EPC
"An Event-driven Process Chain (EPC) is a type of flowchart used for business process modelling. EPCs can be used for configuring an enterprise resource planning (ERP) implementation, and for business process improvement. Usage for control of work share with instances of autonomous workflows in workflow management is possible, but not yet implemented.
The event-driven process chain method was developed within the framework of Architecture of Integrated Information Systems (ARIS) by August-Wilhelm Scheer at the Institut für Wirtschaftsinformatik, Universität des Saarlandes (Institute for Business Information Systems at the University of Saarland) in the early 1990s."[from Wikipedia]
How do you make usually the EPC diagrams? It is quite complex and lengthy process. But now thanks to the ConceptDraw DIAGRAM diagramming and vector drawing software extended with Event-driven Process Chain Diagrams EPC solution from the Business Processes area of ConceptDraw Solution Park this process became simple and fast.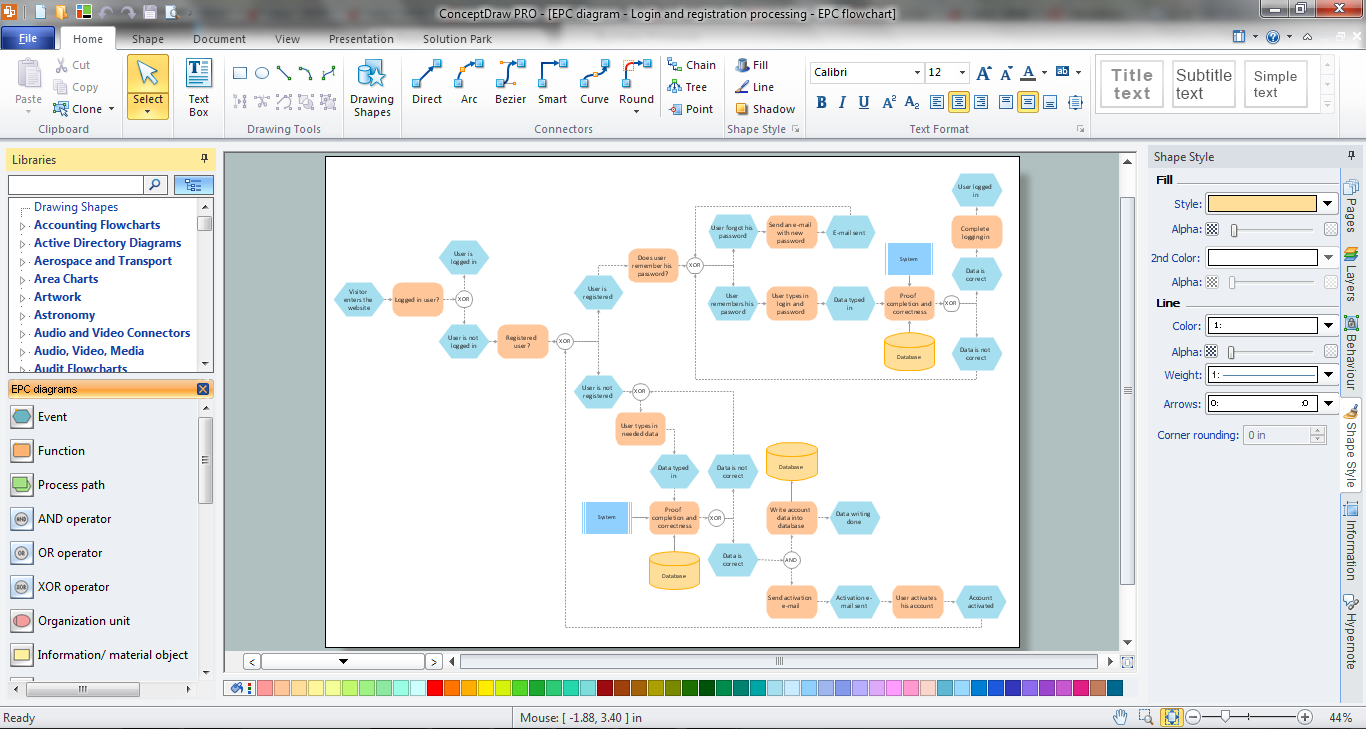 Example 1. EPC Diagram in ConceptDraw DIAGRAM /p>
Event-driven Process Chain Diagrams EPC Solution offers a set of predesigned templates and samples. You can choose any desired EPC diagram sample from the offered in ConceptDraw STORE that meets your requirements and change it for your needs.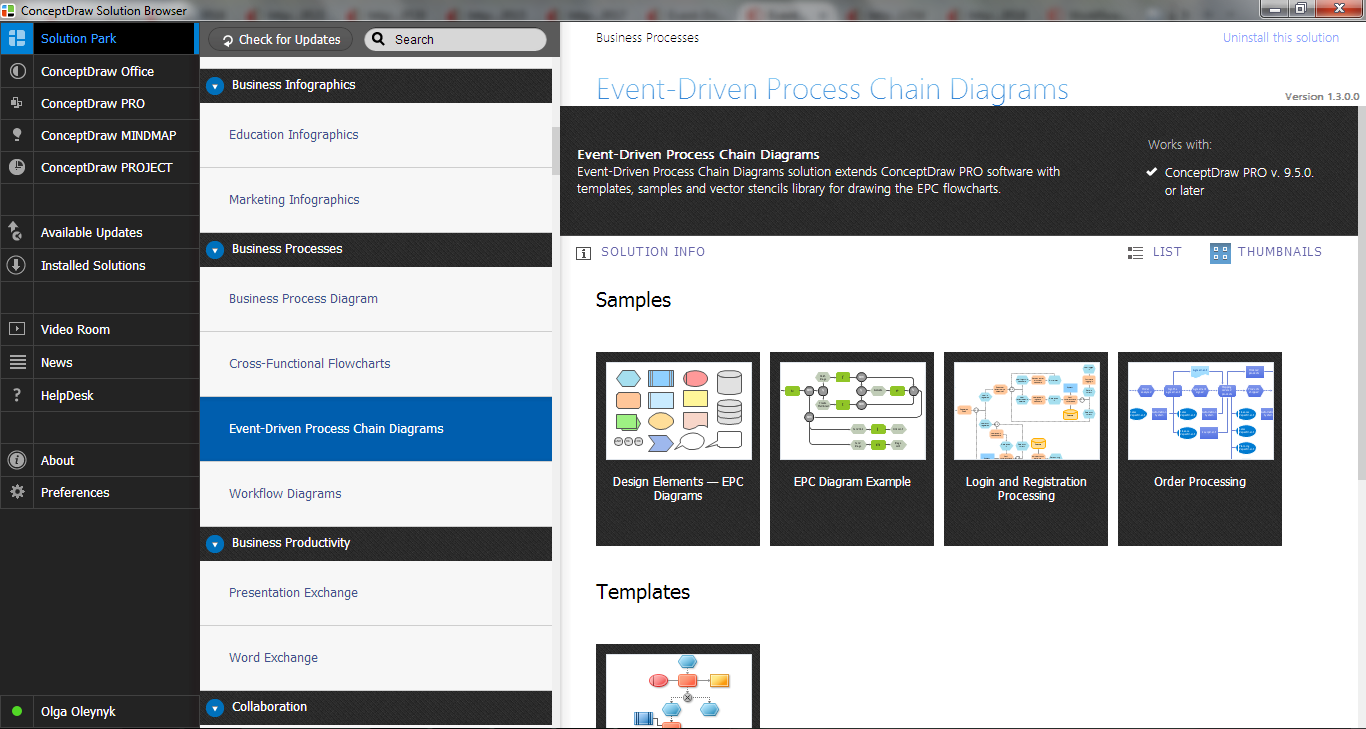 Example 2. Event-driven Process Chain Diagrams EPC Solution in ConceptDraw STORE
Use also the predesigned vector objects from the EPC Diagrams library to design your own EPC diagrams from the beginning, or when you fill the ready template or change sample.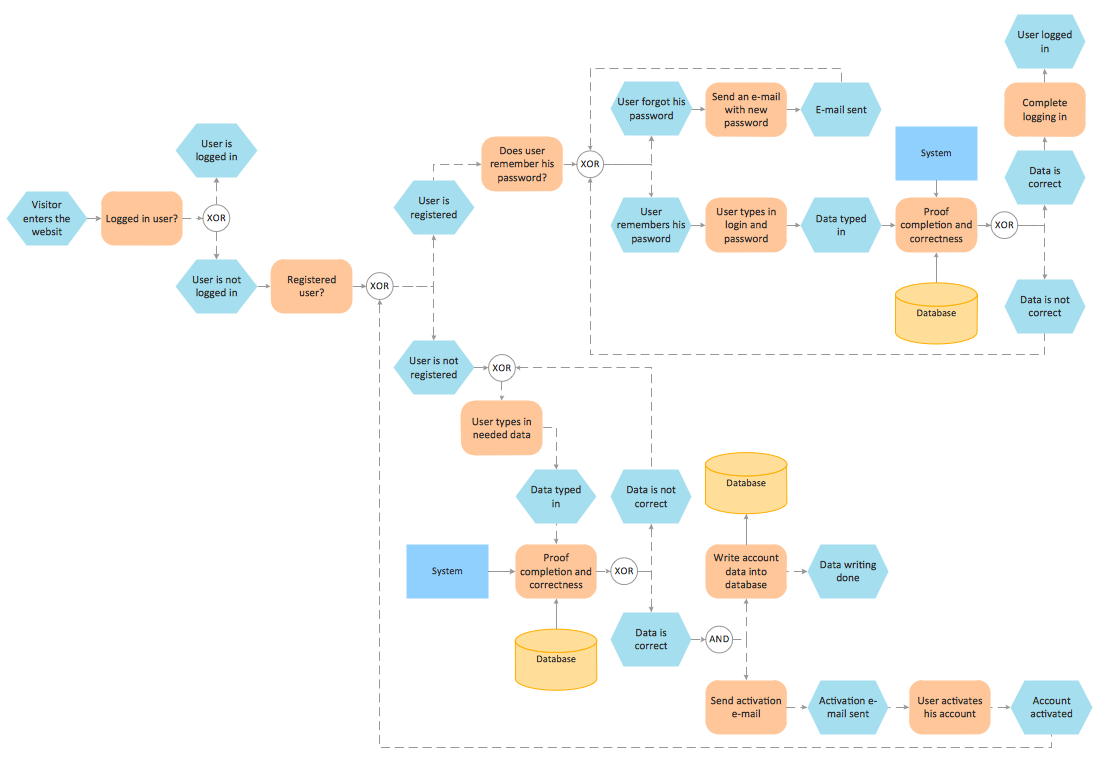 Example 3. EPC Diagram - Login and Registration Processing
This sample was created in ConceptDraw DIAGRAM using the predesigned objects from the Event-driven Process Chain Diagrams EPC Solution. This EPC diagram shows in details all steps of a login and registration processing. An experienced user spent 20 minutes creating this sample.
All source documents are vector graphic documents. They are available for reviewing, modifying, or converting to a variety of formats (PDF file, MS PowerPoint, MS Visio, and many other graphic formats) from the ConceptDraw STORE. The Event-driven Process Chain Diagrams EPC Solution is available for all ConceptDraw DIAGRAM or later users.
THREE RELATED HOW TO's:
A flowchart is a simple but very functional tool when it comes to understanding a workflow or to removing unnecessary stages from a process. When drawing flowcharts, keep in mind that there are four common types of flowcharts, like document flowcharts and data flowcharts that show control over a data or document flow over a system. To show controls on a physical level, use system flowcharts. In addition, to show controls in a program, you can draw a program flowchart. This flowchart diagram represents the piece of an article editing process, that involves the author and editor. It was created using the Basic Flowchart notation that consists from the basic flowchart symbols. The start and the end of the process are indicated with "Terminator" symbols. The "Process" symbols show the action steps consisting from making edits and searching for a compromise, when the author does not agree with the suggestions of the editor. The "Process" symbol is the general symbol in process flowcharts. The "Decision" symbol indicates a branching in the process flow. There are two branches indicated by a Decision shape in the current flowchart (Yes/No, Disagree/Agree). This basic flowchart can be used as a repeating unit in the workflow diagram describing the working process of some editorial office.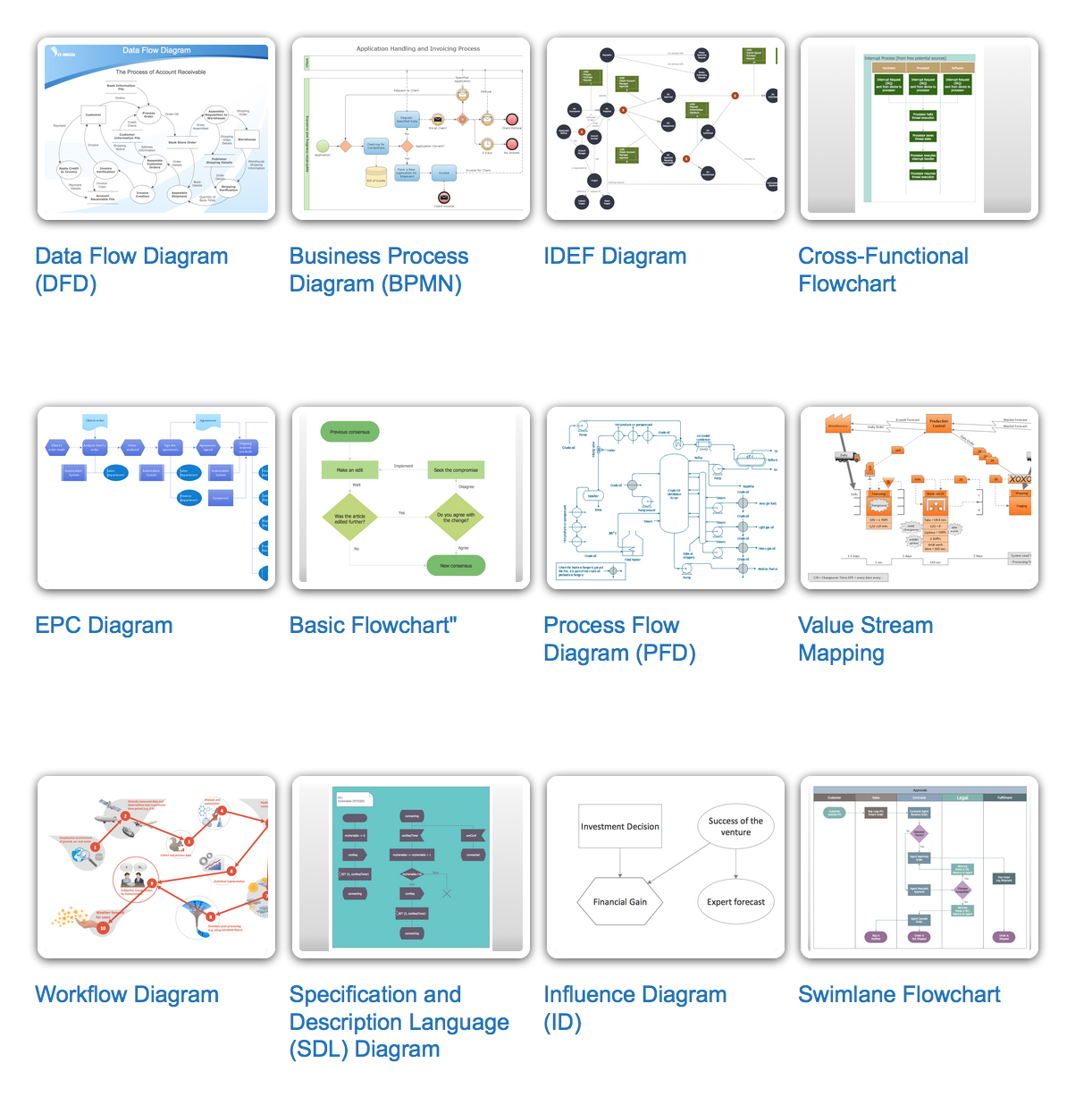 Picture: Types of Flowcharts
Related Solution:
ConceptDraw DIAGRAM is a powerful diagramming and vector drawing software. Extended with Event-driven Process Chain Diagrams EPC solution from the Business Processes Area, ConceptDraw DIAGRAM became the ideal EPC Engineering software.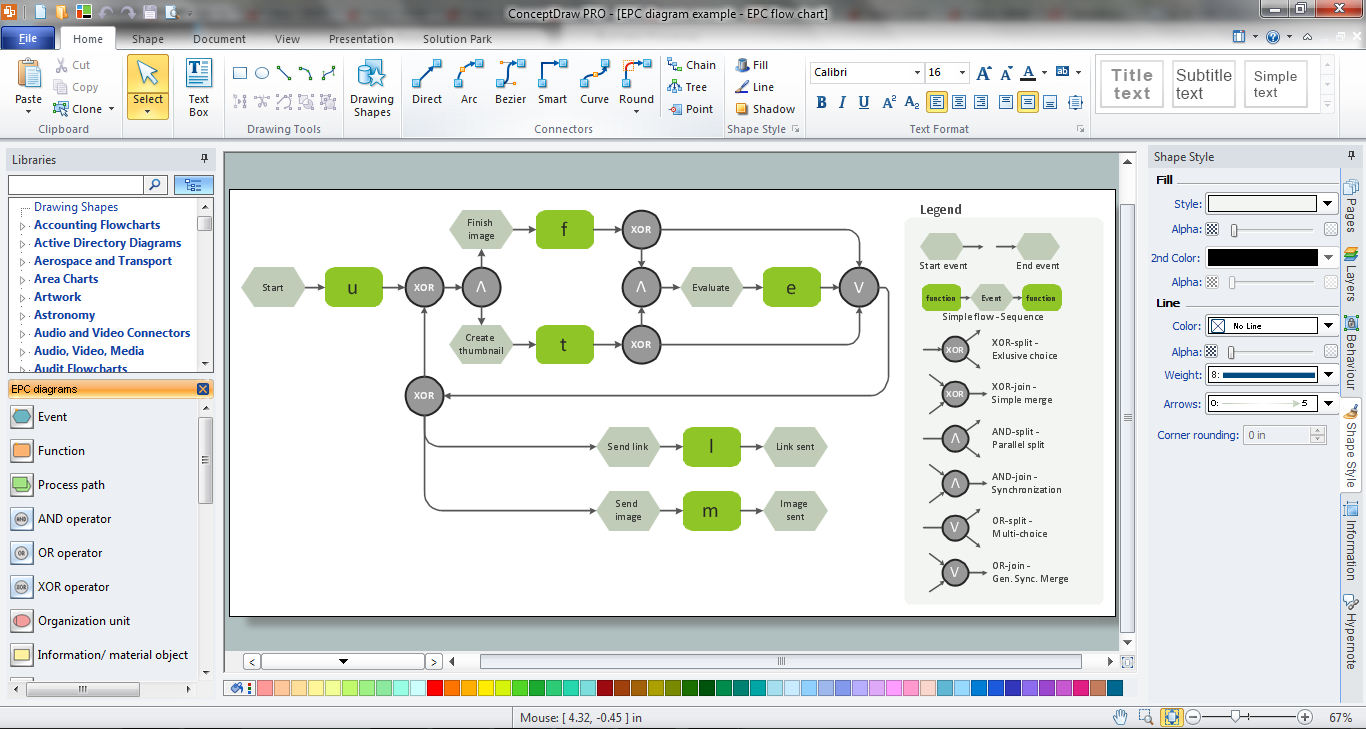 Picture: EPC Engineering
Related Solution:
It's very simple, convenient and quick to design professional looking Flowcharts of any complexity using the ConceptDraw DIAGRAM diagramming and vector drawing software extended with Flowcharts Solution from the "Diagrams" Area of ConceptDraw Solution Park which provides a wide set of predesigned objects, templates, samples and Flowchart examples.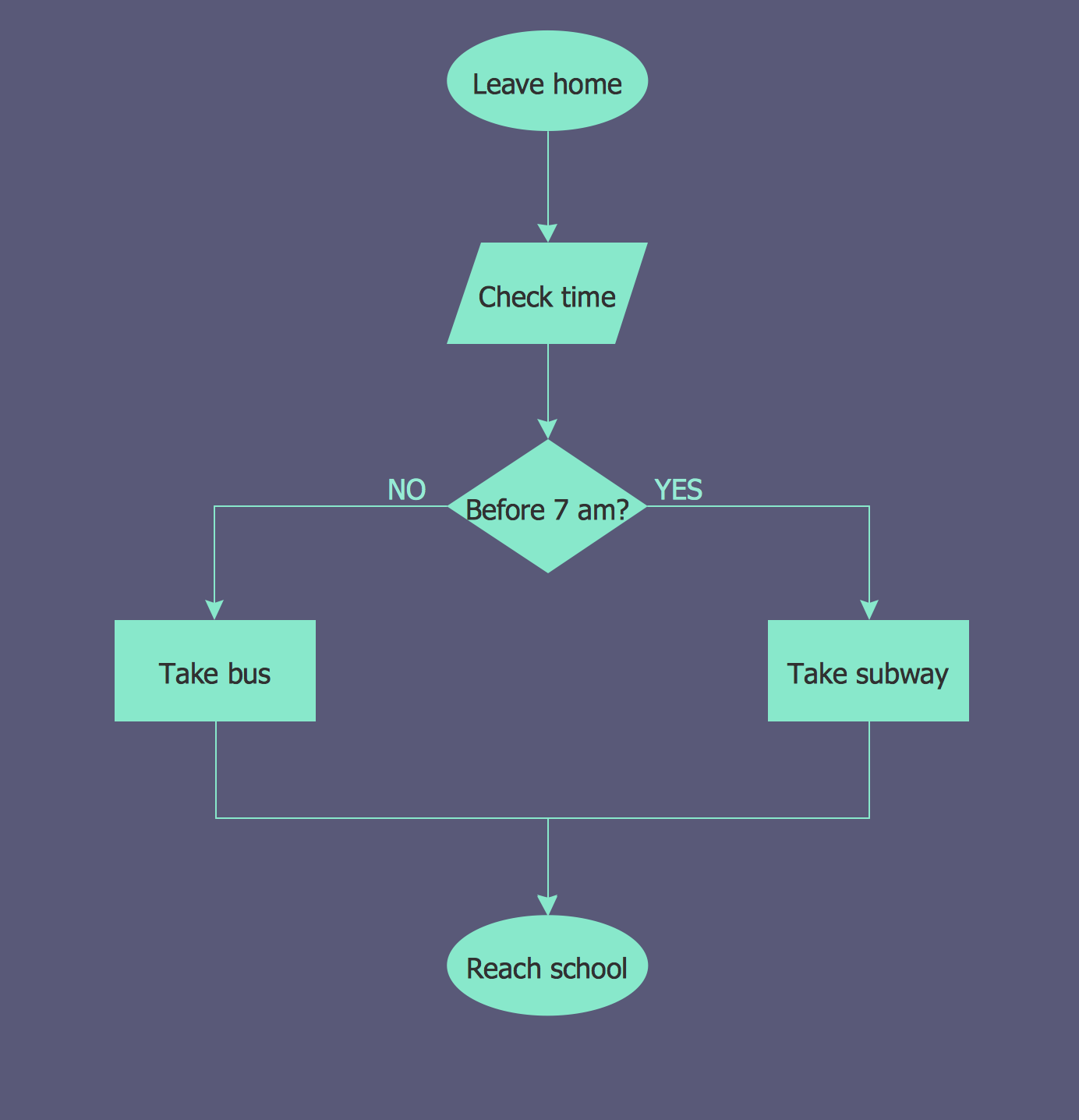 Picture: Flowchart Examples
Related Solution: