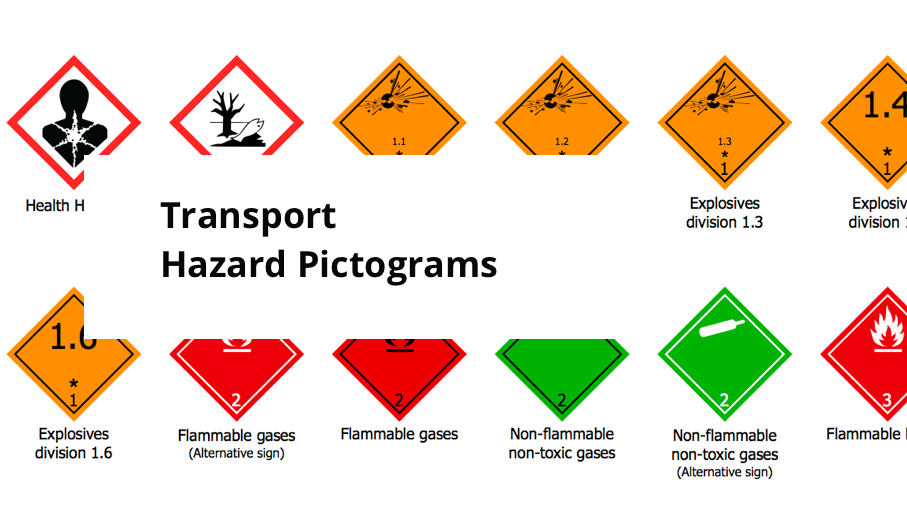 Transport Hazard Pictograms solution includes large variety of specially developed samples with transport hazard symbols and pictograms, and the whole set of predesigned vector transport GHS pictograms download and used with ease from the Transport Hazard Pictograms library. Apply them for quick designing professional-looking infographics and diagrams, use them to create warning signboards and announcements on all stages of the transportation process, to place them on the transport vehicles and warehouses of transportation companies, at the transport documentation and on the websites of transport and logistics companies.
The vector stencils library "GHS hazard pictograms" contains 9 chemical hazard symbols.
Use it in ConceptDraw PRO software to design your chemical safety infographics, labels of containers with hazardous materials, International Chemical Safety Cards (ICSC), manufacturers' Safety Data Sheets (SDS), and Material Safety Data Sheets (MSDS).
"Hazard pictograms form part of the international Globally Harmonized System of Classification and Labelling of Chemicals (GHS). Two sets of pictograms are included within the GHS: one for the labelling of containers and for workplace hazard warnings, and a second for use during the transport of dangerous goods. ...
Hazard pictograms are one of the key elements for the labelling of containers under the GHS, along with:
- an identification of the product;
- a signal word – either Danger or Warning – where necessary;
- hazard statements, indicating the nature and degree of the risks posed by the product;
- precautionary statements, indicating how the product should be handled to minimize risks to the user (as well as to other people and the general environment);
- the identity of the supplier (who might be a manufacturer or importer)." [GHS hazard pictograms. Wikipedia]
The chemical hazard symbols example "Design elements - GHS hazard pictograms" is included in the GHS Hazard Pictograms solution from the Engineering area of ConceptDraw Solution Park.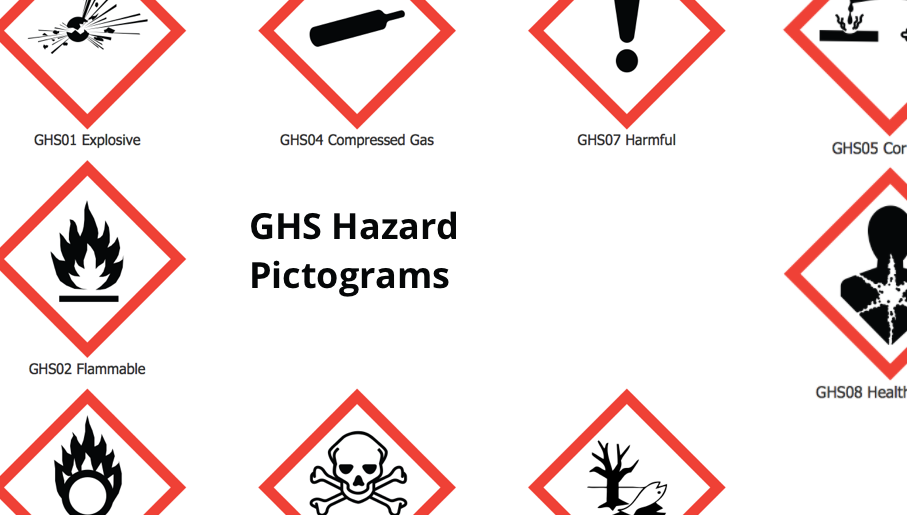 GHS Hazard Pictograms solution contains the set of predesigned standard GHS pictograms, Hazardous symbols, and Hazard communication pictograms, approved and agreed by UN in Globally Harmonized System of Classification and Labelling of Chemicals (GHS). They can be used for quick and simple designing accurate and professional-looking infographics, diagrams, warning announcements, signboards, posters, precautionary declarations, regulatory documents, and for representing the main items of OSHA HAZCOM Standard.