Made with
Related Solutions
Structuring a business process as a
chain of events and functions
EPC
ConceptDraw DIAGRAM is a software for making EPC diagrams that provides possibility to visualize and structuring business process as a chain of events and functions. The Event-driven Process Chain (EPC) Diagrams allows managers present business process models for making decisions for business processes improvement.
The EPC is able to cope with extremely diverse and complex businesses processes. EPC diagram as a result can represent the various elements in a way which is easy to understand.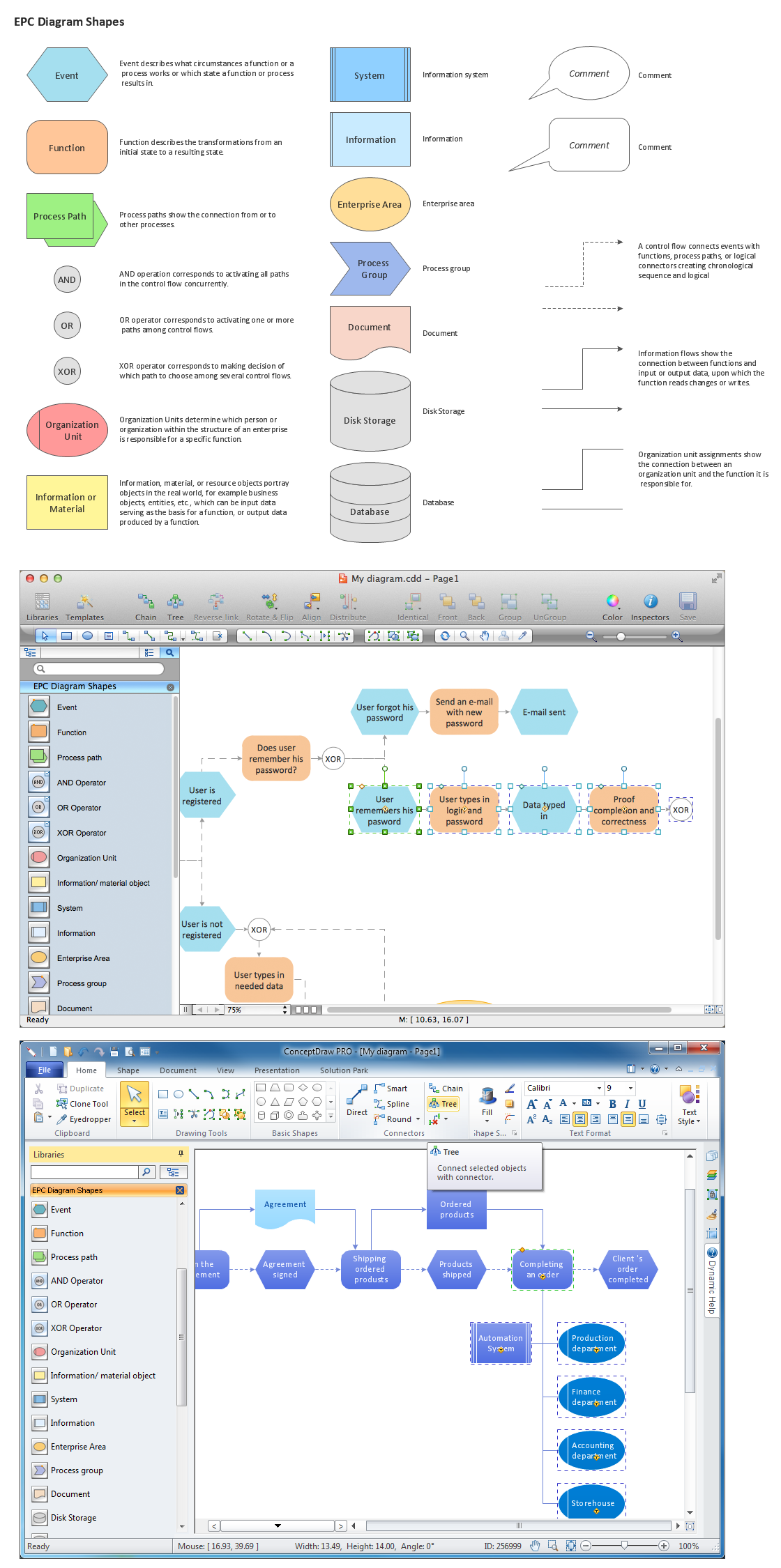 Pic.1 Design elements for EPC diagrams (Win, Mac).
Stencil library EPC Diagram Shapes from Event-driven Process Chain Diagrams solution provides 23 vector design elements for drawing event-driven process chain diagrams.
Use design elements from the EPC Diagram Shapes library for drawing your EPC diagrams to structure your business processes as a chains of events and functions.
Related Solution:
THREE RELATED HOW TO's:
Organizational Structure
Bureaucratic companies usually are characterized by a strict hierarchy and clearly defined responsibilities. However, sometimes organizational structure of a company reminds of somewhat tangled. To clarify it, you can create an orgchart that will represent the company as a tree with its' departments as branches. This organization diagram represents a tree-like organizational structure. This is a typical example of a top-level branches of the hierarchical organizational structure. This part of the tree shows heads of branches who are subordinated completely to the president. The information and solutions are distributed though a tree structure down to the company's departments. Each of the sub-division has its own structure that is reflected in the corresponding organizational chart. This orgchart diagram was created using the vector graphic library supplied with ConceptDraw Organizational Charts solution.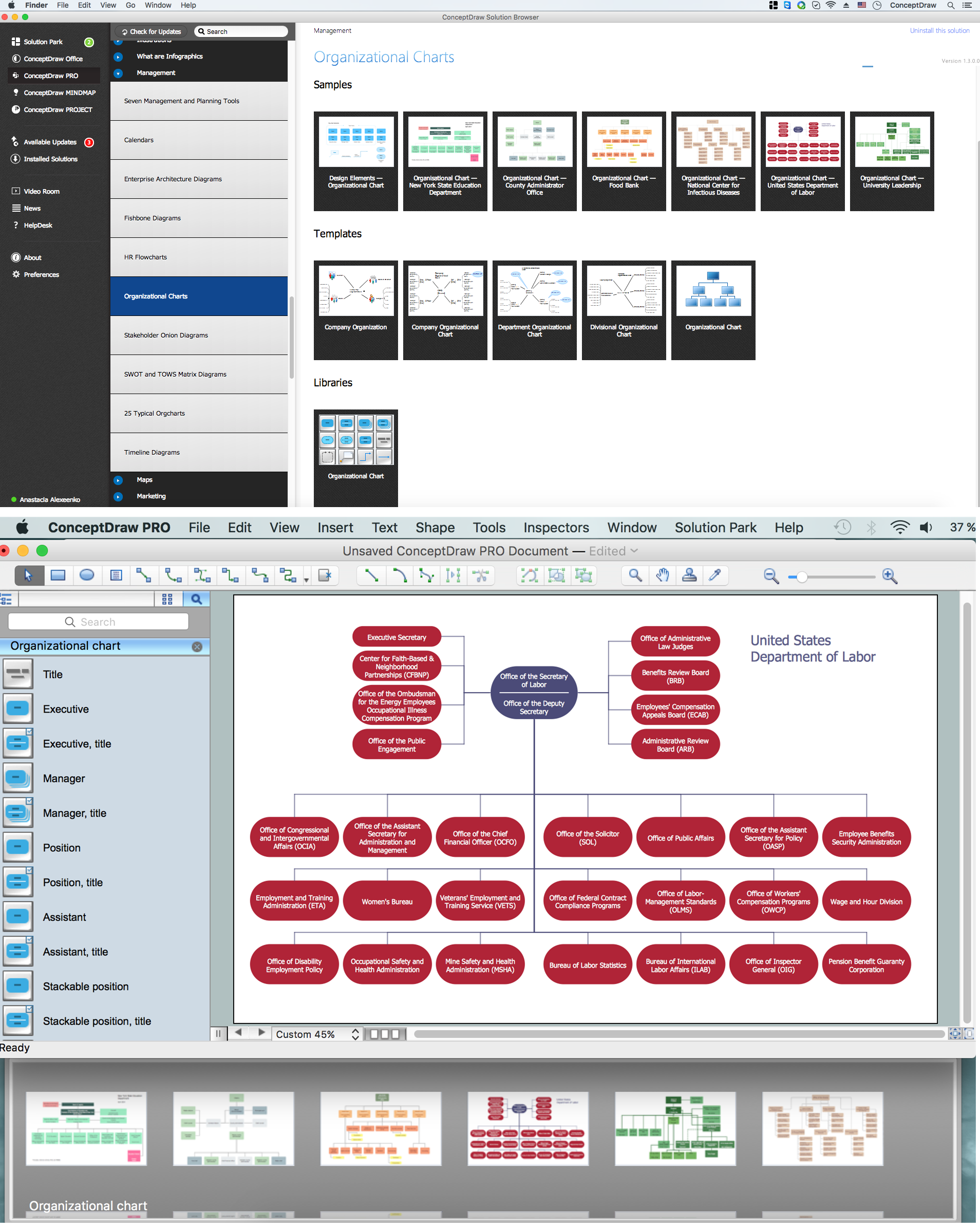 Picture: Organizational Structure
Related Solution:
Orgchart
Understanding the connections between an organization department might take some time. If you are a newcomer to a company, an orgchart would help you if don't know who to call when questions appear. This scheme usually is printed on one of the walls in the office. This template of orgchart is supplied with the ConceptDraw add-on containing solutions for making organizational charts. You can use it to depict an organizational structure of your company. The only you need is - open this template and alter it to cover an organizational features of your business. It is easy to rearrange the orgchart structure by dragging the elements by mouse. Finally fill the template with particular positions of your company's staffing table.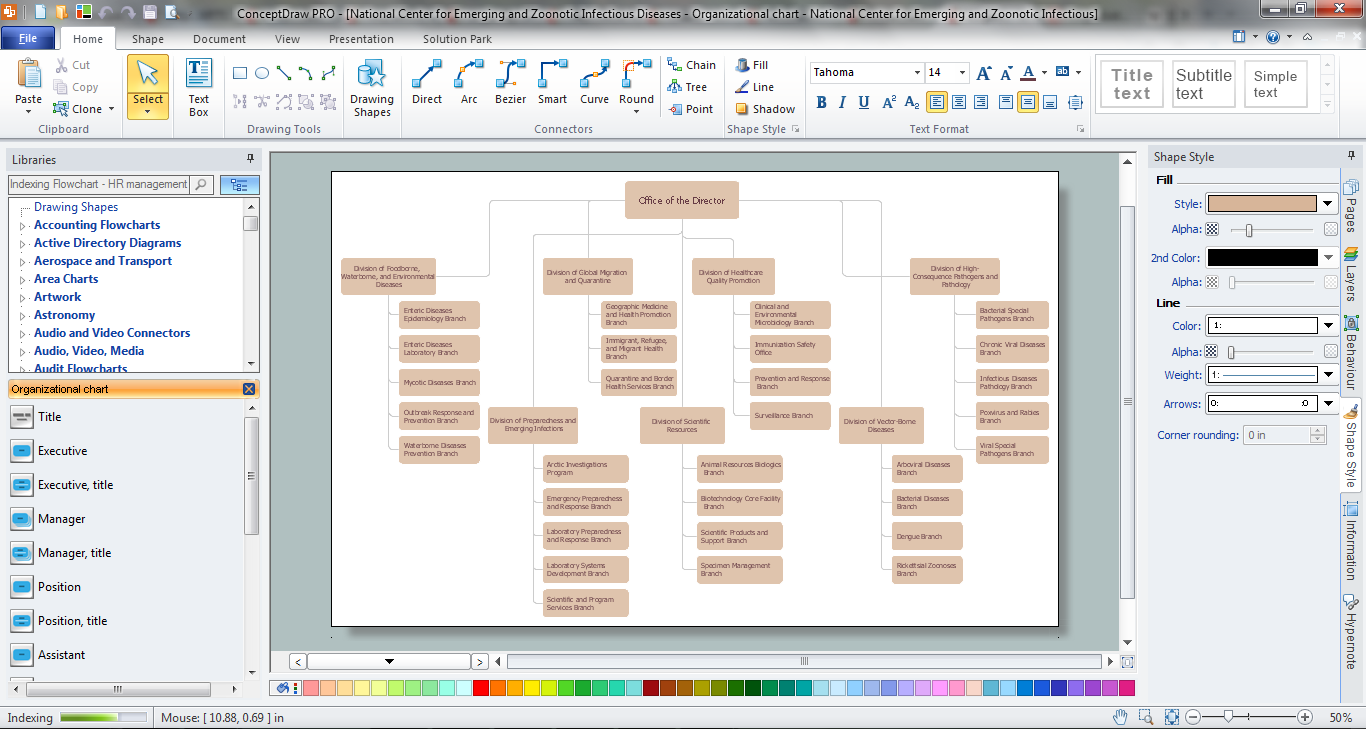 Picture: Orgchart
Related Solution:
Related How To's