Made with
Related Solutions
New Software Product
Collaboration
Being successful in business is about meeting your defined objectives and adapting to changes occurring in the global market. The ability for an organization to successful adapt to a rapidly changing environment leads to continued growth and success. Failure to adapt, leads to stakeholder disappointment and eventually to extinction if an organization cannot adjust to the situation.
Many organizations, who at one time in their history flourished, have been known to flounder because of loss of direction and vision. Keeping an organization moving forward requires strong collaborative team work to transition an organization from one stage to the next in its life cycle. Mistakes in strategy or implementation today are punishing when your team fails to correctly identify an early opportunity. Early opportunities not acted on cease to be success possibilities.
MindTweet
Objective
Provide Twitter users with excellent tool that boosts value of tweets and helps to invent well formulated thrilling tweets folded to consistent tweet story that compel people to read, revise, follow and retweet.
Solution Purpose
Brainstorming and organizing tweet ideas. Presenting and discussing tweet plans. Building the chain of well-thought-out tweets.
Intended For
All Twitter users.
Benefits
MindTweet solution gives the ability to brainstorm, review and send tweets. You can estimate tweets, visually structure tweets by categories, mark tweets with icons or priorities, add notes for future. There are tools allow to consider tweet map with colleagues using impressive dynamic presentation of sent tweets and tweets you are going to send, discuss ideas for future tweets, key words and get team conclusion about the whole tweet plan. As a result you get a consistent story which you can tweet step by step on your schedule.
Products and methods
MindTweet solution discovers for Twitter users variety of mind mapping tools, which are exceptionally suitable for creating consistent tweet story.
A mindmap used to illustrate an overview of a Twitter campaign for a new software product.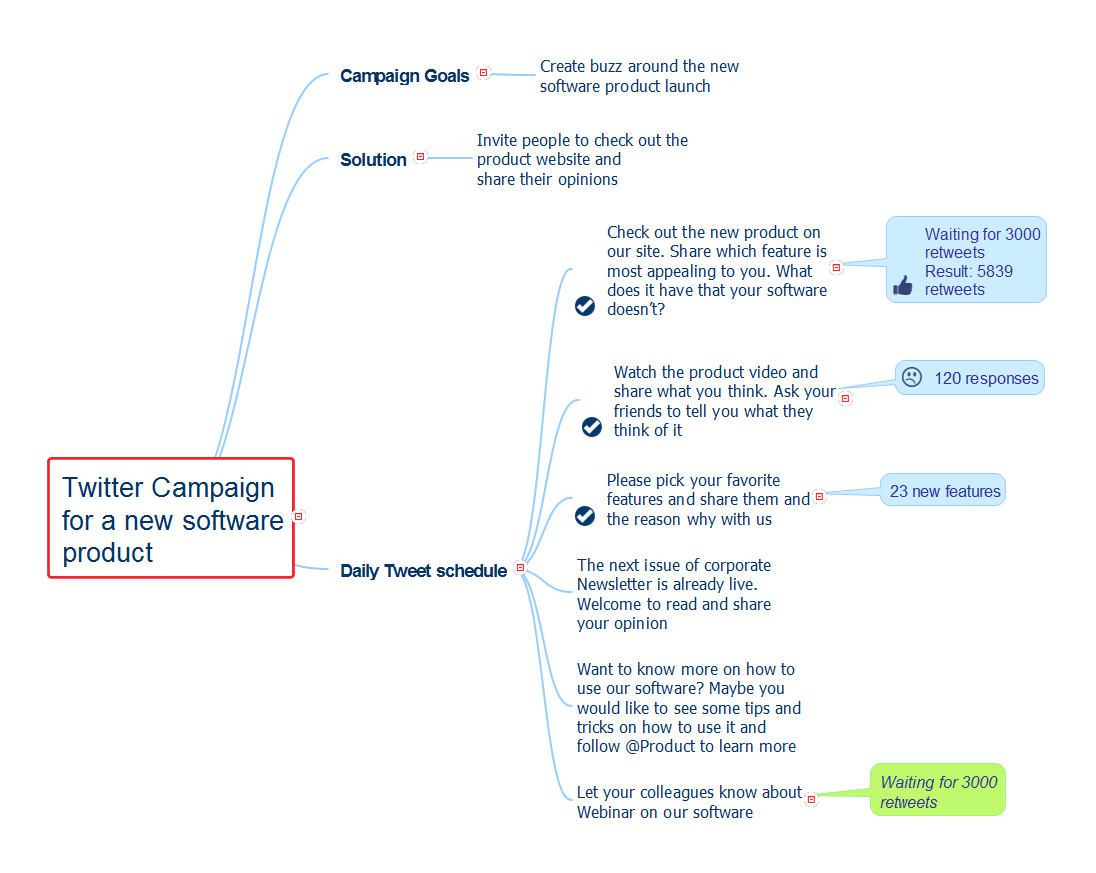 Example 1. New Software Product
Export to Outline
Twitter Campaign for a new software product
Campaign Goals

Create buzz around the new software product launch

Solution

Invite people to check out the product website and share their opinions

Daily Tweet schedule

Check out the new product on our site. Share which feature is most appealing to you. What does it have that your software doesn't?

Waiting for 3000 retweets Result: 5839 retweets

Watch the product video and share what you think. Ask your friends to tell you what they think of it
Please pick your favorite features and share them and the reason why with us
The next issue of corporate Newsletter is already live. Welcome to read and share your opinion
Want to know more on how to use our software? Maybe you would like to see some tips and tricks on how to use it and follow @Product to learn more
Let your colleagues know about Webinar on our software

Waiting for 3000 retweets
The Benefits for ConceptDraw MINDMAP Brainstorming Software
ConceptDraw MINDMAP is effective for brainstorming, designing mind maps, idea generating, creative and lateral thinking, creativity and problem solving.
ConceptDraw MINDMAP is ideal for team and personal work in Business, Marketing and Project Management.
The libraries with large quantity of vector objects help to illustrate your mind maps and to make them bright, visual and comprehensible.
Use of View Navigator tool lets create presentations from a mind map: you can simply select the map parts you want to present, sequence your slides, and preview the presentation.
ConceptDraw MINDMAP provides wide capabilities of importing and exporting in various formats: Microsoft PowerPoint, Microsoft Word, MS Excel, Mindjet MindManager, image, HTML, PDF file.
Related Solution:
THREE RELATED HOW TO's:
Competitor Analysis
Competitor analysis is a first and obligatory step in elaboration the proper corporate marketing strategy and creating sustainable competitive advantage. Use powerful opportunities of numerous solutions from ConceptDraw Solution Park for designing illustrative diagrams, charts, matrices which are necessary for effective competitor analysis.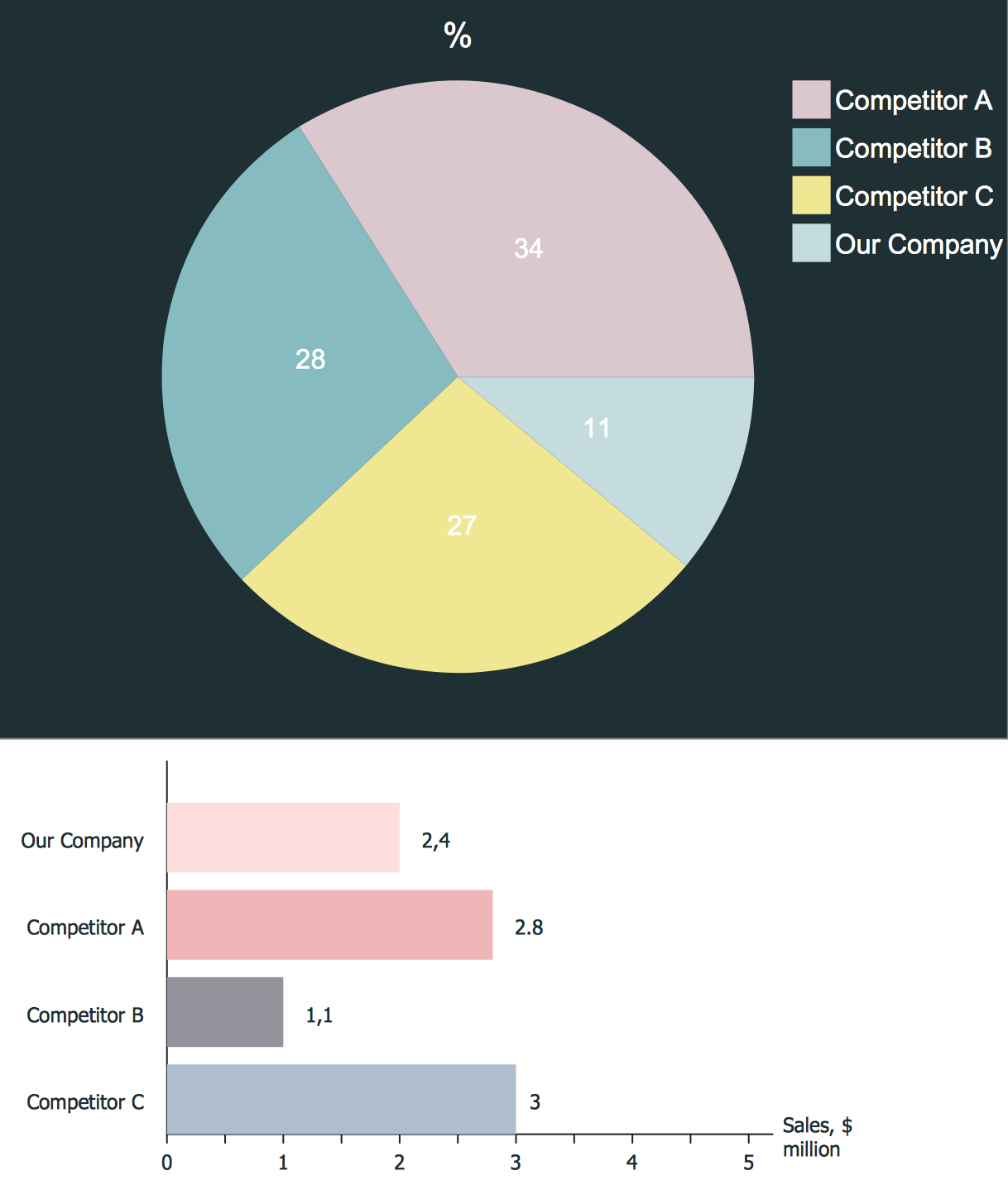 Picture: Competitor Analysis
Related Solution:
One formula of professional mind mapping :input data + output data + make great presentation
Professional Mind Mapping. ConceptDraw MINDMAP v10 professional software to create documents. Mac and PC compatible. MS Office Exchange Solutions. Skype Collaboration. Presentation Tools.
Picture: One formula of professional mind mapping :input data + output data + make great presentation
Related Solution:
Star Network Topology
Nodes of any computer network are somehow organized in a hierarchy or a layout. Some of the common layouts like star network topology are more reliable and some like ring topology withstand high loads better. It is also important to distinguish logical topologies from physical. This diagram represents a typical view of the star network topology. The star network topology is one of the most frequently used network topologies in the majority of office and home networks. It is very popular because of its low cost and the easy maintenance. The plus of the star network topology is that if one computer on the local network is downed, this means that only the failed computer can not send or receive data. The other part of the network works normally. The minus of using star network topology is that all computers are connected to a single point-switch, or hub. Thus, if this equipment goes down, the whole local network comes down.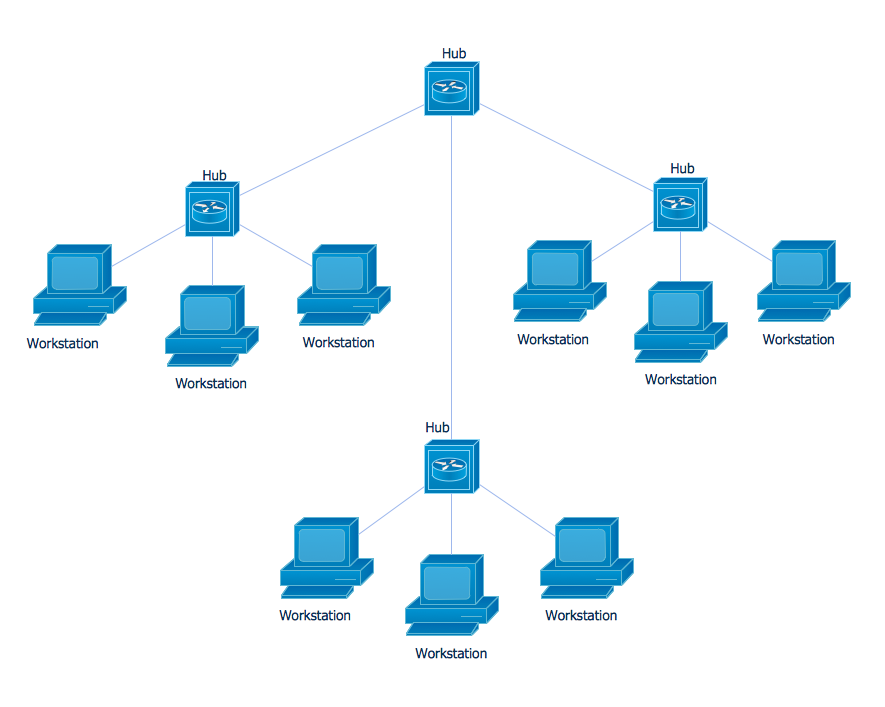 Picture: Star Network Topology
Related Solution: