New Software Product
Collaboration
Being successful in business is about meeting your defined objectives and adapting to changes occurring in the global market. The ability for an organization to successful adapt to a rapidly changing environment leads to continued growth and success. Failure to adapt, leads to stakeholder disappointment and eventually to extinction if an organization cannot adjust to the situation.
Many organizations, who at one time in their history flourished, have been known to flounder because of loss of direction and vision. Keeping an organization moving forward requires strong collaborative team work to transition an organization from one stage to the next in its life cycle. Mistakes in strategy or implementation today are punishing when your team fails to correctly identify an early opportunity. Early opportunities not acted on cease to be success possibilities.
MindTweet
Objective
Provide Twitter users with excellent tool that boosts value of tweets and helps to invent well formulated thrilling tweets folded to consistent tweet story that compel people to read, revise, follow and retweet.
Solution Purpose
Brainstorming and organizing tweet ideas. Presenting and discussing tweet plans. Building the chain of well-thought-out tweets.
Intended For
All Twitter users.
Benefits
MindTweet solution gives the ability to brainstorm, review and send tweets. You can estimate tweets, visually structure tweets by categories, mark tweets with icons or priorities, add notes for future. There are tools allow to consider tweet map with colleagues using impressive dynamic presentation of sent tweets and tweets you are going to send, discuss ideas for future tweets, key words and get team conclusion about the whole tweet plan. As a result you get a consistent story which you can tweet step by step on your schedule.
Products and methods
MindTweet solution discovers for Twitter users variety of mind mapping tools, which are exceptionally suitable for creating consistent tweet story.
A mindmap used to illustrate an overview of a Twitter campaign for a new software product.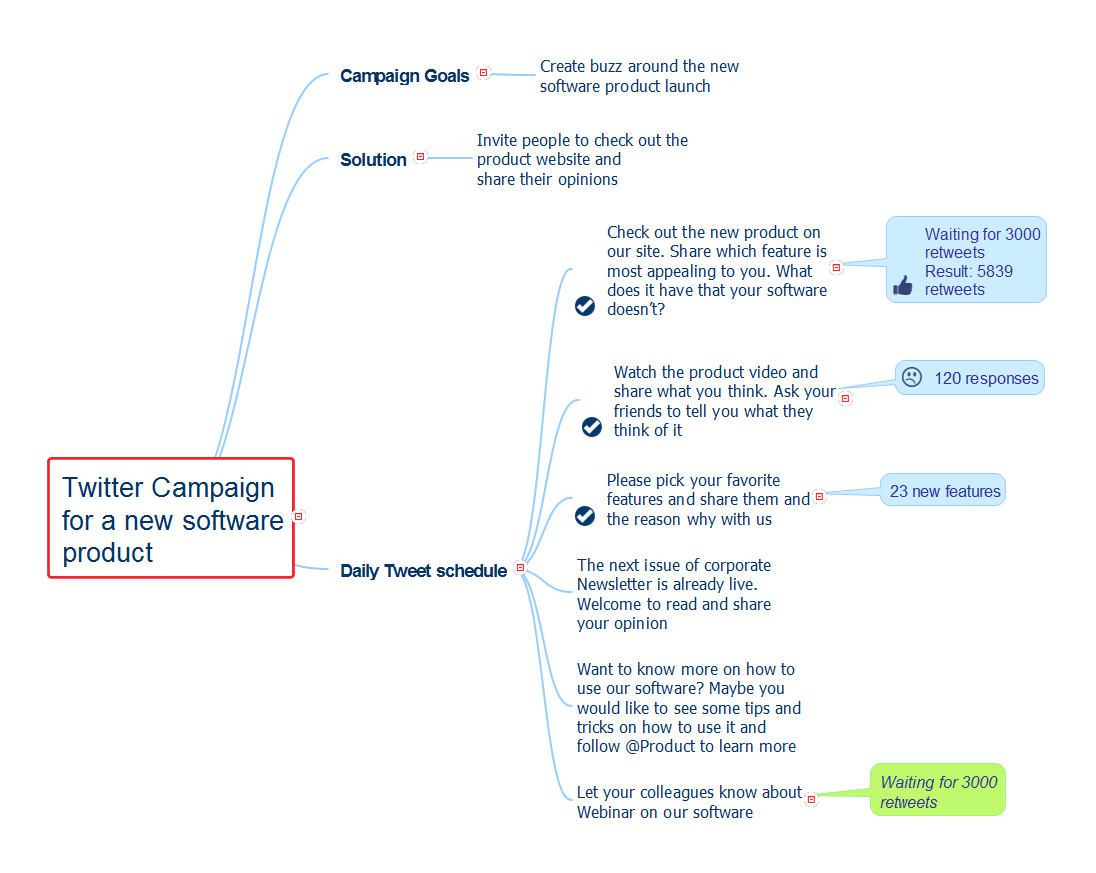 Example 1. New Software Product
Export to Outline
Twitter Campaign for a new software product
Campaign Goals

Create buzz around the new software product launch

Solution

Invite people to check out the product website and share their opinions

Daily Tweet schedule

Check out the new product on our site. Share which feature is most appealing to you. What does it have that your software doesn't?

Waiting for 3000 retweets Result: 5839 retweets

Watch the product video and share what you think. Ask your friends to tell you what they think of it
Please pick your favorite features and share them and the reason why with us
The next issue of corporate Newsletter is already live. Welcome to read and share your opinion
Want to know more on how to use our software? Maybe you would like to see some tips and tricks on how to use it and follow @Product to learn more
Let your colleagues know about Webinar on our software

Waiting for 3000 retweets
The Benefits for ConceptDraw MINDMAP Brainstorming Software
ConceptDraw MINDMAP is effective for brainstorming, designing mind maps, idea generating, creative and lateral thinking, creativity and problem solving.
ConceptDraw MINDMAP is ideal for team and personal work in Business, Marketing and Project Management.
The libraries with large quantity of vector objects help to illustrate your mind maps and to make them bright, visual and comprehensible.
Use of View Navigator tool lets create presentations from a mind map: you can simply select the map parts you want to present, sequence your slides, and preview the presentation.
ConceptDraw MINDMAP provides wide capabilities of importing and exporting in various formats: Microsoft PowerPoint, Microsoft Word, MS Excel, Mindjet MindManager, image, HTML, PDF file.
THREE RELATED HOW TO's:
Network community structure is a network which nodes can be easily grouped into the sets of nodes with dense internally connections. This example shows a network that displays the community structure with three groups of nodes with dense internal connections and sparser connections between the groups.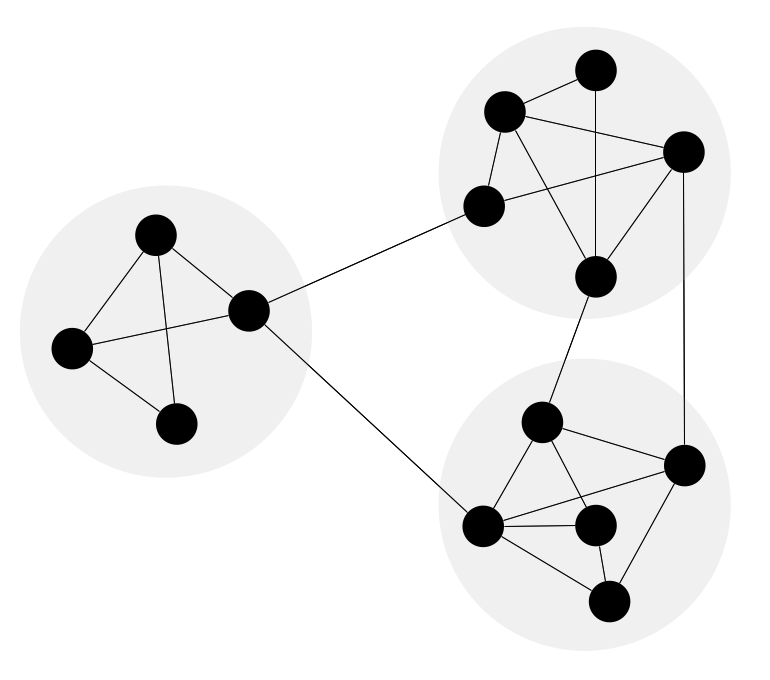 Picture: Network Community Structure. Computer and Network Examples
Related Solution:
There are plenty of diagramming tools, the question is to choose the most suitable for your needs. For example, you can choose ConceptDraw DIAGRAM as organizational chart software and get fascinating results in a few minutes. An orgchart is useful for any corporation. This is an example of a hierarchical organization scheme of the company. It has tree-like structure. Each middle manager is subordinated to a few employees, and he is accountable to one of the top managers. Every type of organizational composition of businesses may be presented in the view of an organizational chart that is supported by ConceptDraw Organisational Charts solution. There are number of ways of building a structure of business organization, establishing how it should function.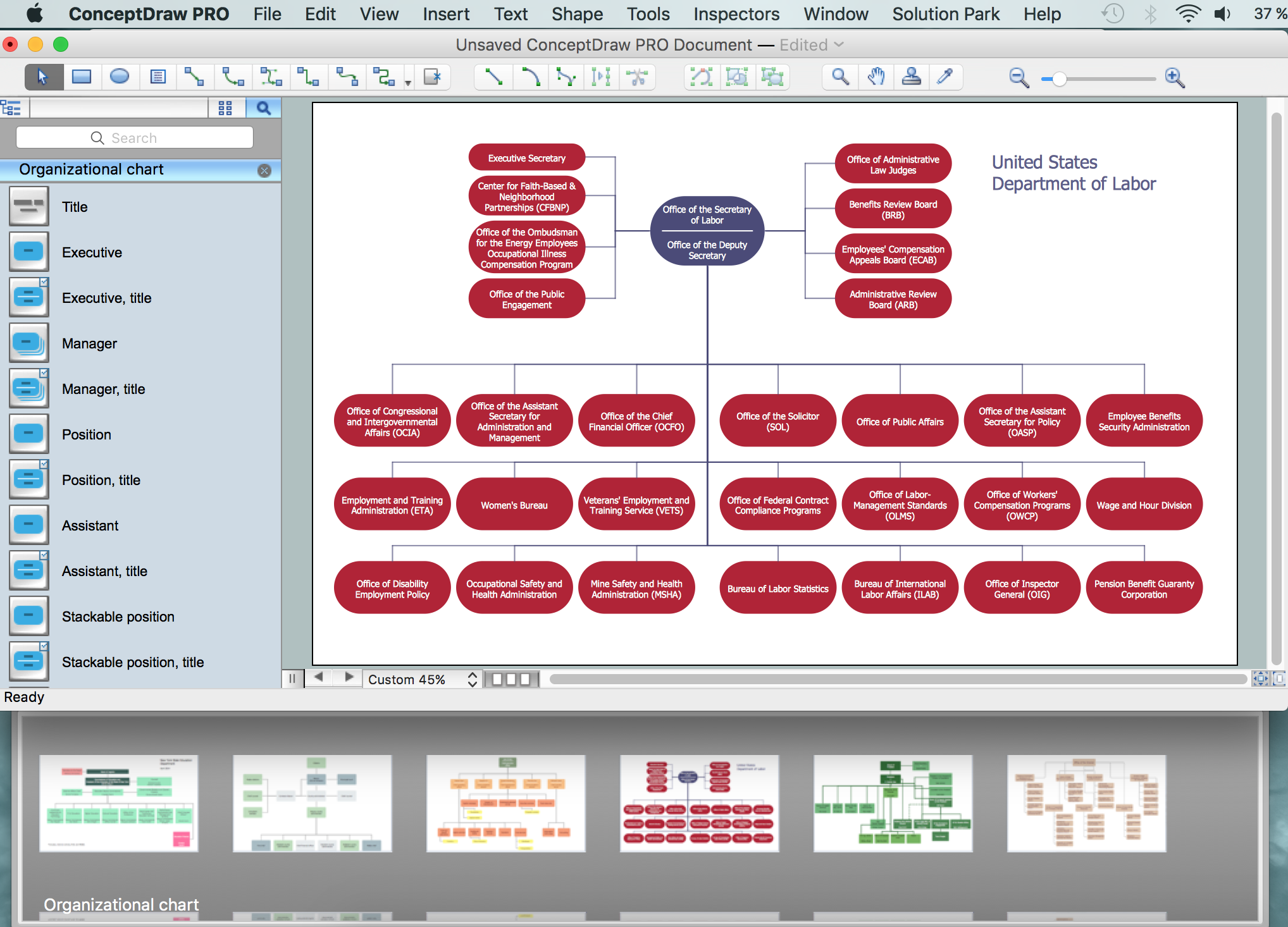 Picture: ConceptDraw DIAGRAM - Organizational chart software
Related Solution:
Teams working with Scrum methodology use the product backlog items (PBIs), bug work item types (WITs), reports and dashboards. SCRUM Workflow solution for ConceptDraw DIAGRAM software offers collection of samples, variety of predesigned objects, clipart and graphic elements, a set of Scrum process work items and workflow which are developed for agile teams working using Scrum.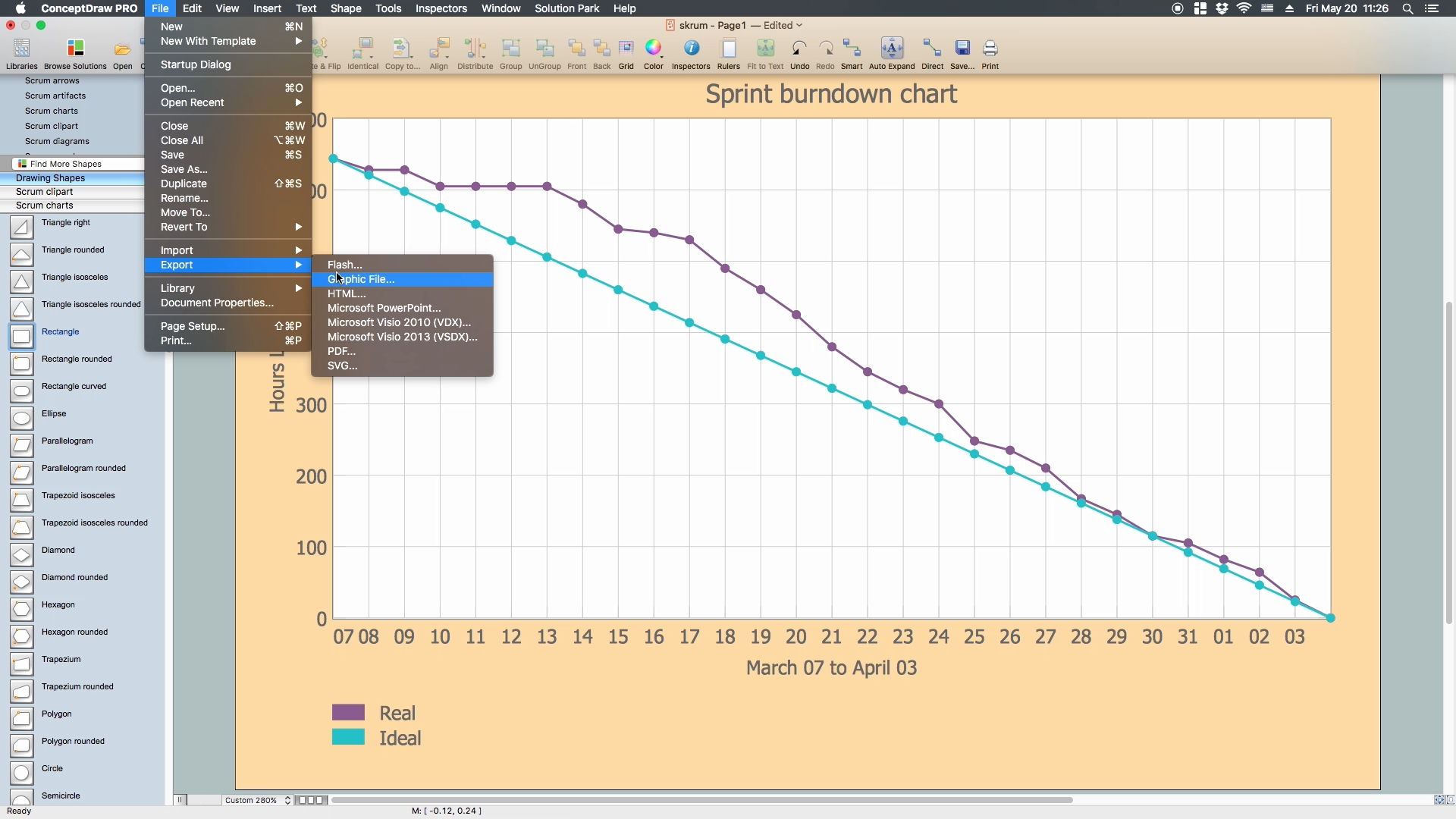 Picture: Scrum process work items and workflow
Related Solution: