Metro Train Map
Drawing of Metro Train Map is usually complex process, but we want to make it easier and offer you the ConceptDraw DIAGRAM software with its Metro Map Solution from the Maps Area of ConceptDraw Solution Park.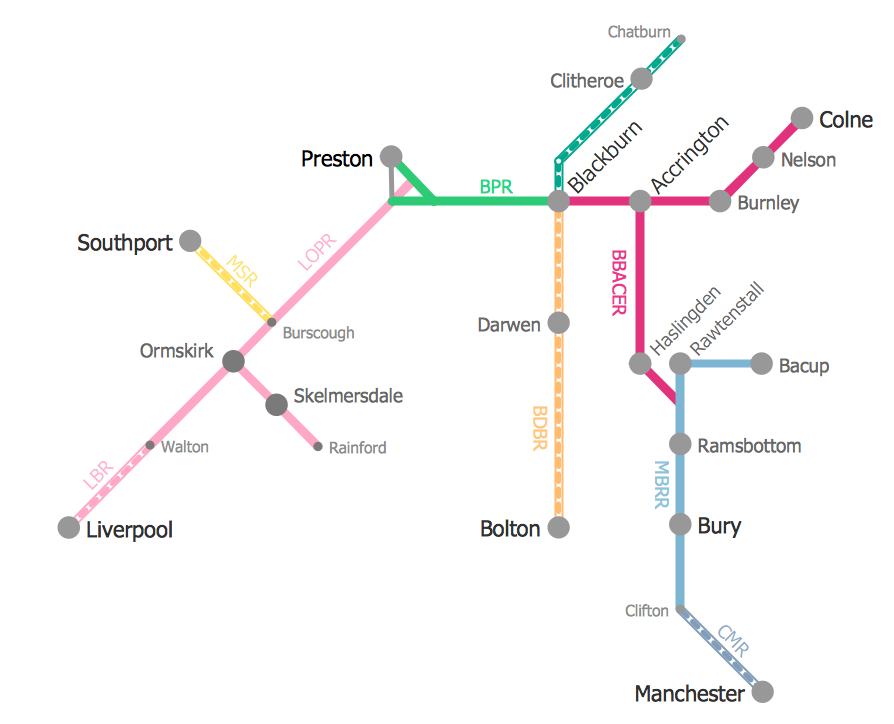 Example 1. Metro Train Map
How is it easy design the Metro Train Map using just ready objects offered by Transport Map library from the Metro Map Solution. You need simply drag the desired of them from the library to your new document, arrange according to your needs, and add the text.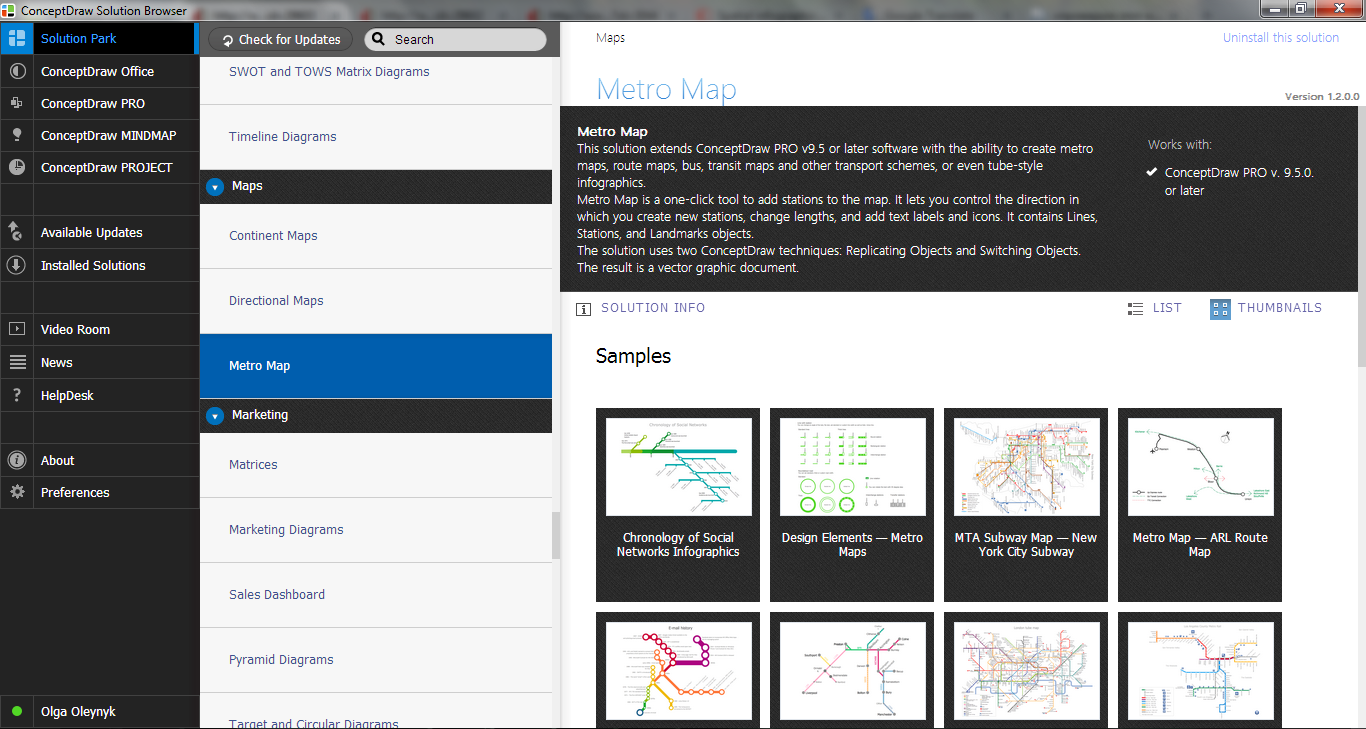 Example 2. Metro Map Solution in ConceptDraw STORE
Another way of easy drawing the Metro Train Map is fill the Metro Map Template. It can be opened from ConceptDraw STORE which allows you effectively navigate through all ConceptDraw Solution Park, manage the downloads and updates.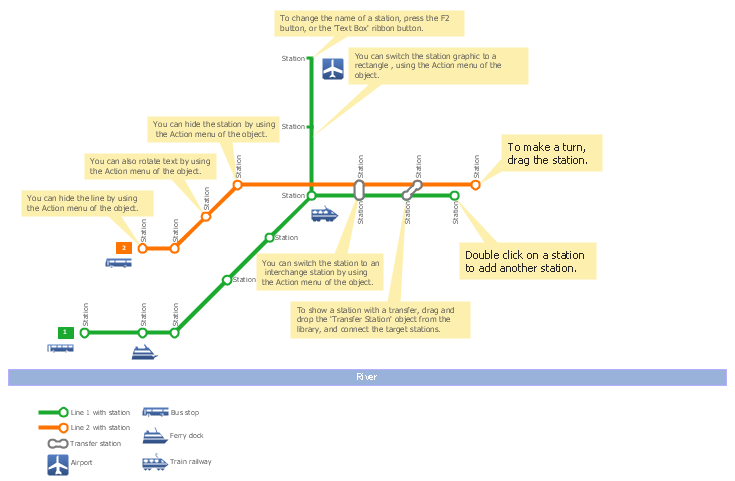 Example 3. Metro Map Template
This template was created in ConceptDraw DIAGRAM software using the Metro Map solution and is included in it. The Metro Train Map of any degree of detailing can be quickly constructed on the base of this template.
Use the Metro Map solution for ConceptDraw DIAGRAM software to create your own Metro Train Map of any complexity quick, easy and effective.
All source documents are vector graphic documents. They are available for reviewing, modifying, or converting to a variety of formats (PDF file, MS PowerPoint, MS Visio, and many other graphic formats) from the ConceptDraw STORE. The Metro Map Solution is available for all ConceptDraw DIAGRAM or later users.
THREE RELATED HOW TO's:
When deciding to start your own business, you have to take into account a bunch of different aspects. One of the ways to get inspired is to look through various restaurant floor plans samples or interior photos of already known establishments. This will help you, but keep in mind that a really unforgettable establishment must be unique. This restaurant floor plan diagram was designed using ConceptDraw Cafe and Restaurant Floor Plan solution. It can be used as a sample while considering a custom restaurant design. With the help of this example you can estimate the amount of furniture best for a dining room or kitchen of the restaurant. In addition, this plan would be useful as a check list when you will consider a list of the furniture and equipment needed for all areas of the future restaurant.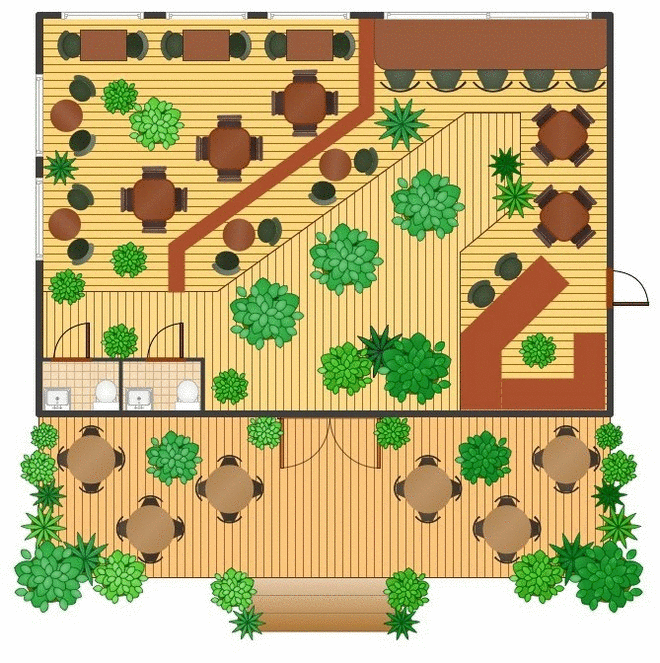 Picture: Restaurant Floor Plans Samples
Related Solution:
Any business process consists from a number of tasks carrying out the certain business goal. It is useful to diagram business processes to ensure that they are as foolproof, logical and sequential as possible. This business process diagram describes a typical booking process flow by the example of a cab booking process. It can be used as a roadmap for any booking system implementation. Diagramming a business process allows you to look at the entire project and take into account all types of possible scenarios. Business process diagram helps you investigate and clarify the process thoroughly so that you can find out how it can be improved. Business process diagram supports team communications by ensuring that each process element is clear and everyone in the team is on the same page. Sometimes your company brings you less profit than you expect it to be, and it's difficult to reveal the causes. Maybe it's time to learn new technologies, because business diagram are easily developed by means of special software, so you won't make any extra effort. In return, you will increase your productivity and get more done in a less time.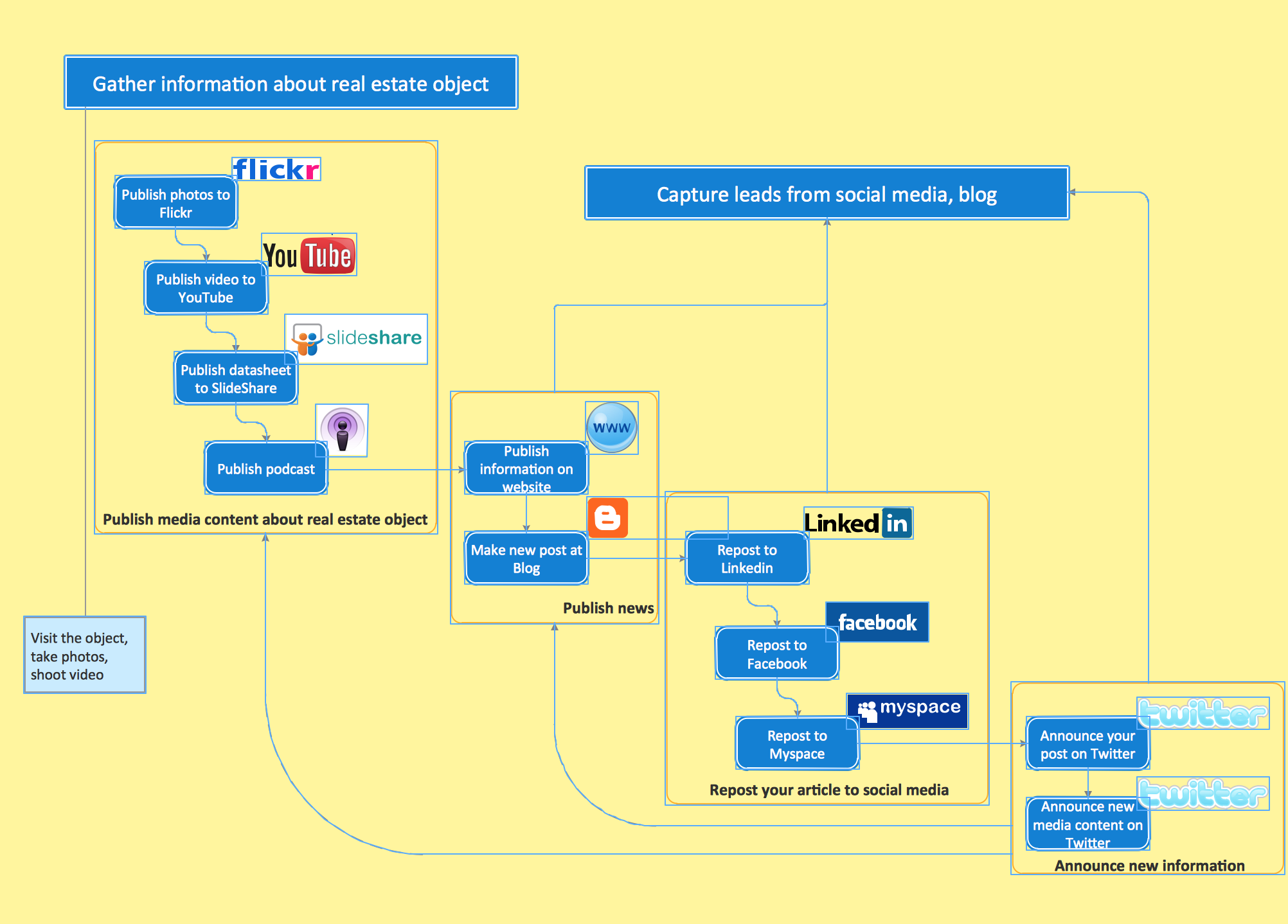 Picture: Business Diagram Software
Related Solutions:
How to draw Metro Map style infographics of New York subway. New York Subway has a long history starting on October 27, 1904. Since the opening many agencies have provided schemes of the subway system. At present time are 34 lines in use. This page present New York City subway map construct with Metro Map Solution in Conceptdraw DIAGRAM software. This is a one-click tool to add stations to the map. It lets you control the direction in which you create new stations, change lengths, and add text labels and icons. It contains Lines, Stations, and Landmarks objects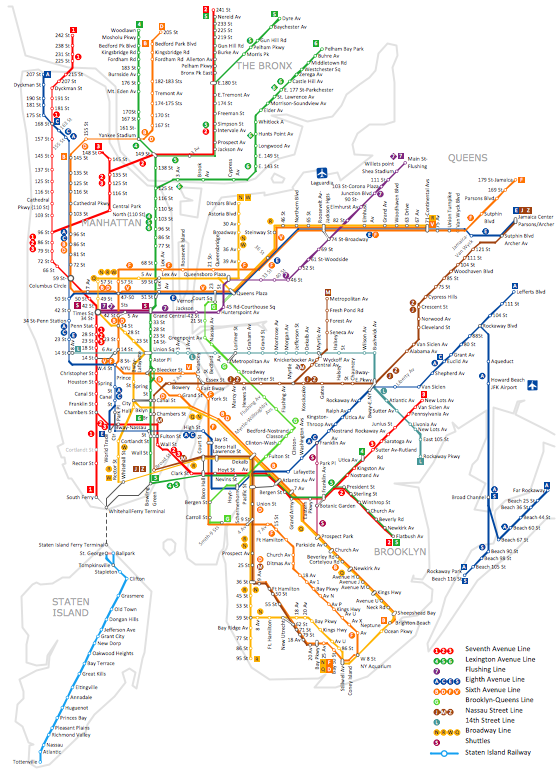 Picture: How to draw Metro Map style infographics? (New York)
Related Solution: