Metro Map
The Metro Map Solution from the Maps Area of ConceptDraw Solution Park extends ConceptDraw DIAGRAM with the ability to create metro map, route maps, bus, tube-style infographics and other transport schemes.
The Metro Map Solution provides the useful tools for drawing metro maps and one-click adding stations. It lets you control the direction in which you create new stations, change lengths, and add text labels and icons. The Transport Map Library from the Metro Map Solution contains a wide set of predesigned Lines, Stations, and Landmarks objects.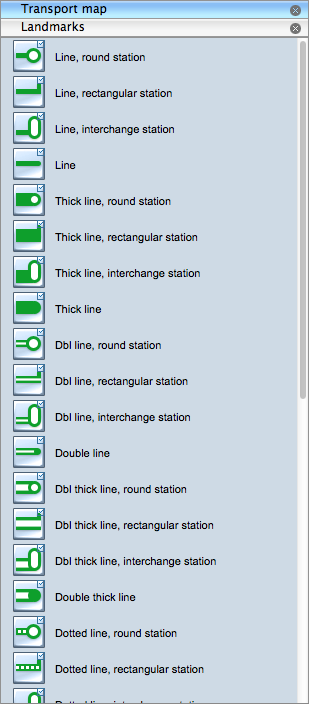 Example 1. Transport Map Library Design Elements
The Metro Map Solution from the Maps Area uses two ConceptDraw techniques: Replicating Objects and Switching Objects. And the result is a vector graphic document.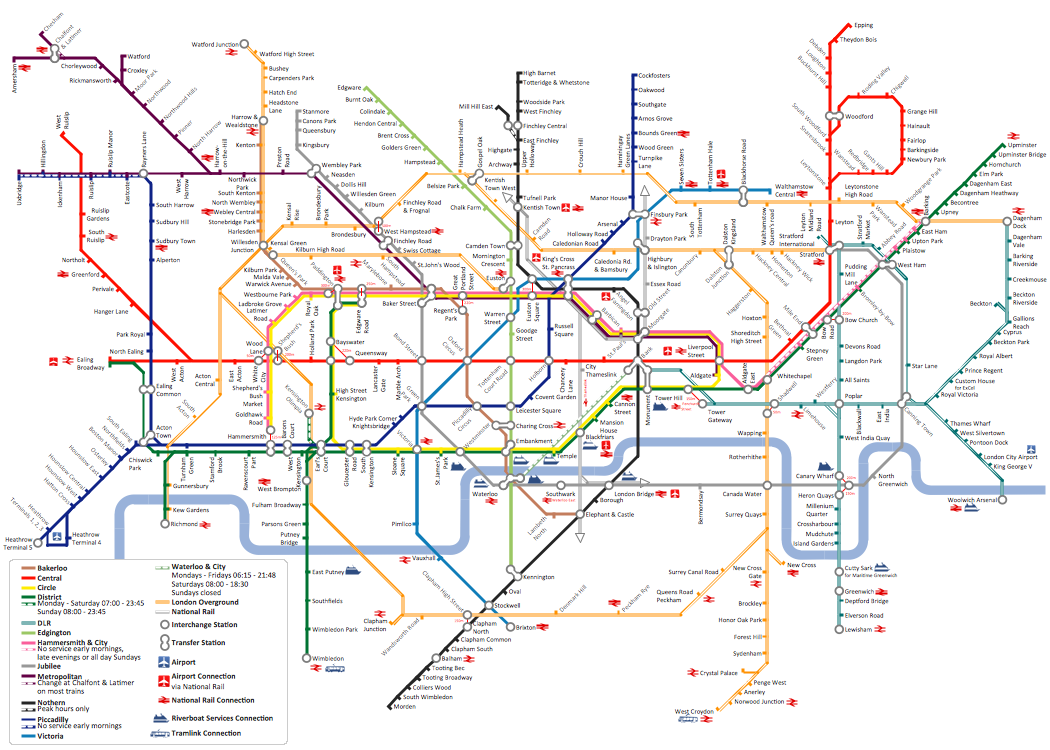 Example 2. Metro Map Example — Tube Map of London
The Metro Map solution provides a set of predesigned templates and samples that can be quickly modified according to your needs.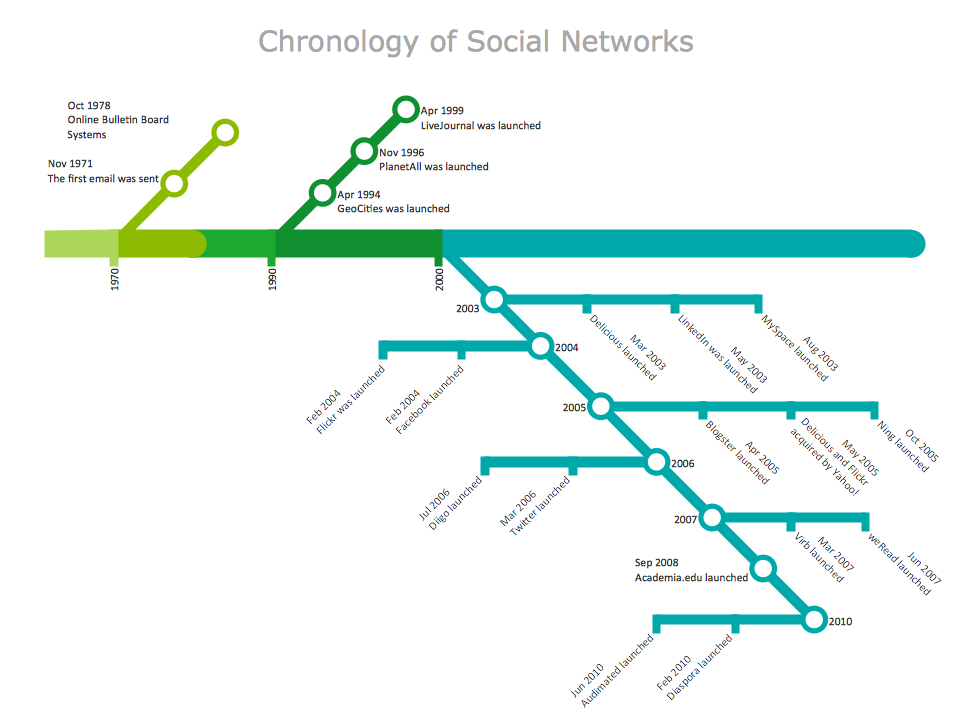 Example 3. Metro Map — Chronology of Social Networks
ConceptDraw DIAGRAM gives you the beautiful possibilities not just conveniently create your maps, but also make them bright and colorful. Creating the metro maps, route maps, transport schemes it is also useful to design the legend with additional explanatory information.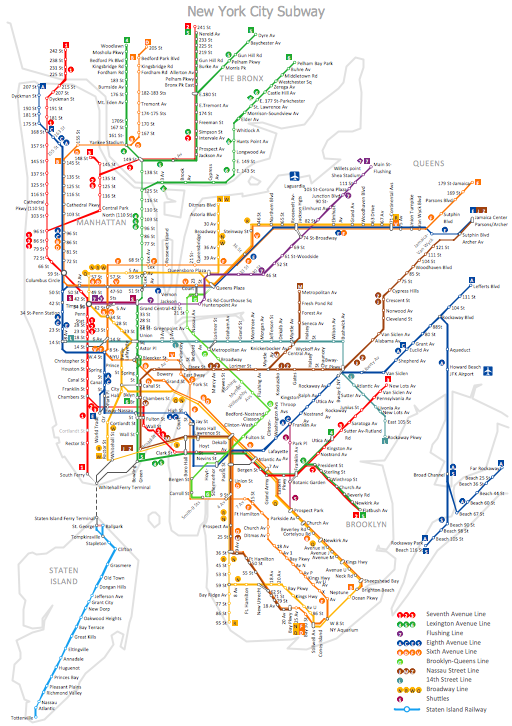 Example 4. Metro Map — New York City Subway Map
The samples you see on this page were created in ConceptDraw DIAGRAM using the Metro Map solution from the Maps Area of ConceptDraw Solution Park, and demonstrate the solution's capabilities and the results you can achieve using this solution.
All source documents are vector graphic documents. They are available for reviewing, modifying or converting to a variety of formats (PDF file, Power point Presentation, image or MS Visio) from ConceptDraw STORE, for all users who have installed Metro Map solutions.
THREE RELATED HOW TO's:
When trying to figure out the nature of the problems occurring within a project, there are many ways to develop such understanding. One of the most common ways to document processes for further improvement is to draw a process flowchart, which depicts the activities of the process arranged in sequential order — this is business process management. ConceptDraw DIAGRAM is business process mapping software with impressive range of productivity features for business process management and classic project management. This business process management software is helpful for many purposes from different payment processes, or manufacturing processes to chemical processes. Business process mapping flowcharts helps clarify the actual workflow of different people engaged in the same process. This samples were made with ConceptDraw DIAGRAM — business process mapping software for flowcharting and used as classic visio alternative because its briefly named "visio for mac" and for windows, this sort of software named the business process management tools. This flowchart diagram shows a process flow of project management. The diagram that is presented here depicts the project life cycle that is basic for the most of project management methods. Breaking a project into phases allows to track it in the proper manner. Through separation on phases, the total workflow of a project is divided into some foreseeable components, thus making it easier to follow the project status. A project life cycle commonly includes: initiation, definition, design, development and implementation phases. Distinguished method to show parallel and interdependent processes, as well as project life cycle relationships. A flowchart diagram is often used as visual guide to project. For instance, it used by marketing project management software for visualizing stages of marketing activities or as project management workflow tools. Created with ConceptDraw DIAGRAM — business process mapping software which is flowcharting visio alternative or shortly its visio for mac, this sort of software platform often named the business process management tools.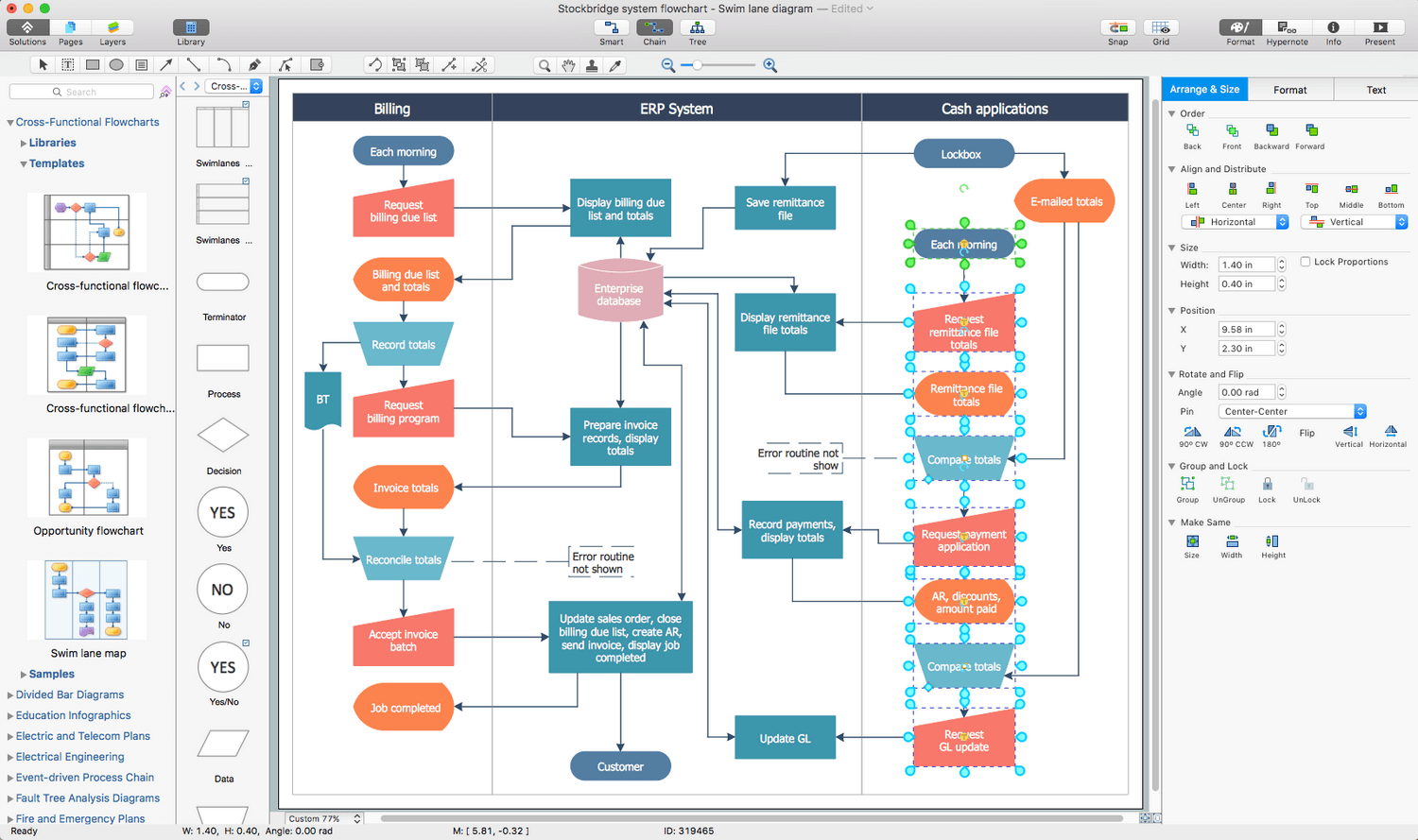 Picture: Process Flowchart
Related Solution:
Subway infographic design elements of MetroMap and ConceptDraw software tools.
Picture: Subway infographic design elements - software tools
Related Solution:
Subway infographic design elements for ConceptDraw DIAGRAM (mac and pc).
Picture: Infographic design elements, software toolsSubway and Metro style
Related Solution: