Entity Relationship Diagrams
"In software engineering, an entity–relationship model (ER model) is a data model for describing the data or information aspects of a business domain or its process requirements, in an abstract way that lends itself to ultimately being implemented in a database such as a relational database. The main components of ER models are entities (things) and the relationships that can exist among them, and databases." [from Wikipedia]
The Entity-Relationship Diagram (ERD) Solution from the Software Development Area for ConceptDraw Solution Park extends ConceptDraw DIAGRAM ector graphics and diagramming software with the ability of drawing the Entity Relationship Diagrams for visually describing the databases with Crow's Foot and Chen's notation icons.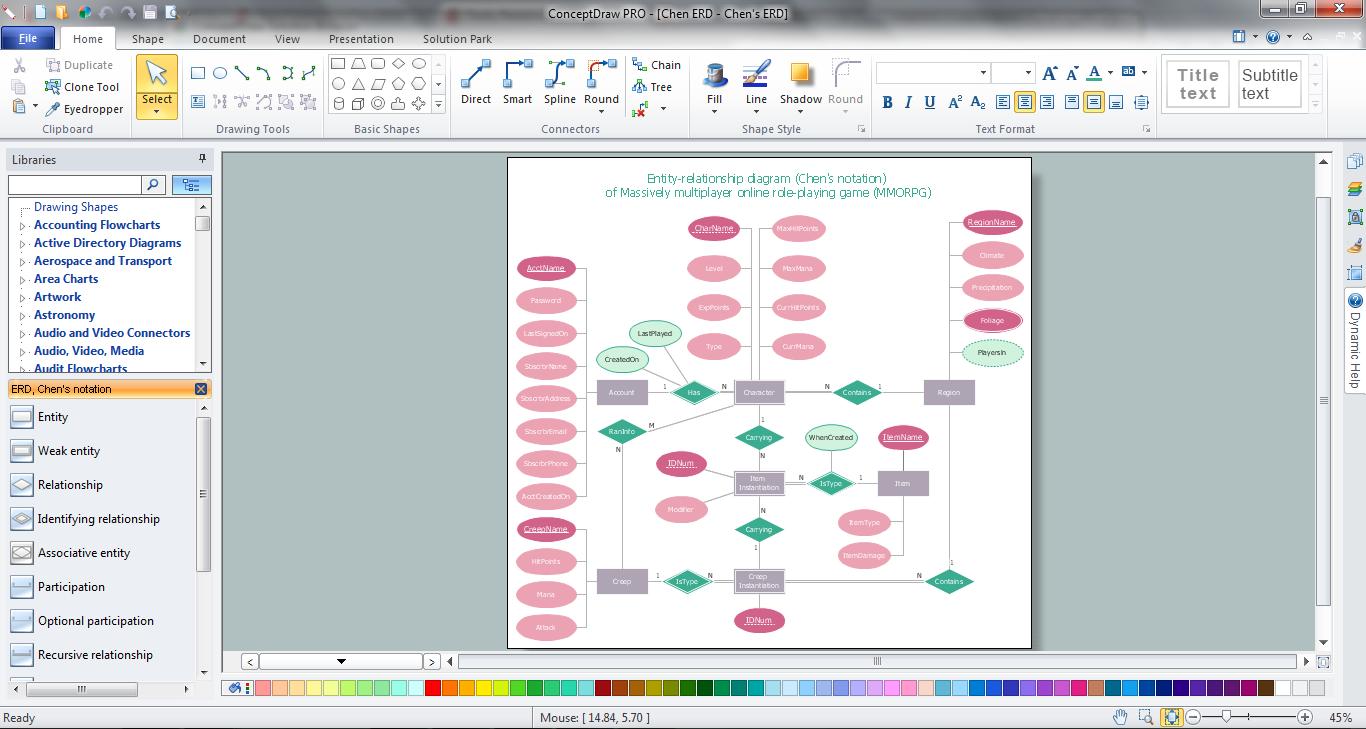 Sample 1. Entity Relationship Diagrams in ConceptDraw DIAGRAM
Drawing the Entity Relationship Diagrams from the clear page can be quite long and hard. For this case, designers were prepared templates and samples with Entity Relationship Diagram examples. Saved and located in ConceptDraw STORE, they are available for every ConceptDraw DIAGRAM user.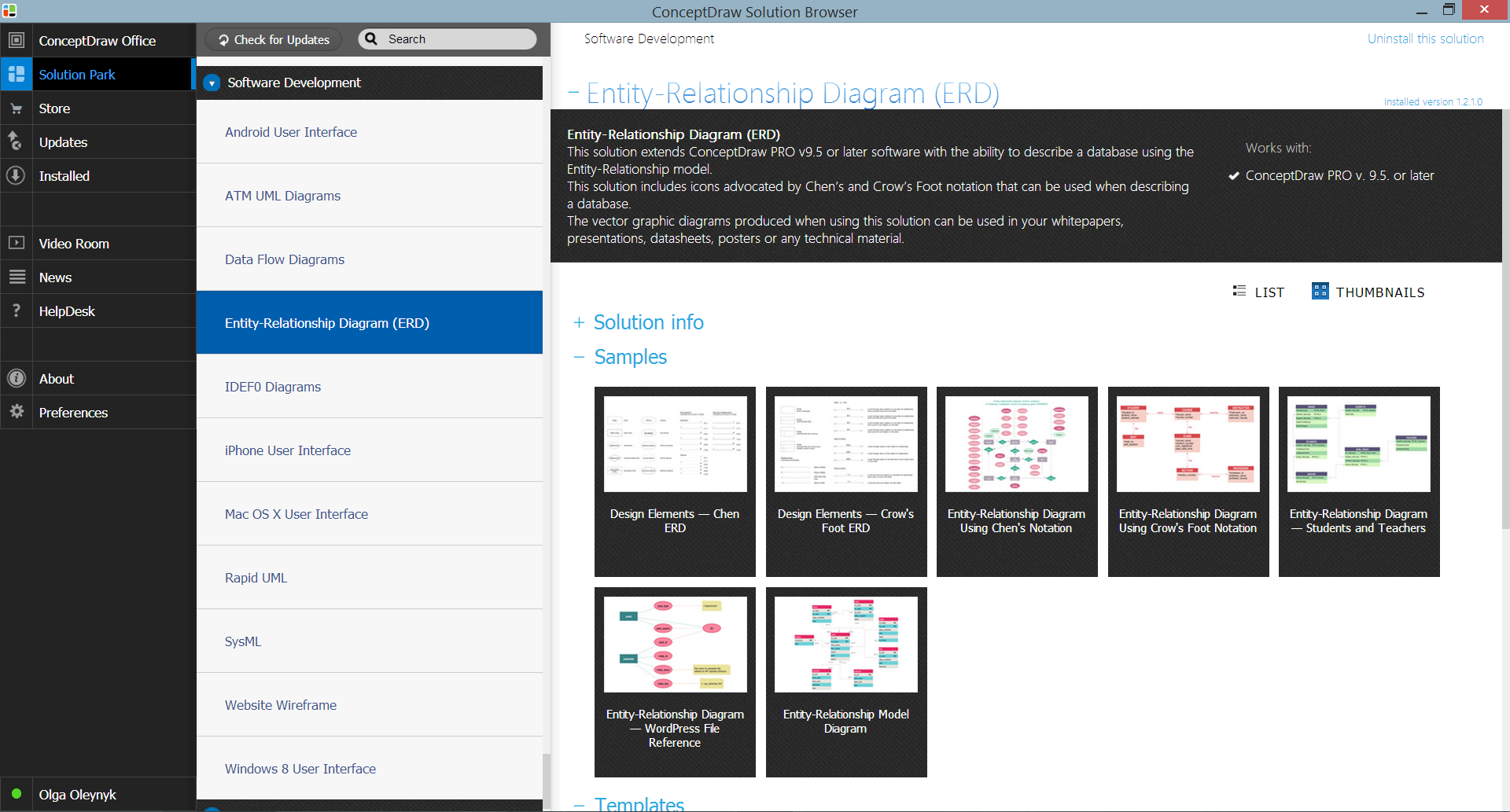 Sample 2. Entity-Relationship Diagram (ERD) Solution in ConceptDraw STORE
No matter which way you choose - use the predesigned templates and samples, or design Entity Relationship Diagrams de novo, you will be useful to use the vector objects provided by libraries of Entity-Relationship Diagram (ERD) solution.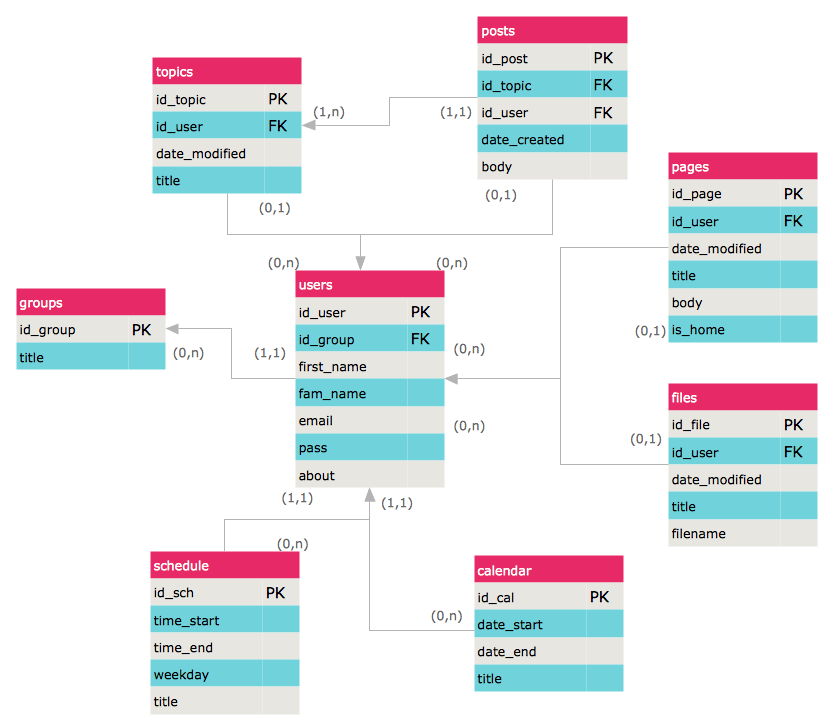 Sample 3. Entity Relationship Diagrams - ER Model Diagram
This sample was created in ConceptDraw DIAGRAM using the vector objects from the ERD Crow's Foot Notation library of Entity-Relationship Diagram (ERD) Solution and illustrates the Entity Relationship Model Diagram. An experienced user spent 15 minutes creating this sample.
All source documents are vector graphic documents. They are available for reviewing, modifying, or converting to a variety of formats (PDF file, MS PowerPoint, MS Visio, and many other graphic formats) from the ConceptDraw STORE. The Entity-Relationship Diagram (ERD) Solution is available for all ConceptDraw DIAGRAM or later users.
THREE RELATED HOW TO's:
There are many ways to describe a database structure. One of the most usual is to draw an entity relationship diagram (ERD) using a Crow's Foot notation to represent database elements. If you don't want to draw it on paper, you should use an appropriate software. An entity-relationship (ER) diagram is used to show the structure of a business database. ERD represents data as objects (entities) that are connected with standard relationships symbols which Illustrate an association between entities. ERD, there is a wide range of ERD notations used by data bases architects for reflecting the relationships between the data entities. According to the crow's foot notation relationships are drawn as single labeled lines designating a certain kinds of relationship. Crow foot notation is a most frequently used ERD standard, because of improved readability of diagrams, with a more accurate use of space on the page.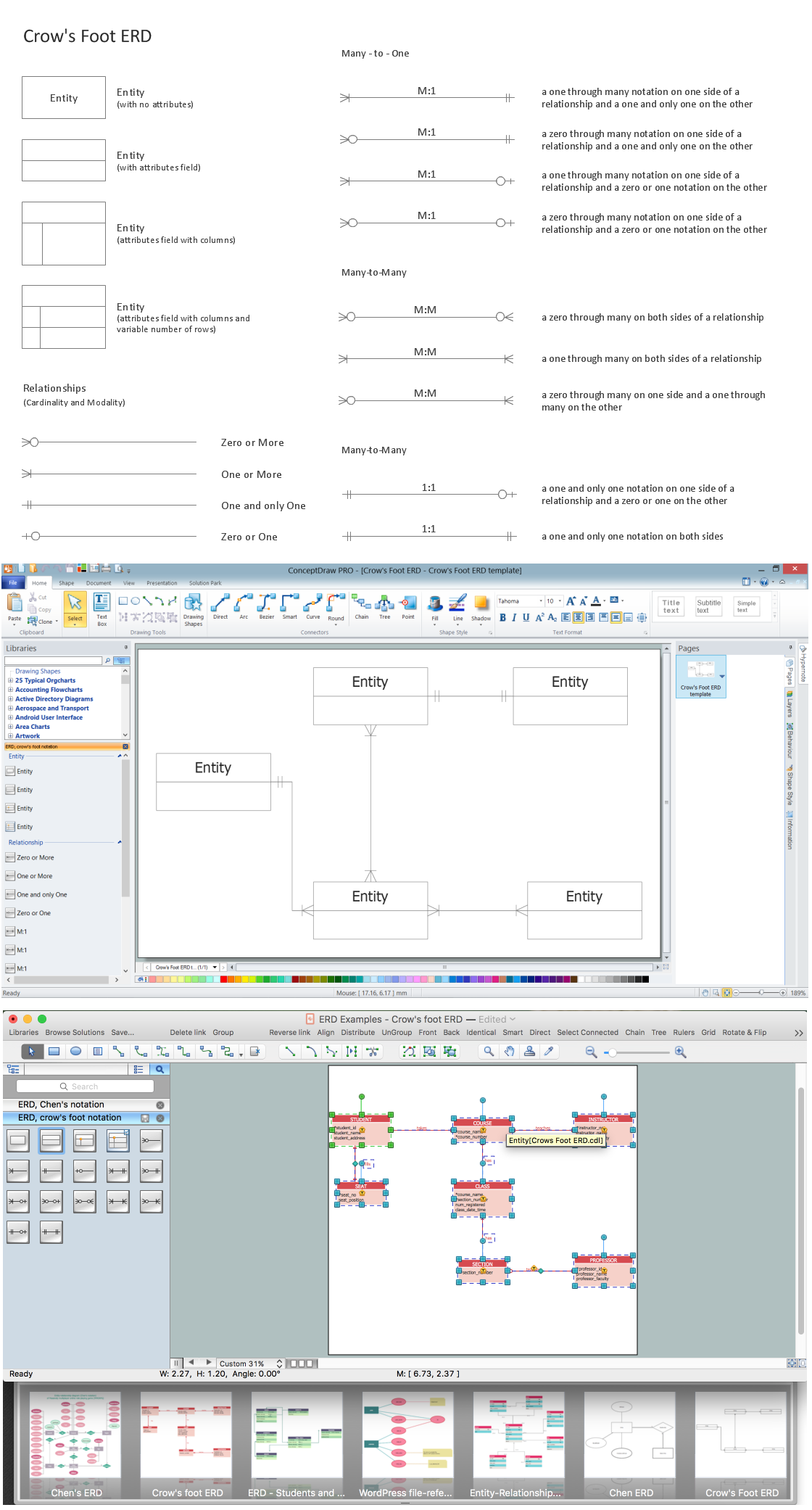 Picture: Entity Relationship Diagram - ERD - Software for Design Crows Foot ER Diagrams
Related Solution:
Creating of Entity-Relationship Diagrams (ERDs) is a complex process that requires convenient, automated tools. ConceptDraw DIAGRAM diagramming and vector drawing software offers a powerful ER Diagram Tool - the Entity-Relationship Diagram (ERD) Solution from the Software Development Area.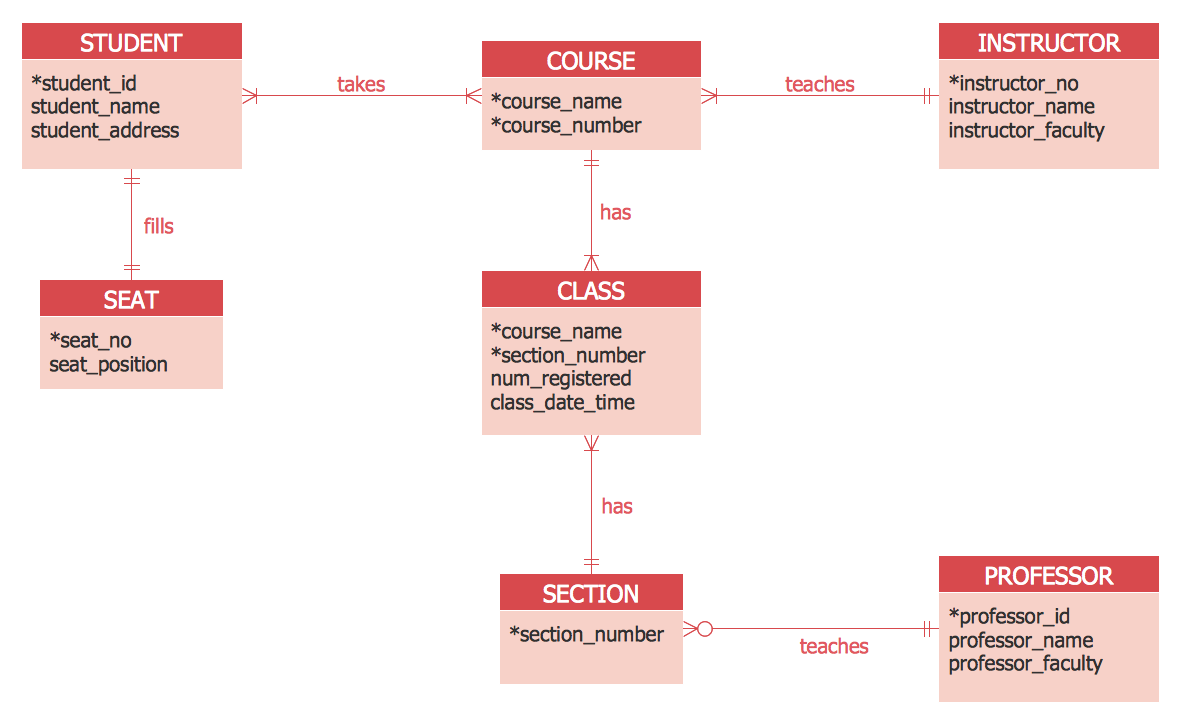 Picture: ER Diagram Tool
Related Solution:
When creating ER diagrams, you can apply different color ER diagram styles and also notation styles. ConceptDraw DIAGRAM enhanced with Entity-Relationship Diagram (ERD) Solution gives the ability to draw visual and attractive ER Diagrams using the style icons from Crow's Foot notation and Chen's notation professionally designed and offered by ERD Chen's Notation and ERD Crow's Foot Notation libraries.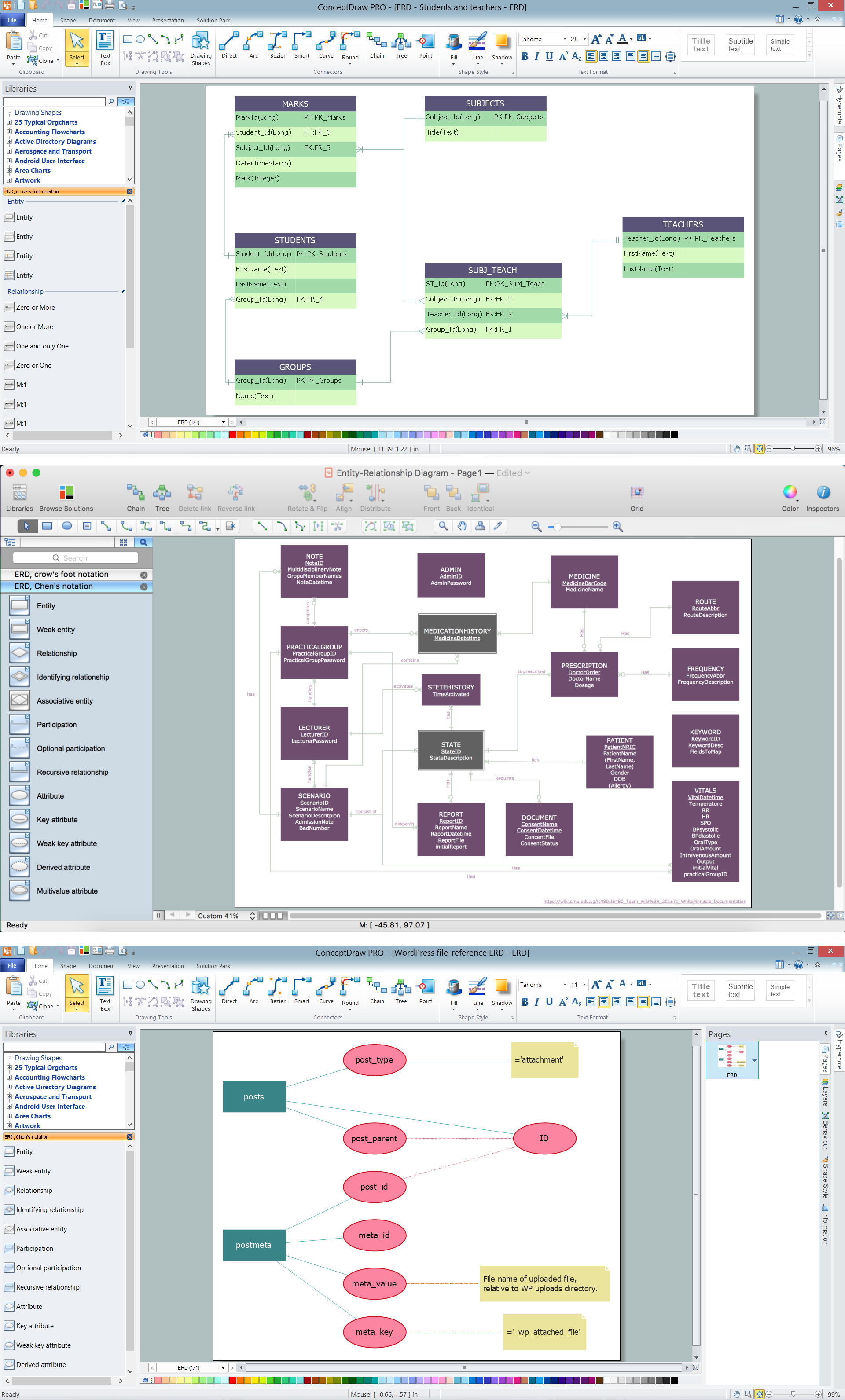 Picture: ER Diagram Styles
Related Solution: