Design elements - Ponds and Fountains
The vector stencils library "Ponds and Fountains" contains 32 clipart images of fontains, waterfall, pools and water textures.
Use it to create your landscape design and garden plans.
"A pond is a body of standing water, either natural or man-made, that is usually smaller than a lake. ...
A wide variety of man-made bodies of water are classified as ponds. Some ponds are created specifically for habitat restoration, including water treatment. Others, like water gardens, water features and koi ponds are designed for aesthetic ornamentation as landscape or architectural features. " [Pond. Wikipedia]
"A fountain is a piece of architecture which pours water into a basin or jets it into the air to supply drinking water and/or for a decorative or dramatic effect. ...
Fountains are used today to decorate city parks and squares; to honor individuals or events; for recreation and for entertainment. A Splash pad or spray pool allows city residents to enter, get wet and cool off in summer. The musical fountain combines moving jets of water, colored lights and recorded music, controlled by a computer, for dramatic effects. Drinking fountains provide clean drinking water in public buildings, parks and public spaces." [Fountain. Wikipedia]
The shapes example "Design elements - Ponds and Fountains" was created using the ConceptDraw PRO diagramming and vector drawing software extended with the Landscape & Garden solution from the Building Plans area of ConceptDraw Solution Park.
Read more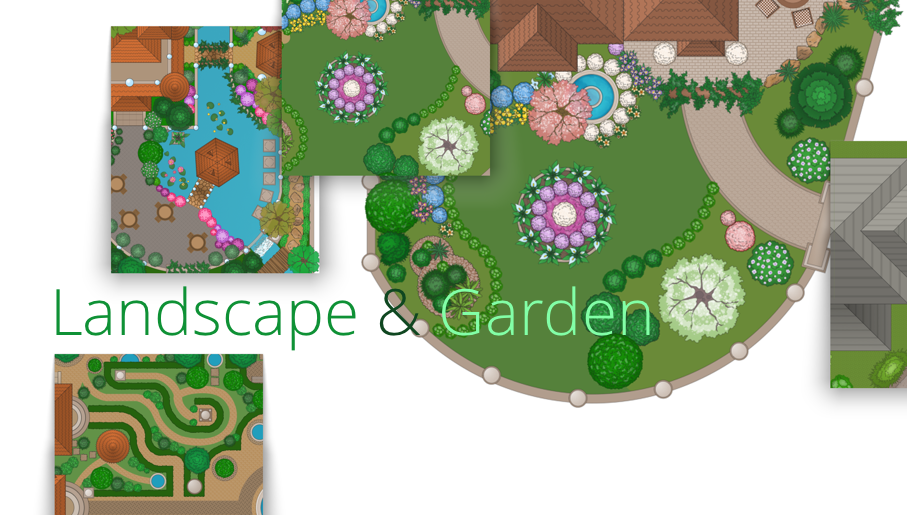 The Landscape and Gardens solution for ConceptDraw PRO v10 is the ideal drawing tool when creating landscape plans. Any gardener wondering how to design a garden can find the most effective way with Landscape and Gardens solution.
Read more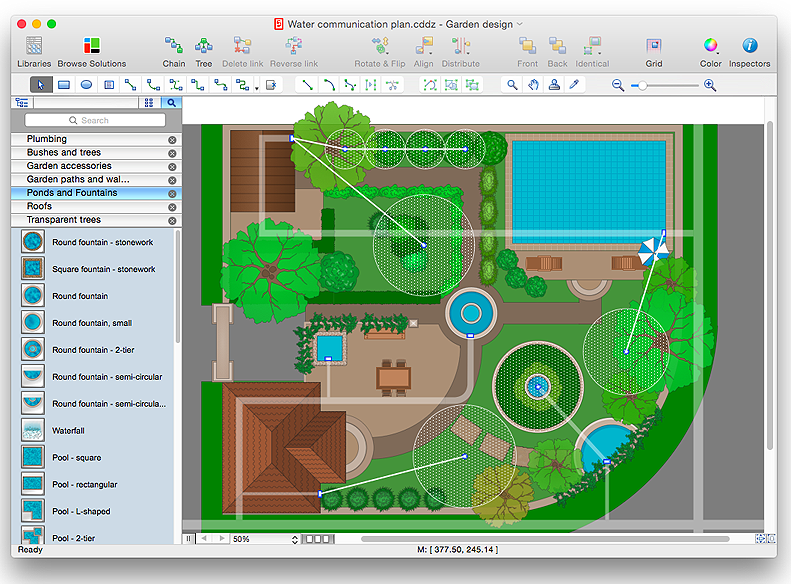 Landscape and garden design involves a varied range of activities that can be managed using ConceptDraw Landscape and Garden solution. Landscape and garden design can embrace landscape management, engineering, detailing, urbanism, assessment and planning. The Landscape and Garden solution delivers the ability to sculpt your perfect garden design with a range of libraries and templates. These libraries include graphic design elements such as bushes and trees, flower and grass, ponds and fountains, garden furniture and accessories, and paths, plots and patios. Using them in combination with the handy templates included with the solution is the quickest and simplest method of starting to plan your garden design.
Read more
Sometimes, when creating a diagram, you need to use a large set of elements from different libraries. If you are using ConceptDraw , in such case, we recommend you to create a new library, which consists of vector library objects from other ConceptDraw libraries. You also can add some custom unique objects into such library. Each object that contains in a new library can be provided with a unique description and keyword list. Thus, the new library and its objects will be indexed to be searched and used in the further diagrams.
Read more