How to Import Mind Maps from XMind
Now ConceptDraw MINDMAP users and XMind users can freely exchange their mind maps using the Mind Map Exchange solution available in Solution Park.
ConceptDraw MINDMAP is great for breaking through barriers in your workflow. Its intuitive thought organization abilities jumpstart stagnant processes and provide a platform for bursts of creativity that launch stalled projects to new heights. In the continued spirit of breaking down barriers, CS Odessa brings you Mind Map Exchange Phase.
ConceptDraw MINDMAP has impressive import and export capabilities includes following formats:
OPML
Mindjet™ MindManager™
Microsoft™ Office products:
PowerPoint™
Project™
Word™

FreeMind (import only)
XMind Import features:
Structure
Floating topics
Hyperlinks (all types of hyperlinks)
Notes
Pictures
Relations (relation styles)
Markers
Task info
Attachments (including audio files)
If your mind mapping product is not listed, check and see what its import and export capabilities are. There is a good chance it shares a common format(s) with ConceptDraw MINDMAP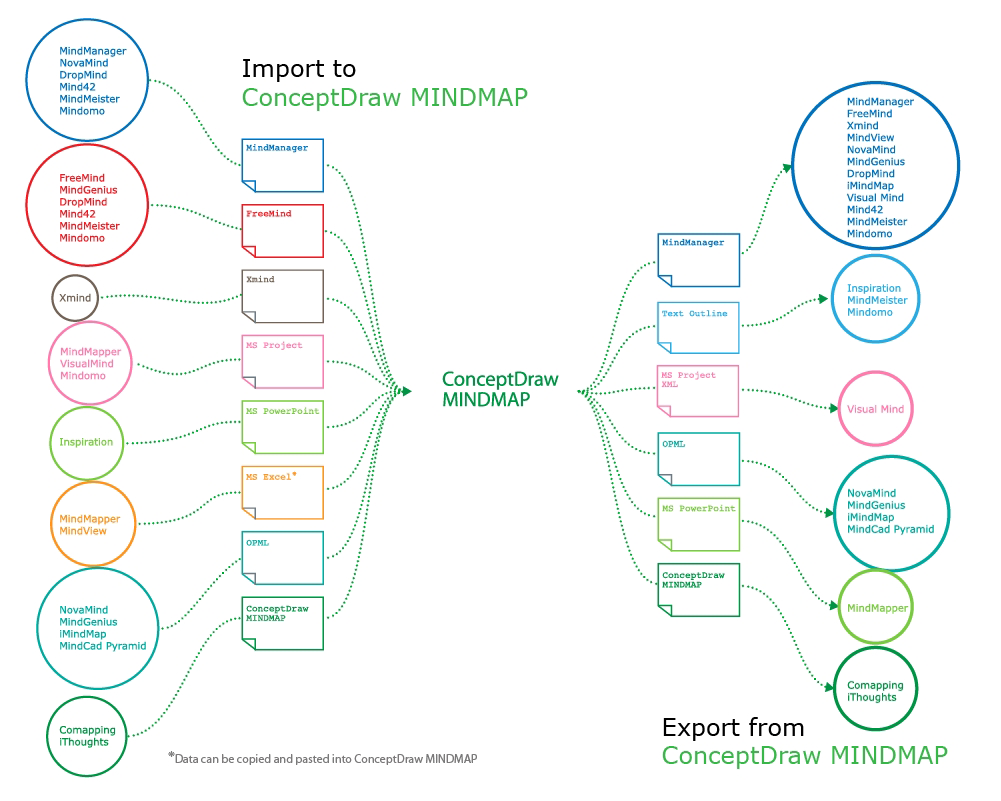 Pic. 1. Mind Map Exchange
Future phases of Mind Map Exchange will continue to expand ConceptDraw MINDMAP 's capabilities. Let us know what your requirements are!
Our customers' feedback is vital to our success.
FOUR RELATED HOW TO's:
When trying to figure out the nature of the problems occurring within a project, there are many ways to develop such understanding. One of the most common ways to document processes for further improvement is to draw a process flowchart, which depicts the activities of the process arranged in sequential order — this is business process management. ConceptDraw DIAGRAM is business process mapping software with impressive range of productivity features for business process management and classic project management. This business process management software is helpful for many purposes from different payment processes, or manufacturing processes to chemical processes. Business process mapping flowcharts helps clarify the actual workflow of different people engaged in the same process. This samples were made with ConceptDraw DIAGRAM — business process mapping software for flowcharting and used as classic visio alternative because its briefly named "visio for mac" and for windows, this sort of software named the business process management tools. This flowchart diagram shows a process flow of project management. The diagram that is presented here depicts the project life cycle that is basic for the most of project management methods. Breaking a project into phases allows to track it in the proper manner. Through separation on phases, the total workflow of a project is divided into some foreseeable components, thus making it easier to follow the project status. A project life cycle commonly includes: initiation, definition, design, development and implementation phases. Distinguished method to show parallel and interdependent processes, as well as project life cycle relationships. A flowchart diagram is often used as visual guide to project. For instance, it used by marketing project management software for visualizing stages of marketing activities or as project management workflow tools. Created with ConceptDraw DIAGRAM — business process mapping software which is flowcharting visio alternative or shortly its visio for mac, this sort of software platform often named the business process management tools.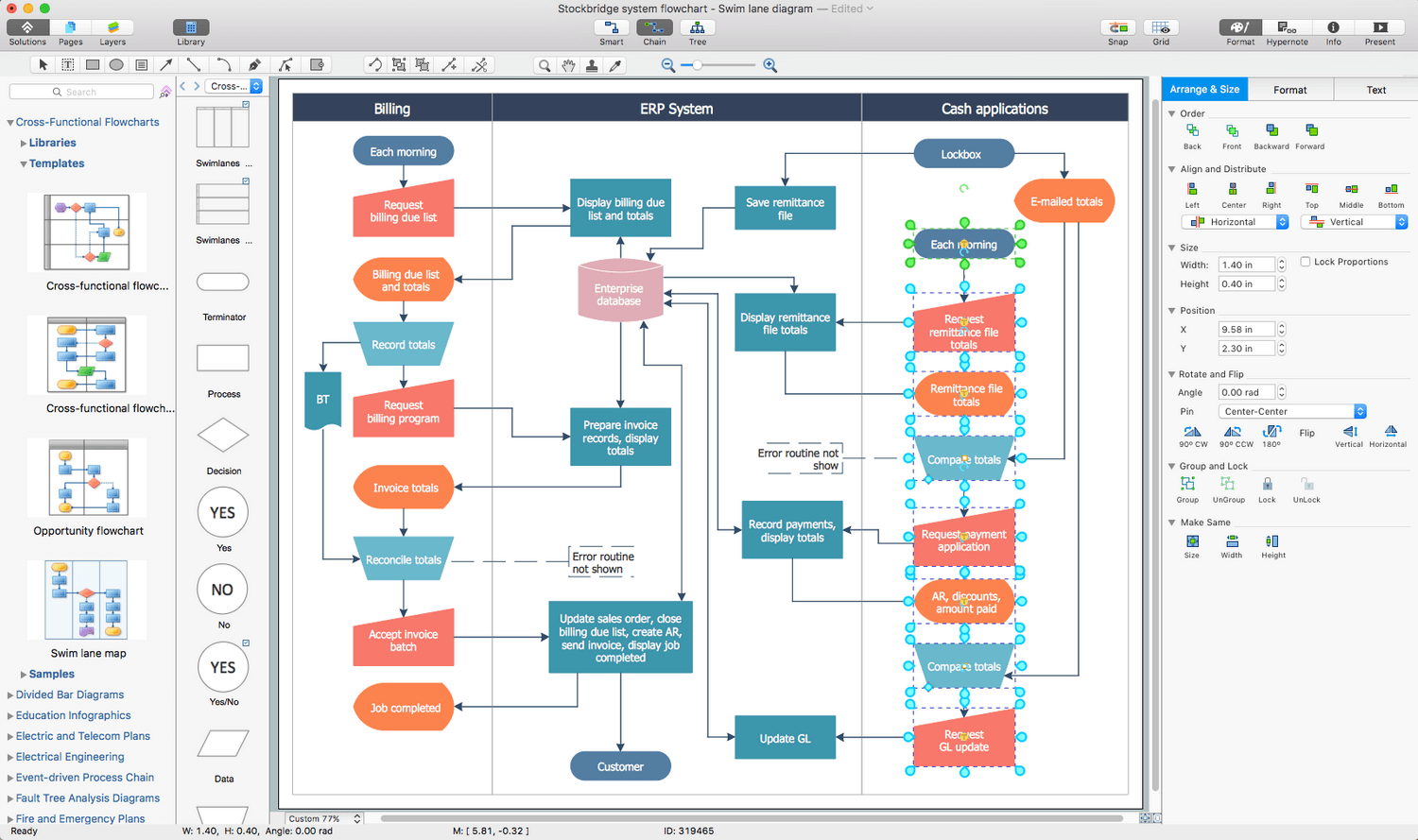 Picture: Process Flowchart
Related Solution:
MindMap presentation via Skype - Control over the slide-show process which plays on each computer of Skype conference call participants synchronously.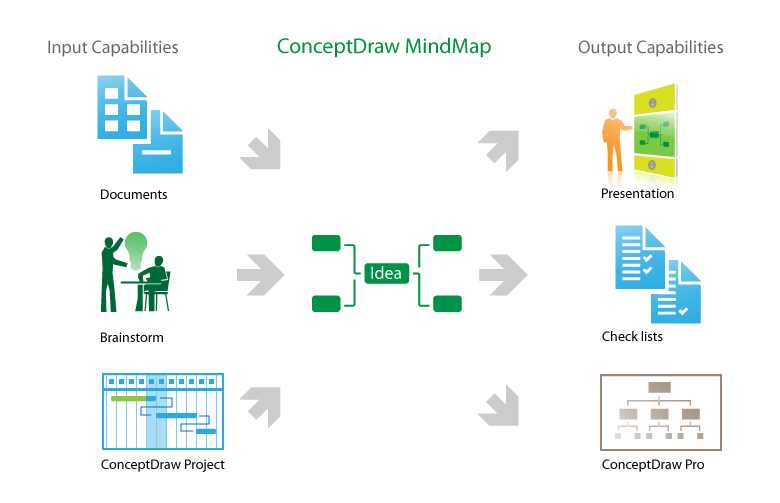 Picture: What is MindMap presentation via Skype?
Related Solutions: