Australia Map — Tasmania
"Tasmania is an island state of the Commonwealth of Australia. It is located 240 km (150 mi) to the south of the Australian mainland, separated by Bass Strait. The state encompasses the main island of Tasmania, the 26th-largest island in the world, and the surrounding 334 islands. The state has a population of over 515,000 (as of September 2015), almost half of which resides in the Greater Hobart precinct, which forms the metropolitan area of the state capital and largest city, Hobart."
[from Wikipedia]
Local Government Areas
City of Burnie
City of Clarence
City of Launceston
Municipality of Break O'Day
Municipality of Brighton
Municipality of Central Coast
Municipality of Central Highlands
Municipality of Circular Head
Municipality of Derwent Valley
Municipality of Dorset
Municipality of Flinders Island
Municipality of George Town
Municipality of Glamorgan Spring Bay
Municipality of Huon Valley
Municipality of Kentish
Municipality of King Island
Municipality of Kingborough
Municipality of Latrobe
Municipality of Meander Valley
Municipality of Northern Midlands
Municipality of Sorell
Municipality of Southern Midlands
Municipality of Tasman
Municipality of Waratah-Wynyard
Municipality of West Coast
Municipality of West Tamar
Cities
Bicheno
Currie
Devonport
Hobart
Launceston
Port Arthur
Queenstown
Smithton
Strahan
Swansea
Whitemark
Wynyard
Maps surround us everywhere in our life, study, work, traveling, they are widely used in geography, history, politics, economics, and many other fields of science and life activity. But designing of maps is usually complex and labor-intensive process. Now we have the possibility to make easier this process - ConceptDraw DIAGRAM diagramming and vector drawing software extended with Australia Map Solution from the Maps Area of ConceptDraw Solution Park will help us in easy drawing detailed Australia map.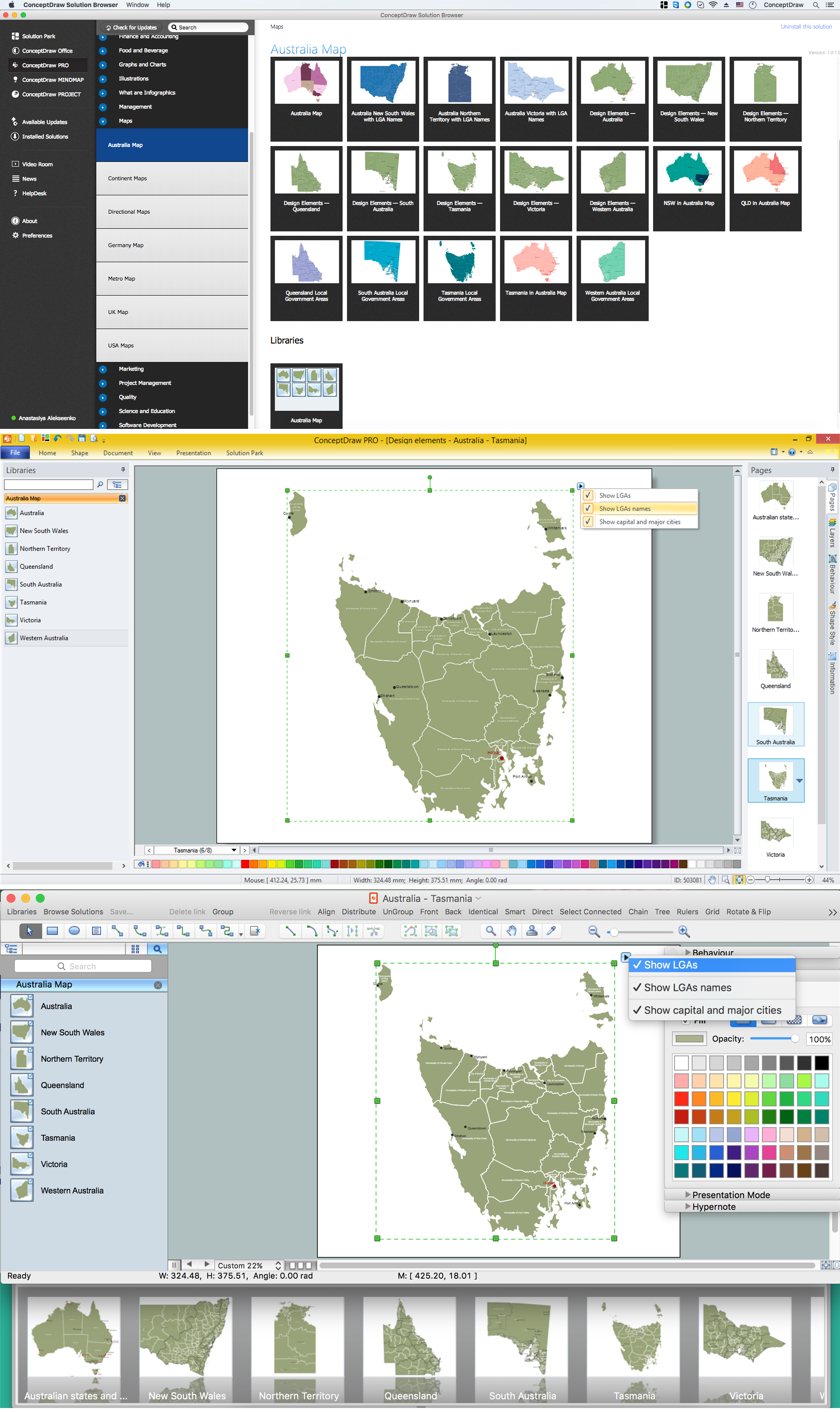 Example 1. Australia Map Solution — Tasmania
Australia Map Solution included in ConceptDraw Solution Park provides the Australia Map library with 8 design elements specially developed for easy drawing Australia maps:
These elements allow design the map of any Australia state or whole Australia map literally for the few minutes. Besides, all these objects are vector, so you can resize them without loss of quality. Highlight with color some details or regions to make your map more interesting, bright and attractive.
Australia Map Solution includes also collection of samples which are available from ConceptDraw STORE. All these example maps are the good base for variety of Australia thematic maps.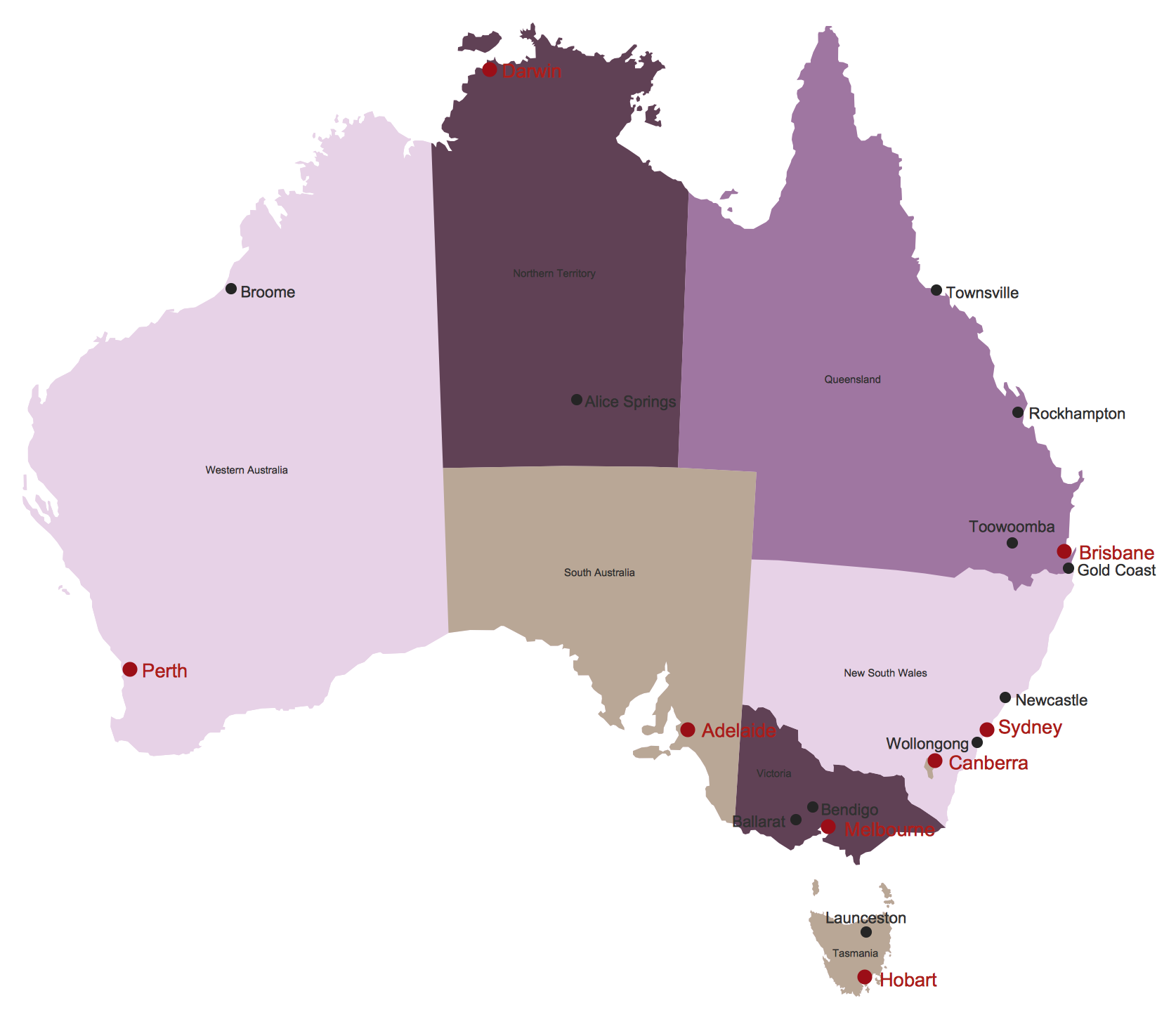 Example 2. Australia Map
The samples you see on this page were created in ConceptDraw DIAGRAM software using the tools of the Australia Map solution. They demonstrate Australia Map and the map of Australia Queensland Local Government Areas. An experienced user spent 10 minutes creating each of these samples.
Use the Australia Map solution for ConceptDraw DIAGRAM software to design your own Australia map and thematic maps on its base quick, easy and effective.
All source documents are vector graphic documents. They are available for reviewing, modifying, or converting to a variety of formats (PDF file, MS PowerPoint, MS Visio VSDX, and many other graphic formats) from the ConceptDraw STORE. The Australia Map Solution is available for all ConceptDraw DIAGRAM or later users.

Example 3. Export Conceptdraw PRO Document to PDF File

Example 4. Export Conceptdraw PRO Document to MS PowerPoint

Example 5. Export Conceptdraw PRO Document to MS Visio VSDX
THREE RELATED HOW TO's:
Wales is a country that is part of the United Kingdom and the island of Great Britain, bordered by England to its east, the Irish Sea to its north and west, and the Bristol Channel to its south. How to design the Map of UK fast and easy? It is incredibly convenient to use special software. ConceptDraw DIAGRAM diagramming and vector drawing software offers the Map of UK Solution from the Maps Area of ConceptDraw Solution Park specially developed to make easier drawing the maps of UK counties, various UK related thematic maps and cartograms on their base.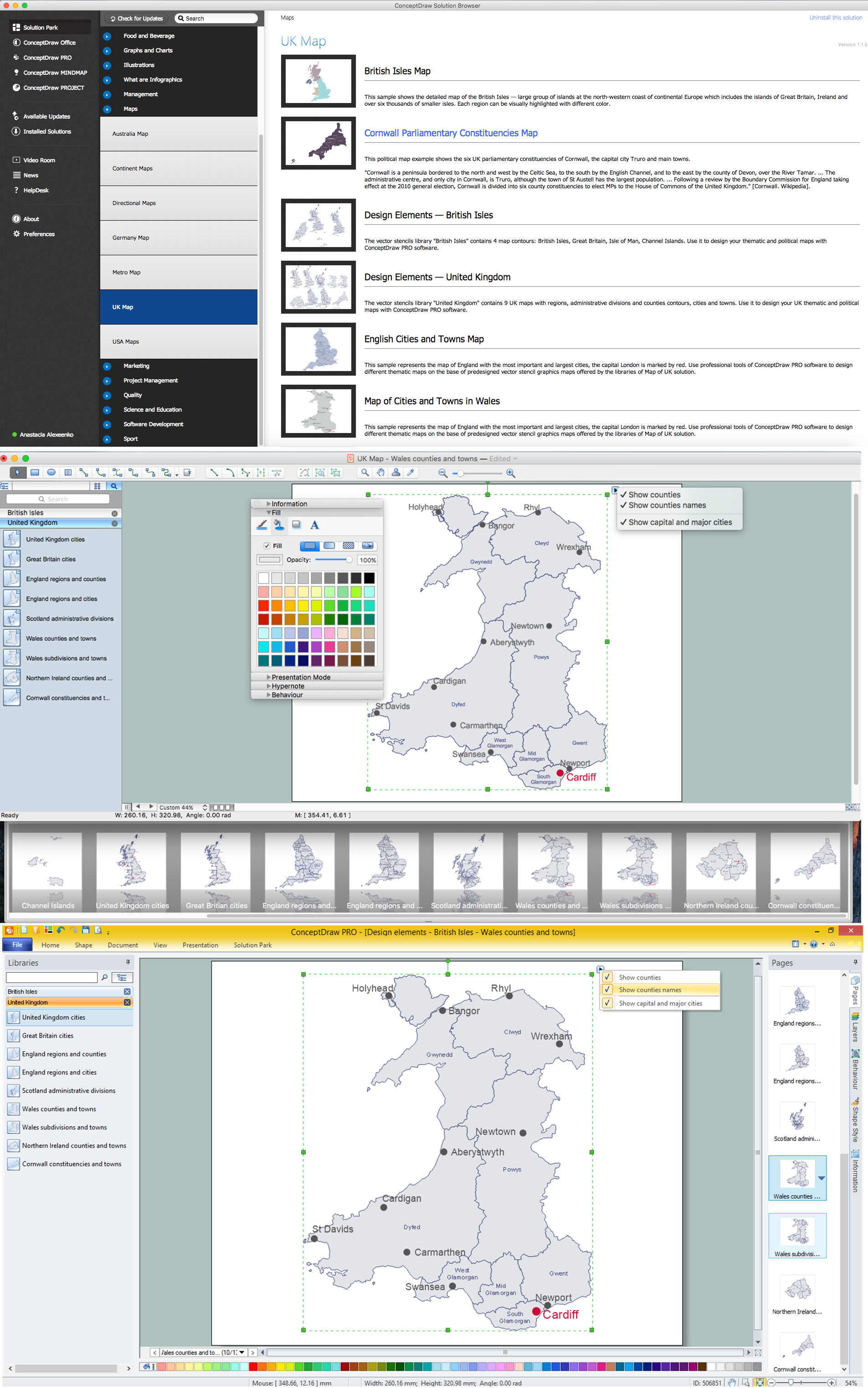 Picture: Map of UK — Wales Counties and Towns
Related Solution:
South Australia (abbreviated as SA) is a state in the southern central part of Australia. It covers some of the most arid parts of the continent.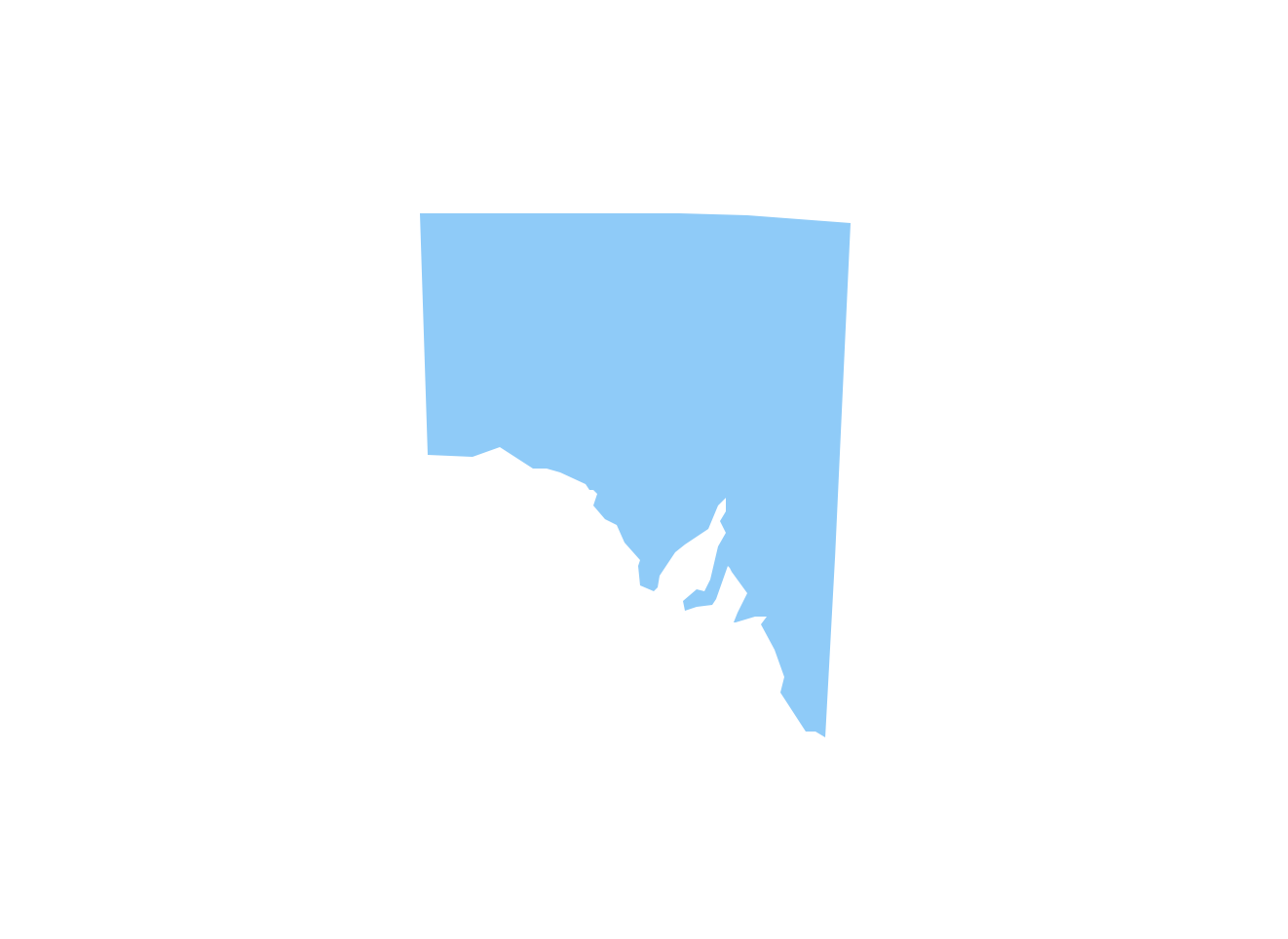 Picture: Geo Map - Australia - South Australia
Related Solution:
Designing landscapes nowadays doesn't require any special skills. Therefore, it's not rocket science how to use landscape design software and create detailed plans and projects. Special Landscape & Garden Solution from the Building Plans area of ConceptDraw Solution Park provides vivid ready-to-use vector objects of trees, bushes, fences, furniture etc. Picture: How To use Landscape Design Software
Related Solution: