Hazard Pictograms
GHS Hazard pictograms are standard signs used to indicate the type of hazard of the chemical substances, materials and compounds when storaging, transportation and working with them. They were developed by the United Nations as a unified way of alerting about the categories of risks associated with chemical products and are the part of international Globally Harmonized System of Classification and Labelling of Chemicals (GHS). There are used two types of icons:
standard pictograms,
transport pictograms.
ConceptDraw DIAGRAM diagramming and vector drawing software enhanced with GHS Hazard Pictograms Solution from the Industrial Engineering Area of ConceptDraw Solution Park offers the GHS Hazard Pictograms library with whole set of predesigned standard Hazard pictograms for easy designing professional-looking Chemical safety infographics and Hazard diagrams.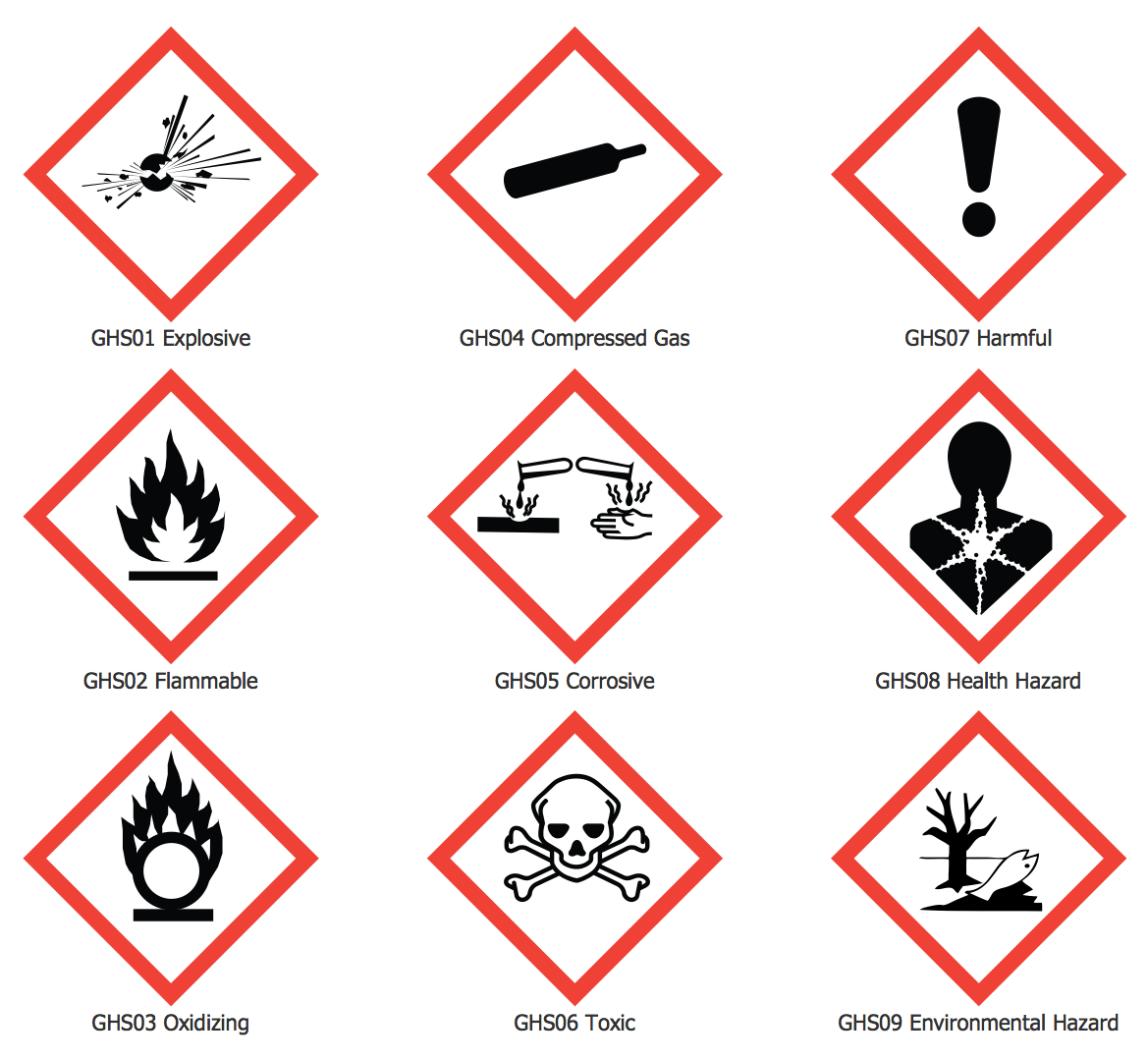 Example 1. Hazard Pictograms
All predesigned Hazard pictograms from the GHS Hazard Pictograms Solution are vector and you can easily combine them on your infographics to prevent about any danger.
Besides, the ConceptDraw DIAGRAM software offers you the choice — you can design your diagrams and infographics from the beginning, using the powerful drawing tools and professionally designed pictograms from the GHS Hazard Pictograms library, or you can use as the base one of the samples offered by GHS Hazard Pictograms Solution at ConceptDraw STORE.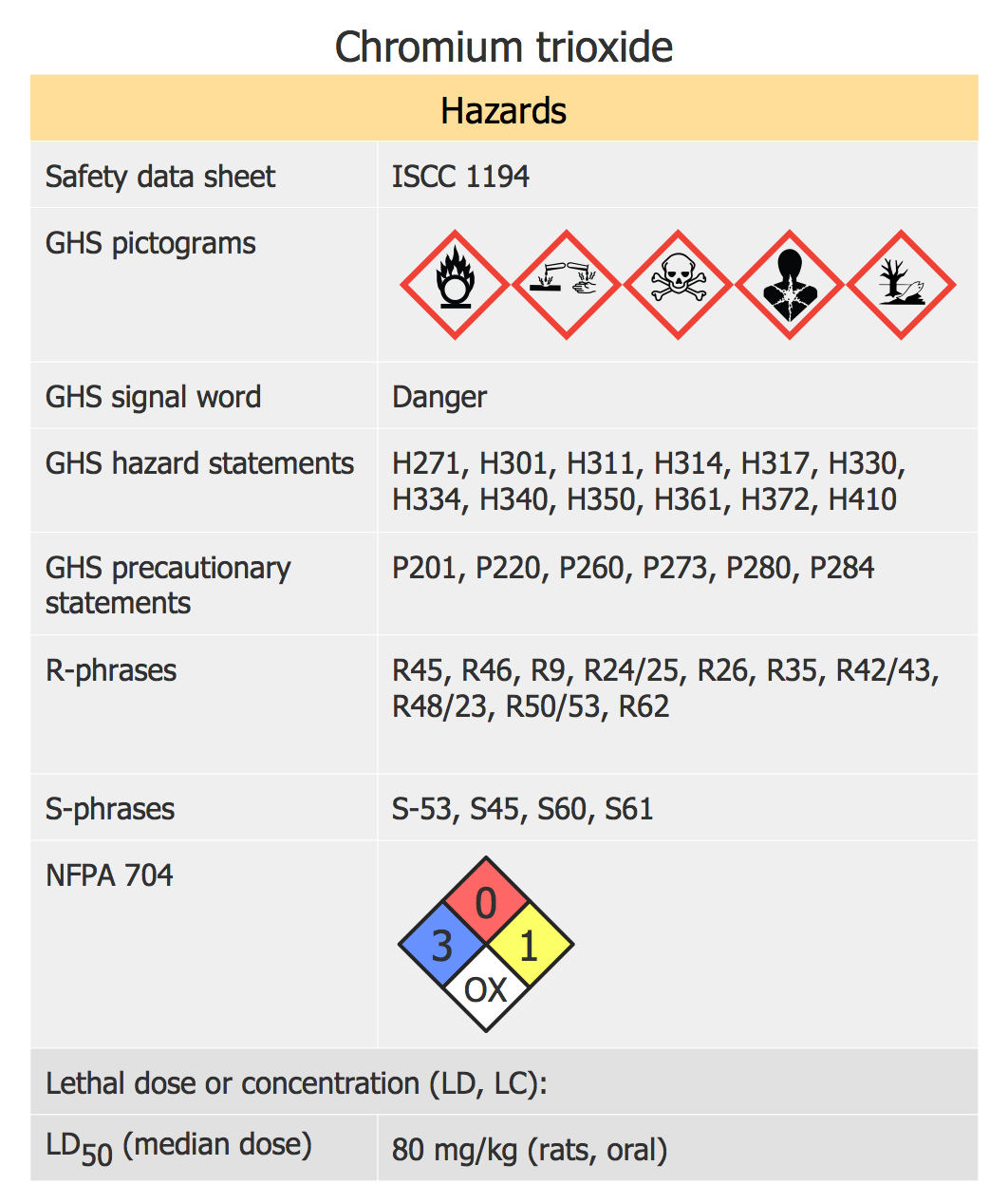 Example 2. Chromium Trioxide Hazards
This sample was created in ConceptDraw DIAGRAM using the hazard pictograms from the GHS Hazard Pictograms Solution and shows the detailed infobox about the chromium trioxide hazards. An experienced user spent 10 minutes creating this sample.
Use the GHS Hazard Pictograms Solution for ConceptDraw DIAGRAM software to create your own professional looking Chemical safety infographics fast, easy and effective.
All source documents are vector graphic documents. They are available for reviewing, modifying, or converting to a variety of formats (PDF file, MS PowerPoint, MS Visio, and many other graphic formats) from the ConceptDraw Store. The GHS Hazard Pictograms Solution is available for all ConceptDraw DIAGRAM.
THREE RELATED HOW TO's:
Stakeholder management is a critical component to the successful delivery of any project, programme or activity. ConceptDraw DIAGRAM is a powerful diagramming and vector drawing software. Now, thanks to the Stakeholder Onion Diagrams Solution included to the Management Area of ConceptDraw Solution Park, ConceptDraw DIAGRAM became also unique stakeholder management system design software.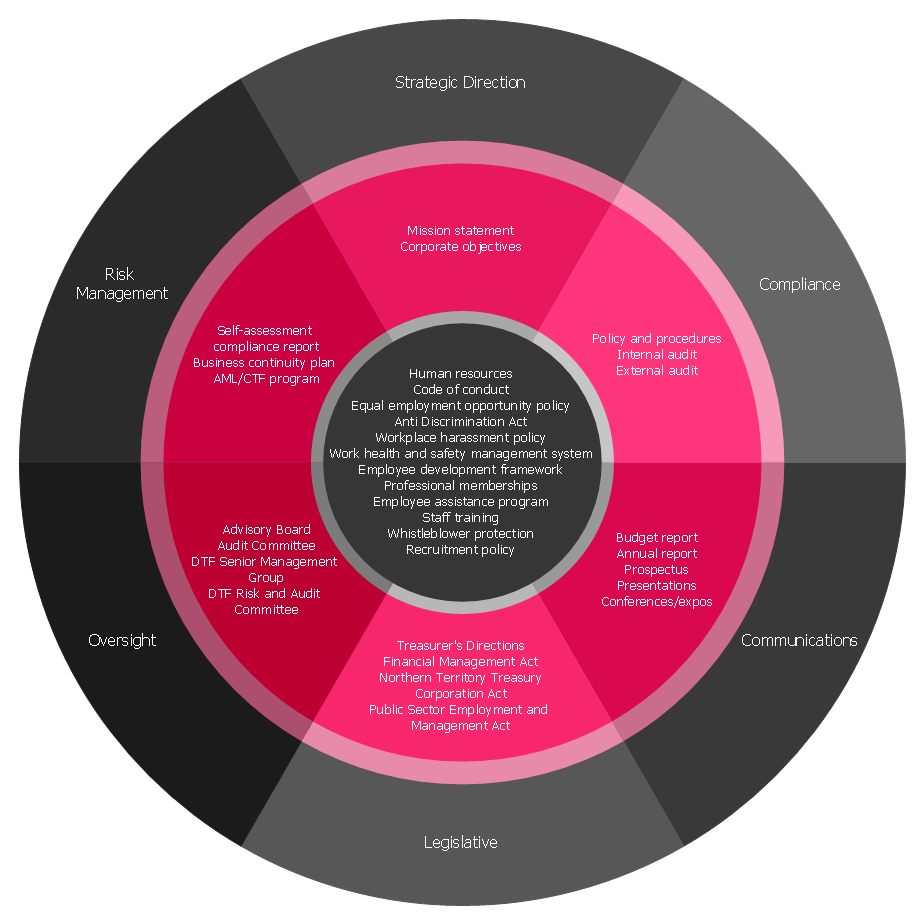 Picture: Stakeholder Management System using Onion Diagram
Related Solution:
There are many ways to define the flow of information within a system. Structured-systems analysis method often uses data flow diagrams to show data flow, data storages and data processing visualization. These diagrams are easy to develop and quite useful. Here is a dataflow diagram presenting an example of the manufacturing process flow. The oval process shapes represent a process that controls data within the current system. The process may produce data or make some action based on data. Data flows are represented by lines. They show the movement of information through the system. The direction of the data flow is depicted by the arrow. The external entities are shown by rectangles. They represent the external entities interacting with the system. The data store objects (unclosed rectangles) are used to show data bases participating in a process flow.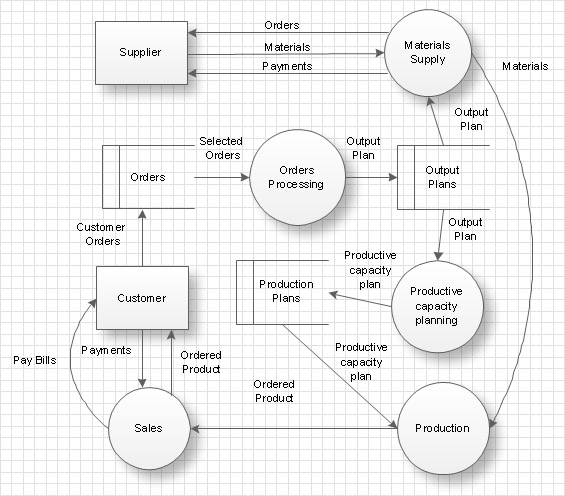 Picture: Data Flow Diagram
Related Solution:
Electrical rotating machines, such as motors and generators, are vital assets for any power plant or large industrial company. An electric motor is an electrical machine that converts electrical energy into mechanical energy. The reverse of this would be the conversion of mechanical energy into electrical energy and is done by an electric generator. In normal motoring mode, most electric motors operate through the interaction between an electric motor's magnetic field and winding currents to generate force within the motor. In certain applications, such as in the transportation industry with traction motors, electric motors can operate in both motoring and generating or braking modes to also produce electrical energy from mechanical energy. 26 libraries of the Electrical Engineering Solution of ConceptDraw DIAGRAM make your electrical diagramming simple, efficient, and effective. You can simply and quickly drop the ready-to-use objects from libraries into your document to create the electrical diagram.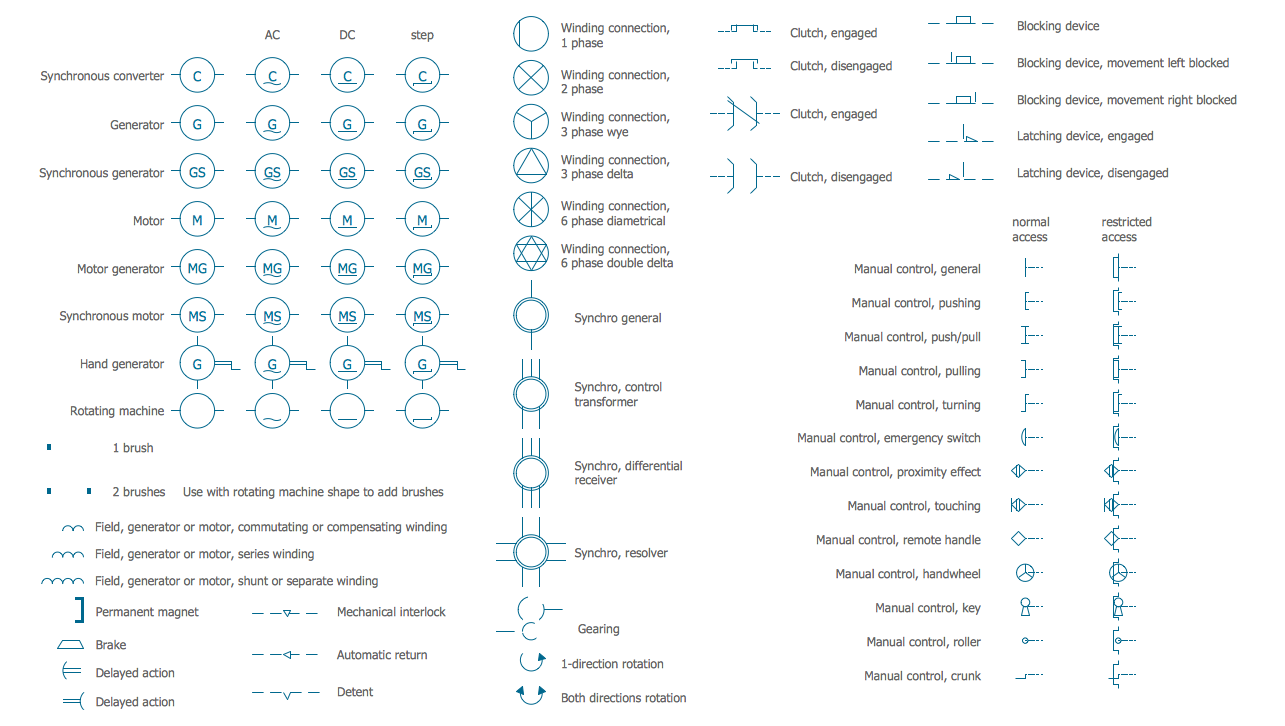 Picture: Electrical Symbols — Rotating Equipment
Related Solution: