Interior Design Office Layout Plan Design Element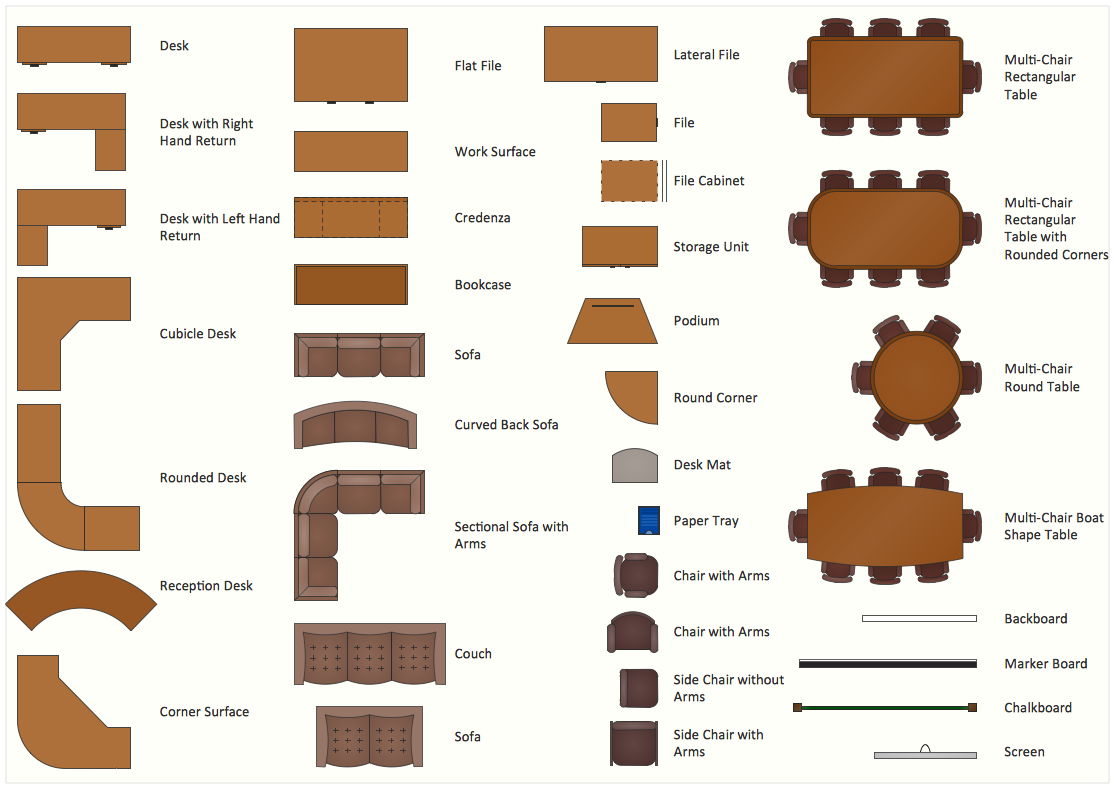 Lucky interior design is an integral part of succesful work at office. The important challenge in office design planning is to find a balance between two main office activities: concentration and communication. Primarily you need to determine with a type of office space, this can be an open space or separate rooms. The first type is more suitable for communication and rapid interaction. That's why open offices and combined spaces are modern types of work space and often used, especially for private offices. Traditional office basically represents separate rooms arranged along the corridor. It is applied for the companies with small number of people or for enterprises divided on separate departments, and is practically inapplicable for teamwork. ConceptDraw PRO diagramming and vector drawing software extended with Office Layout Plans solution offers a lot of vector stencils libraries with design elements of office furniture and equipment for effective office interior design and office space planning, for easy creation Office Floor Plans and Office Layout Plans. Use ConceptDraw PRO to visualize process flowcharts, network architecture and program workflows like Visio for Mac and even more. The software can be used with different fields like business, engineering and construction, etc.
Read more
How to Draw a Floor Plan
This classroom floorplan example shows school furniture and educational equipment layout.
"A classroom or schoolroom is a room dedicated primarily to teaching or learning activities. Classrooms are found in educational institutions of all kinds, including public and private schools, home schools, corporations, and religious and humanitarian organizations. ...
For lessons that require specific resources or a vocational approach different types of classrooms both indoors and outdoors are used. This allows for learning in an authentic context that fosters the natural development of the particular vocational skill. This is known as situated learning. Classrooms can range from small groups of five or six to big classrooms with hundreds of students. A large class room is also called a lecture hall. A few examples of classrooms are computer labs which are used for IT lessons in schools, gymnasiums for sports, and science laboratories for biology, chemistry and physics. There are also small group classrooms where students learn in groups of about 7 ...
A university classroom with permanently installed desk-chairs, green chalkboards, and an overhead projector.
Most classrooms have a large writing surface where the instructor or students can share notes with other members of the class. Traditionally, this was in the form of a blackboard but these are becoming less common in well-equipped schools because of new alternatives like flipcharts, whiteboards and interactive whiteboards. Many classrooms also have TVs, maps, charts, Pencils, books, monographs and LCD projectors for presenting information and images from a computer." [Classroom. Wikipedia]
The school furniture and equipment layout example "Classroom plan" was created using the ConceptDraw PRO diagramming and vector drawing software extended with the School and Training Plans solution from the Building Plans area of ConceptDraw Solution Park.
Read more
The vector stencils library Office equipment contains 33 symbols of office equipment, electronics and accessories.
"Office supplies are all the supplies regularly used in offices by businesses and other organizations. It includes small, expendable, daily use items such as paper clips, post-it notes, and staples, small machines such as hole punches, binders, staplers and laminators, writing utensils and paper, but also encompasses higher-cost equipment like computers, printers, fax machines, photocopiers and cash registers, as well as office furniture such as chairs, cubicles, filing cabinet, and armoire desks." [Office supplies. Wikipedia]
Use the design elements library Office equipment to draw the office furniture and equipment layout plans using the ConceptDraw PRO diagramming and vector drawing software.
The shapes library Office equipment is included in the Office Layout Plans solution from Building Plans area of ConceptDraw Solution Park.
Read more